The Festool TKS 80 EBS-Set is the complete version of the base TKS 80 EBS table saw with SawStop finger detection technology. It includes all the accessories that you have to buy separately on the base model.
SawStop
The main selling point of this saw is the integrated SawStop technology that stops the blade when it makes contact with your hand. It uses electricity to detect contact and pulls the blade under the table and stops it in an instant. When this happens, you do need to replace the saw blade and cartridge.
Detailed look at the SawStop system: For a detailed description of how this technology works on this saw, read our description of the Festool TKS 80 EBS, the base model.
Included accessories
The EBS-Set contains four accessories that are not included in the base model, namely:
Sliding table
Separate, longer parallel fence
Extension table (length)
Extension table (width)
Sliding Table
The sliding table is not very large, but its main advantage comes from the guides. Because it moves over guides that extend past the body of the saw, you can crosscut much larger workpieces than with the normal mitre gauge. It also adds stability.
Parallel Fence
The parallel fence is another great upgrade. It is much longer than the mitre fence on the base model. It also locks into place better and can move over the extension table. Almost essential if you plan on cutting bigger workpieces. The side of the fence can be moved back and forth independently of the rest of the fence.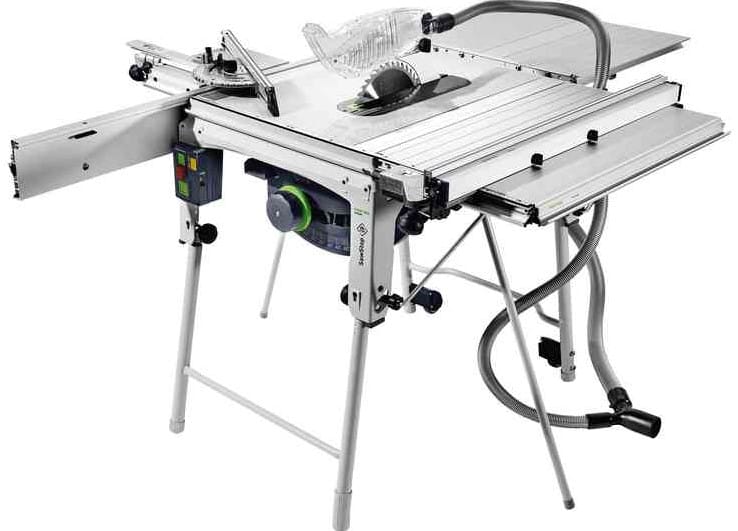 Convenience, not price
Most companies usually sell sets of products cheaper than when you buy all the parts separately. This is not the case for Festool. Buying the base model and then the accessories separately should cost exactly the same as the EBS-Set.
So the main selling point of this set is mostly convenience, getting everything in one package, not a discount. So if you aren't sure you need all these extra accessories, get the base model and just buy what you need later.