Battle of the flagship table saws
Finding the perfect table saw can be tricky. Three of the most popular brands make powerful jobsite table saws that all offer a similar set of features. But what exactly are their differences? And which one is the best?
In this article I'll compare the Bosch GTS 10 XC, DeWalt DWE7492 and Metabo TS 254 to find out what the differences are, and which saw is the best.
Comparison Tables
At the end of the article you can find a detailed comparison of all the features and specs of the three machines.
Pricing and Criteria
Let's talk about price first. The Bosch and DeWalt are direct competitors with both costing about €690 currently. This means they can be compared purely on quality.
The Metabo on the other hand is also €690, but always includes an integrated foldable stand and wheels. If you want to add a rolling stand to either the Bosch or the DeWalt, expect to pay another €100 to €200.
Considering those extra costs, it's fair to say that the Metabo is quite a bit cheaper. Of course if you already own a stand, then this wouldn't hold, but for most people you would save some money with the Metabo by not having to purchase a stand separately.
To find out exactly how they all differ in a meaningful way, I'll compare them along four categories: Fence, miter gauge, size, power and mobility, and build quality.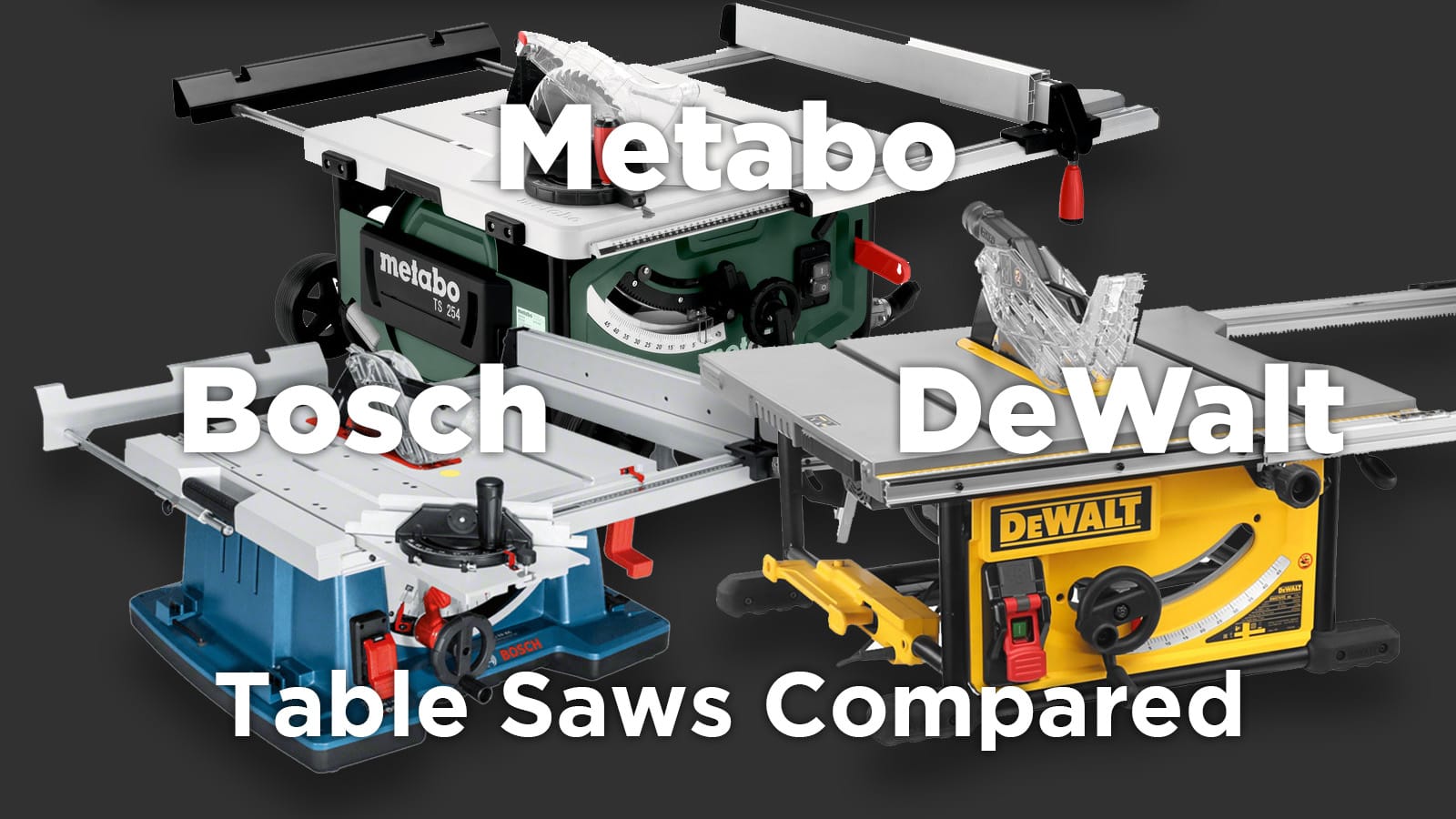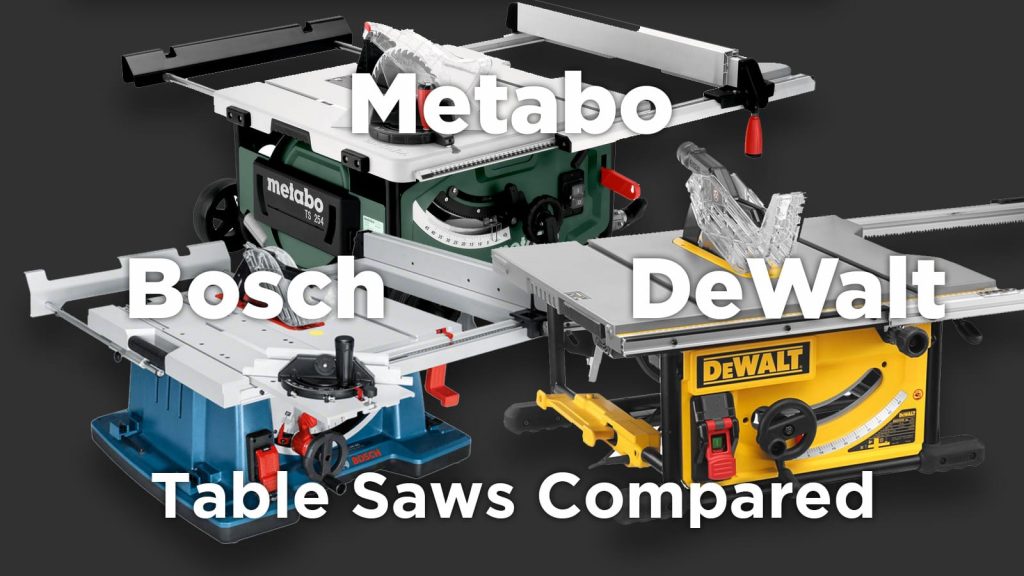 Fence
Fences are important, because they determine whether your rip cuts will be straight or not. A skew fence can also cause binding, which is a serious safety issue that might cause kickbacks.
Between these three saws, there is a clear difference. While the Metabo and Bosch have a loose fence that clamps on both sides, the DeWalt has a much more intricate one that moves over rack and pinions.
DeWalt DWE7492 rack and pinion fence
Like all DeWalt table saws, the DWE7492 has a rack and pinion system on both the front and the back of the table. The fence rides on both sides, and you move the fence by turning a knob with a gear on it on the front of the saw. The video below shows exactly how this works.
DeWalt's system has a few advantages. The first is that the fence is always guaranteed to move the exact same amount front and back. This means that it will never move out of parallel with the blade. This helps with cutting straight and preventing kickback.
It also means you can much more easily fine adjust the fence by moving it tiny amounts when you turn the knob. Furthermore, if you set up the scales correctly, you can actually rely on the measurements to be accurate. This is because when you remove the fence and put it back on it will always be in the same position relative to the scales.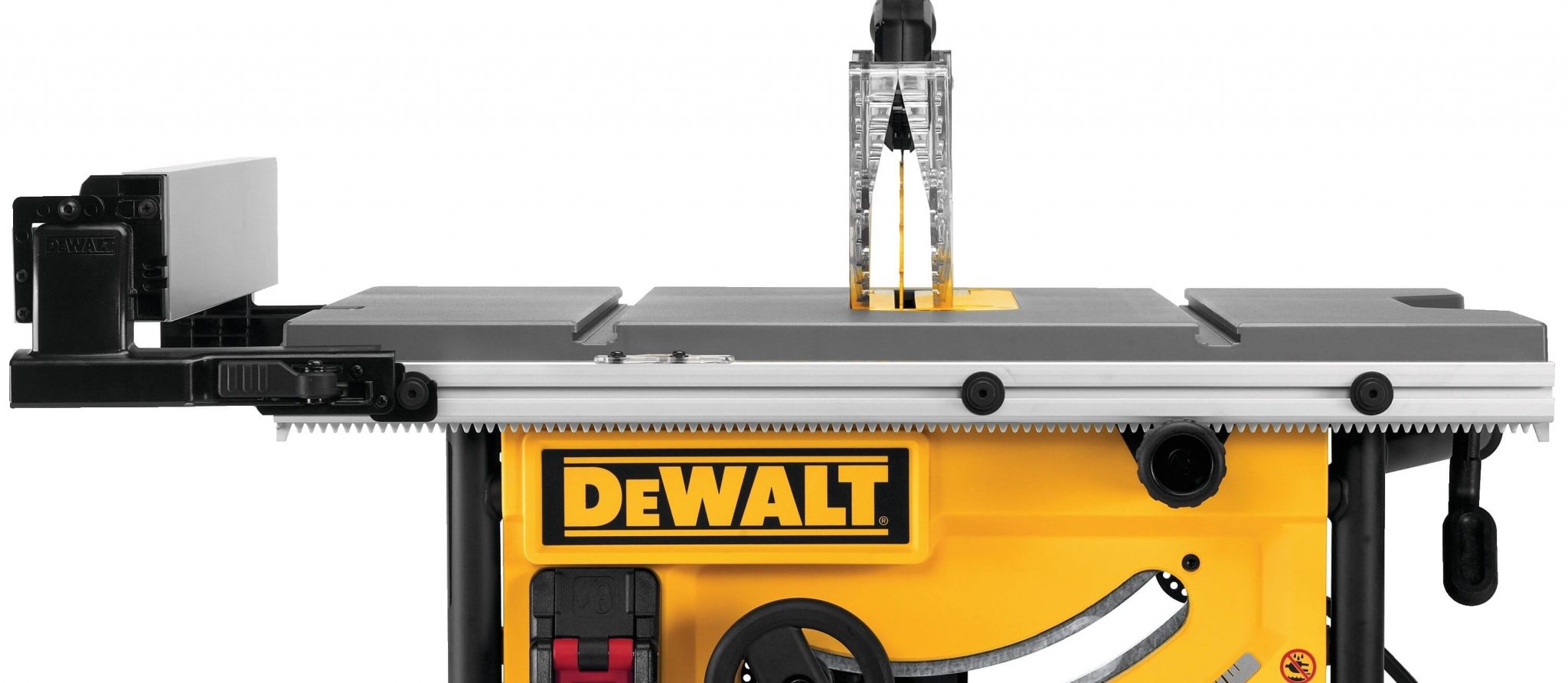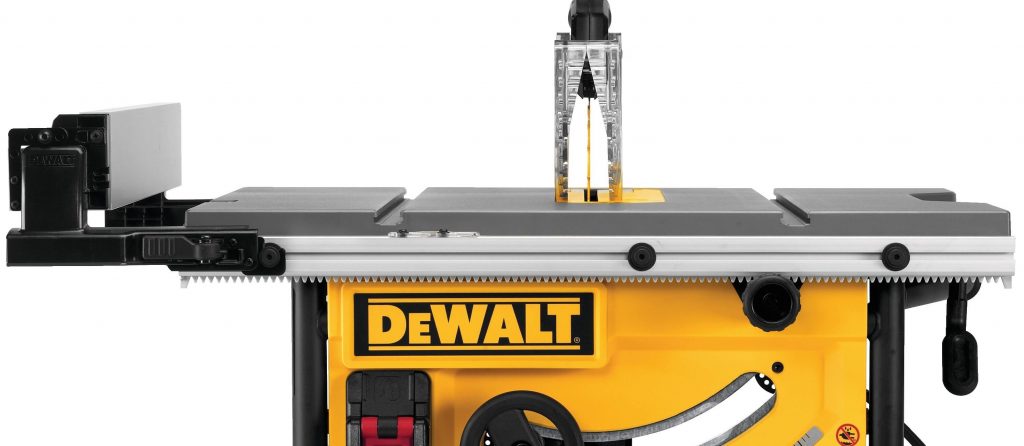 TS 254 and GTS 10 XC fences
In the case of the Metabo and Bosch, the fence simply slides from side to side. This makes fine adjustments harder and less accurate. You also lack the absolute guarantee for squareness that the DWE7492 offers.
Although the Bosch and Metabo offer similar fence systems, they are slightly different in one key way. The Bosch has a specifically shaped aluminium extrusion at the back that corresponds with a plastic block on the fence.
Because of this shape, the GTS 10 XC's fence will automatically lock (almost) parallel to the blade when you clamp it down. On the Metabo, you don't have this guarantee. If you clamp it down really hard, it will get pretty close to parallel, but not always, and you will have to check it from time to time. This makes the fence on the Bosch slightly better.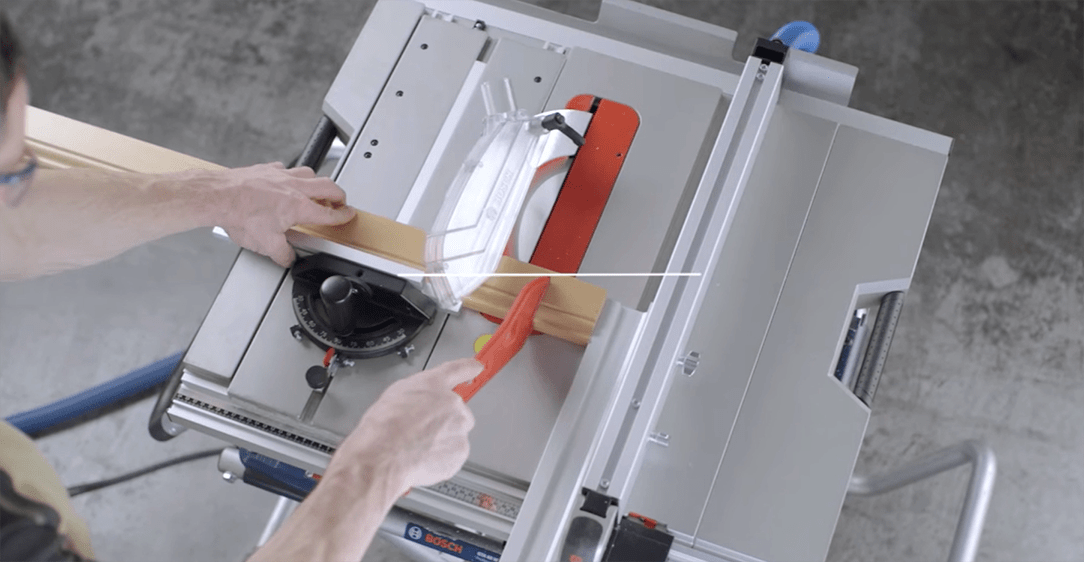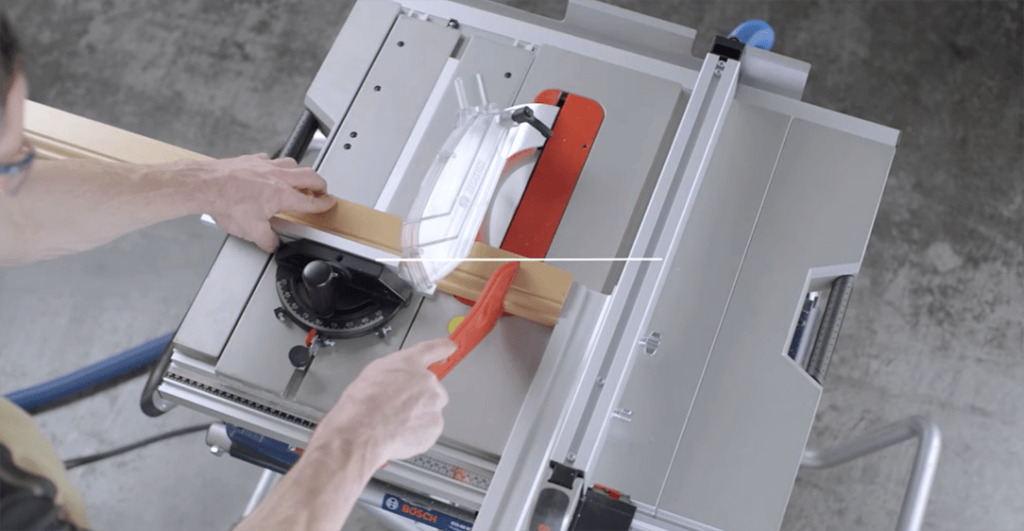 Conclusion: Who has the better fence?
In terms of fence quality, there is a clear winner: the DeWalt DWE7492. Thanks to the rack and pinion system, the fence is simply more accurate, secure, and more easily and finely adjustable.
The Bosch GTS 10 XC has an acceptable fence that is slightly better than the Metabo TS 254's fence. Both will still work well if you check for squareness on important cuts.
Conclusion: If fence quality is critical to you, then the DWE7492 is by far the best choice. However, the GTS 10 XC and TS 254's fences will work fine for most users in most situations as well.
Miter Gauge & Sliding Table
There's a big difference between the miter gauges on the Metabo and DeWalt on the one hand and the Bosch on the other. While Metabo and DeWalt provide standard miter gauges, the GTS 10 XC actually has an integrated sliding table.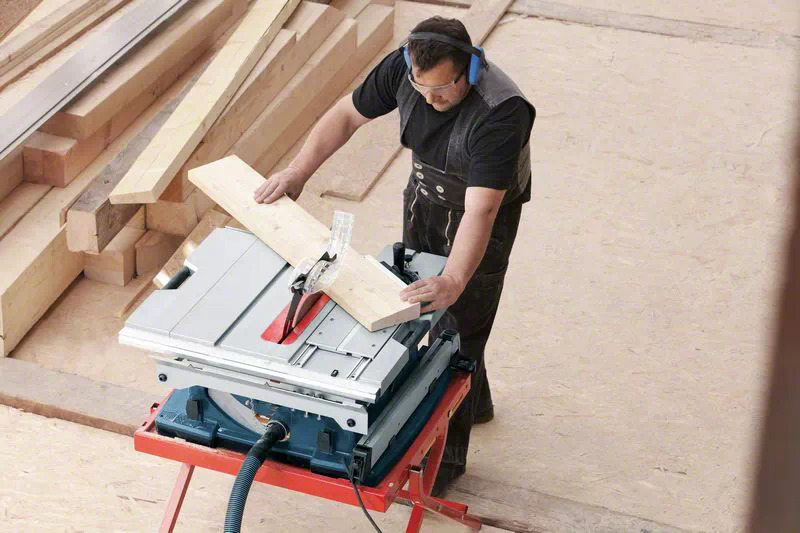 Bosch GTS 10 XC's sliding table
On paper, this is a much better system, as it is more stable, moves much more smoothly, and supports workpieces better, especially on larger workpieces. With some adaptations you could also use it for rip cuts, as you do on a proper sliding table saw. On top of this, you can also lock the sliding table and use the normal miter gauge as you would with any other table saw.
However, the implementation on the Bosch is not the best, which reduces the advantage compared to the Metabo and DeWalt. The sliding table has some play as show in the video below and is hard to adjust finely guarantee exactly 90 degree cuts.
Also, for a sliding table it is still on the small side, limiting its advantage over a regular miter gauge. Additionally, it takes up space and weight which makes the GTS 10 XC as a whole less mobile. All in all, it's an interesting feature that simply doesn't work out as well in practice.
Metabo and DeWalt miter gauges
Metabo and DeWalt both have a standard miter gauge, but they are not exactly the same. The DeWalt's miter gauge is extremely basic, and offers no features like specific angle locks or adjustments for play, and is made of very cheap materials.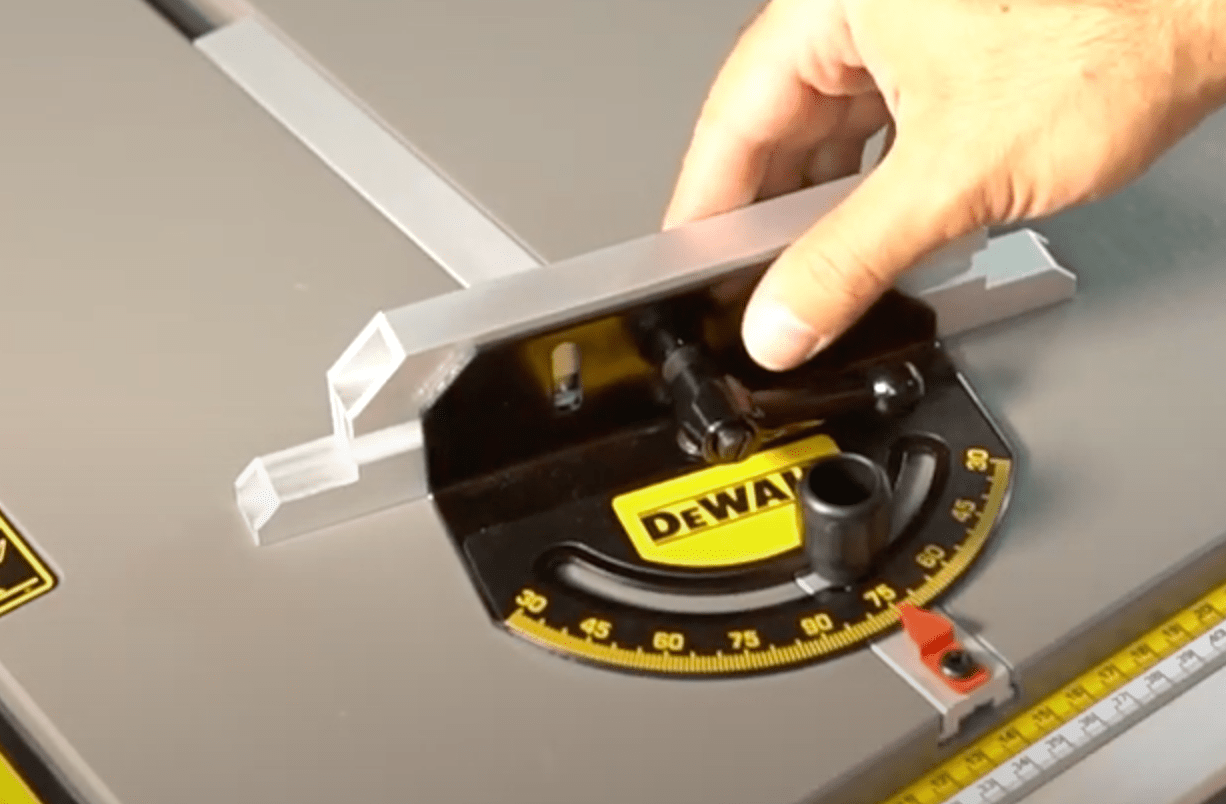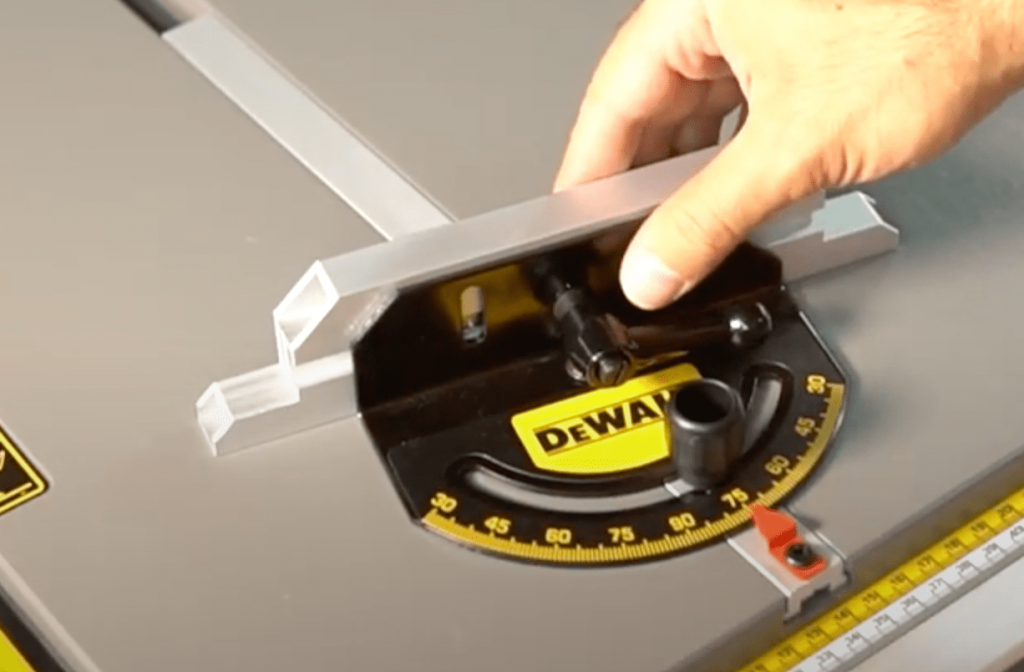 The Metabo's miter gauge is much better. It is made of higher quality materials, and has specific locks for multiple angles, so you always come back to the correct angle without measuring.
Probably its biggest advantage is the fact that you can adjust for play. There are two plastic blocks which can be moved so the miter bar cannot move sideways. This makes cuts more accurate.
However it, is not without problems either. The standard angles cannot be corrected, so if your miter slot is not exactly at 90 degrees, there is no official way to correct for this. Personally I found a basic DIY fix with duct tape on my TS 254 M, which has the same miter gauge. But it is a clear limitation.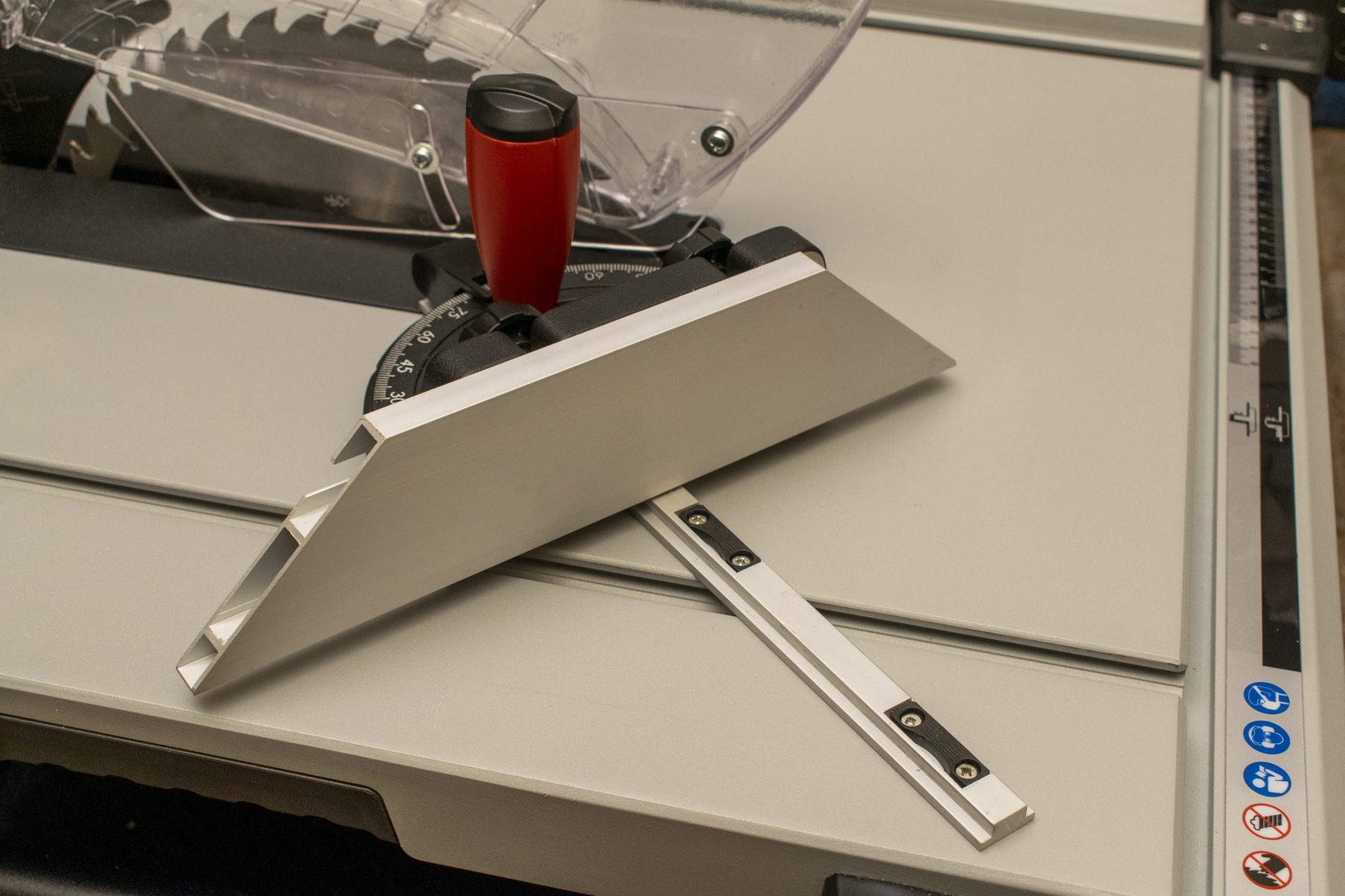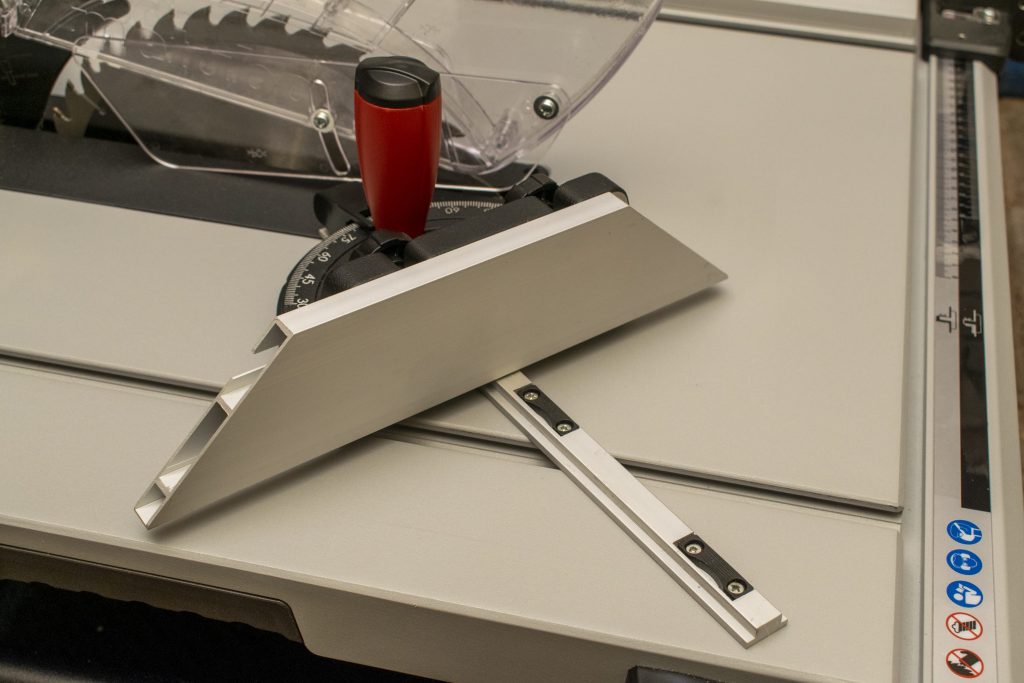 Metabo sliding table
Metabo has another trick up their sleeve: they actually sell a sliding table as well. It costs about €100 (on Amazon) which is very reasonable for the quality you get. It can actually be finely adjusted to guarantee squareness, and it moves over a nice smooth track.
The video below shows the Metabo sliding table in action on the TS 254 M (the sliding table fits both the TS 254 and the smaller TS 254 M).
Conclusion: Who has the best miter gauge?
The Bosch GTS 10 XC has the best miter gauge out of the box, but it has its problems and might require some DIY fix to work properly. But given that it also increases the saw's weight and size, I would actually recommend the Metabo's miter gauge over the Bosch. Keep in mind though that the Metabo also has its own flaws.
If you are willing to spend another €100, the TS 254′s sliding table is actually the best option of them all, because it can be finely adjusted and works accurately without any clear problems.
If you get the DWE7492 instead, I would suggest immediately upgrading to an aftermarket miter gauge (there are many good ones to choose from), or making a table saw sled yourself. One advantage of the DeWalt is that it has a standard size miter slot, so you can fit in almost any aftermarket gauge.
Conclusion: The Metabo TS 254 has the better miter gauge, especially if you get the sliding table. But if you DIY fix the Bosch, or get an aftermarket gauge for the DeWalt, those will work well too.
Size, Power, and Mobility
The three saws differ probably the most in terms of their form factor. The GTS 10 XC has the sliding table, the Metabo TS 254 has an integrated stand, and the DWE7492 has a really wide extension table. I'll compare all three in terms of capacity/size, power and mobility.
Capacity
Cutting height
All three saws have the same 254 mm blade, but they don't actually have the same maximum cutting height. In the case of the DeWalt and Bosch the saw blade extends 79 and 77 mm above the table, while the Metabo actually can cut up to 87 mm high. This is quite a bit higher, and if you often cut thick beams, it can be an advantage.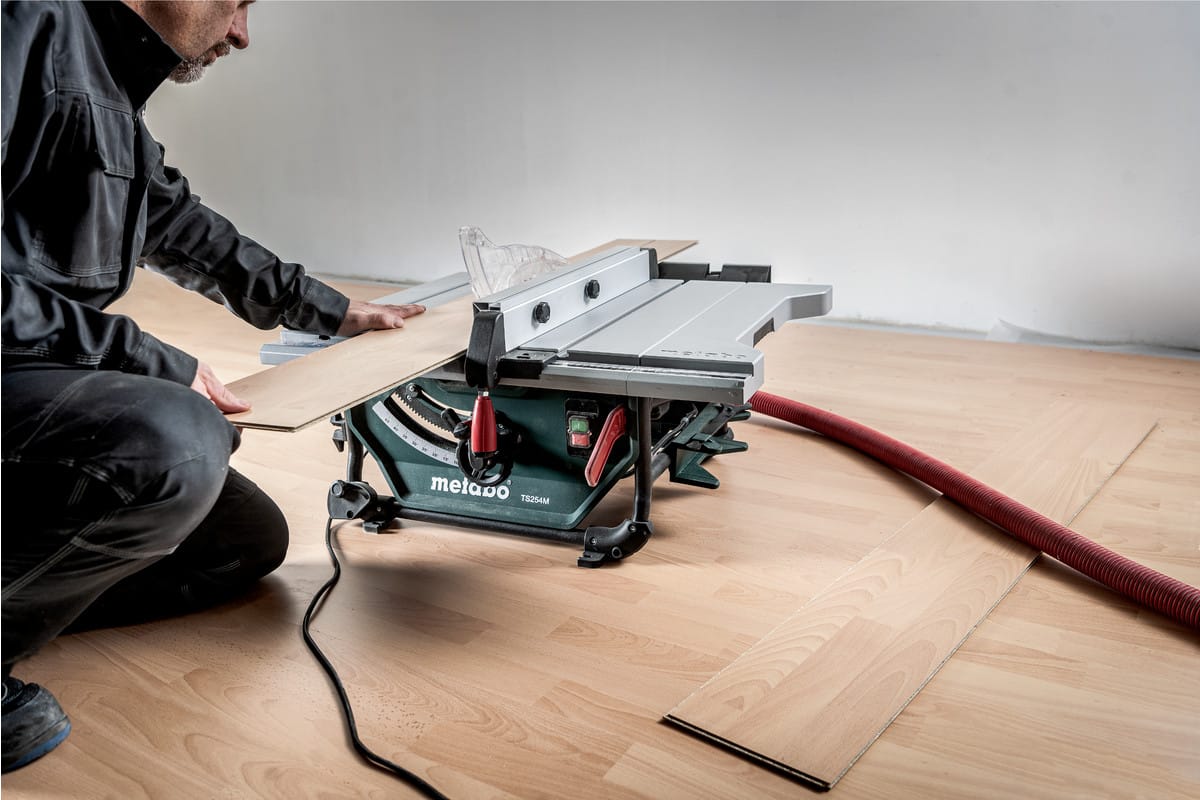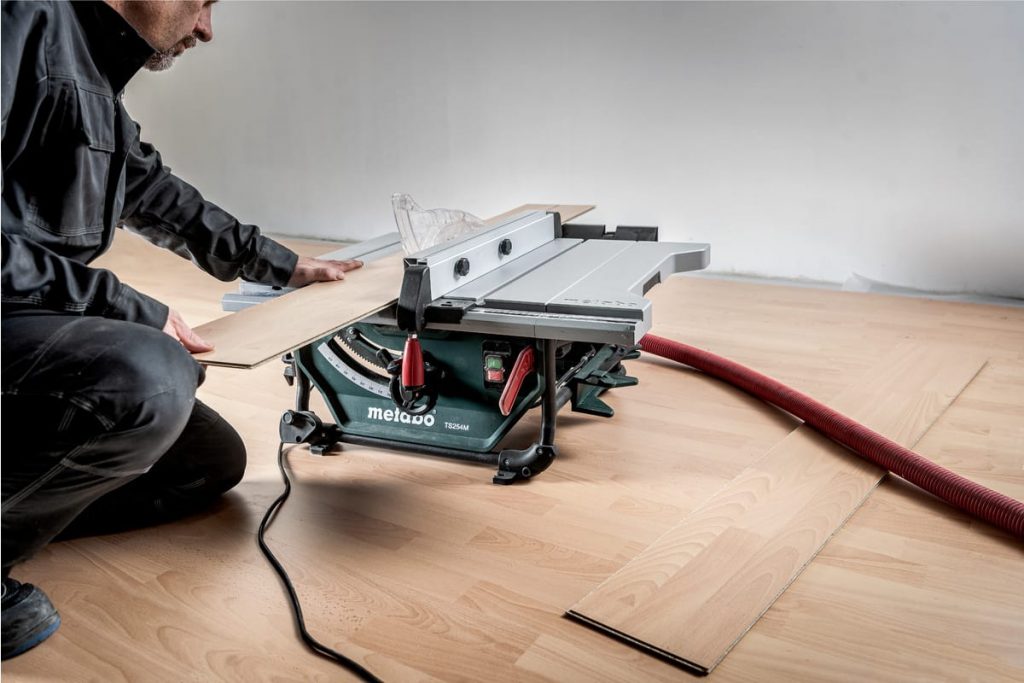 Ripping width
In terms of ripping width, the story is different. The GTS 10 XC and TS 254 can cut about 630 mm wide, as measured from the blade to the fence on the right. This is enough to cut the short side of half a plywood or MDF sheet in half.
The DWE7492 on the other hand can extend its table to up to 825 mm. This is significantly wider than the other two saws, thanks to its clever fence system that can flip over and make extra space.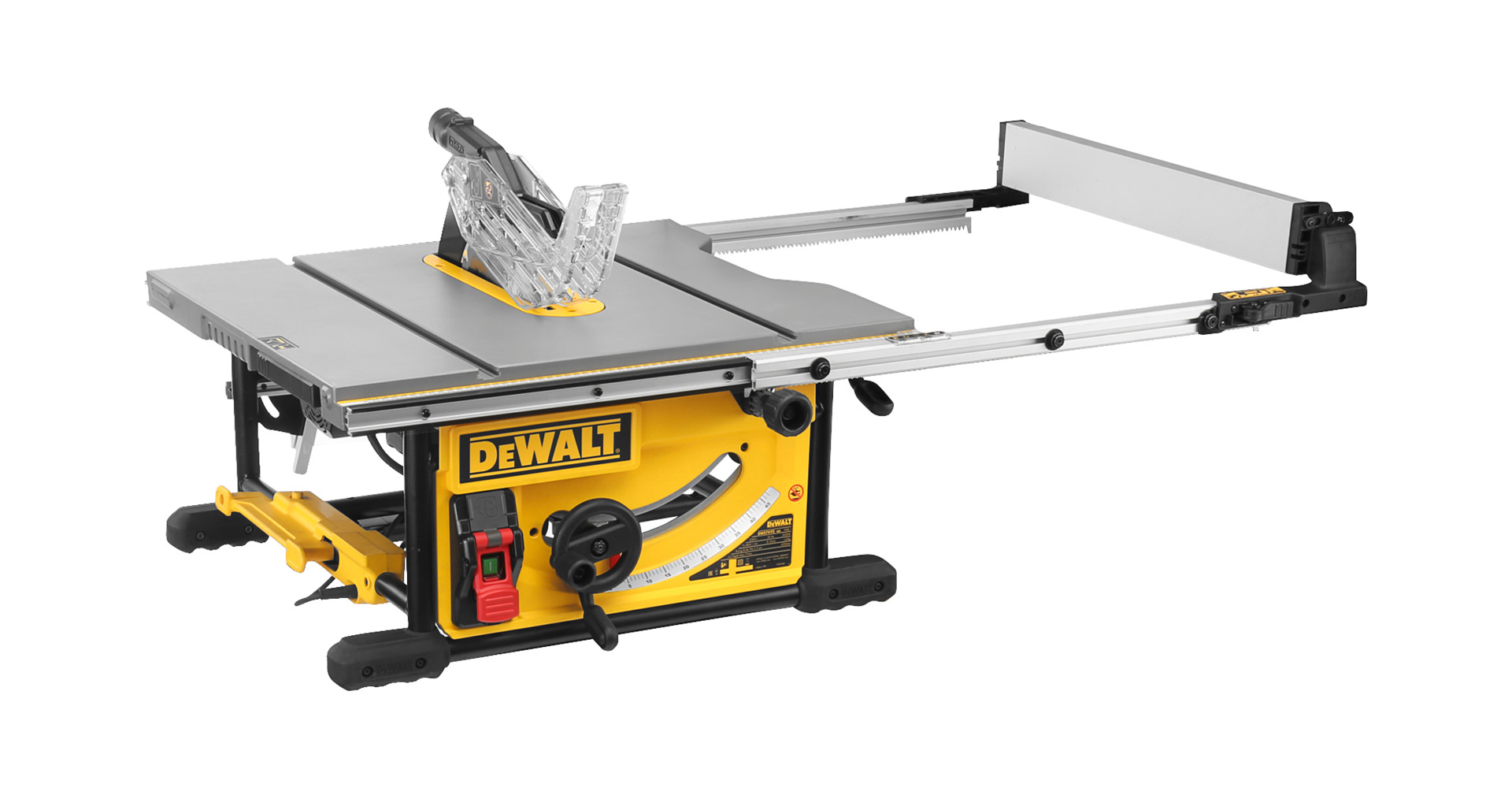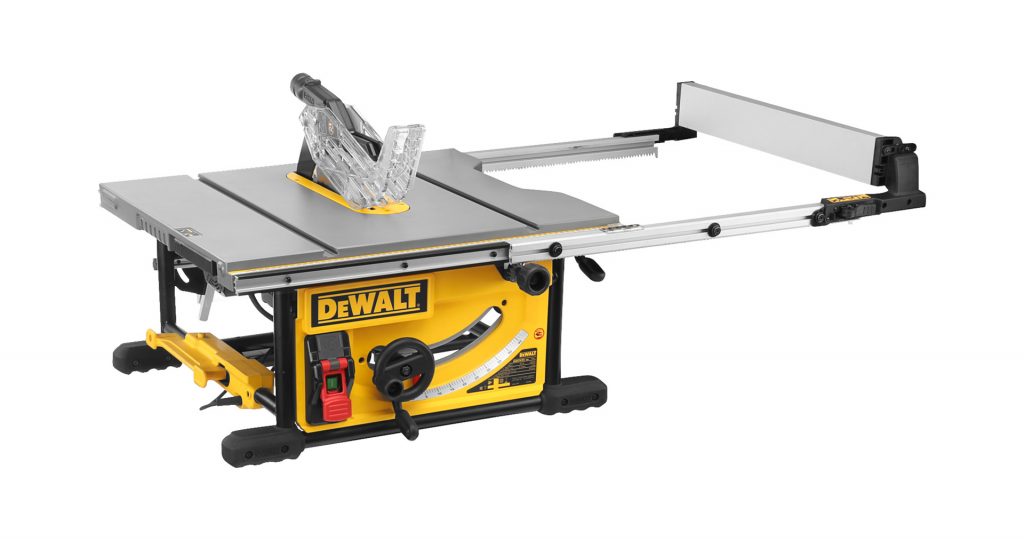 The question is how useful this extra space is. In most cases, you would probably prefer to cut sheet goods of this size with a track saw anyway. But it is nice that the DeWalt offers the extra capacity.
GTS 10 XC Router Table
One advantage of the extension table of the Bosch GTS 10 XC is that you can actually use it as a permanent router table.
It is sturdier than the extension tables of the DeWalt and Metabo, and has space to position a plate for a router table. You can then simply use the fence from the other side and have a table saw and router table integrated in one.
Power
In terms of power, I can be brief: They are all practically equal. DeWalt and Metabo have equipped their saws with a 2000 Watt motor, while Bosch uses a 2100 Watt motor. This 100 Watt difference is not noticeable in practice, and all three saws are more than capable enough of cutting anything that fits their maximum cutting height.
Mobility
While the three saws don't differ much in terms of power and capacity, they are a bit different when it comes to mobility. The first obvious difference is that the Metabo TS 254 has an integrated stand and wheel kit.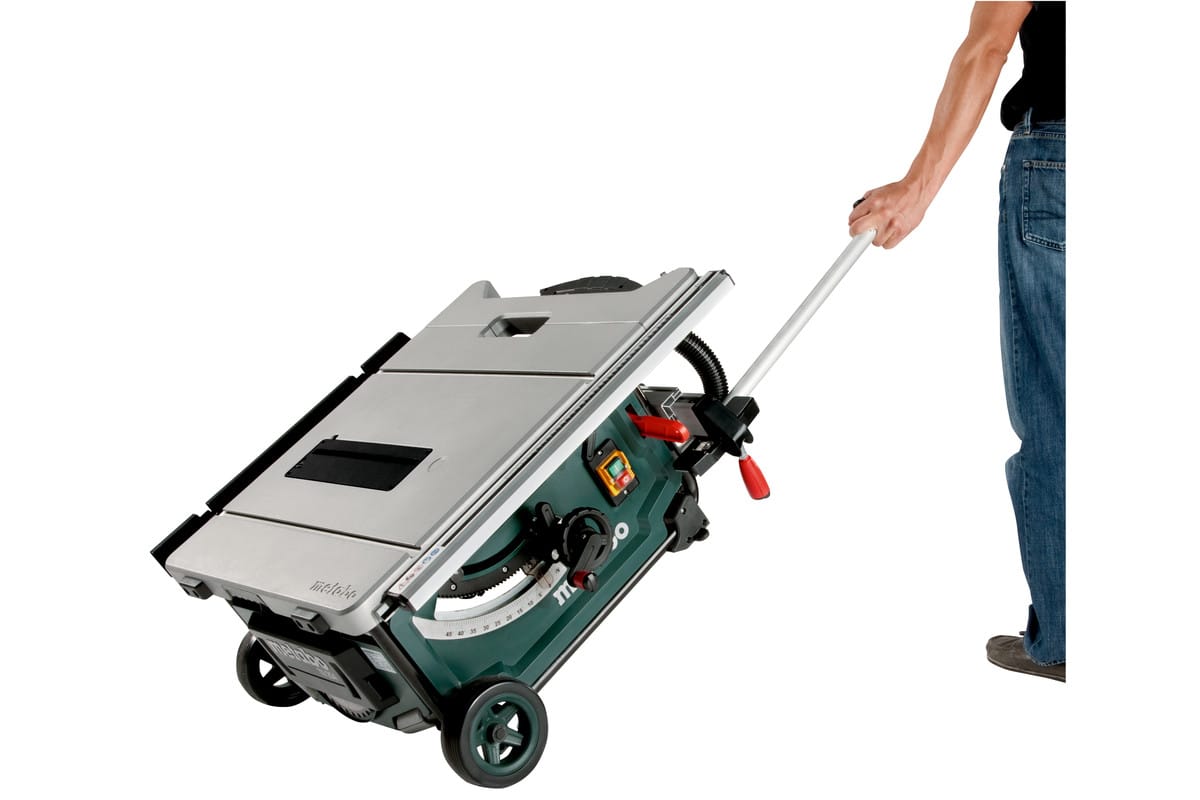 Metabo's Integrated Rolling Stand
This is a clever system where the legs also double as handles that you use to move the saw around as it rides on the two wheels on the side of the saw. This way you can move it around very easily, and you always have a stand with you. You can see quite well how it works in the video below:
Weight
Because the stand is integrated, the Metabo is relatively heavy at 33.6 kilograms. The DeWalt is quite a bit lighter at only 26 kilograms, but if you add the rolling stand (DWE74911) of about 14kgs you get a heavier package overall, which is also takes up more space.
The GTS 10 XC is heavier even in its base form with about 35 kilograms. You can also use a rolling stand (GTA 60 W) with it, which can be useful if you use it on multiple places in a single location. However, you probably won't be moving it around regularly as it is simply not made for mobility for most people.
Conclusion: In terms of size and power, all three saws offer similar specs. The motors are all powerful, and they offer similar cutting width and height. The TS 254 can make slightly higher cuts, and the DWE7492 can accommodate wider rip cuts. In terms of mobility, the Metabo is the clear winner however, thanks to its lightweight integrated stand and wheels.
Build Quality
It is honestly difficult to say whether one of these saws has an overall better build quality than the others. They are similarly priced and therefore use similar quality materials, and I expect them all to last about equally long.
GTS 10 XC Build Quality
There are a few small differences, however. The GTS 10 XC is more massive and bulky than the others. As such it is less likely to be moved around, and simply because of that probably expected to outlive the other two saws. But that is more because of how it is used than its actual build quality.
Because of the bigger plastic body, it is also more likely to get damaged, but this would not necessarily have to affect the actual working of the saw itself.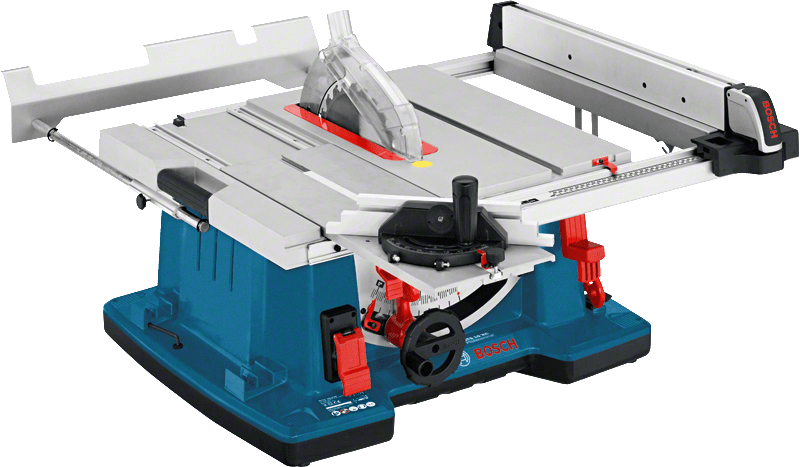 DeWalt DWE 7492 Build Quality
The DeWalt DWE7492 on the other hand has a sturdy looking metal pipe frame with rubber feet that might help it protect itself against any shocks due bumps or straight up falling down.
Also, the fence on the DeWalt does not rely on a clamping system with springs like the other two saws. This means it will probably maintain its function longer than the other two saws. But then again, replacing a tired spring on the fence of the Metabo or Bosch after many years of use won't cost much and isn't terribly difficult.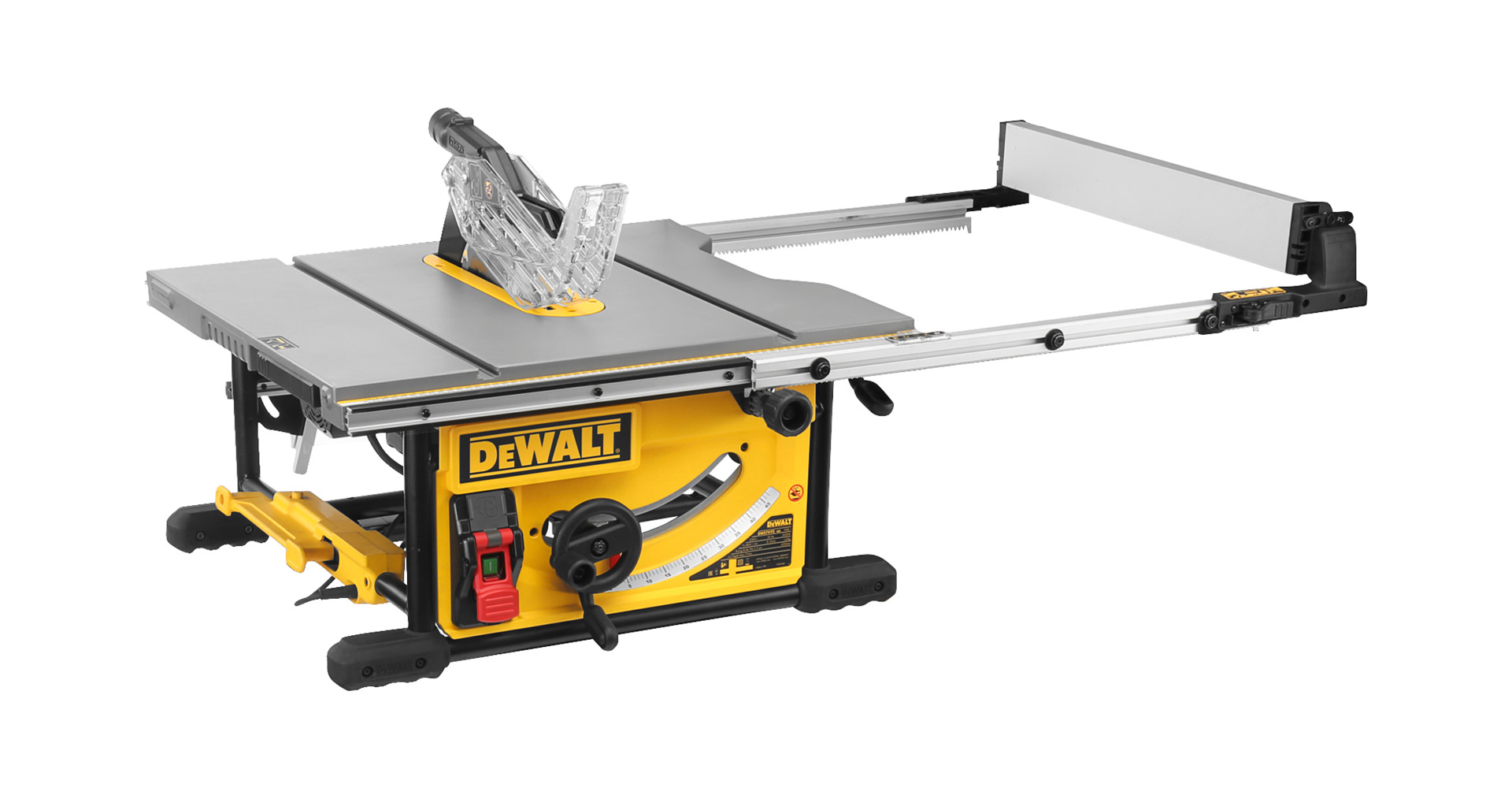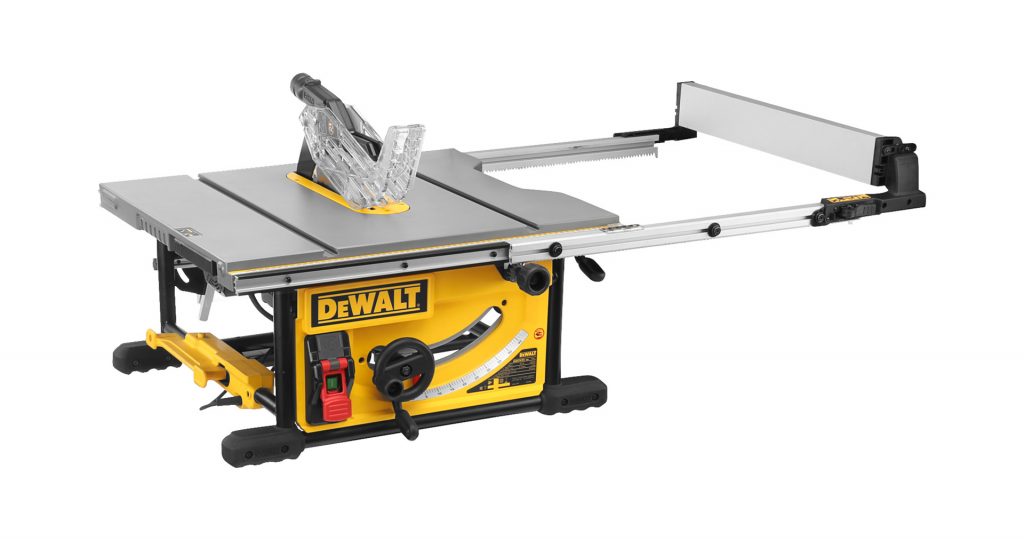 Metabo TS 254 Build Quality
Early versions of the TS 254 actually had problems with build quality. The thread on the height adjustment mechanism would get worn out and so you couldn't lower or raise the blade anymore. Of course this is a significant problem.
However, Metabo has since fixed this problem and new machines have a different type of threaded rod that won't get worn out anymore. Also, owners of older machines got replacement parts sent for free. The video below discusses this problem on the old machines (old model 600668000).
It is difficult to say whether this means the Metabo has lower build quality overall, or it was just a one-off. Since I haven't seen any other major complaints about the TS 254, I assume it isn't a systematic problem with the saw.
Conclusion: Who has the best build quality?
Overall, I can't say that one of these three table saws has a higher build quality than the others. Simply because they are cost about the same, they also can offer about the same build quality. The DeWalt's fence might outlast the other two a little, but other than that I would say they are all evenly matched.
Conclusion: All three saws offer similar build quality, and there is no clear winner. DeWalt does have a higher quality fence.
Now then, which of these saws is actually the best? This is difficult to say as each saws has its own particular strengths and weaknesses. Ultimately it will depend on what your own specific needs and preferences are.
Best saw for mobility: Metabo TS 254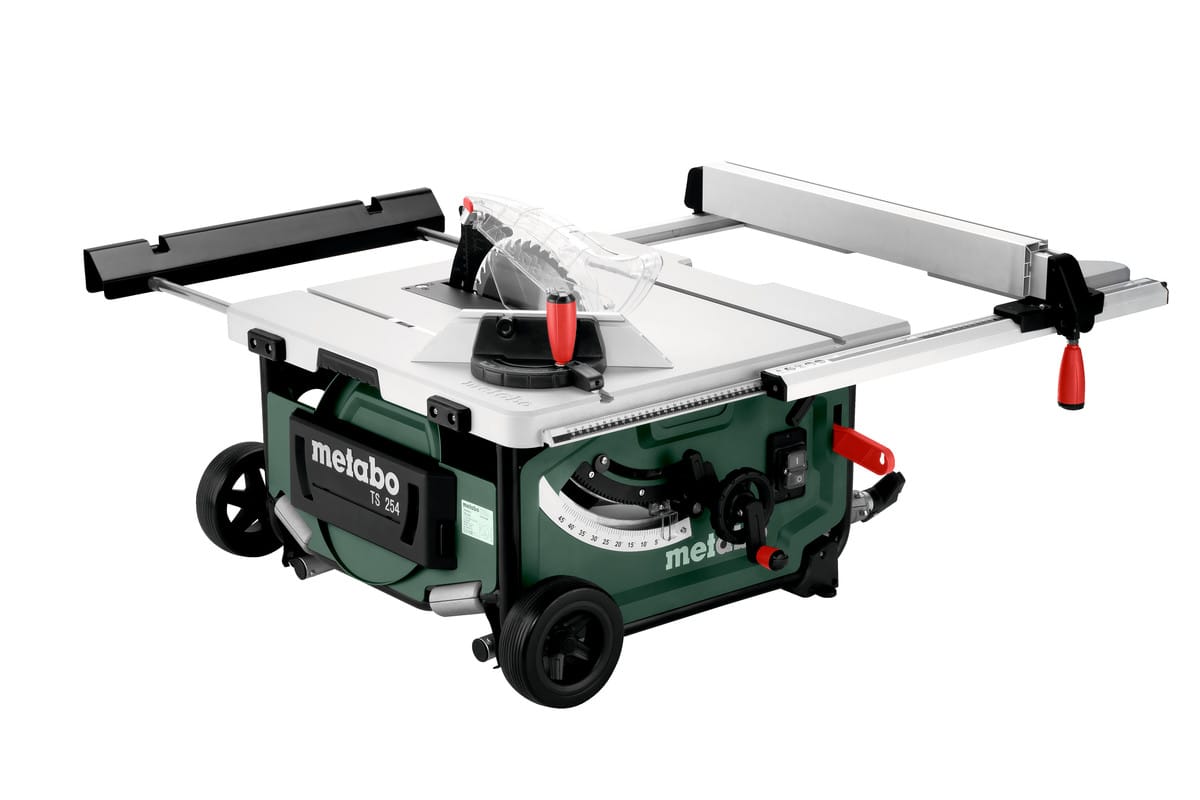 Type of machine
Table Saw
If you are planning to move your saw often, whether you work at home or at a jobsite, the Metabo TS 254 is the clear winner. It is cheaper, because the rolling stand is already integrated, and lighter too. Even if you don't move it often, but just want to store it at home, the rolling wheels are a very helpful feature too.
Best for accuracy: DeWalt DWE7492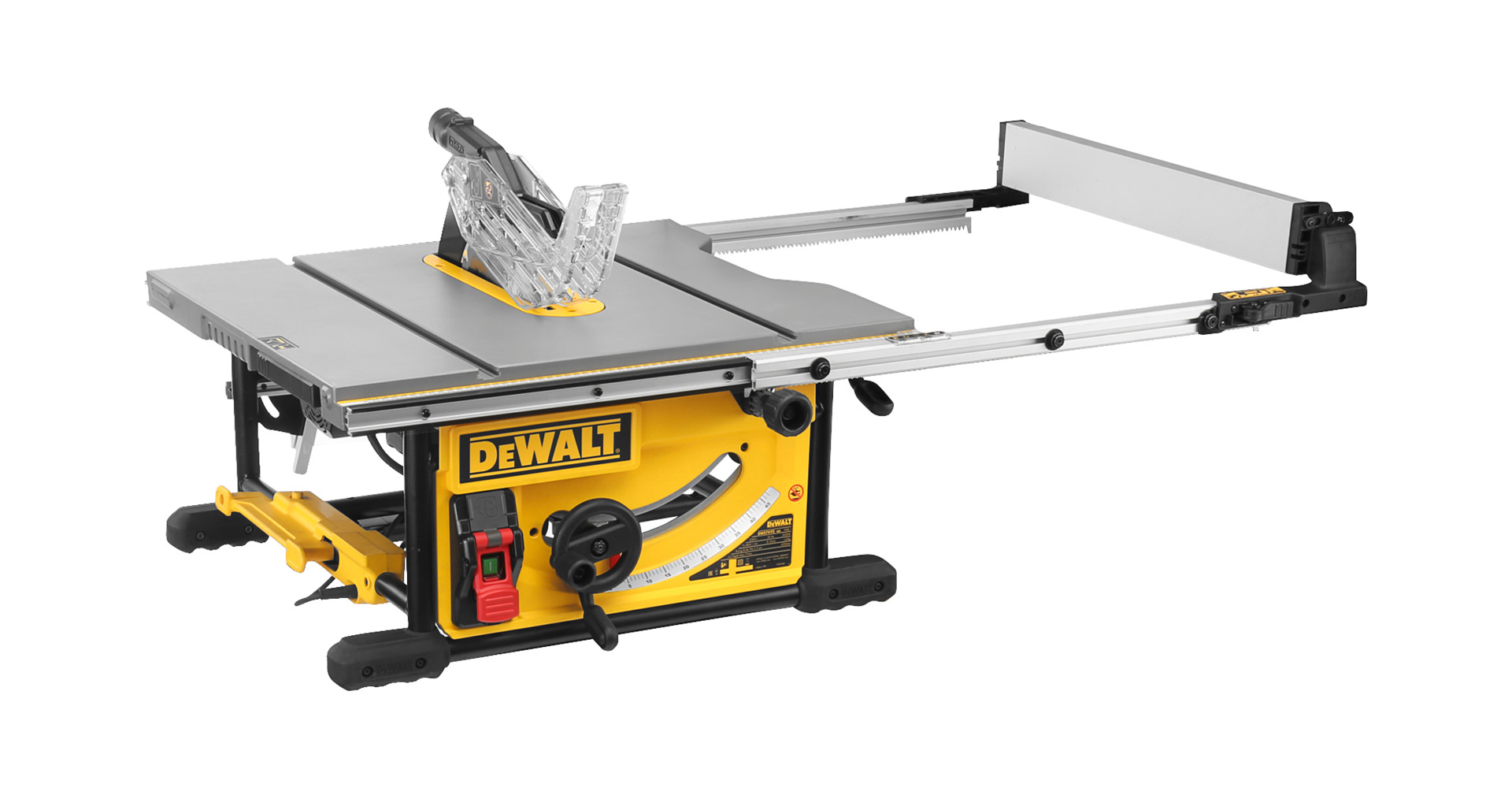 Type of machine
Table Saw
Designed in
United States
Because of its excellent fence, the DeWalt is by far the best of the three in terms of accuracy. The fence can be fine adjusted and will always be parallel to the blade.
The miter gauge of the DWE7492 is not good at all, but because the miter slot is standard, you can simply upgrade it with an aftermarket one. You can find some pretty good ones on Banggood or Aliexpress, or go for a really expensive Incra one. Either one will make a huge difference to the crosscut quality of the DeWalt.
Best for integrating in a workbench: Bosch GTS 10 XC
Best for integrating in a workbench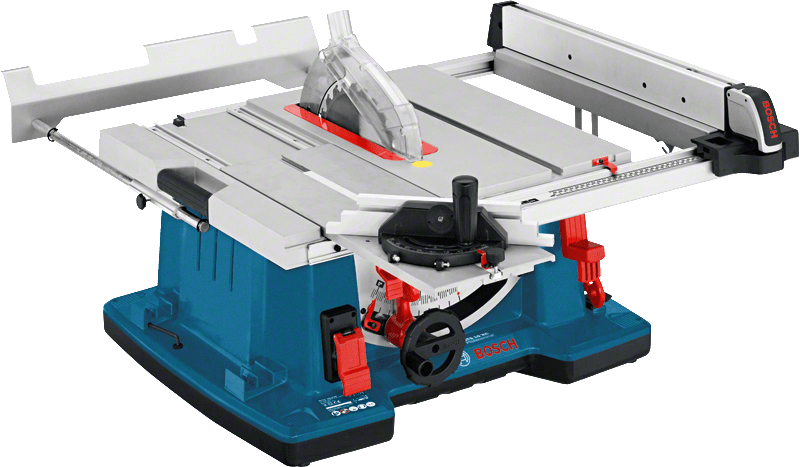 Type of machine
Table Saw
Overall, I would say the Bosch GTS 10 XC is slightly less attractive than the other two, because it doesn't offer the accuracy of the DeWalt, nor the mobility and lower price of the Metabo.
But if you want to use your saw purely stationary, and even integrate it in a workbench, then the GTS 10 XC is probably the best choice. Thanks to its sliding table you can make larger and more accurate crosscuts. And if you use the extension table as a router table, you can save space and use one fence for two applications. Check out the video below for a good example of this:
Tip: If you're looking for a more affordable table saw, check out my article comparing the entry-level table saws from Bosch, DeWalt, and Metabo:
Bosch GTS 635-216 vs Metabo TS 254 M vs DeWalt DWE7485 – Entry-level Table Saws Compared
DeWalt, Bosch, or Metabo? Which of their new entry-level table saws is the best?
Comparison Table: Bosch GTS 10 XC vs DeWalt DWE7492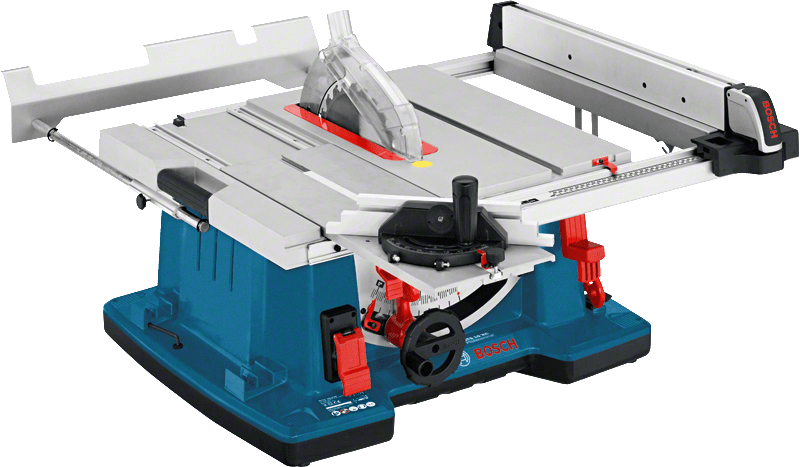 Unique sliding table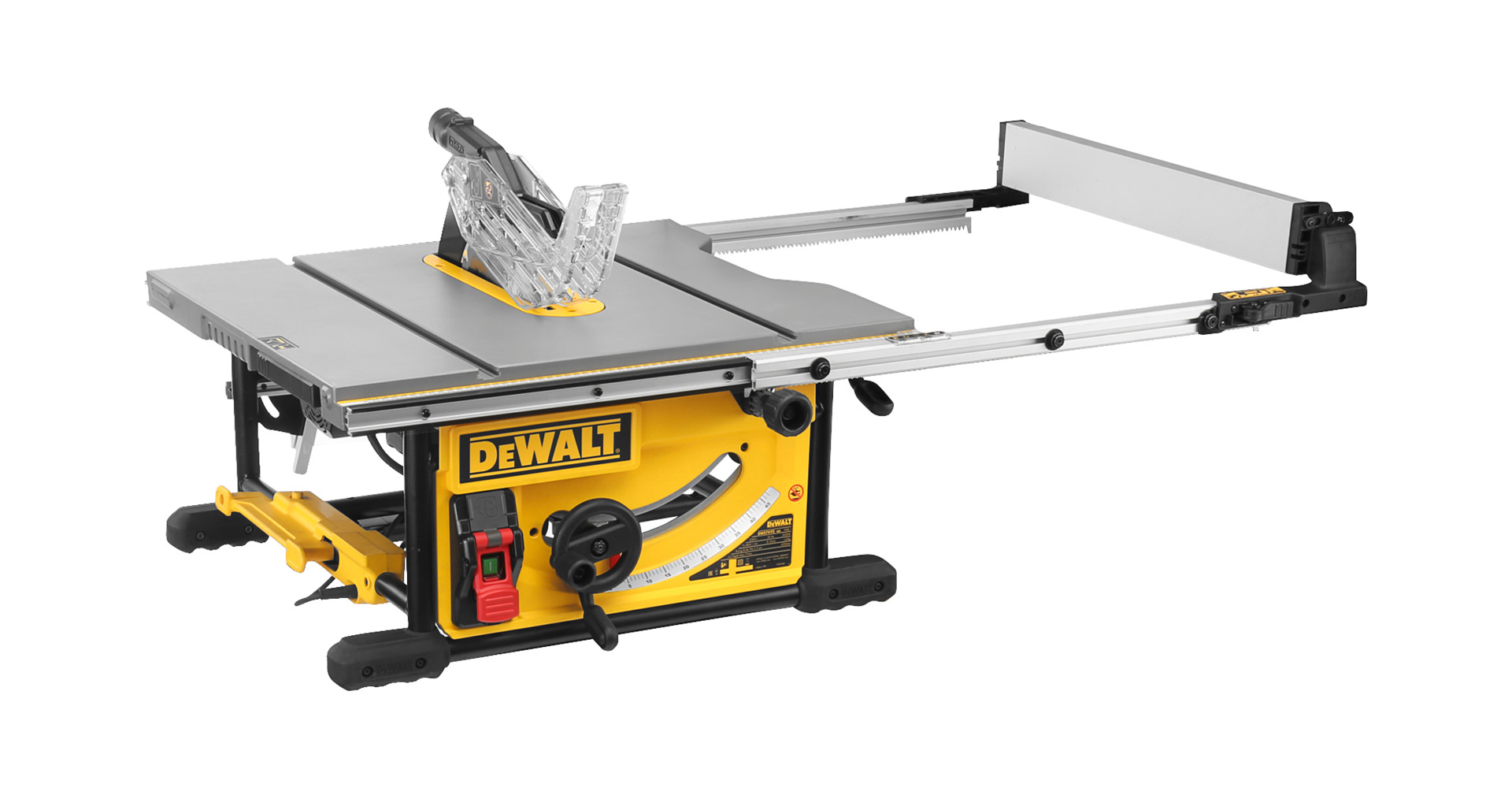 Best fence
2100 Watt
2000 Watt
635 mm wide
825 mm wide
77 mm
79 mm
35 kg
26 kg
Sliding table
Accurate rack and pinion fence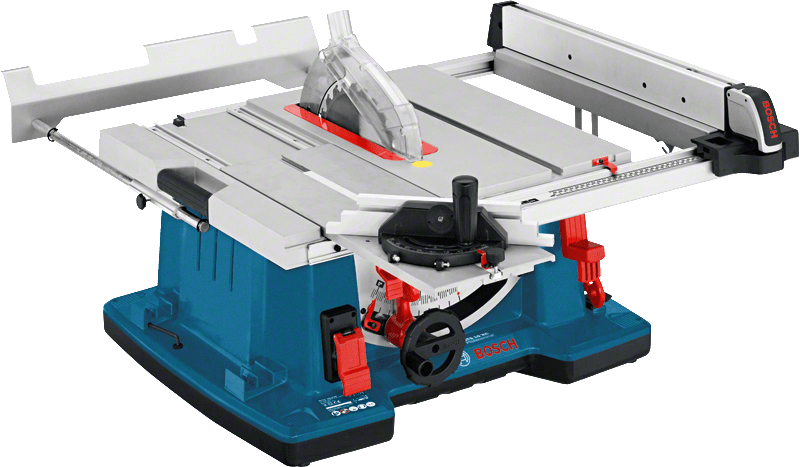 Unique sliding table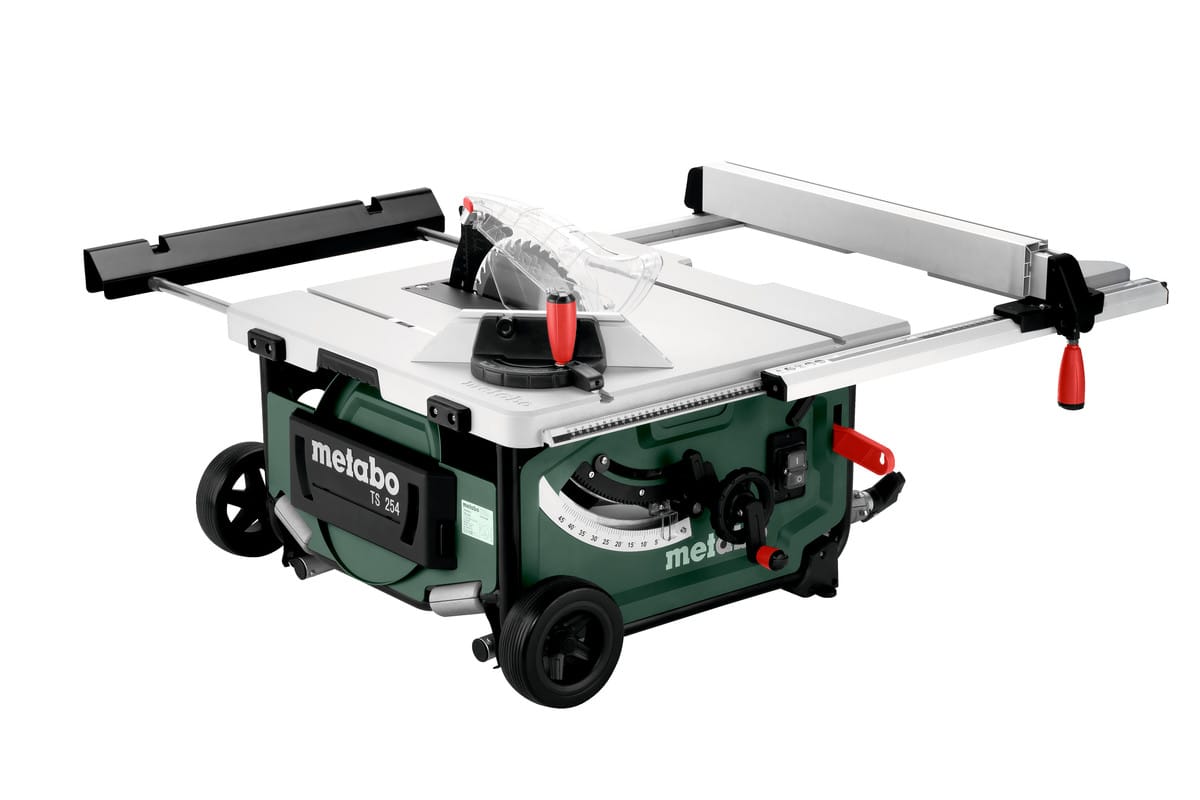 Integrated rolling stand
2100 Watt
2000 Watt
635 mm wide
630 mm wide
77 mm
87 mm
35 kg (excluding stand)
33.6 kg (including stand)
Sliding table
Integrated rolling stand, optional sliding table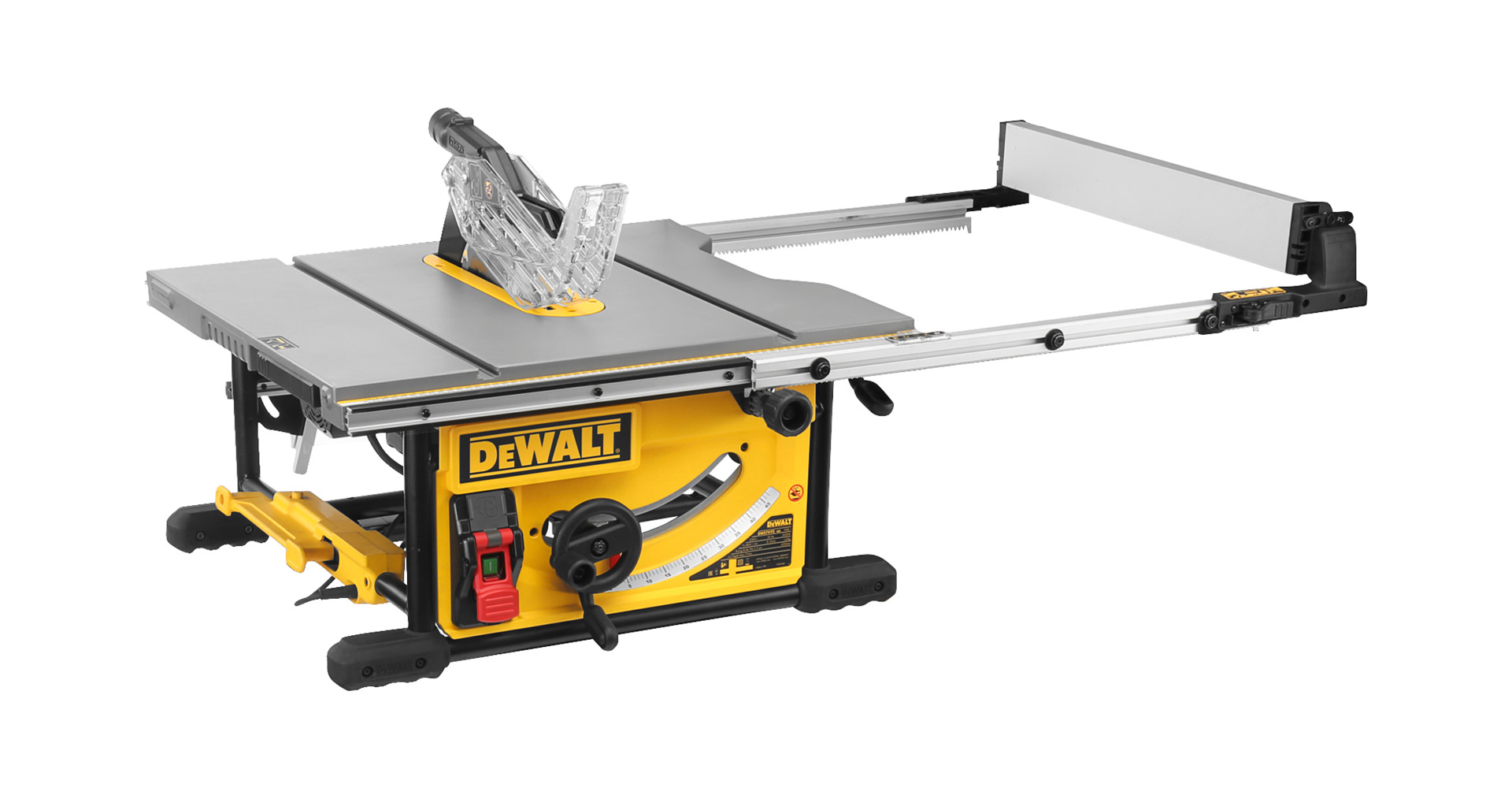 Accurate fence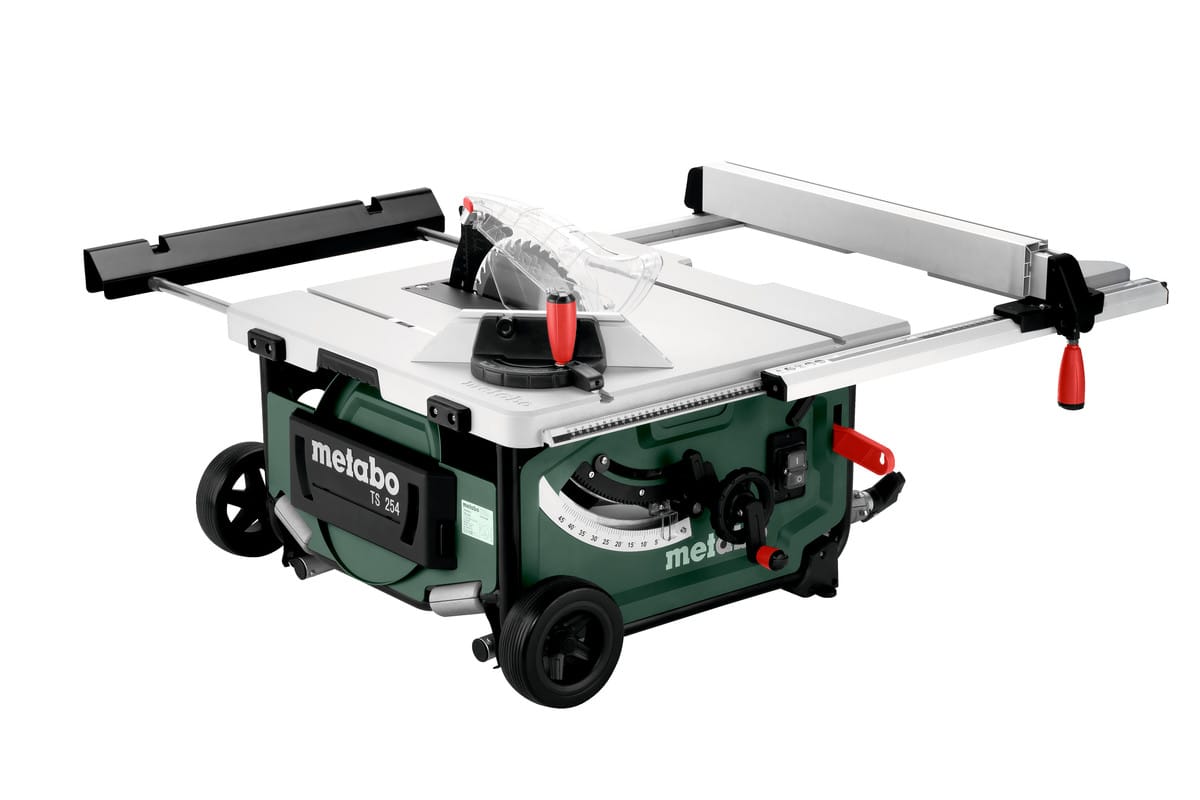 Integrated rolling stand
2000 Watt
2000 Watt
825 mm wide
630 mm wide
77 mm
87 mm
26 kg (excluding stand, 40 kg including stand)
33.6 kg (including stand)
Accurate rack and pinion fence
Integrated rolling stand, optional sliding table
I hope you found this article useful. What do you think is the best saw of these three? Let me know in the comments below!