A few months ago, Metabo released their new table saw, the TS 254 M. What interested me straight away was the combination of a low price with good specs and features. On paper it looks really good with a large 254 mm blade, which is usually found on larger saws, a 1500 W motor and a solid miter gauge and fence.
I kept the TS 254 M in the back of my mind, until I decided to buy a new table saw myself recently. Previously I owned the Inca Major, which was a great saw but lacked dust collection and took up a lot of space, both things which aren't great in a really small garage shop like mine.
After comparing it with a few other saws, I decided to take a bit of a gamble and go for the TS 254 M. There wasn't much information available about it yet, but it looked better than the competition so I went for it.
I've been using it for some time now, and I thought I'd post a review of my experiences, so you can see the good and also the few bad things about this saw.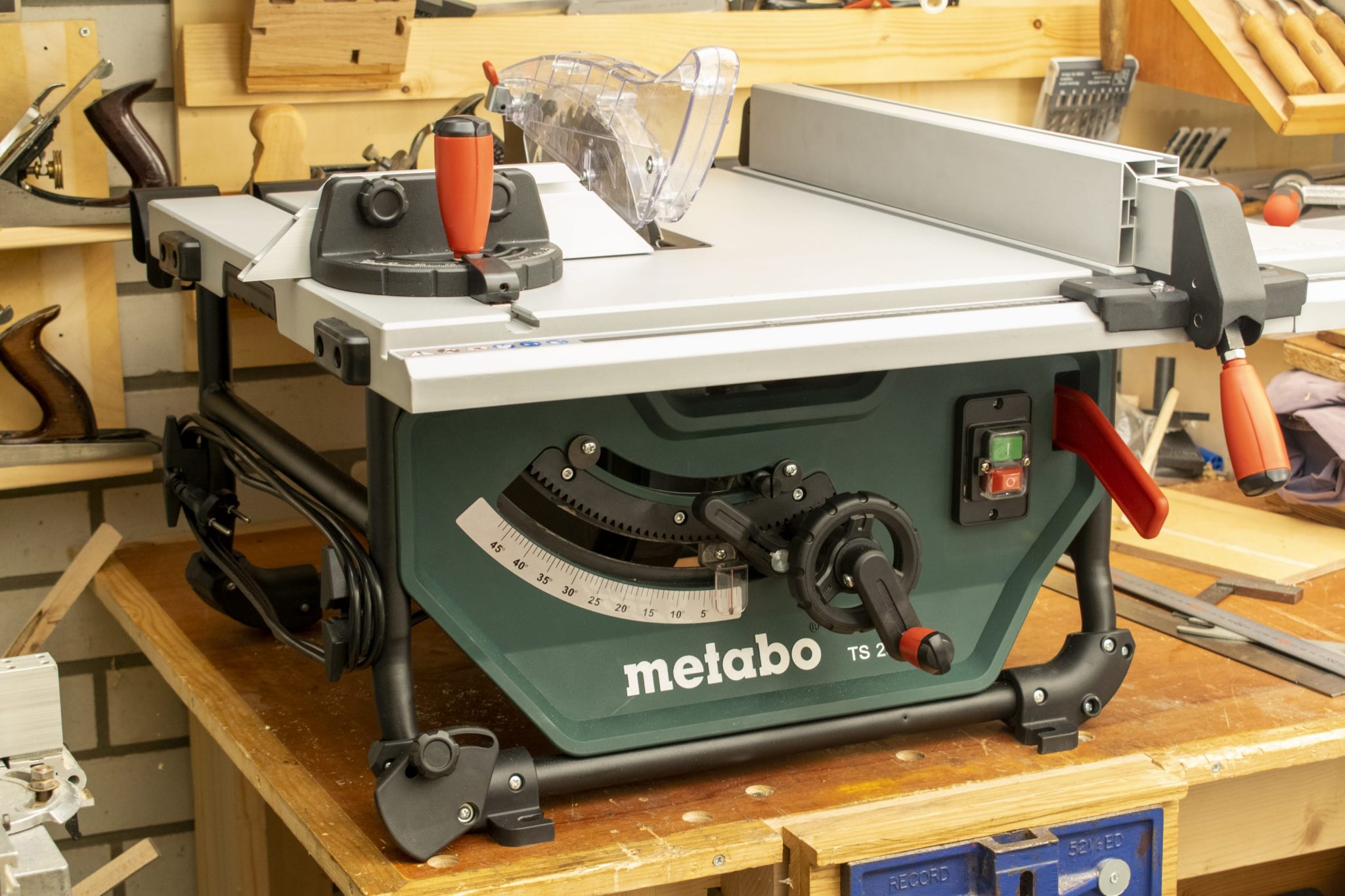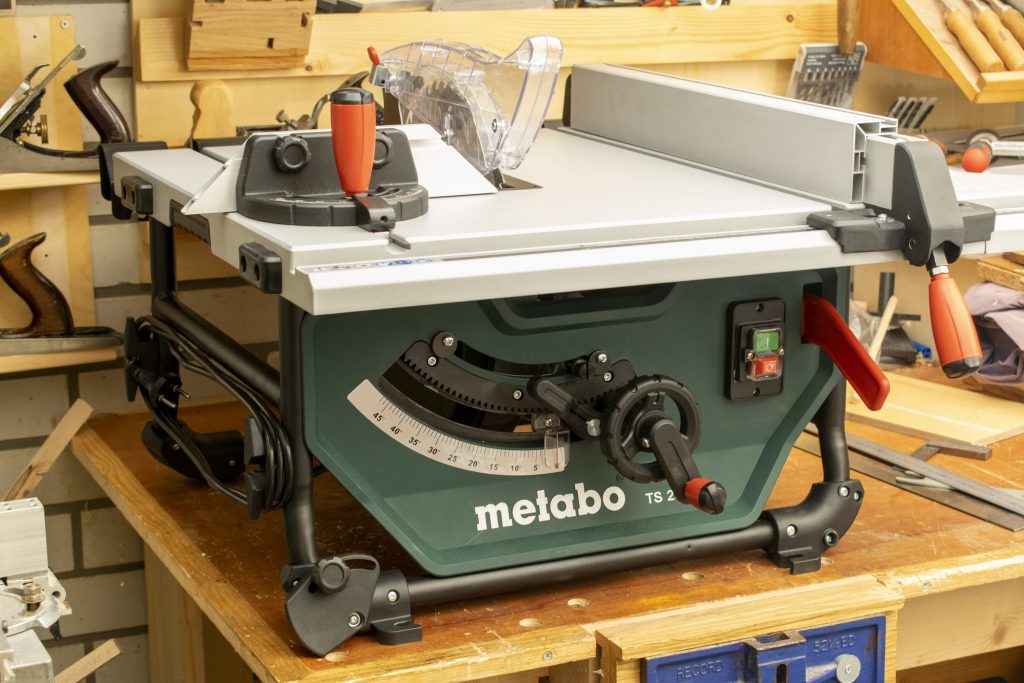 Video Review
Update 02 June 2021: I've now also made this written review into a video. If you prefer some moving images, you can watch it below.
Size and Power
The Metabo TS 254 M is a relatively small table saw, but it has a large 254 mm blade. This allows it to cut up to 80 mm high, which is more than most competitors. In terms of rip capacity, it is slightly smaller than other saws with a maximum of 520 mm wide rip cuts.
Although the saw isn't overly large, it does come in a pretty massive cardboard box: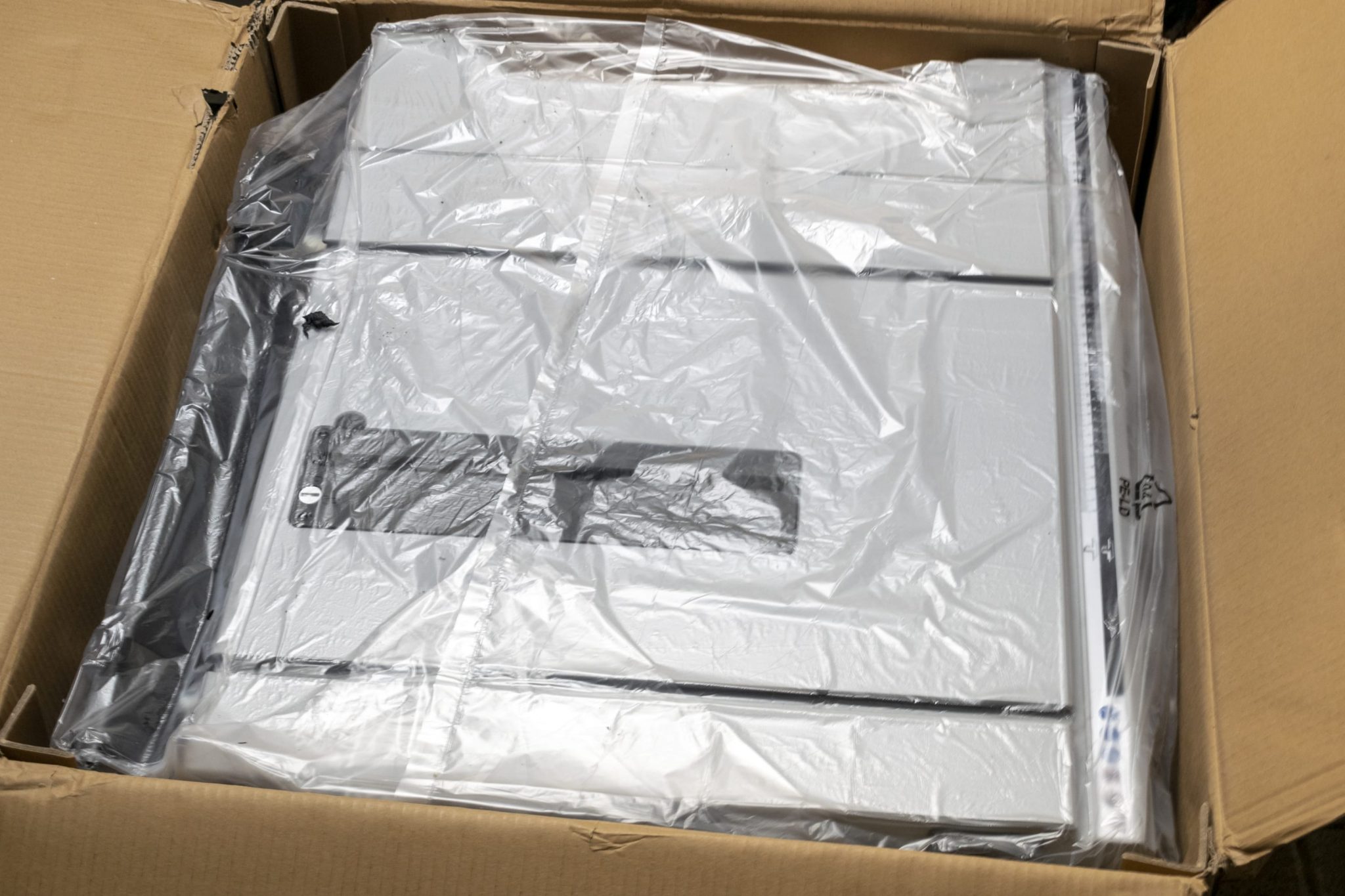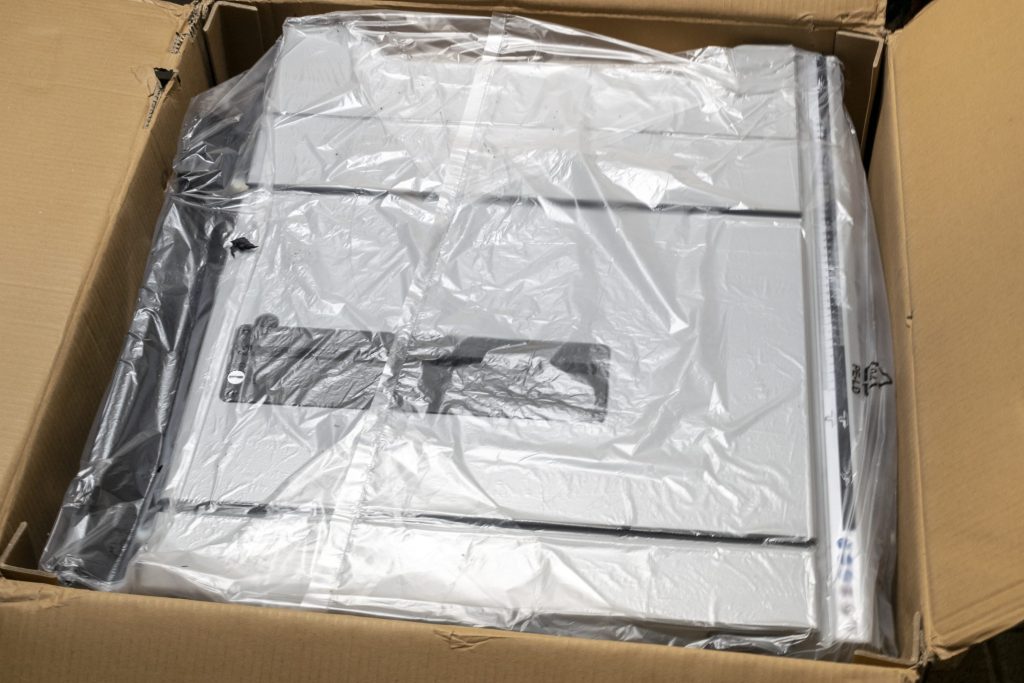 The motor has sufficient power with 1500 Watt, and the blade turns at 4200 RPM. It actually has a soft start motor, so you don't have to worry about blowing a fuse due to a high peak in power when you turn on the saw.
Another feature is the fast motor break, which in theory guarantees the blade to stop within 3 seconds, but in my experience it usually shuts down even faster. I haven't done a side-by-side comparison with similar saws, but I was impressed by how quickly the blade stopped.
The saw also has restart protection that prevents the saw turning back on automatically after a power outage, which is a useful safety feature.
Fence
The fence is made of aluminium and is quite heavy and feels solid. It consists of two parts, namely the main body, and a side fence (aluminium extrusion) that can be put in a low and high position. The low position helps when cutting thin pieces. On the front of the table there are two measurement tapes, black and grey, which correspond to the low and high position of the fence.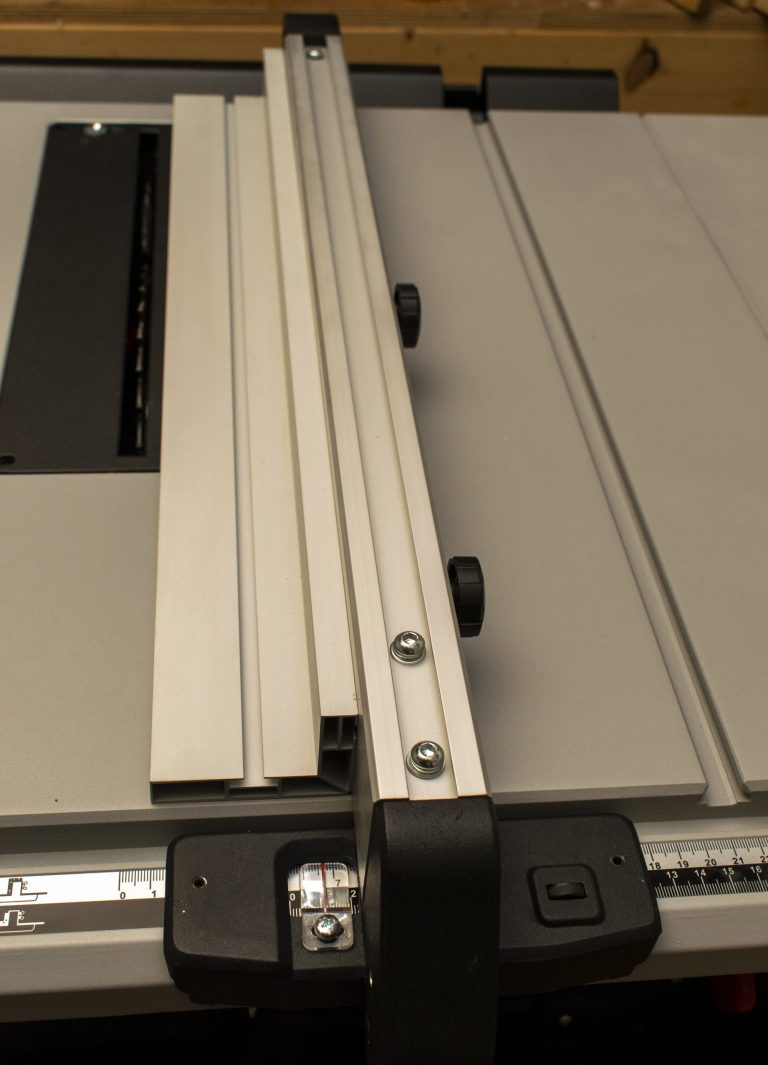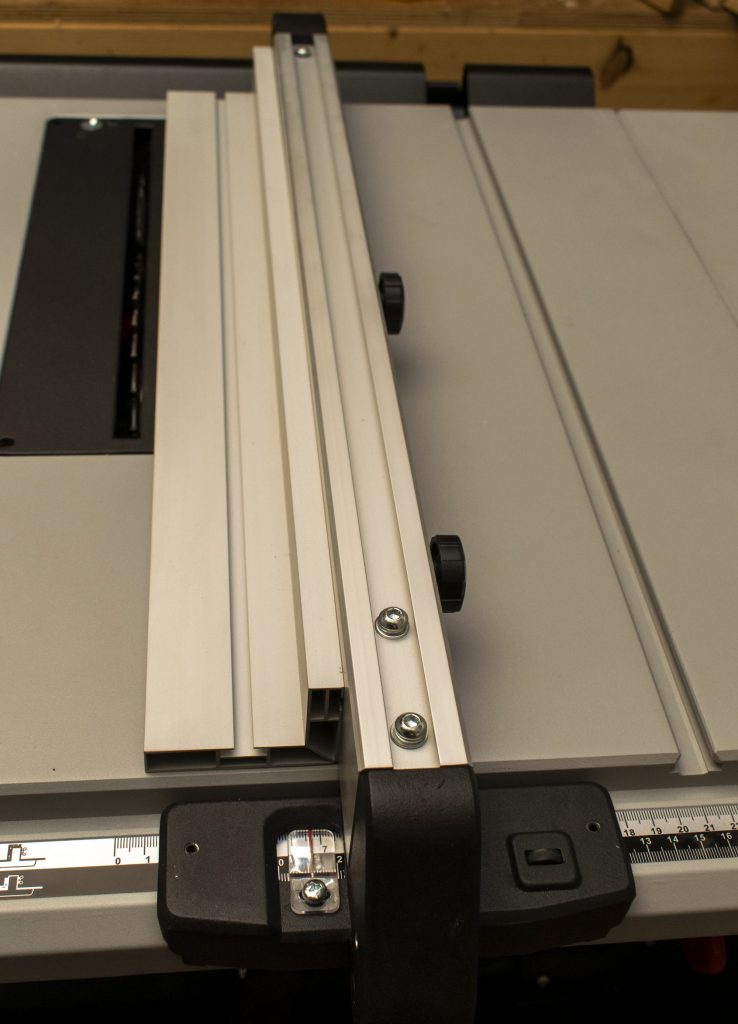 The side fence can also be slid all the way forward, so you can use it as a repeatable stop for crosscuts, which I found a pretty useful feature. There are two knobs on the right side of the fence that hold the side fence in position. All in all both the main fence and the side fence feel pretty rigid and in my case were perfectly straight.
To lock the fence in position, you simply pull the handle on the front downwards. This locks the fence both in the front and the back. I found that it did still flex a tiny bit all the way at the back of the fence, but at the front it was rock solid, so I didn't find it to have any effect on accuracy.
What does have some effect on accuracy is the fact that the fence does not automatically perfectly align itself with the saw blade. When you lock the fence, it does pull itself slightly straighter, but you are not guaranteed to be parallel with the saw blade. This means when you lock the fence you need to make sure the fence is not in a skewed position.
This is not a major problem, but still it would've been nice to have the fence be guaranteed parallel with the blade. I don't think this is really a problem of cost. My old Inca saw had an even simpler fence and it's always perfectly parallel when you lock it.
One other interesting feature is the fine adjustment wheel. This is a little rolling wheel that you can move your finger over to tweak the fence's position. It's not the best system, but it works.
Miter Gauge
Miter gauges are usually one of the things table saw manufacturers save on. Even quite expensive table saws often come with really poor miter gauges. Luckily Metabo has decided otherwise! The TS 254 M actually comes with a decent miter gauge, especially for the price, although it is definitely not perfect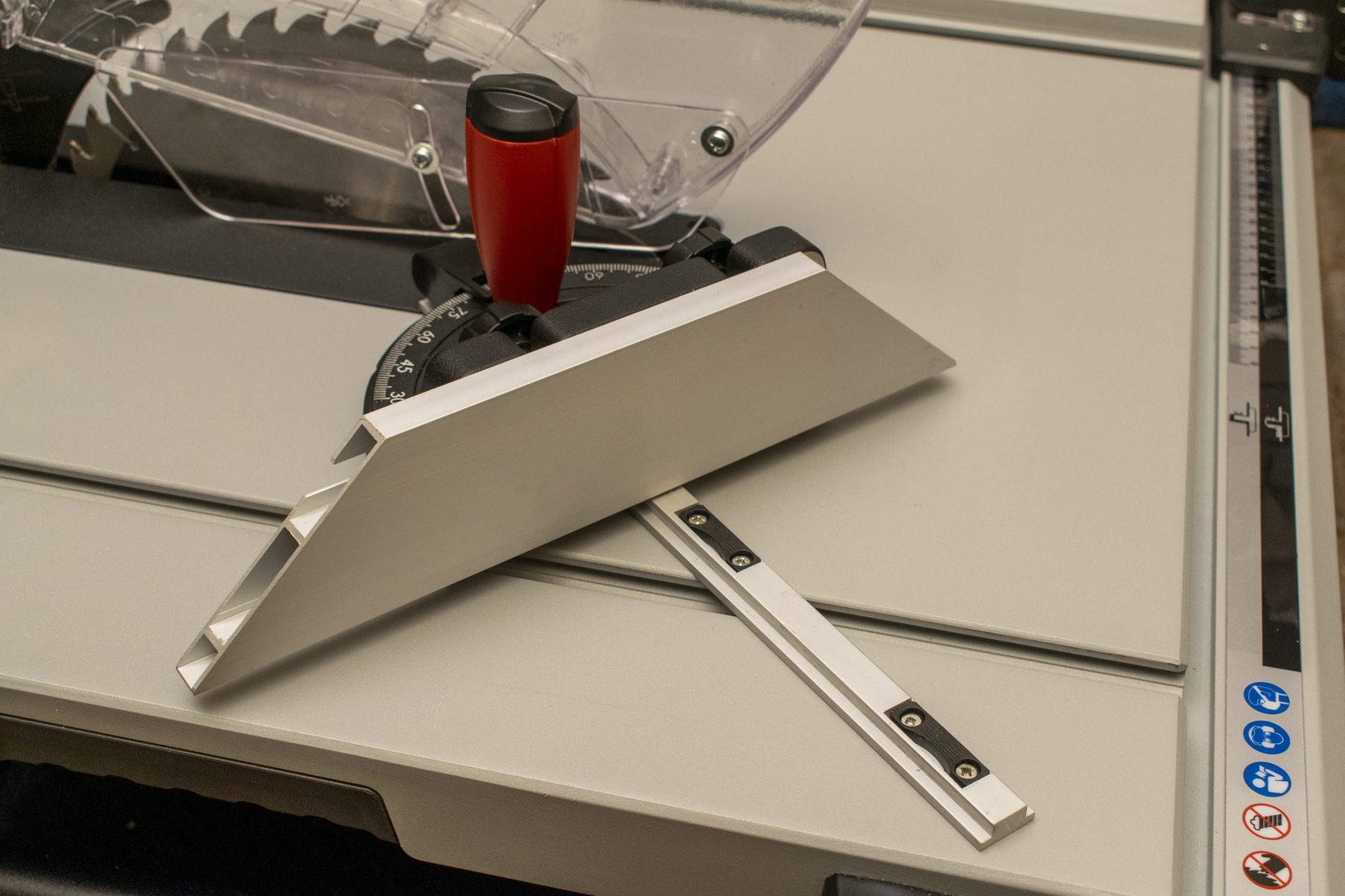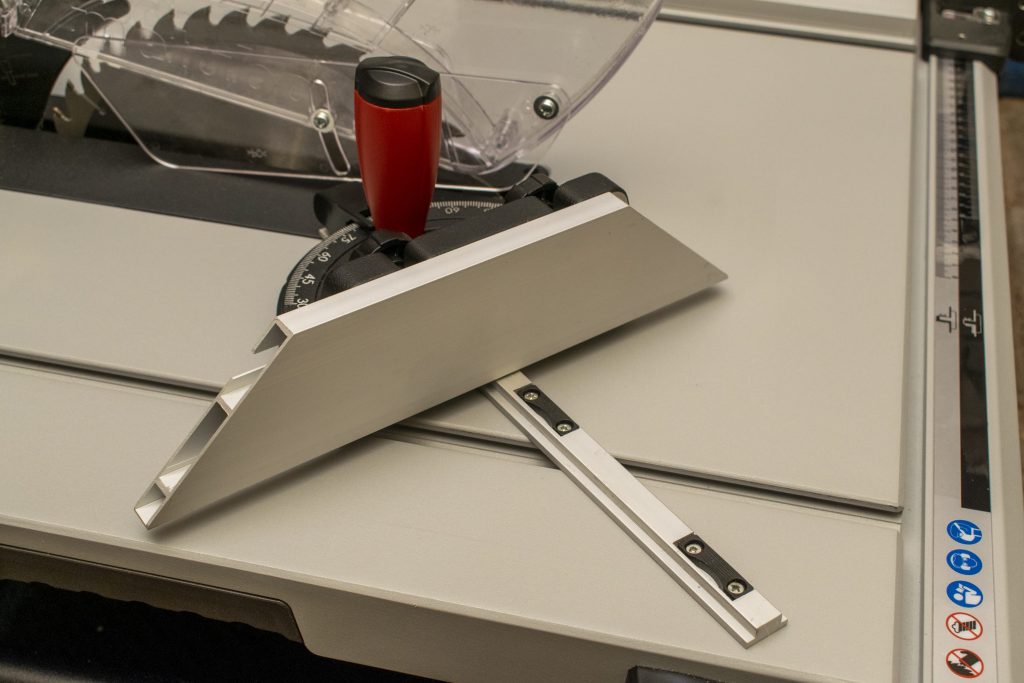 The miter gauge is made from metal and has an aluminium extrusion fence for extra support. It has 5 positive stops at 45, 66.5, 90, -45, and -66.5 degrees. These 'click' into position, so you can easily switch between them. The only downside is that this cannot be adjusted, so if your gauge is out of square with the blade you cannot fix it. On my saw the miter gauge was ever so slightly off (about 0.3mm over 200mm), but I corrected this with some duct tape behind the miter gauge fence. Not a beautiful solution, but it works.
Another good thing about this miter gauge is that it has two little blocks that you can adjust to eliminate any play (sideways movement) in the miter slot. These are really simple, just two plastic blocks that can be adjusted left and right and screwed down with a few bolts. But it really works and when you set them up correctly there is no play in the miter slot. This is a great move by Metabo, as sloppy miter gauges are a major source of inaccuracy for most entry-level table saws.
However, the two miter slots (left and right of the saw blade) are not perfectly straight and not identical. I had set up my miter gauge perfectly for the left slot (which gets used more often), but now it didn't move very well in the right slot, because it was slightly narrrower. So to use that I would've had to recalibrate the miter gauge, which is a bit annoying. The slots are T-shaped and non-standard so I don't think you can fit any aftermarket gauges unfortunately.
Sliding table
If the miter gauge isn't precise enough for you, take a look at the optional sliding table, which can be aligned more precisely. It's not that expensive for what you get (under €100) and greatly improves the crosscut capacity and accuracy of the saw.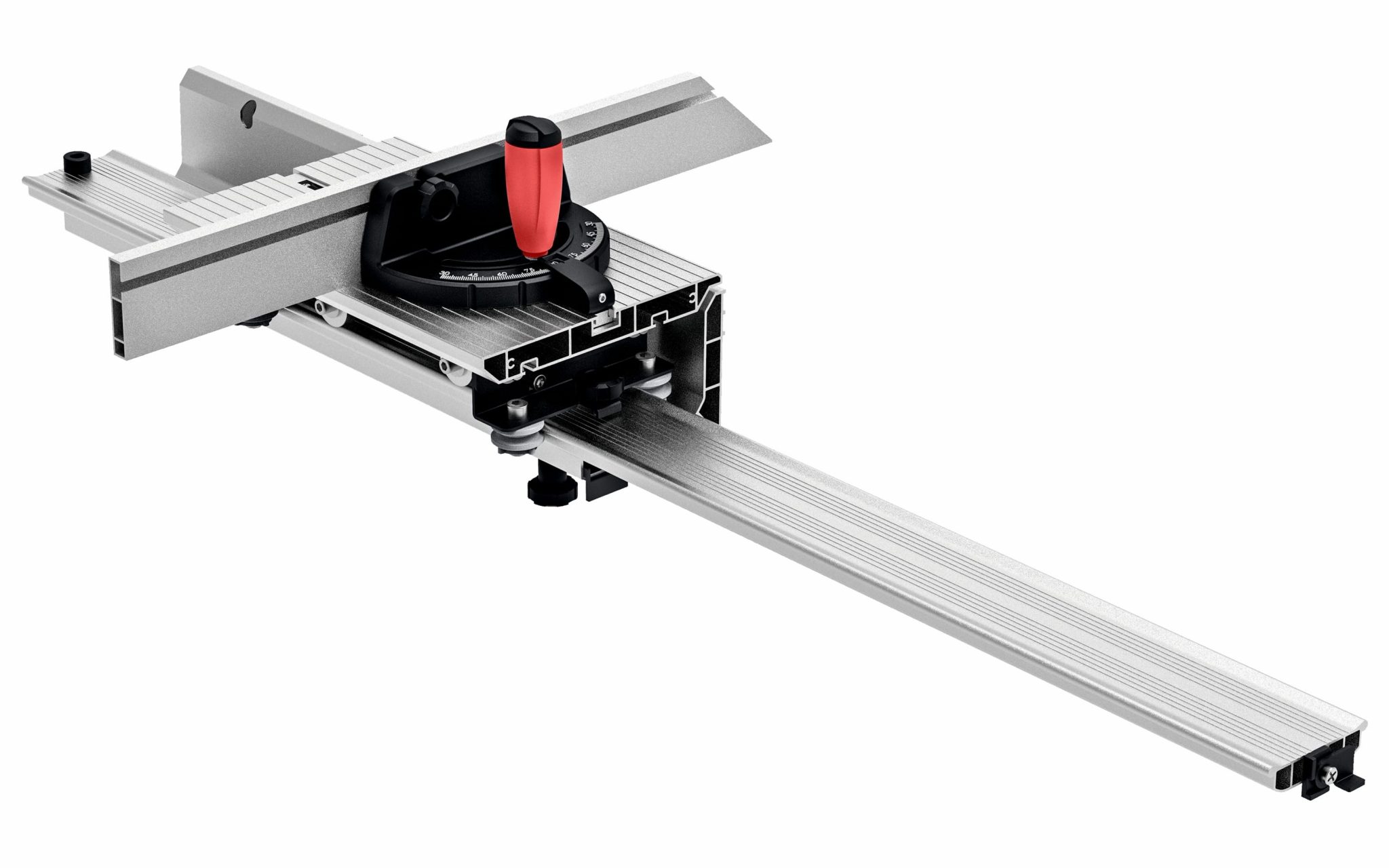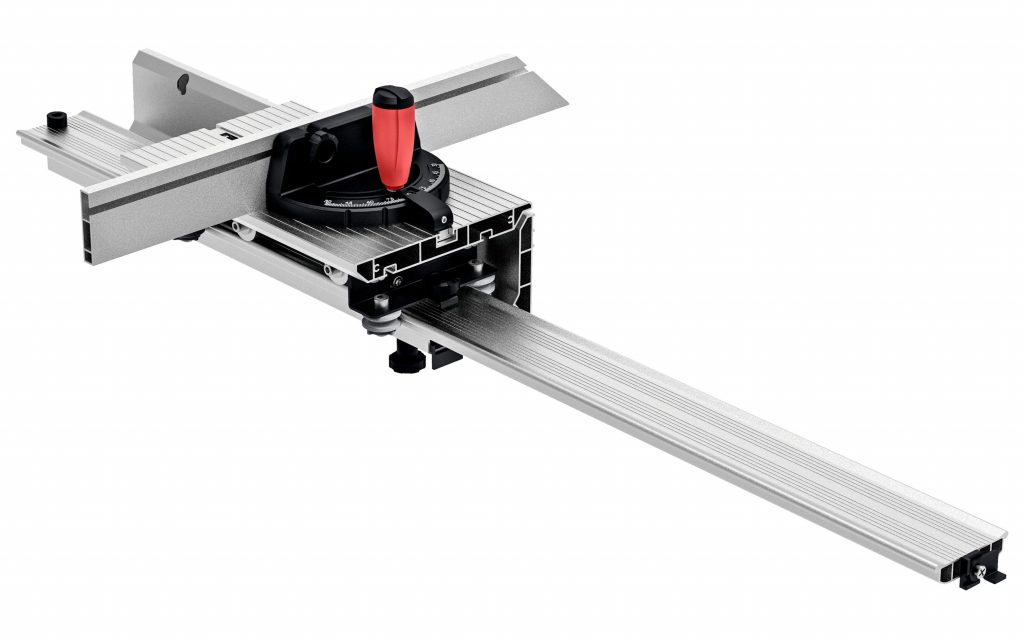 Saw Blade: Height and Angle Setting
Changing the height of the saw blade is simple and works really smoothly. Simply turn a plastic handle to adjust the height. It moves slightly easier downwards than upwards, but that is normal (gravity!). There is no indication of height, but I personally have not really had the need for that, and you can always just measure the height of the blade. To retract the blade all the way under the table, you do need to remove the blade guard (but not the riving knife).
I also liked the system for changing the angle of the blade. By turning a small handwheel, the blade moves along a rack and pinion system, which makes it easier to hold the blade in place. By pulling a lever upwards, the position can be locked. There is a stop for both 45 and 90 degrees, which were set near perfectly from the factory for my saw. These can be adjusted if needed.
What I found quite clever is the system for cutting -1.5 and 46.5 degree angles. Instead of having to change the positive stops for 45 and 90 degrees, you can pull out a bolt that hits the stops, allowing it to move just a little further and make those -1.5 and 46.5 cuts. That way you can make both cuts without having to constantly adjust the stops.
There is also an indicator for the specific angle, which can be adjusted as well, but I rarely use it, because for the common 45 and 90 degree cuts I would simply look at the stops, and for any angles in between I would want to measure more precisely anyway.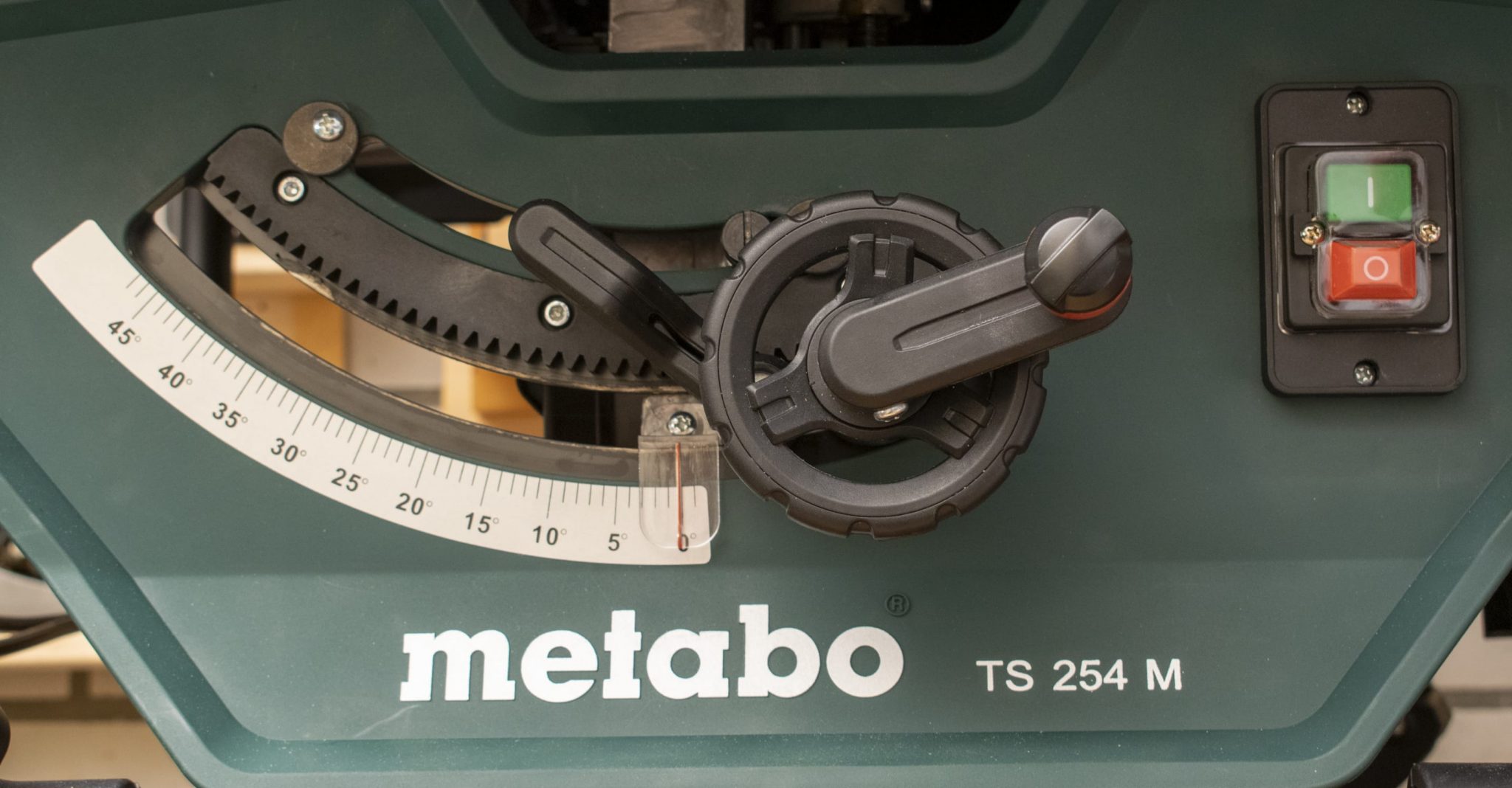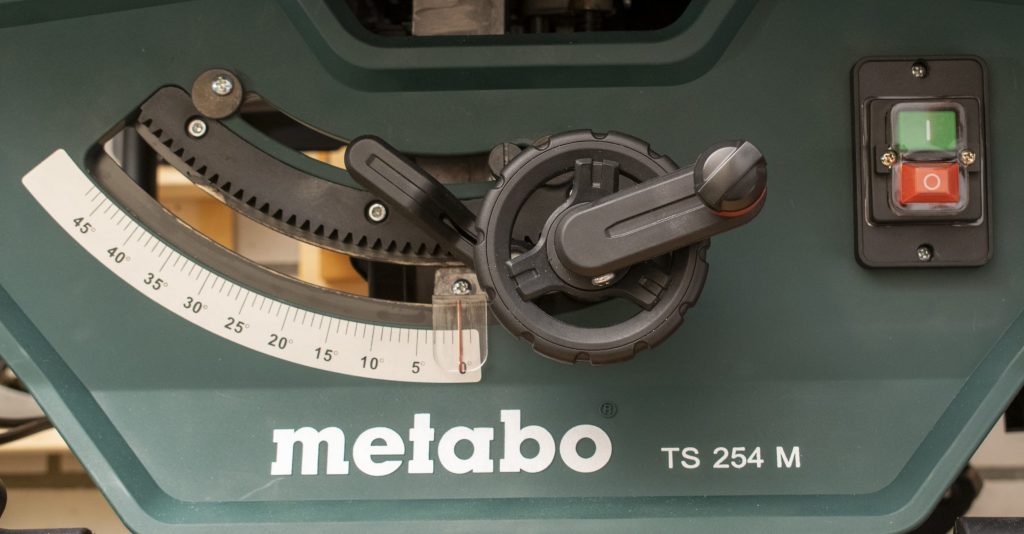 Blade insert, Riving knife, and Blade guard
To get access to the saw blade, you simply turn a key (using the supplied spanner) and remove the insert. The insert is made from metal and feels quite solid. You can adjust the height of the insert with four screws in each corner. These screws do not hold the insert in place, only the key does, so making your own custom zero-clearance insert might not be too easy, but maybe you can replace the screws with slightly longer ones and actually use them for this purpose.
The riving knife can be finely adjusted too, both in height and in left-right position. Changing the height is simple, just pull a lever and you can slide it up and down. My riving knife was set up perfectly from the factory, but if you need to adjust its position in relation to the saw blade that can be done too, by loosening 3 screws.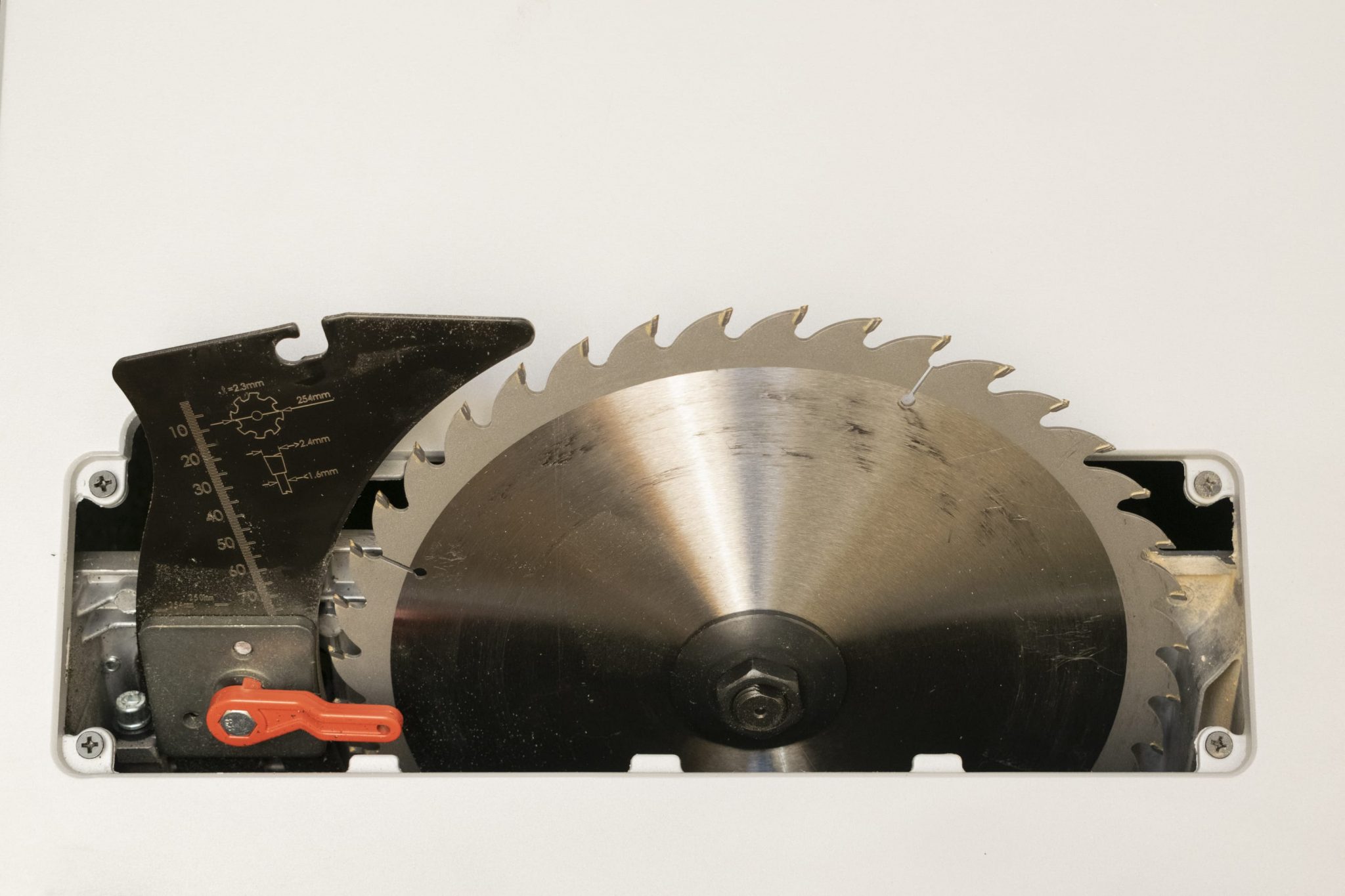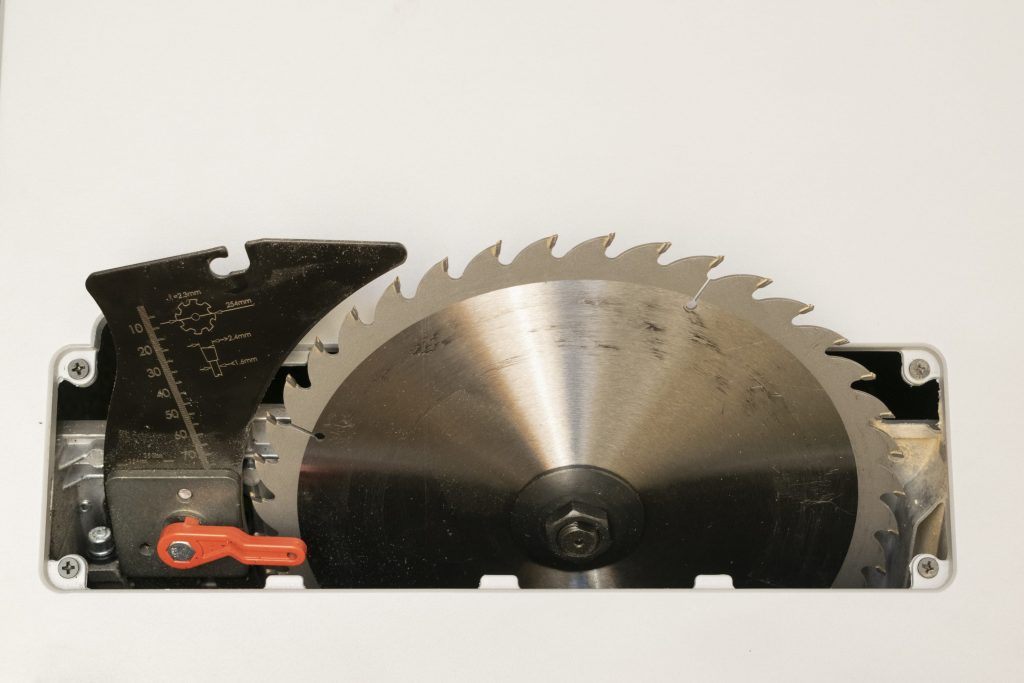 The transparent plastic blade guard attaches to the riving knife. You snap it in place and secure it with a small lever. The blade guard has a small 'leaf' on the left side for some extra protection. It unfortunately does not have any dust extraction. So far it has been doing a good job, but I do feel it is quite fragile so I'm not sure how long it will last.
Dust collection
I found the dust collection to be surprisingly good! Especially considering that there is only one dust port at the back, and none at the blade guard. Definitely don't expect to work dust free, but the TS 254 M does not cause a big mess. I found sawdust in two main places: just below the saw, and dust shooting to the front, below where you are standing. I barely saw any sawdust to the sides or to the back of the saw.
One clever thing Metabo has done is that they added a small rubber plate around the saw blade. When you first start the saw you actually have to cut through this plate, so some rubber bits may come flying out. What this rubber plate does is that it prevents any sawdust being pulled up again from below to above the table. Because the blade cuts through this plate, the gap is really minimal. I can't really test how much sawdust would come out without this plate (it's not removable), but I think it makes quite a difference.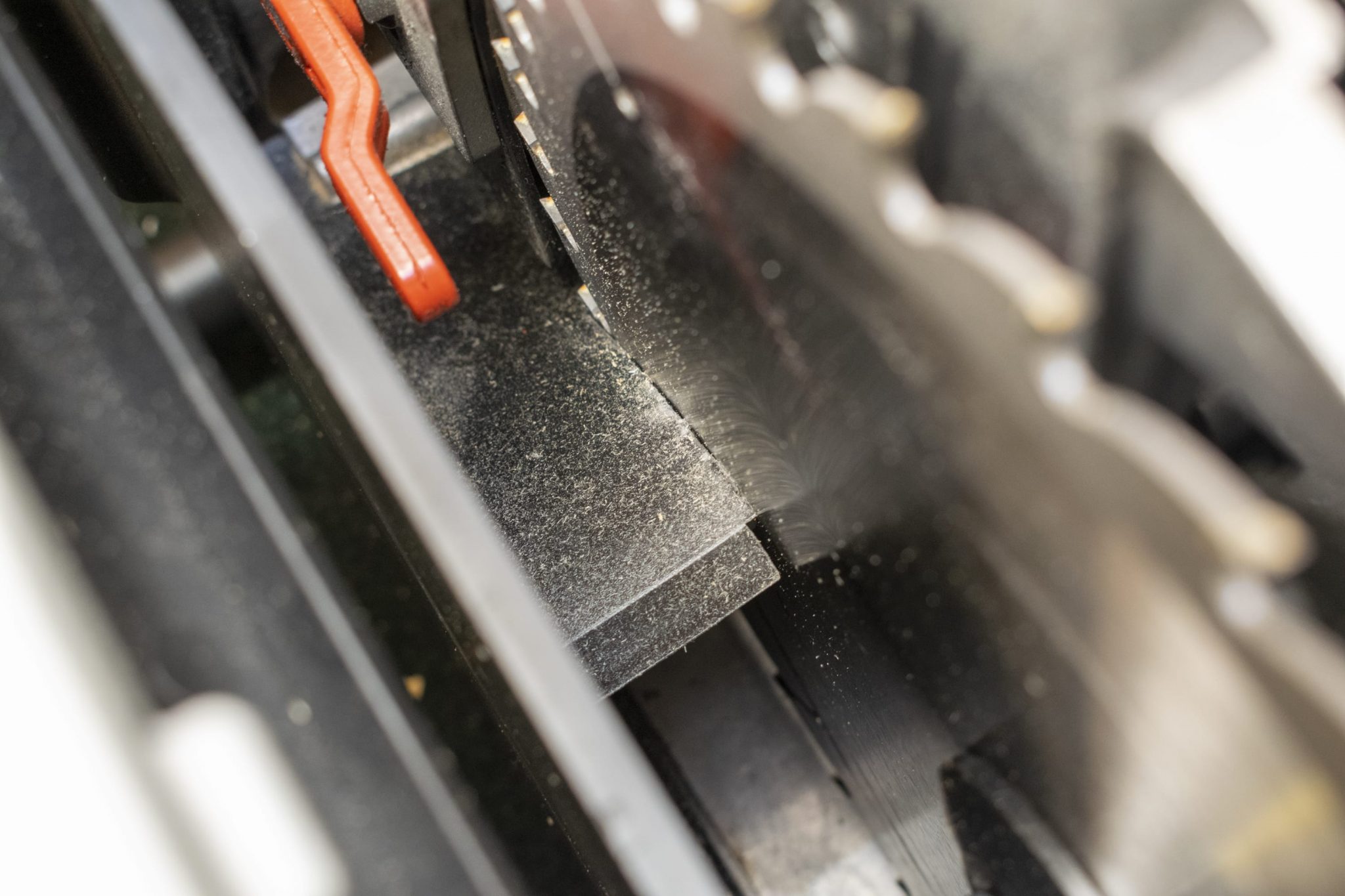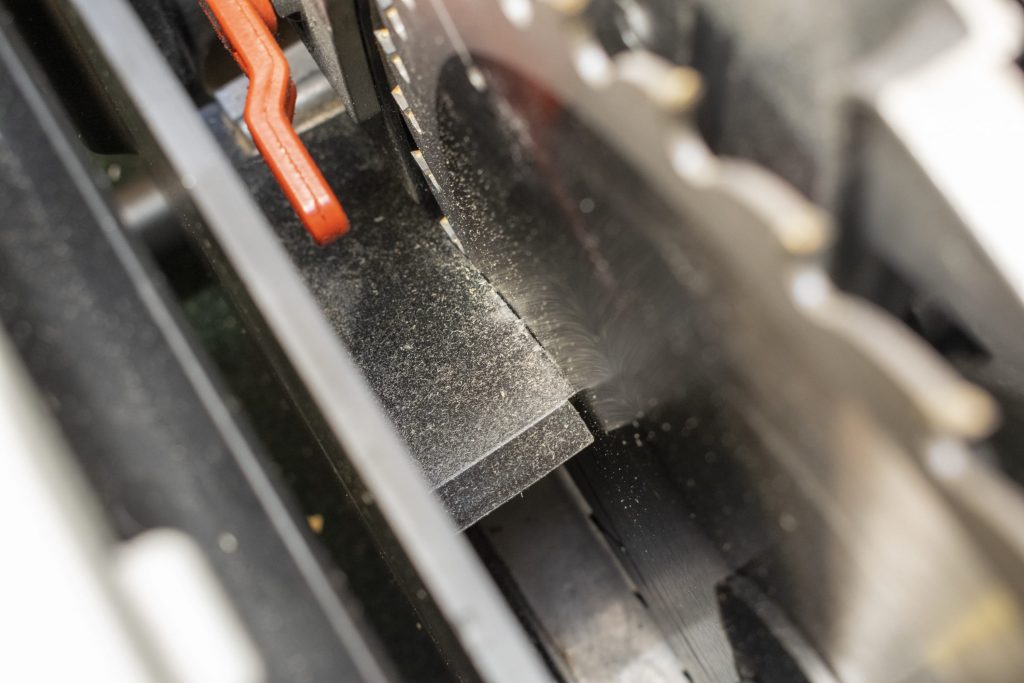 Portability
I'm using the TS 254 M purely for hobbyist woodworking, but it is also a builder's saw that can be taken to a work site. All loose parts can be attached to the saw body so you can carry everything in one go. There is a handle on the top and there are some 'bumpers' on the underside to store it safely on its side. With 24 kg, the saw is still not light, but you can definitely carry it from a van to a work site without too much trouble.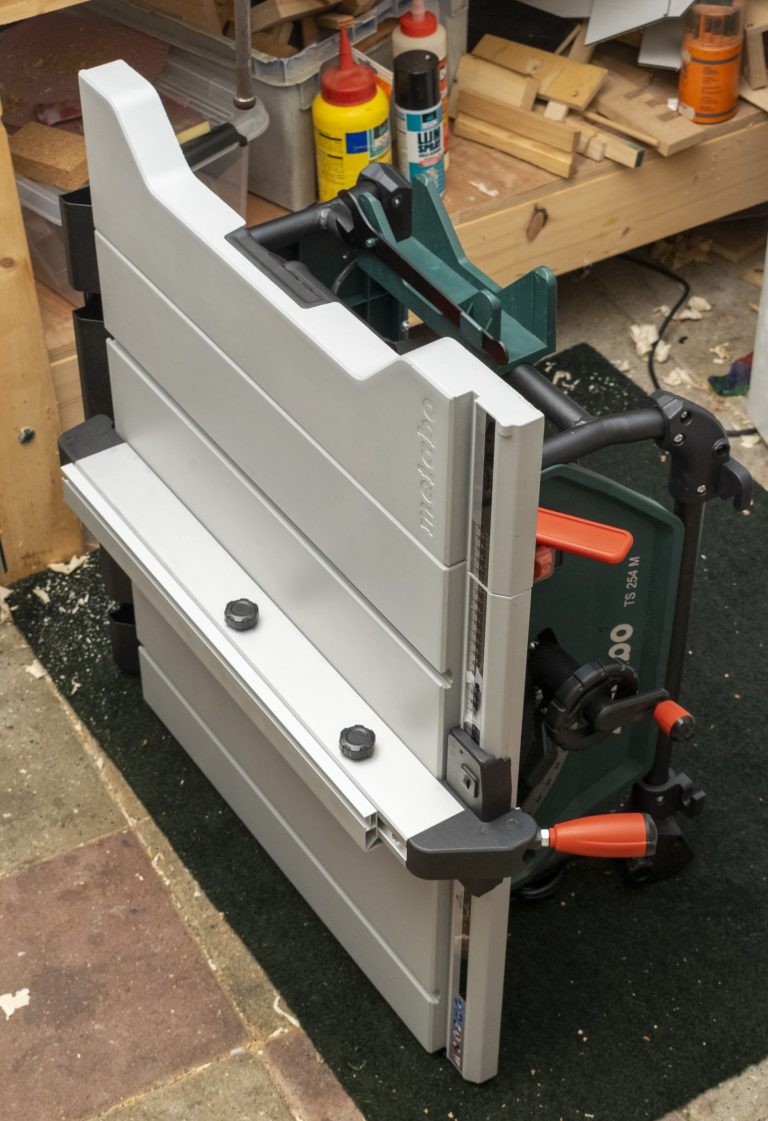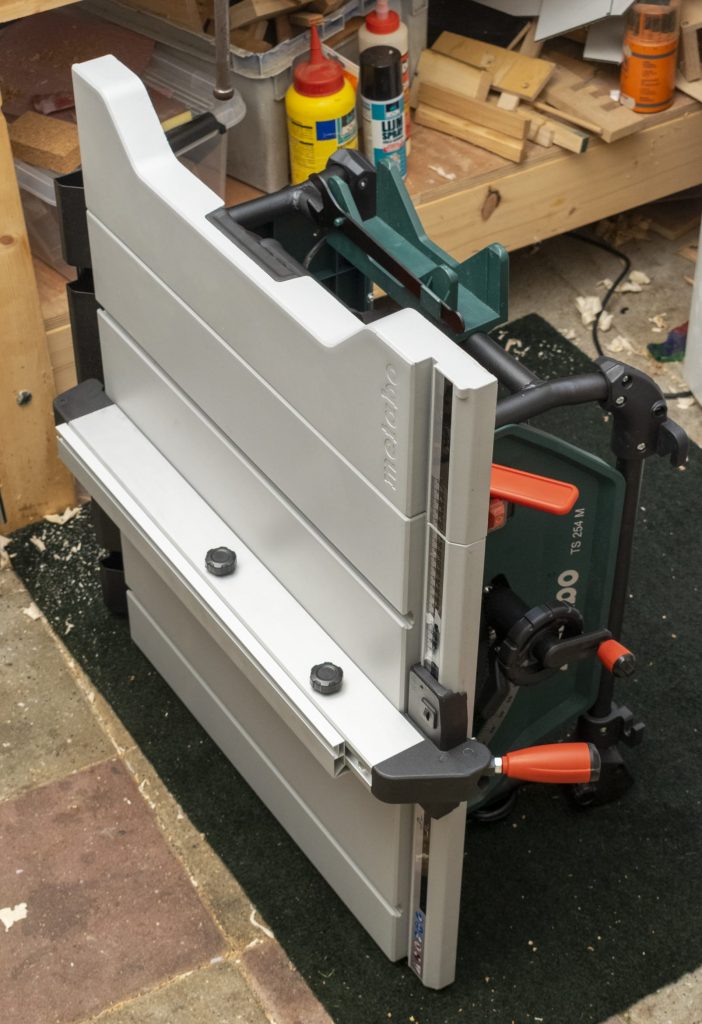 Most home woodworkers will use the saw on a table or stand, but onsite you might use it on the floor. For this purpose Metabo has added a small levelling feature to one of the legs, which you can use to stabilize the saw on uneven surfaces. It's a nice extra touch.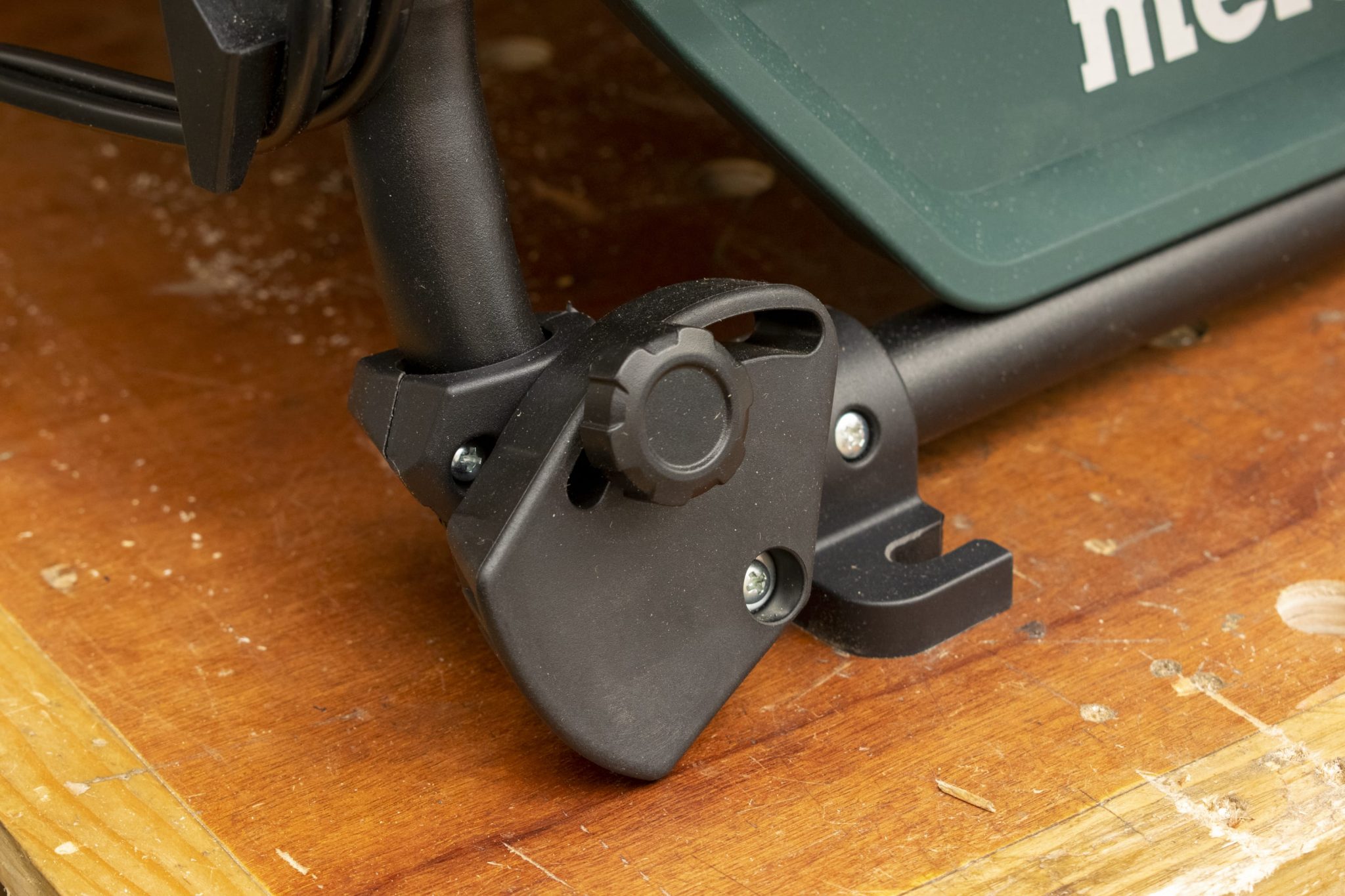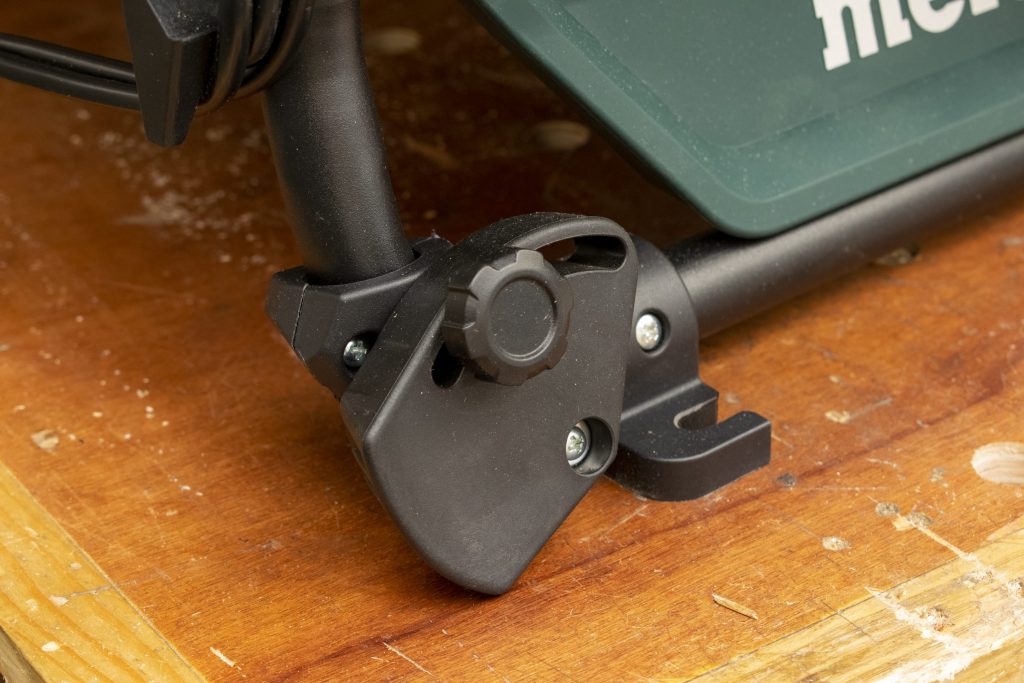 Build Quality and Finishing
The table top feels solid and was perfectly straight. The coating does seem a little weak though, and I've already made quite a few scratches simply by moving the miter gauge and fence. This is purely cosmetic, and it's hard to expect too much from a machine of this price, but still a pity.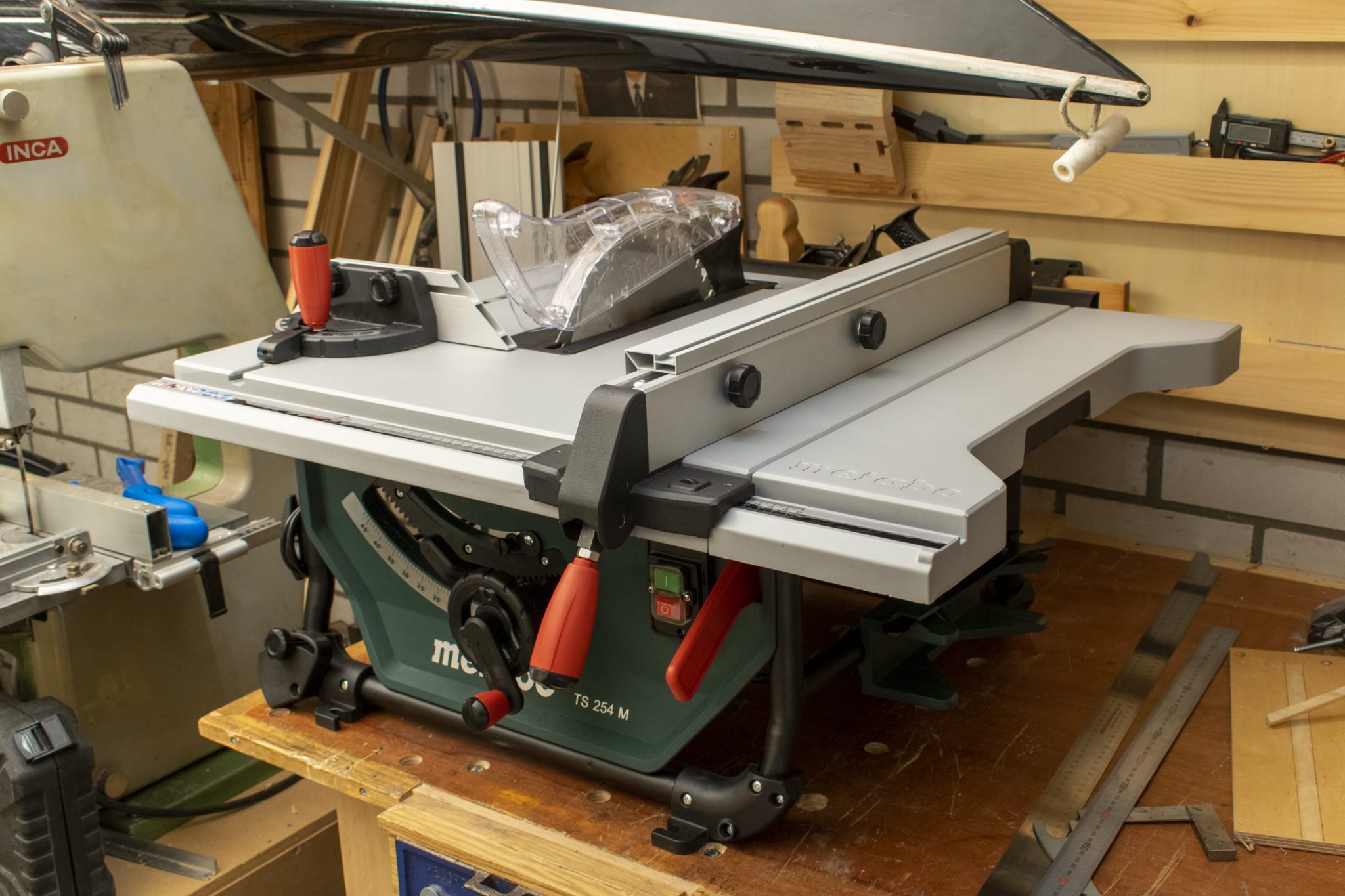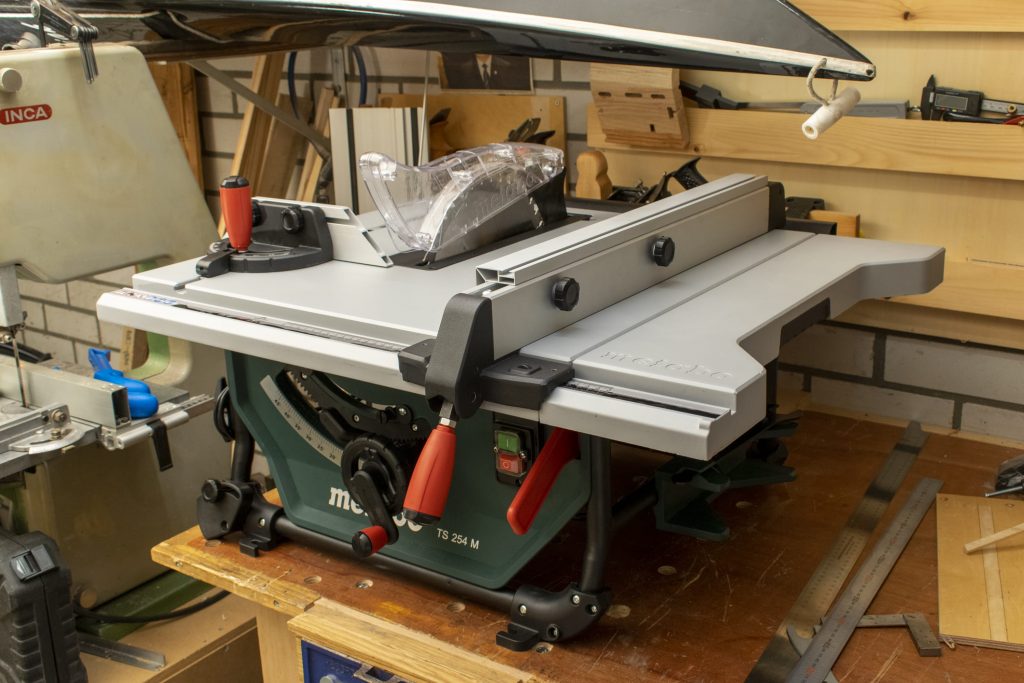 I also noticed with several bolts and screws that when you tighten or loosen them with a screwdriver, the head profile gets slightly damaged. This is because they are made of really soft metals (probably for cost reasons), so you need to be careful not to destroy the profile. I can imagine after some time you would need to replace some bolts as a result.
The finishing for all visible components is pretty good, but if you check the underside of parts, you'll often see edges that still have cut marks, or haven't been sanded and cleaned up. It's simply a consequence of the price, and I didn't find it to have any impact on the use of the saw itself.
Test Cuts
Below are a few test cuts that I've made on the TS 254 M.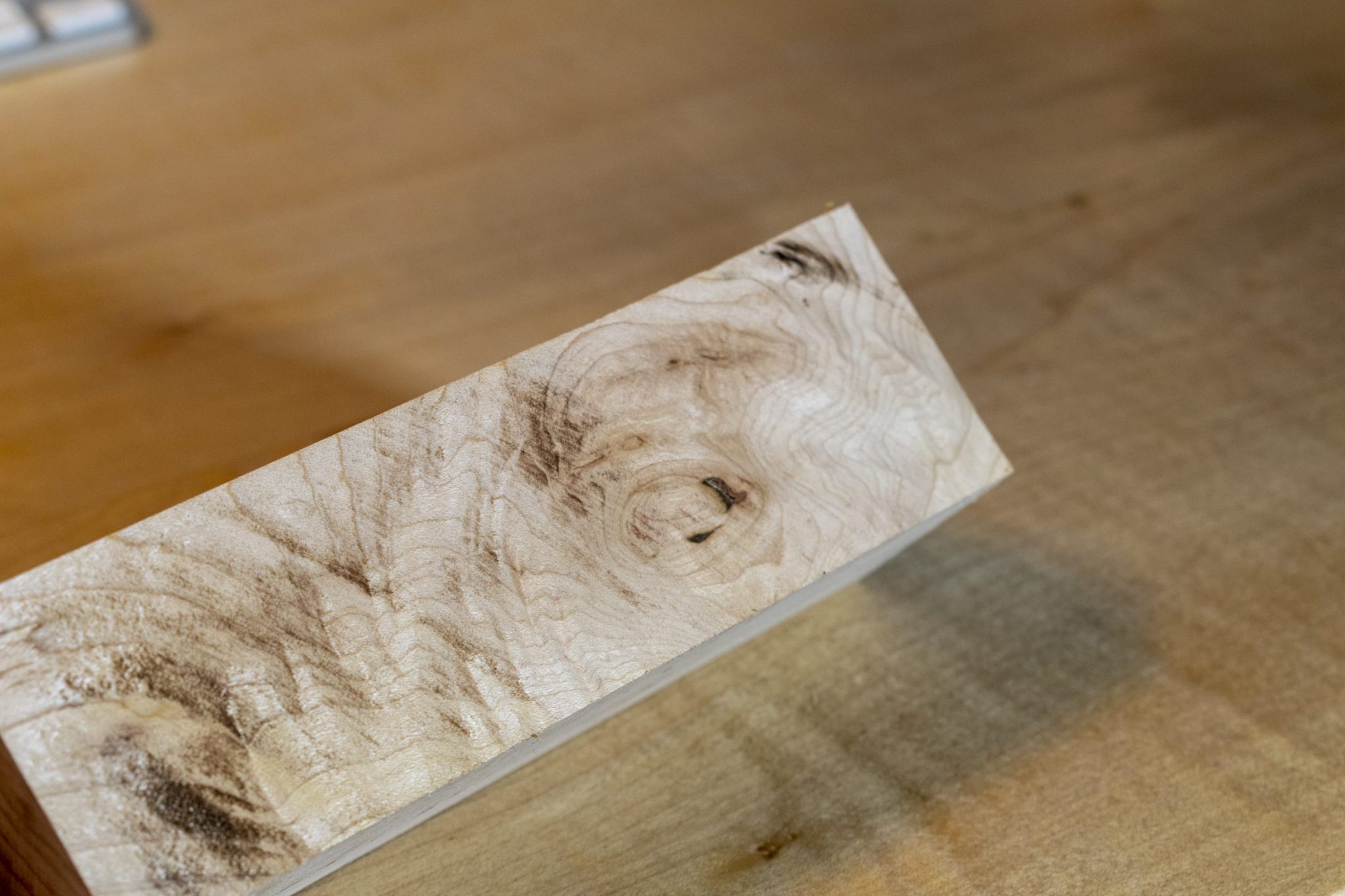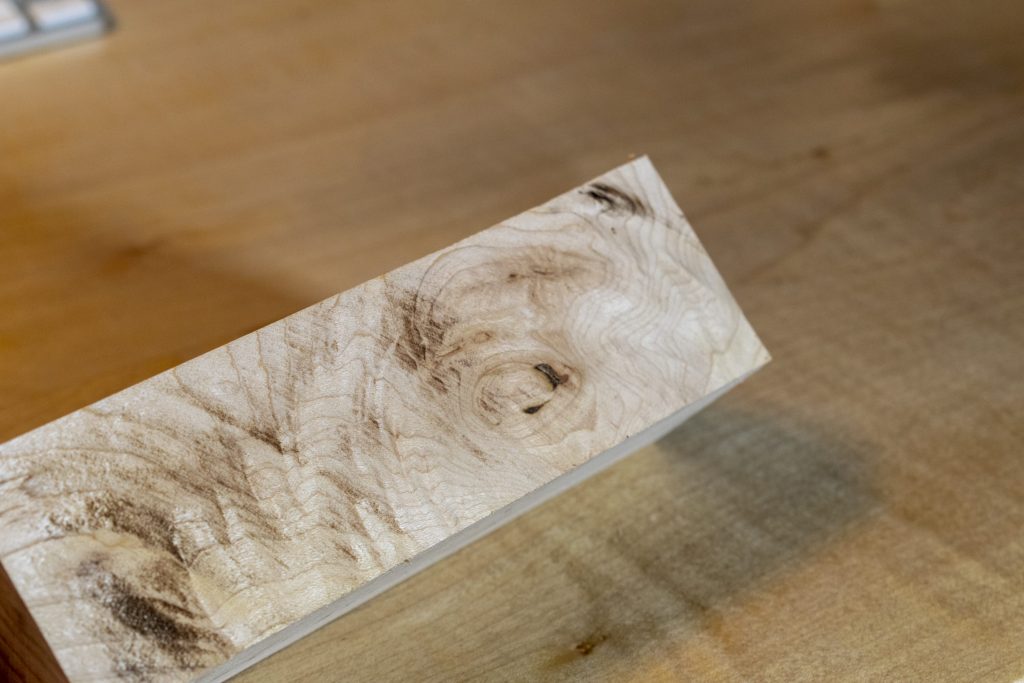 A rip cut through some really hard and knotty maple, about 45 mm thick. The saw did struggle a little bit with this piece, and even left some burn marks, but the result was still perfectly straight and actually pretty smooth.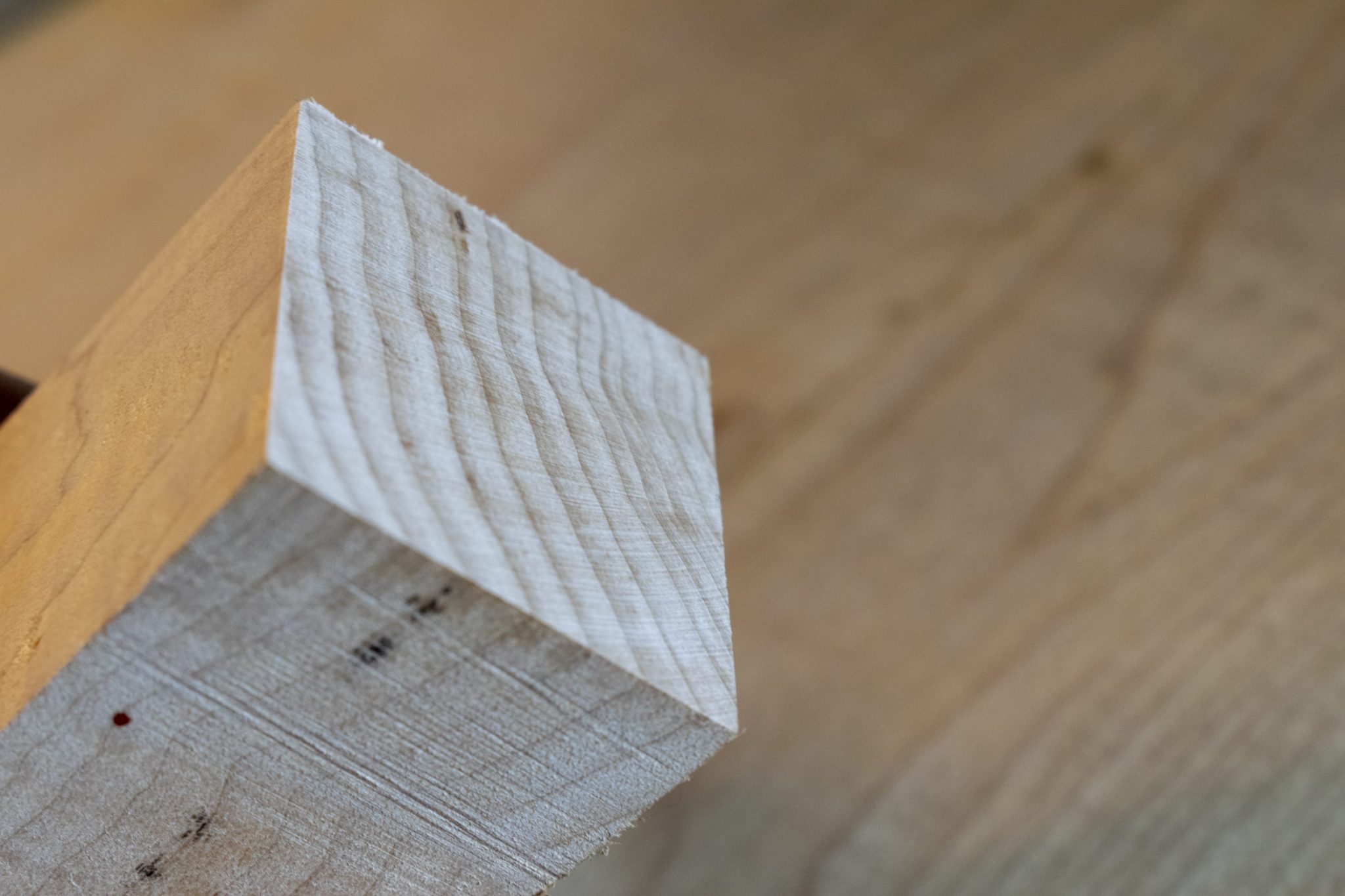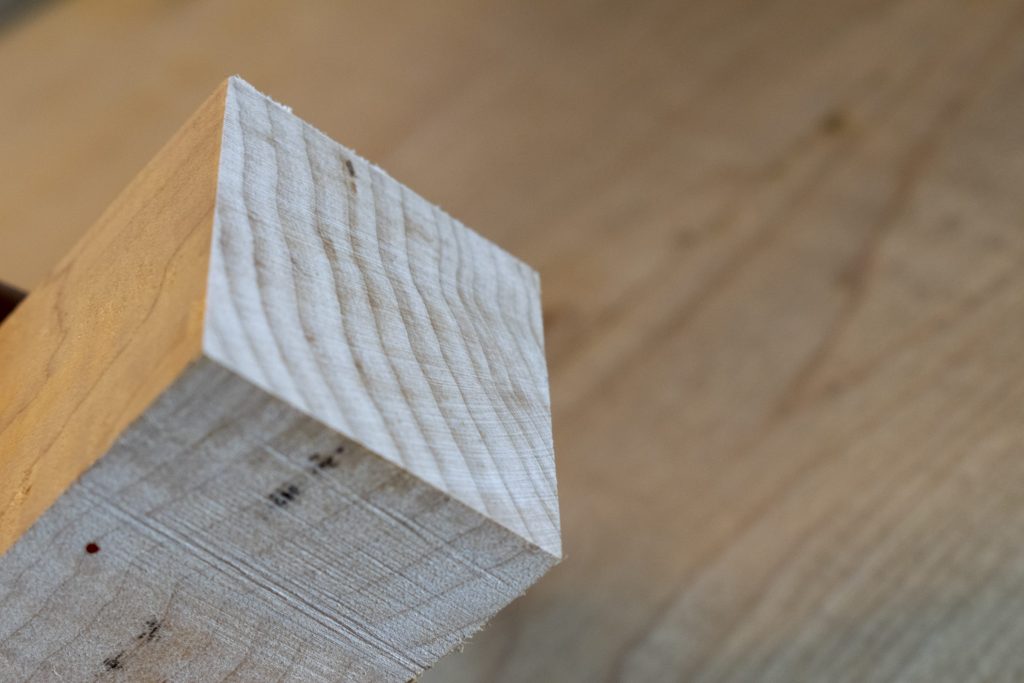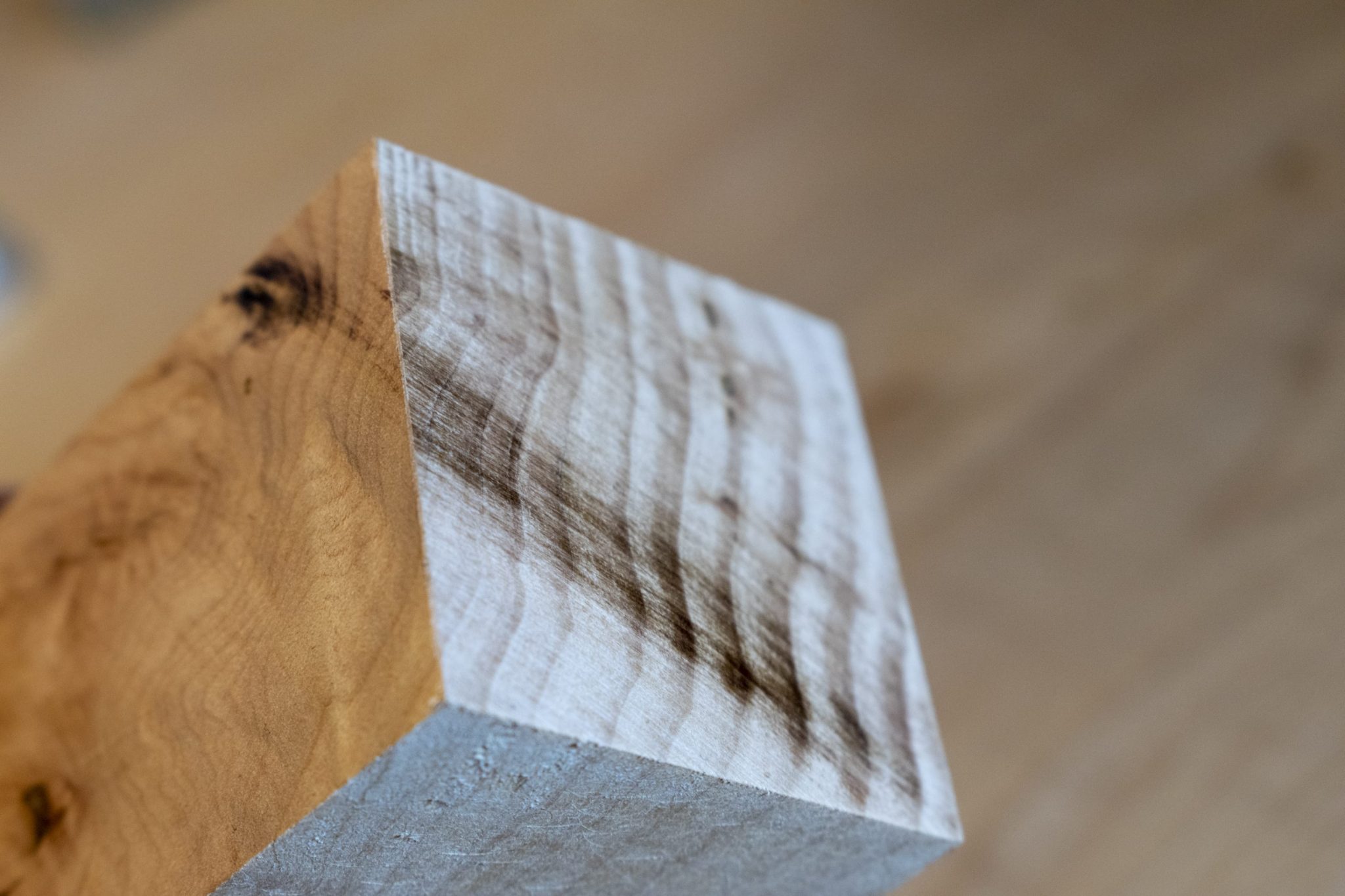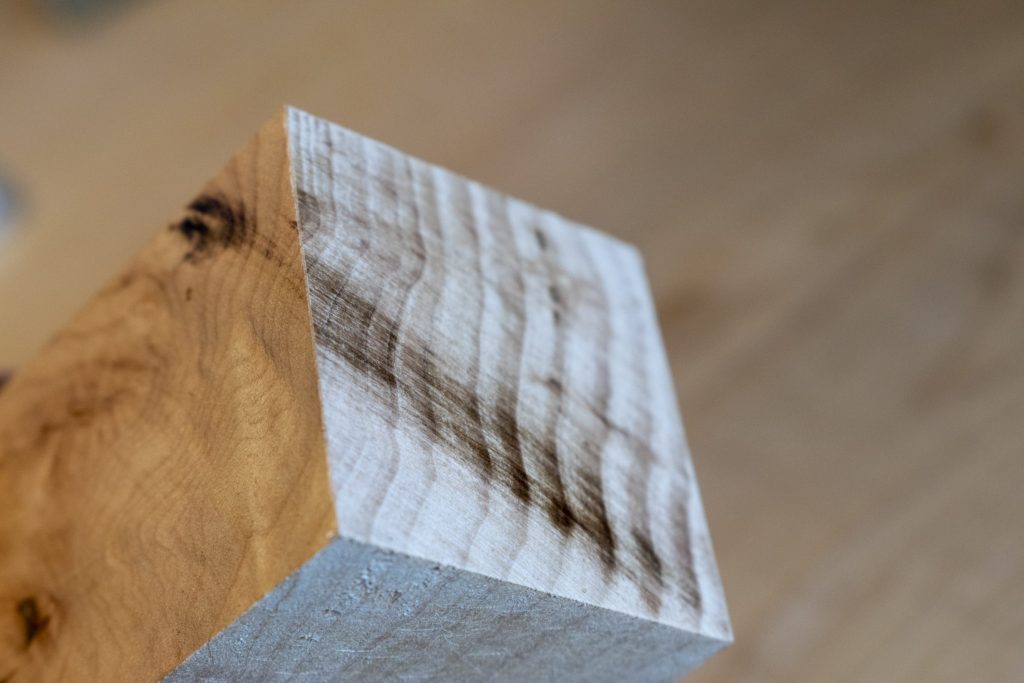 I've also done some crosscuts on the same piece of maple, and it would also leave some burn marks every now and then. The smoothness was impressive, as it feels about as smooth as when it's just been planed with a freshly sharpened blade.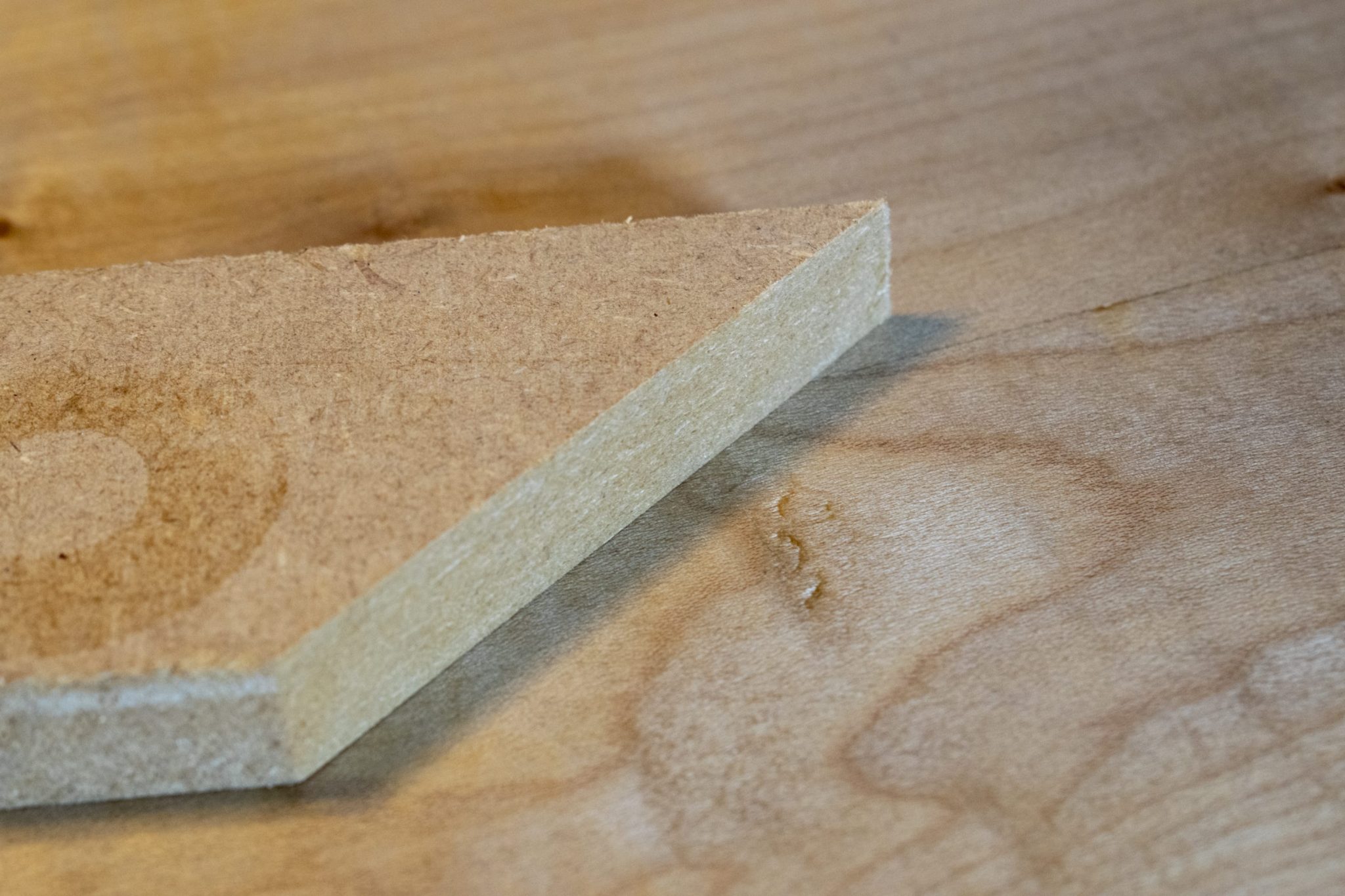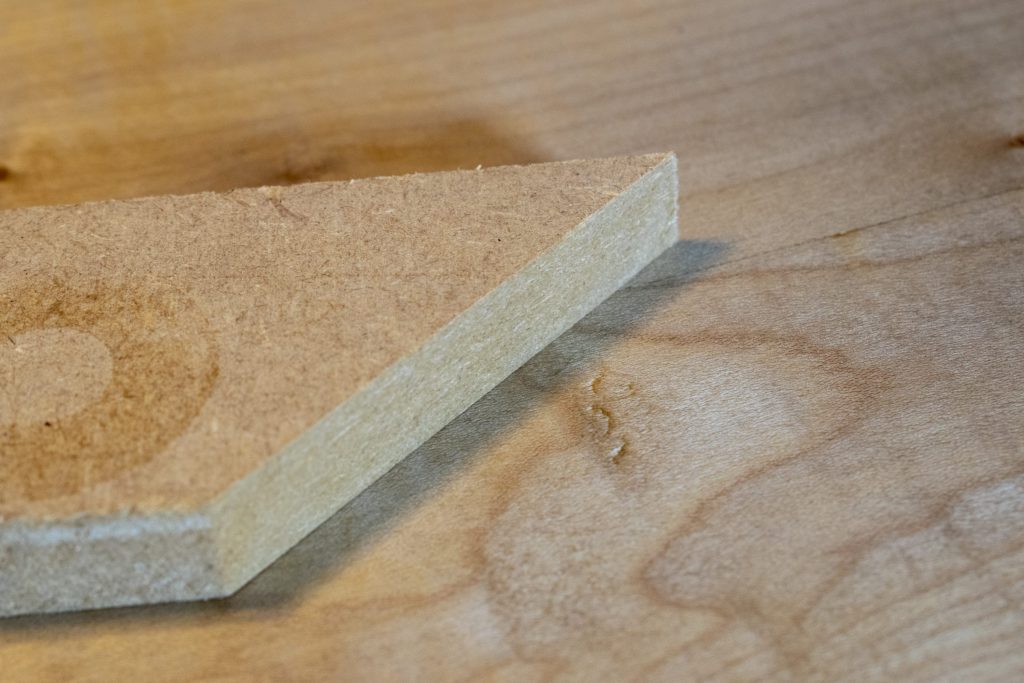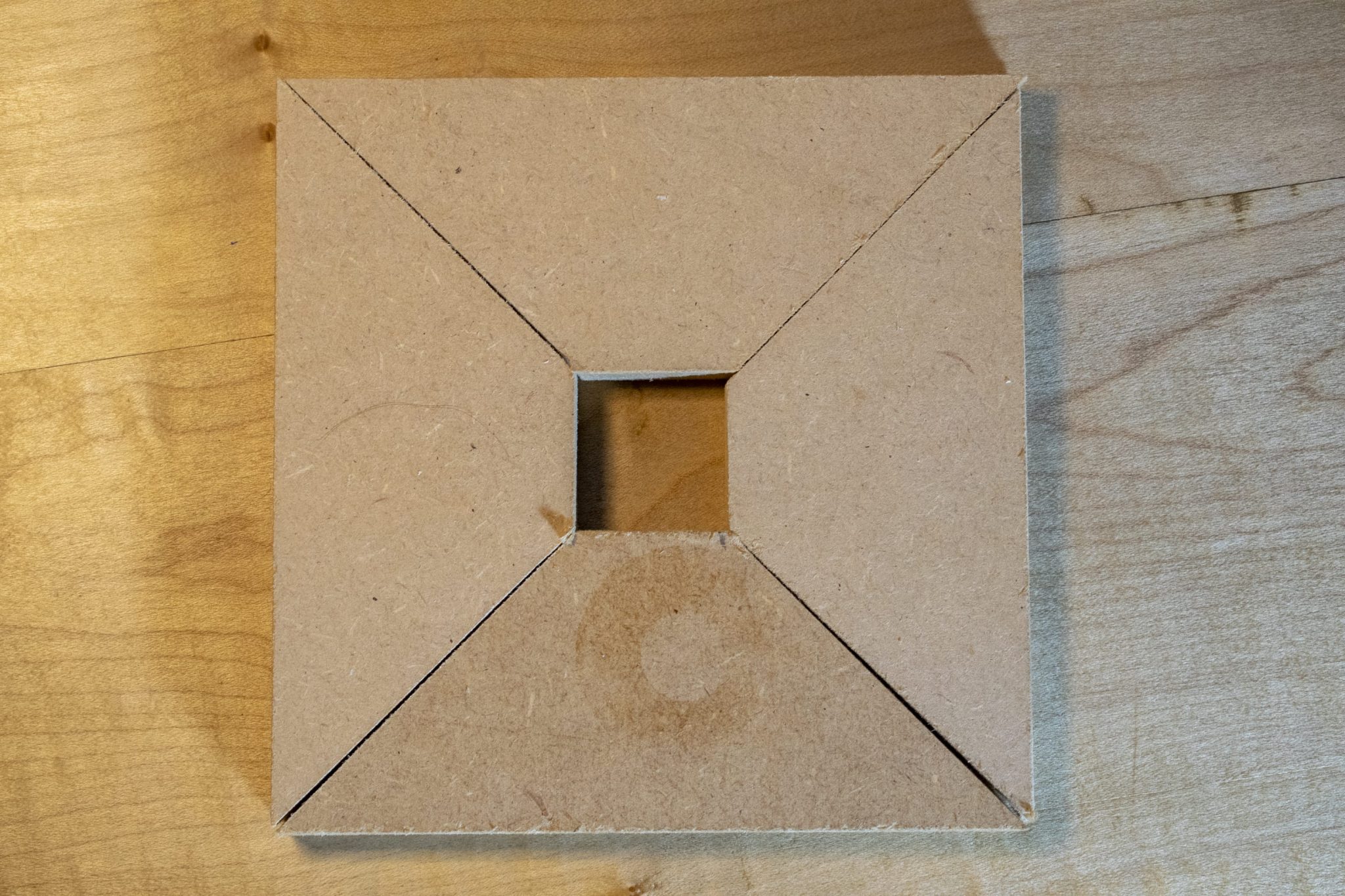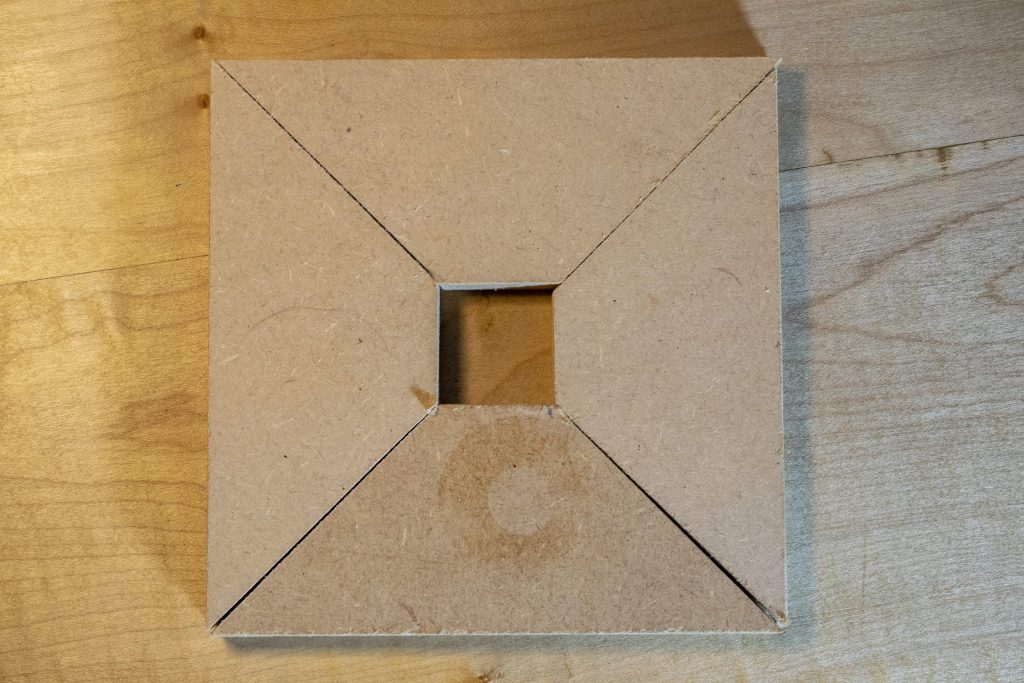 I've also done a few 45 degree crosscuts with the miter gauge. Unfortunately the miter gauge wasn't set up perfectly and they didn't line up all the way. It gets pretty close, but for perfect picture frames I don't think this is the right saw. Maybe if you use my earlier method of adding some duct tape to the miter gauge fence, and play around with the thickness to find the sweet spot, you could get a perfect 45 degree cut, but not out of the box.
Overall, I'm impressed by the quality of the cuts of the TS 254 M. All cuts were perfectly straight and generally left a really smooth finish, especially on crosscuts. Rip cuts did have an occasional saw mark, but it also depends on how fast or slow you feed your stock.
All in all, I'm quite pleased with the Metabo TS 254 M. It has many strong points, and improves on some of the weaknesses of other entry-level table saws.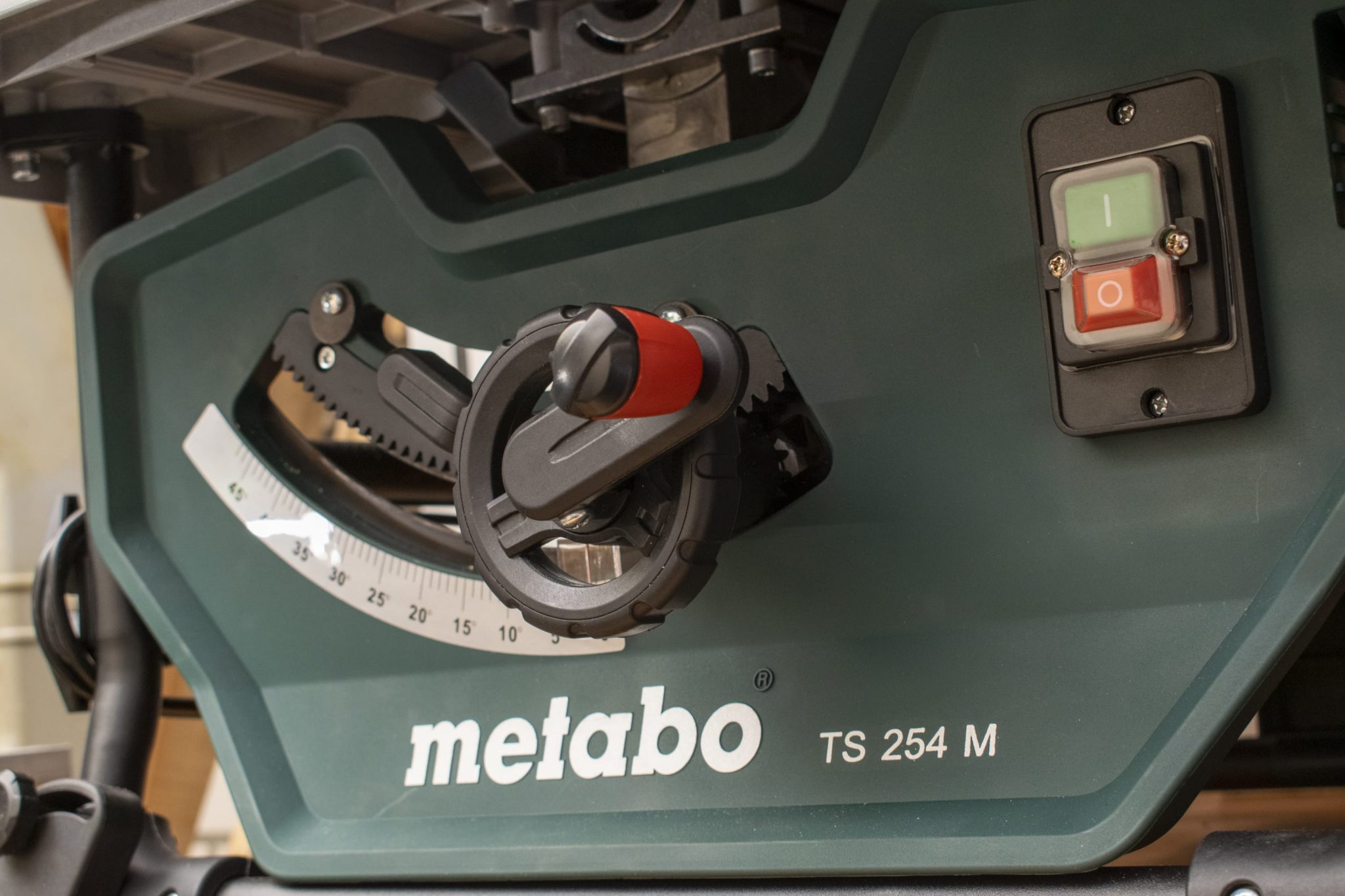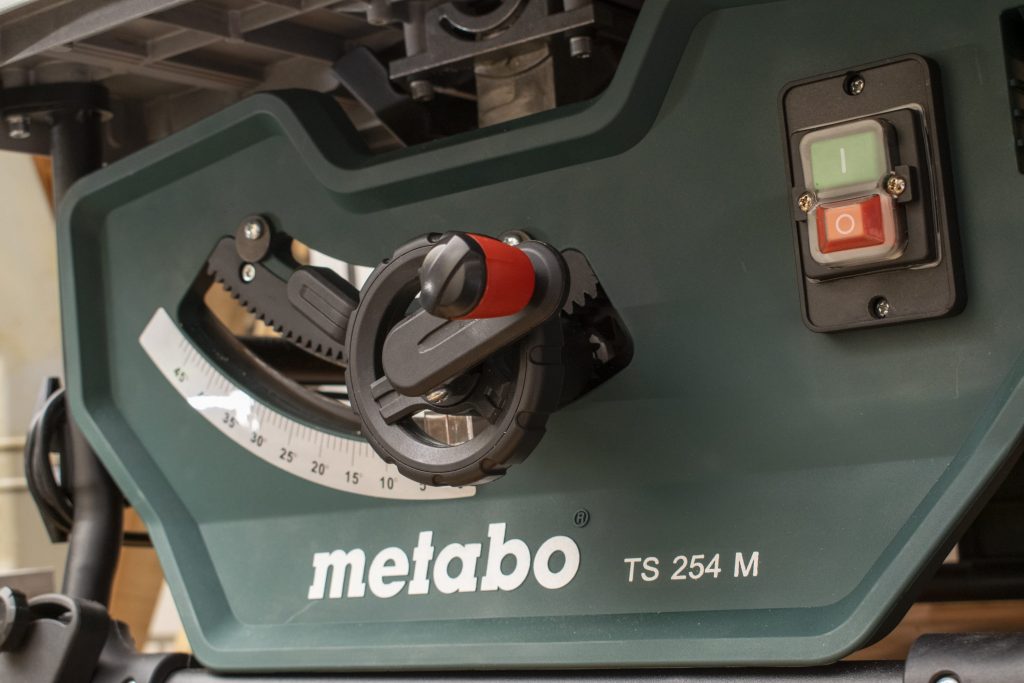 The miter gauge is better than most other saws in this range, but you may need to do some DIY fixing to make it perfectly square. The fence does not automatically lock itself parallel to the blade, but it comes pretty close.
The positive stops on the miter gauge are very helpful, as are the accurate stops for the blade angle, and the clever system for cutting -1.5 and 46.5 degree angles. The TS 254 M provides sufficient power, and has an extremely clean cut even with the standard blade that comes with the saw.
It may not be the perfect table saw, especially if you require absolute accuracy, but for many users it will be precise and powerful enough. Given the low price, I think Metabo provides excellent value for money.
What I liked
Good value for money
Miter gauge has multiple stops
Miter gauge play can be eliminated
Good build quality
Decent dust collection
What I didn't like
Miter gauge required DIY fix to be square
Fence doesn't always lock parallel to blade
Some parts are not made of the best materials
Where to Buy
You can find the Metabo TS 254 M for prices as low as €325 at certain European shops if you're lucky, but €360 is a more realistic price with most mainstream stores. These are a few online places that sell the TS 254 M:
(These are affiliate links)
Compared to Bosch and DeWalt
I've also written an article comparing the Metabo TS 254 M with the Bosch GTS 635-216 and DeWalt DW7485, which you can read here.