The Record Power Sabre 250 is a premium bandsaw aimed at hobbyist with limited space but higher quality standards. It is an upgraded version of the 'normal' Record Power BS 250.
The term Sabre refers to Record Power's premium bandsaw line, while the number 250 refers to the size of the wheels, which are 10 inches, which is just over 250 millimeter.
Although it is a rather small machine, it has a good build quality and many features that you won't find on the cheaper, but similarly sized Record Power BS 250. These are the key differences:
Better guides
The Sabre 250 is about 50% more expensive than the BS 250, but it has several improvements to warrant the extra price. It has better guides, with plastic knobs to make them much easier to adjust. On the BS 250 you have to use an allen key to adjust the guides.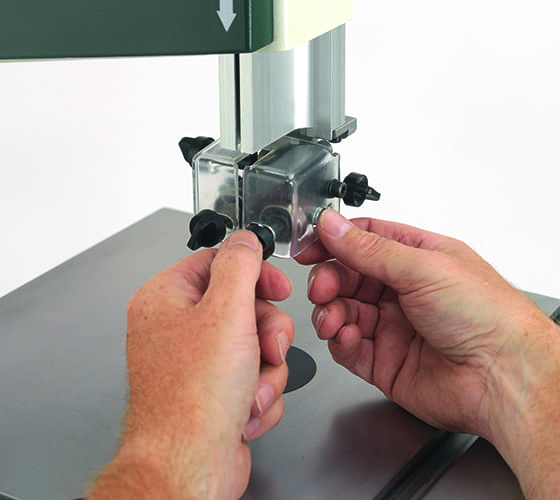 Quick release tension lever
Another great upgrade is the quick release tension lever, making it much easier to switch blades and release tension when you're done working on the machine. This can prolong the lifespan of your blades.
Two speeds and more powerful motor
It also has two speeds, while the BS 250 only has one speed. This gives it a bit more torque, which is quite beneficial when cutting hardwoods on such a small machine. And it helps with cutting metals. It also has a 1/2 HP motor, compared to the 1/3 HP motor on the 305.
It also has heavier aluminium wheels and a sturdier fence that can be put in both a high and a low position.
North American equivalent
Record Power is mostly active in the UK and Europe, but the machine itself is made in Asia (Taiwan most likely), and is sold in North America under the Rikon brand. The Rikon 10-306 is exactly the same machine, just painted blue.