Bandsaws are one of the most versatile tools in the woodworking workshop. They can be used for green lumber, dimensioning thick beams and wide boards, cutting fine veneers, and delicate curves. No other machine can do so many things at once.
Some people swear by the table saw, but if I could only have one machine in my workshop, it would be the bandsaw.
But which bandsaw should you get? Which ones are worth your money, and which ones should you avoid? Poor bandsaws can make your life miserable, and you'll never get the results you were expecting.
To help you find a good, reliable bandsaw I've written this guide, in which I give recommendations for the best bandsaw for each budget, from $125 to $2000 and more. I'll also list alternatives for each category so you can find the bandsaw that best suits your needs.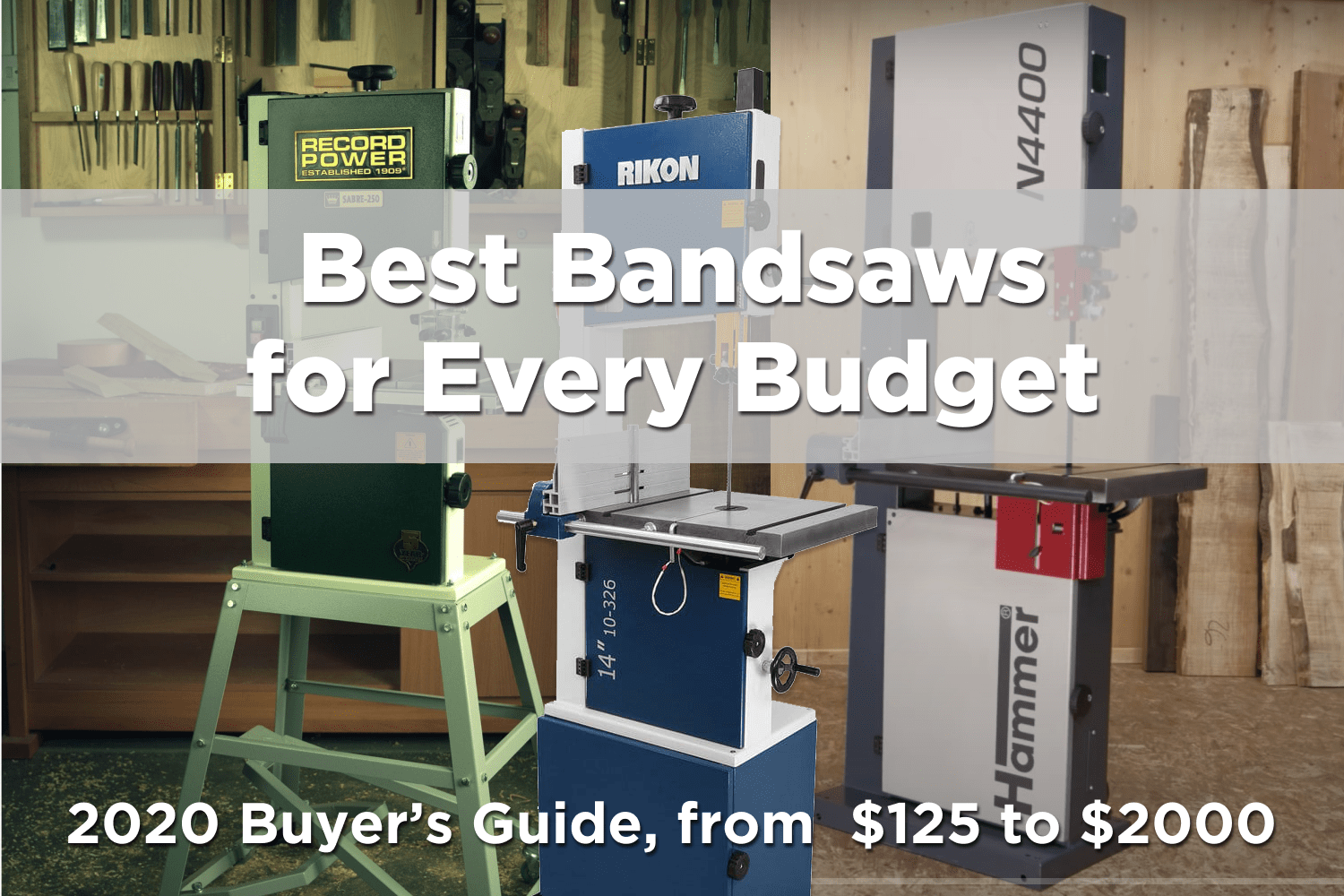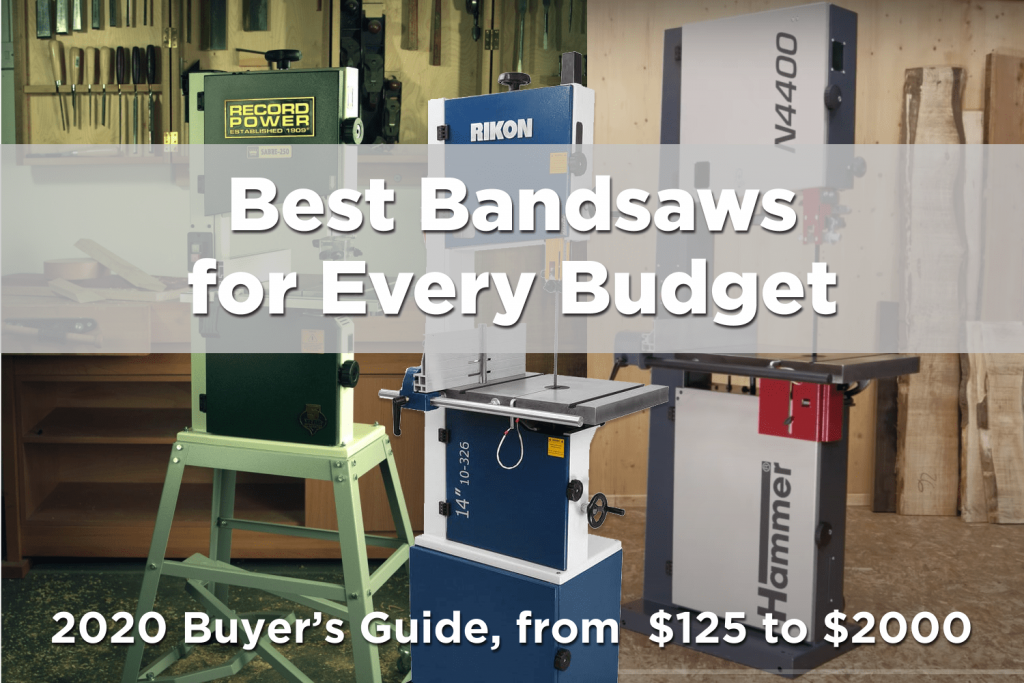 Best bandsaw under $125
You might be thinking, a bandsaw for under $125, isn't that extremely cheap? How can they make those large machines for that price? And you'd be both right and wrong.
$125 is indeed very cheap for a bandsaw, but not all bandsaws are massive. There is a category called 'benchtop' bandsaws that are so small that some tradesman even take them in their van for use on location. But primarily they are aimed at home woodworkers with limited space and budget.
I'll divide this section in a North America and Europe section, because unlike all the other categories, there is almost no overlap here between the available machines in both continents.
Best bandsaw under $125 in North America
The best bandsaw available under $125 is the WEN 3959. It is a benchtop bandsaw with 9″ wheels. As you might expect, its build quality is not very good and it doesn't have many features.
Best bandsaw under $125 (USA)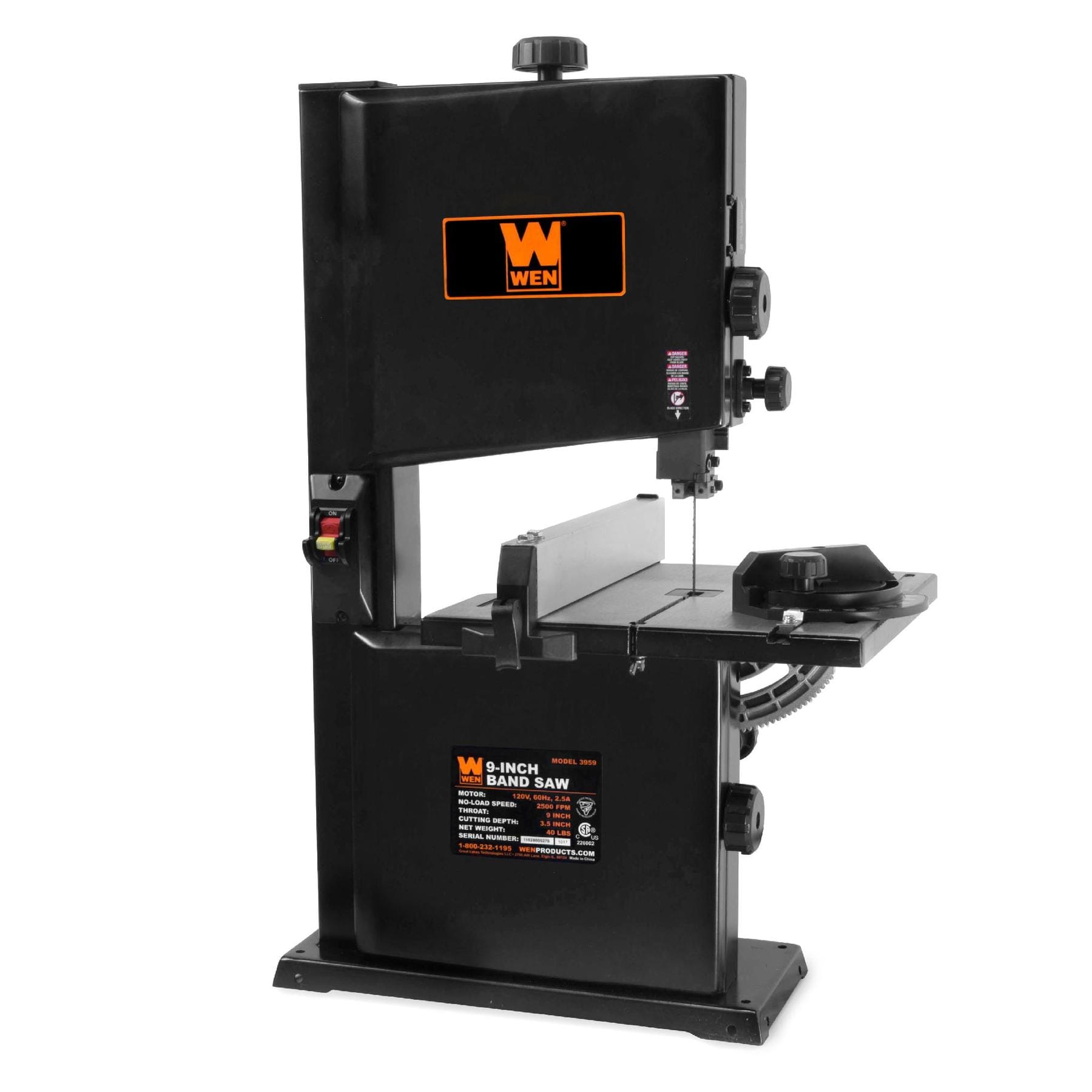 Designed in
United States
But it does do the job for most basic DIY and beginner woodworking tasks. And even though the build quality isn't great, WEN gives a 2 year warranty, which is pretty good at this price.
If you change the stock blade for a better quality one, you can expect to make some reasonable cuts, and that is quite something for the low price of just about $125. It even comes with a miter gauge included, which often isn't even the case on $2000 bandsaws.
Best bandsaw under $125 in Europe
In Europe, the best bandsaw under $125 is the Parkside Bandsaw. Parkside is the power tool brand of Germany supermarket chain LIDL. It is very comparable to the WEN bandsaw in almost every way, except that it doesn't have a miter gauge or miter slot.
Beste bandsaw under $125 (EU)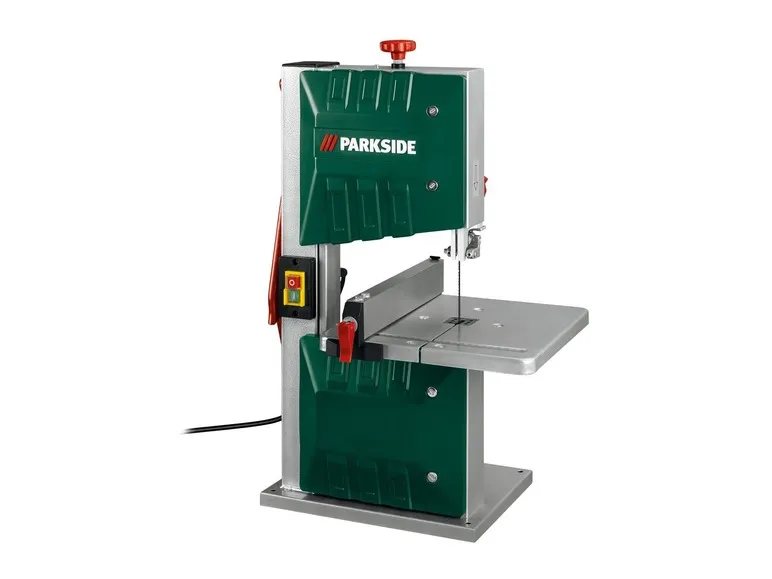 Like many Parkside tools, the Parkside bandsaw is actually manufactured by Scheppach, and if you have any issues with the saw you'll have to contact Scheppach for support rather than Lidl.
For the price, you cannot expect a high quality machine, and it is definitely a very barebones and mostly plastic machine. But you can actually get decent results with it, especially if you change the blade for a higher quality one. It is also so small that you could even take it with you to a worksite.
Overall, it's a reasonable machine given the low price. But if you are more than a beginning woodworker you will probably quickly get annoyed by the limited size, power and poor build quality. But if you're just taking your first steps with a bandsaw, then this is a perfectly fine machine to learn on.
Tip: This video by James' Man Cave gives a really good overview of the Parkside bandsaw so you can see for yourself what it can and cannot do.
Alternatives under $125
There are a few companies making almost identical machines to the WEN and Parkside, which are probably made in the same factory. In Europe, Aldi sells the Ferrex bandsaw, which is a bit more expensive but seems overall much higher quality. Check this video by James' Man Cave for a comparison with the Parkside.
Best bandsaw under $250
The best bandsaw under $250 isn't a new one, but a vintage machine: the INCA Euro 260. Inca was a Swiss company making precision woodworking machines for home woodworkers. All their products are made from cast aluminium and built to a very high standard.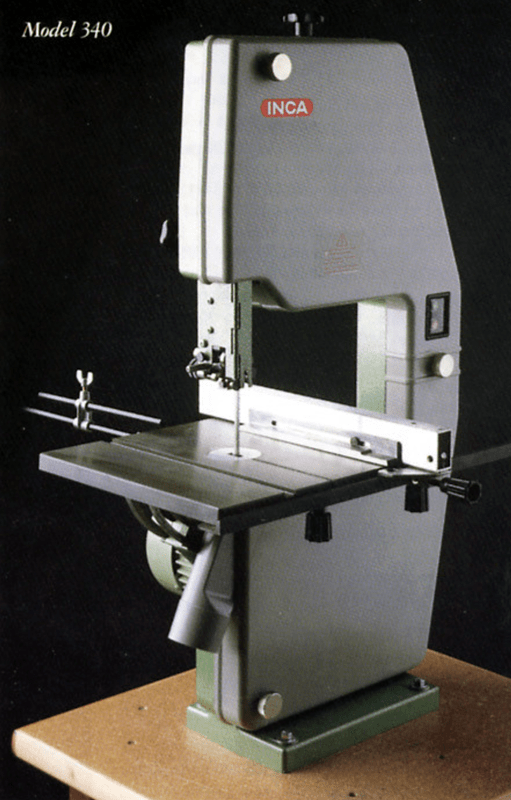 Production status
Vintage
Because they are so well built, they have stood the test of time and even today are excellent bandsaws. Their precision and reliability is far beyond what any new machine in this price range offers.
These saws are are usually sold for around €250 in Europe, but you can find them even cheaper if you're lucky. I managed to buy mine for a mere €30 (!).
They do lack some modern features like quick blade tension release, and not all models have dust extraction, but they're really great machines. If you have one without dust extraction, there is a guy in the UK selling 3D printed dust extraction ports.
Different Models
There are multiple versions of this saw, which only differ in a few details, like dust extraction port and position of the motor. They were sold in the USA as model 310, 320, 330, and 340. In Europe it's most commonly called the INCA Euro 260 or model nr. 342.186. More details here.
Alternatives under $250
Vintage alternatives
If you can't find an INCA bandsaw near you, try looking for the Kity 612 or 613, which are quite capable machines as well. Another good option is the DeWalt DW3401 and DW3501. Do check that you get the version with cast alloy wheels instead of the plastic one in the case of the DeWalts.
Brand new bandsaws under $250
If you prefer a brand new saw, try stretching your budget a little and go for the Rikon 10-305 in the USA, or its European equivalent, the Record Power BS 250. These are often sold just under 300 dollars or euros and although they're not as good as the Inca, they're a clear step above the cheap, plastic-y hobby models we mentioned in the $125 category.
Best bandsaw under $500
The best bandsaw under $500 is the Rikon 10-306 and the Record Power Sabre 250. These are actually one and the same machine, made in the same factory, just branded differently for different countries.
Best bandsaw under $500 (USA)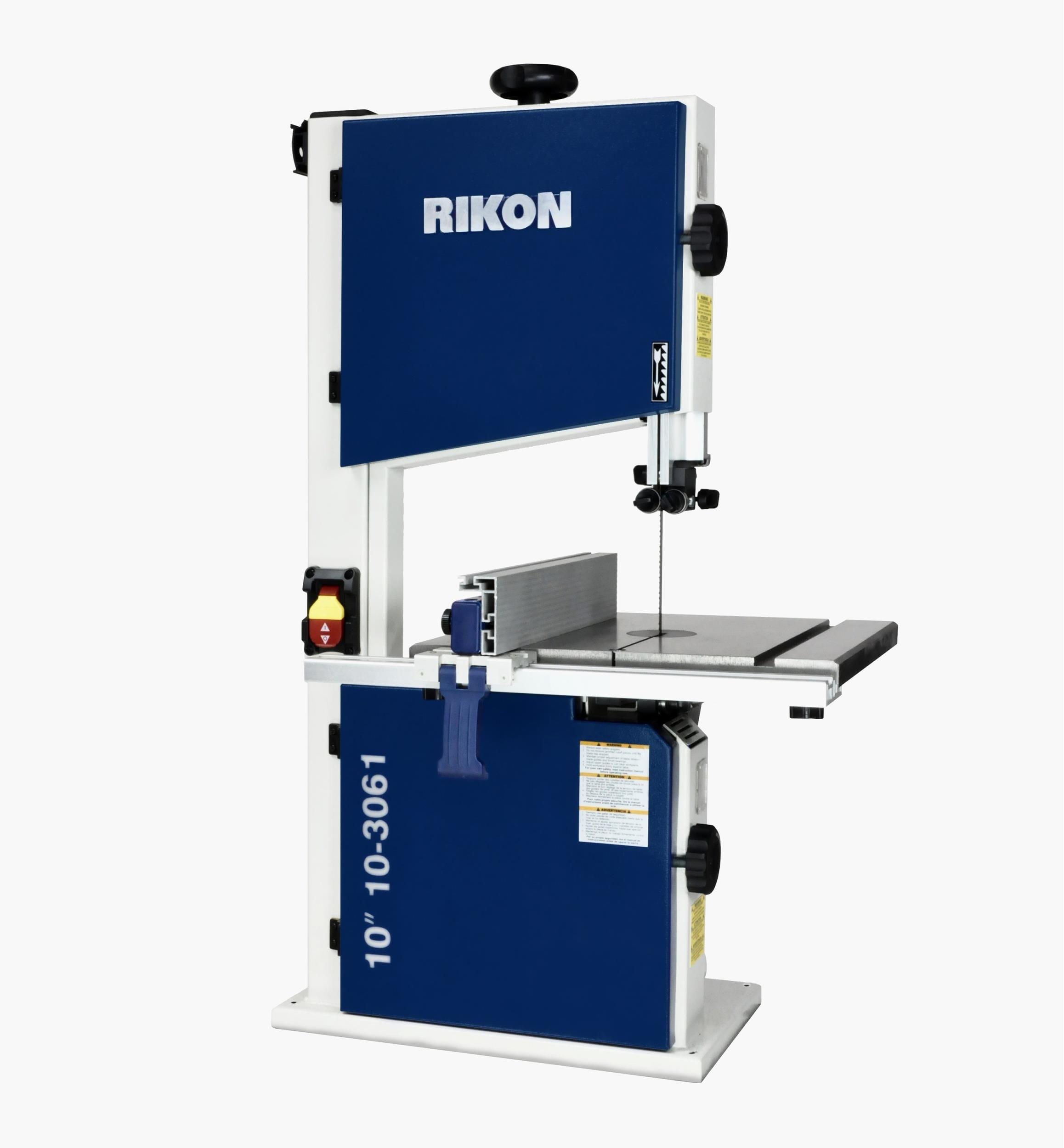 Designed in
United States
The Rikon 10-306 is sold in North America, while the Record Power is available in Europe and elsewhere.
Packed with useful features
They are small 10″ (250 mm wheels) saws, but offer excellent build quality and many features. They have a quick release lever for the blade tension, beefy aluminium wheels, a high quality fence, and toolless, spring-loaded guides.
You won't find many alternatives in this price range as packed with features as the Rikon 10-306 and Record Power Sabre 250.
Excellent build quality
They are also built to a high standard, with heavier, sturdier materials than cheaper alternatives. For example, they have a much stronger blade tensioning spring, which helps you maintain blade tension even after many consecutive cuts, which is often a problem on smaller bandsaws.
In my research I have found practically no negative user reviews about these saws, and they seem to be starting to become some of the most popular saws out there.
Because of their combination of a small footprint, useful features, and good build quality, they are excellent saws for hobbyists who have limited space, but still want a good saw.
Best bandsaw under $500 (EU & Rest of the World)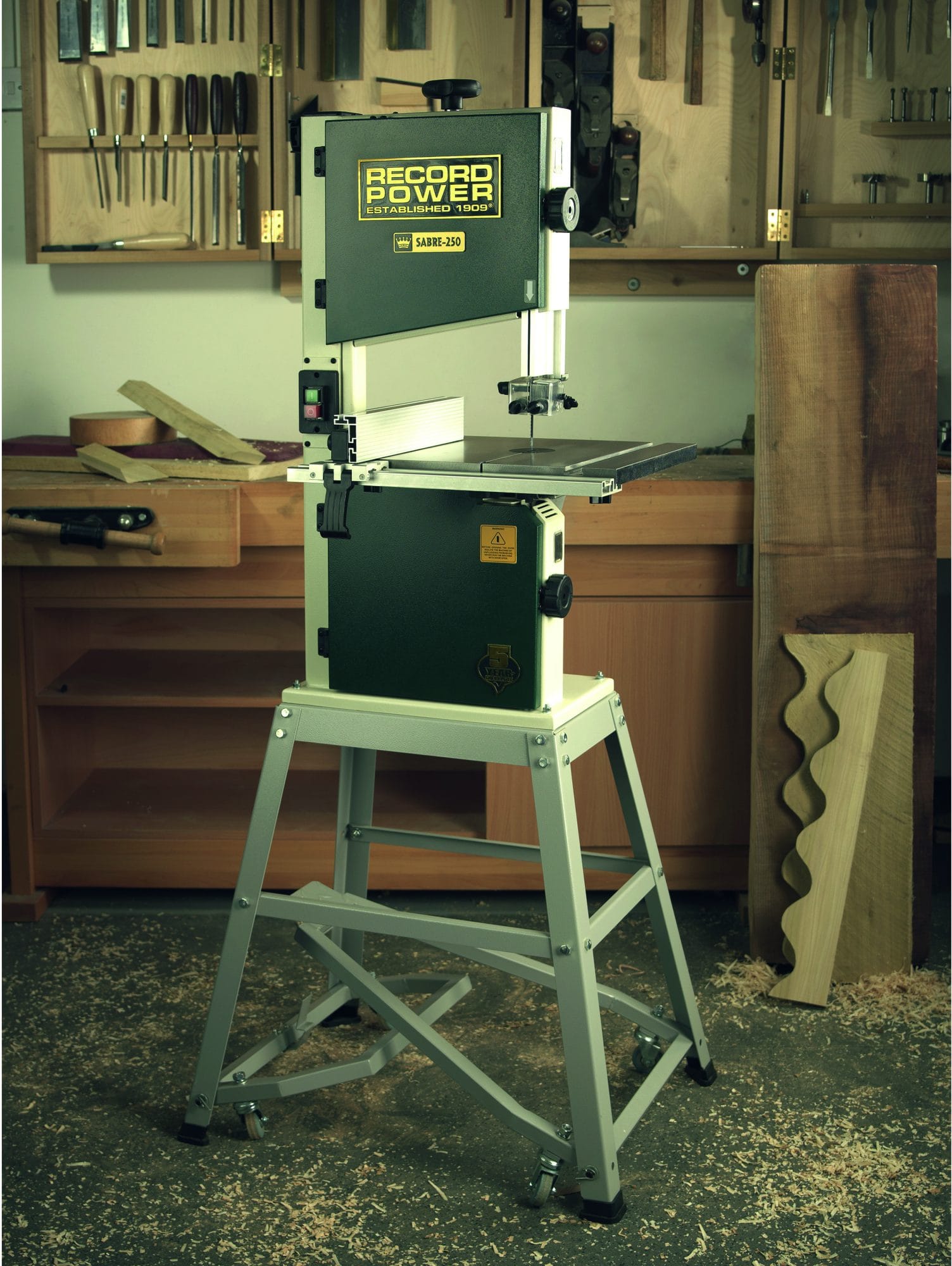 Designed in
United Kingdom
Tip: Check the video below for a detailed review of this machine. It's in German, but with subtitles also understandable for English speakers.
Alternatives under $500
For all other categories I've listed some alternative machines. Usually there is another option that is maybe not as good, but is cheaper, or an alternative saw is more expensive, but also slightly better quality.
In the under $500 category, there are no serious alternatives to the Record Power and Rikon. They already offer good features, good build quality, and a good price. They come in quite a bit under $500 already, and going even lower will get you a large reduction in quality. Spending a bit more won't really get you a better machine either.
Best bandsaw under $1000
The best bandsaw under $1000 is the Hammer N2-35. It's a very new saw, released early last year (2020), and the most affordable bandsaw by Hammer.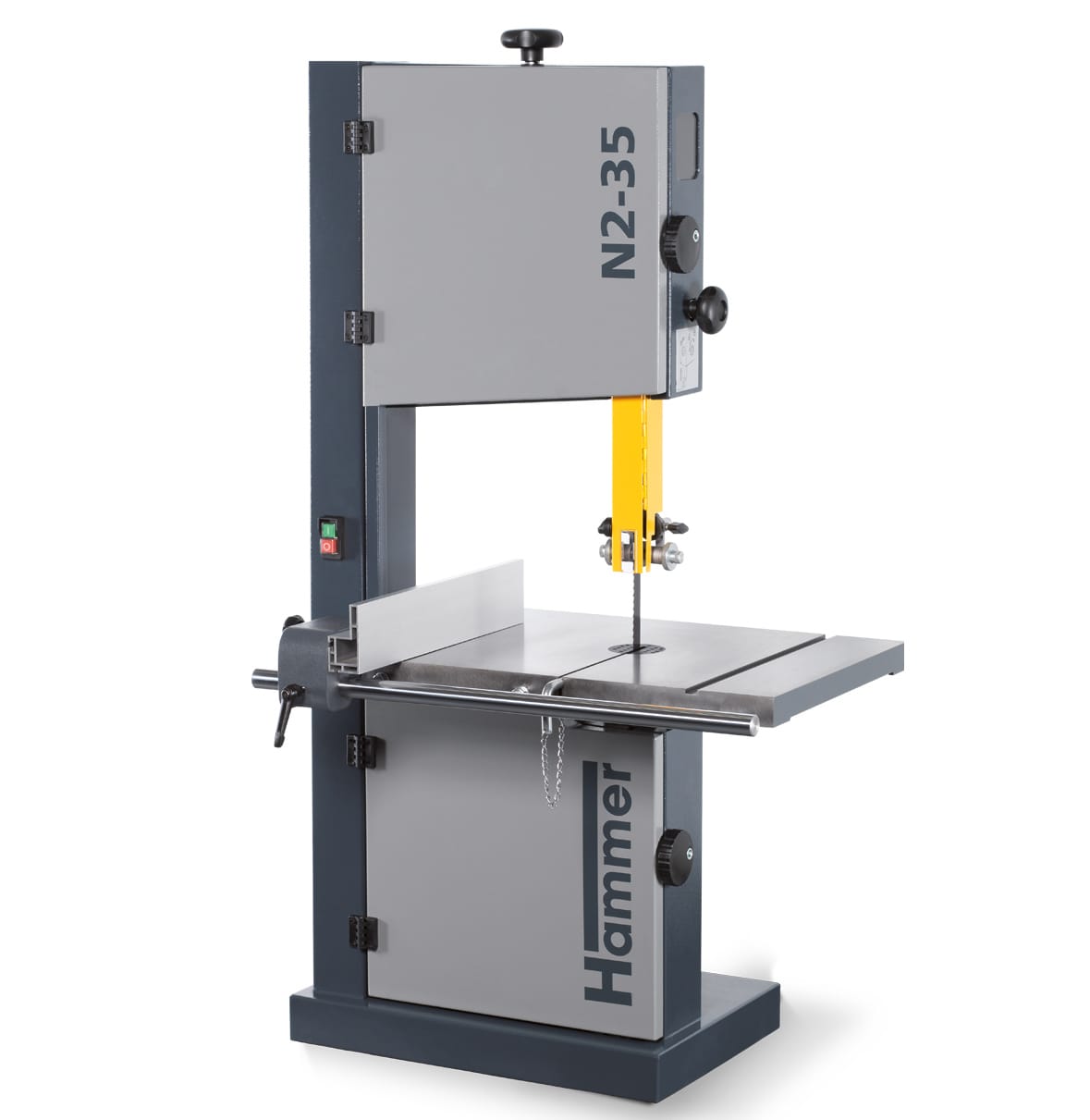 What makes this saw unique is that you get premium Hammer quality and quality control for a relatively affordable price. Of course, you cannot have it all, meaning you cannot expect a completely feature packed machine. The N2-35 is relatively barebones, especially compared to slightly more expensive machines like the Rikon 10-326 and Record Power Sabre 350.
In contrast to most other Hammer machines, the N2-35 is not made to order and can be ordered straight from their online store.
Note about the price
Do note that the N2-35 comes without a stand and blades, so you'll have to add those costs as well.
Tip: The video below shows how neatly the N2-35 can resaw boards. In Polish, but the images speak for themselves.
Alternatives under $1000
Record Power BS350S
A good and slightly cheaper alternative is the Record Power BS350s, which is the more basic of Record Power's 14-inch bandsaws. It has similar features to the Hammer N2-35, but a slightly lower build quality. Its fence is also not the best, but overall a very solid alternative at a lower price.
Best bandsaw under $1500
The best bandsaw under $1500 is the Rikon 10-326 and the Record Power Sabre 350. These two saws are identical, just released under different brands. While the Rikon is sold in North America, the Record Power is available in Europe and elsewhere.
Best bandsaw under $1500 (USA)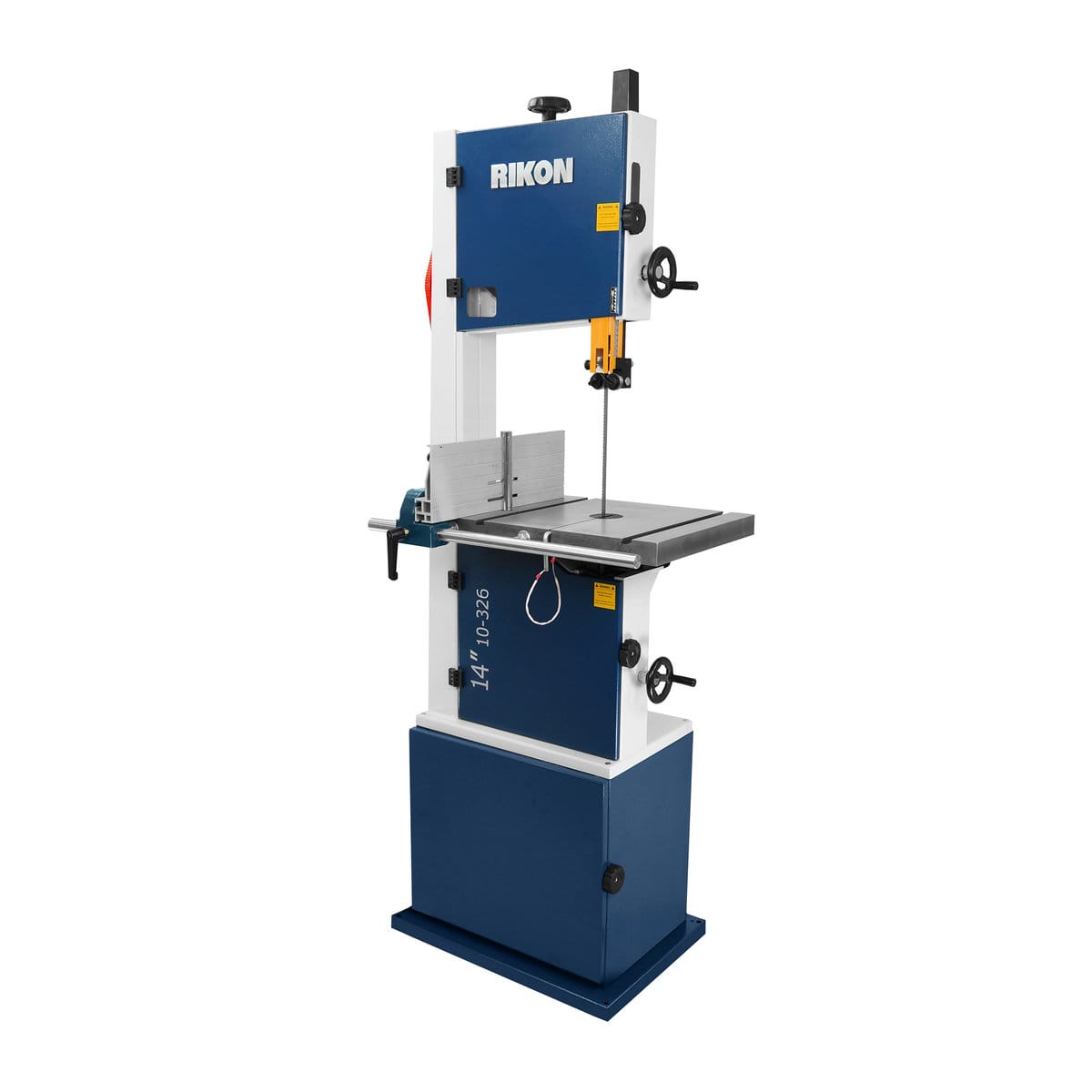 Designed in
United States
What makes this saw so attractive is that it offers many features at a great price, while still maintaining good build quality. Basically, it offers more features at a lower price than good alternatives like the Laguna 14/12 and Hammer N3800, while still matching their build quality.
Useful features
Quick release lever and Toolless guides
It has a quick release lever for easy blade changes, which for example is missing on the Hammer N3800. The guides are toolless and spring-loaded (see this video for a good demonstration), so all you need to do to set them up is to pinch them and turn the plastic knob to lock them. No fiddling with allen keys needed.
The blade guard and the table tilt mechanism both work with rack and pinions, making it easier to accurately adjust them (although the table tilt isn't perfect and requires a bit of power).
Solid fence and Resaw bar
The fence is heavy, solid and can be finely adjusted. It can also be put in both a high and low position. Another useful feature is the resaw bar that comes with it standard on both the Rikon and the Record Power. This metal rod is attached to the fence just before the blade, and helps prevent blade drift when resawing.
Another useful feature is the plug on the side of the saw where you can plug in a small work light.
Conclusion
All in all, both the Rikon 10-326 and Record Power Sabre 350 are excellent saws, especially considering they come in quite a bit under $1500. If you check the user reviews, you'll find that they're pretty much exclusively positive, which is a rare find these days.
Best bandsaw under $1500 (EU & Rest of the World)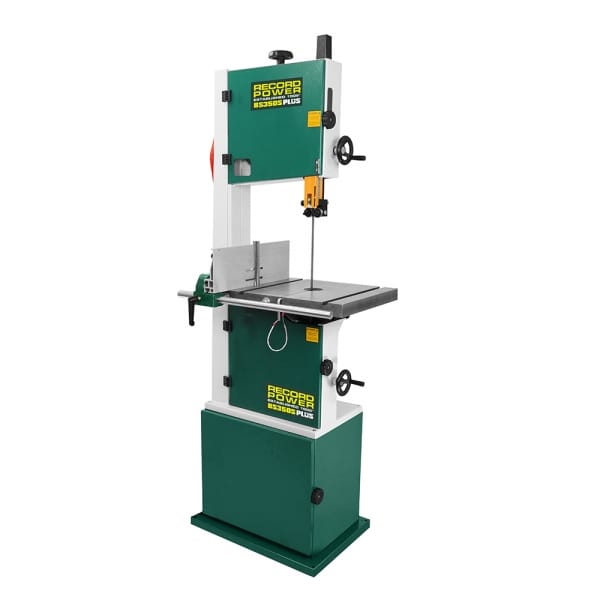 Designed in
United Kingdom
Tip: For a detailed look at this bandsaw, check the video review below, it's an excellent overview of the machine.
Alternatives under $1500
The Sabre 350 and Rikon 10-326 may be the best value for money bandsaws in this price range, but they are not the only good machines available. If you are able to spend a little more, you could also go for either the Laguna 14/12 or the Hammer N3800.
Laguna 14/12
The Laguna 14/12 is quite similar to the Rikon 10-326 in terms of specifications and features. Some people argue that the guide system of the Laguna is better, and that it has a slightly better build quality. But I think they are so close that in practice you won't really notice the difference. The Laguna is slightly more expensive however. Check this discussion on Lumberjocks for a good comparison with the Rikon 10-326.
Hammer N3800
If you are able to raise your budget to just over $1500, you could consider upgrading to the Hammer N3800. This would be a definite step up in terms of build quality. In contrast to the Laguna and Rikon/Record Power saws, this one is made in Austria and Italy.
The Hammer offers a little more capacity and power, but lacks some useful features like the quick release lever and toolless guides. It can also be upgraded to have ceramic blade guides and laser guidance, but these will make it even more costly.
Best bandsaw under $2000
The best bandsaw under $2000 is the Hammer N4400, the largest of Hammer's bandsaws. It's the best machine you can get for under $2000, and probably the last hobbyist/semi-professional machine before you start heading into the professional territory.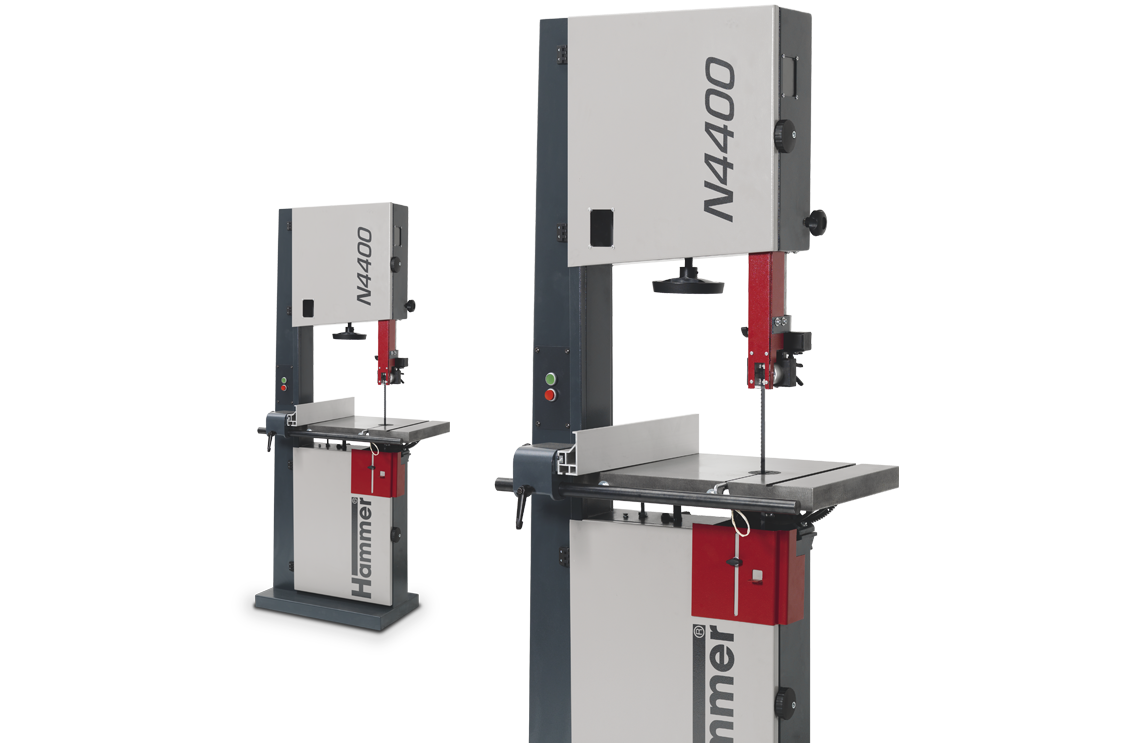 Specs and features
The Hammer N4400 is probably the ultimate machine for hobbyists. For around $2000 you get a large cutting capacity of 310 mm in height, and 420 mm in width. It has large 440 mm wheels and a heavy stable frame of 170kgs.
It has a solid, accurate fence, and a cast iron table. The guides can be adjusted accurately without tools. The only feature missing is the quick release lever for removing tension on the blade. It's a bit curious why Hammer hasn't added it to their machine when practically every other machine of more than $1000 has it.
Build quality
What you are really paying for is build quality, as the machine is made in Austria and Italy (supposedly partly by ACM, an industrial bandsaw builder). Most alternative machines are made in Asia, although their quality is increasing these days.
Great upgrades (but expensive)
Another thing that's great about the N4400 is that it can be upgraded with a few really useful features. These include ceramic blade guides, extension tables for better supporting workpieces both to the side and back, as well as a laser guide. Furthermore, you can add a circle cutting device, and convert the saw to a sanding station.
Of course these upgrades will be costly and push the price way beyond the $2000 mark, but it's good to know these are available should you want them.
Tip: The video below is an excellent way to get a good feel for the size and features of the N4400.
Alternatives under $2000
Minimax S45N
If you are able to raise your budget a little more, you could make the jump to SCM's Minimax S45N. While the N4400 is the most expensive machine from Hammer, the S45N is actually the cheapest bandsaw made by Minimax. All their other saws are professional-grade, which also shows in the S45N. The S45N does miss a few features from the more expensive Minimax saws, but it's still a heavy duty machine and probably a step up from Hammer in terms of build quality.
Laguna 18|BX
Instead of going for even higher build quality, you could also get a lot more features for your money. The Laguna 18|BX is about the same price as the Hammer N4400 and offers more cutting capacity (16″ resaw) and more features. The Laguna 18|BX already comes standard with ceramic blade guides, a foot emergency stop, two tracking windows, and quick release lever for the blade tension.
What I learned about the bandsaw market
I learned two main things while researching these bandsaws. The first is that compared to other types of machines (table saws, jointers, planers, etc.), the bandsaw lineup looks much better. At almost any budget can you find a good option that provides excellent value for money.
Increasing quality from Asia
This can be attributed for a large part to the increasingly high quality coming out of Asia, through brands like Rikon and Record Power. It used to be that Asian-made machines were cheaper, but inferior. With the new generation of bandsaws this is no longer the case. These saws prove that quality bandsaws can now be made at very competitive prices. An excellent development for hobbyist woodworkers.
Single, worldwide market
The other interesting thing that I found out is that with other types of machines, there are large differences between North America and Europe & the rest of the world.
In the case of bandsaws, the brands might be slightly different, but the actual saws are the same, and for all but the cheapest ($125 category) the best options are the same, regardless of where on the world your reside. Of course, Powermatic and other classic American companies do make a few alternative bandsaws, but these do not really provide anything extra, unlike for example their American style cabinet saws.
All in all, I can say the lineup of bandsaws hobbyist and semi-professional woodworkers can choose from is looking great.
Did you miss any options? Do you know a bandsaw that would be a better option in one of the price categories? Let me know in the comments below!