DeWalt makes three different planers that are all very popular, the DW733, the DW734, and the DW735. But what is the difference between them? And can they all be upgraded?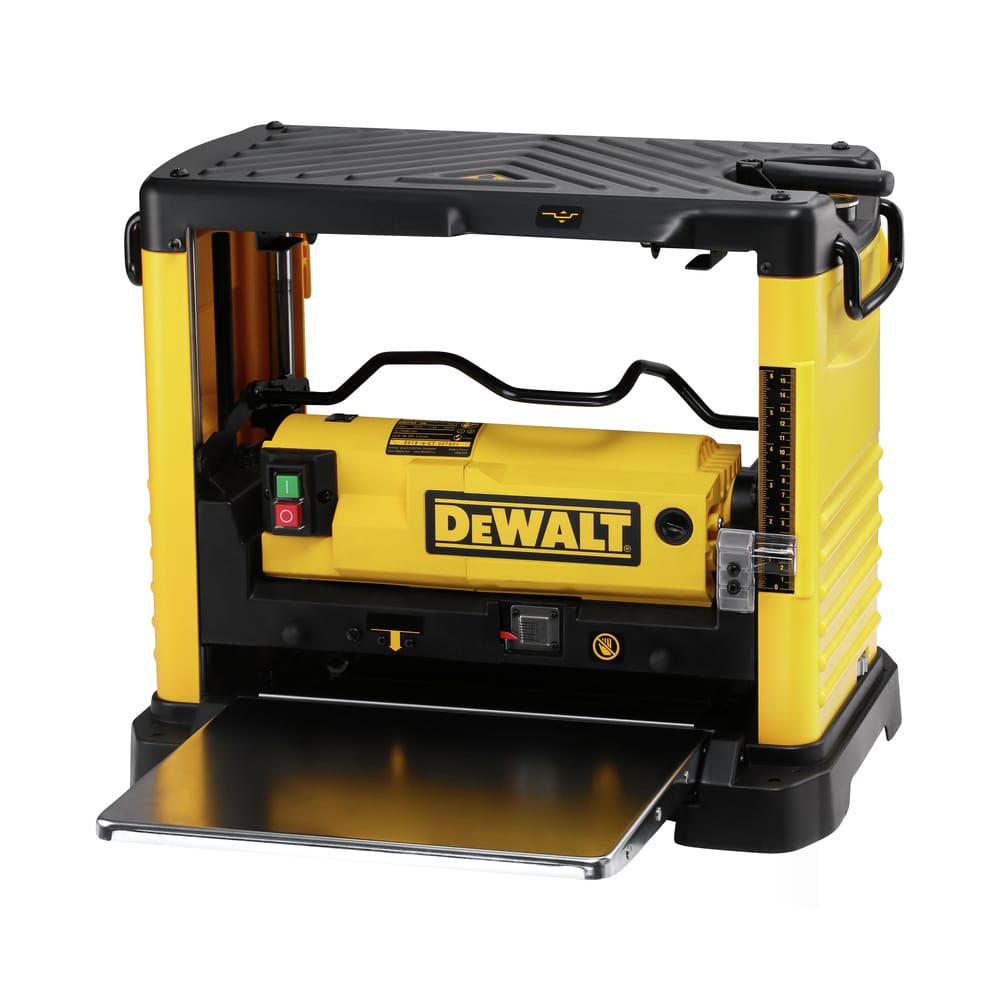 Where they are sold
The most important difference between the three planers is where they can be bought. Because, why look at the technical differences of a machine that is not available where you live anyway?
USA & Canada: DW734 and DW735
In the US and Canada, the DW734 and DW735 are widely available and very popular. However, the DW733 cannot be bought new anymore. It is quite common on the second-hand market though.
Europe: DW733
In Europe, it's actually the opposite. The DW733 is still available for purchase, whereas the other two machines are not. The reason for this is unclear. The DW733 and DW734 are very similar, so it may make sense for only one to be available, but that the DW735 isn't available in Europe is strange. Especially considering its success and popularity in North America.
DW733 vs DW734
Two standard resharpenable blades.
Three disposable, double-sided blades.
The DW733 and DW734 are almost identical machines. The only significant difference is that the DW733 has two resharpenable blades, while the DW734 has three, two-sided, disposable blades. Both have their advantages and disadvantages.
Disposable Blades
The biggest advantage of disposable blades is that they are much easier to set up and replace. You don't need to manually adjust their process, which can be an extremely tedious process for sharpenable blades.
This is because disposable blades are always the same height. When sharpening blades, material is removed and the blade becomes shorter and may even become slightly skewed. That is why you always need to recalibrate their position in the planer.
Resharpenable Blades
Resharpenable blades have a few minor advantages. If you are able to resharpen them yourselves (for example using this jig), you can save on costs of purchasing replacement blades. You can also pick your preferred angle for the blades, and even add a micro bevel, which may improve the cut quality.
More blades, better cut quality
The DW734 actually has three blades instead of the DW733's two. This is a big improvement that helps with cut quality. Simply put, because there are more knives in the cutterhead, they make more frequent contact with the wood. This means there is less of a gap between each 'hit' of the blade, leading to a smoother finish.
DW733 and DW734 vs the DW735
12.5″ (317mm)
13″ (330mm)
3 Disposable Blades
3 Disposable Blades
1800W
1800W
37kg
42kg
Based on the specifications, the DW733 and DW734 don't seem to differ that much from the DW735. They have about the same capacity, the same power, and are only slightly lighter than the DW735.
However, as you can see from the images, the DW735 has quite a different design. It is engineered more like a stationary planer, built around four threaded rods over which the head moves up and down.
Build Quality: DW735 is a real workhorse
The DW735 is built to a higher standard than the other two planers. It is heavier and uses an overall more solid design. This makes it much better at dealing with continuous, day in day out use than the other two planers, which are more meant for small hobbyist workshops.
Two feed rates for the DW735
The feed rate of a planer is the speed at which the wood is pulled through the machine. The slower a board moves through the planer, the more often the blades come in contact with it. This results in a better cut quality, because there are less gaps between each cut.
The DW733 and DW734 only have one 'normal' feed rate. The DW735 actually has two. One 'normal' speed, for getting your work done at a reasonable speed, and one 'slow' speed, for finishing passes. This finishing speed is nearly twice as slow, and gives much nicer planing results. It also helps with dealing with difficult, reversing grains and figured woods.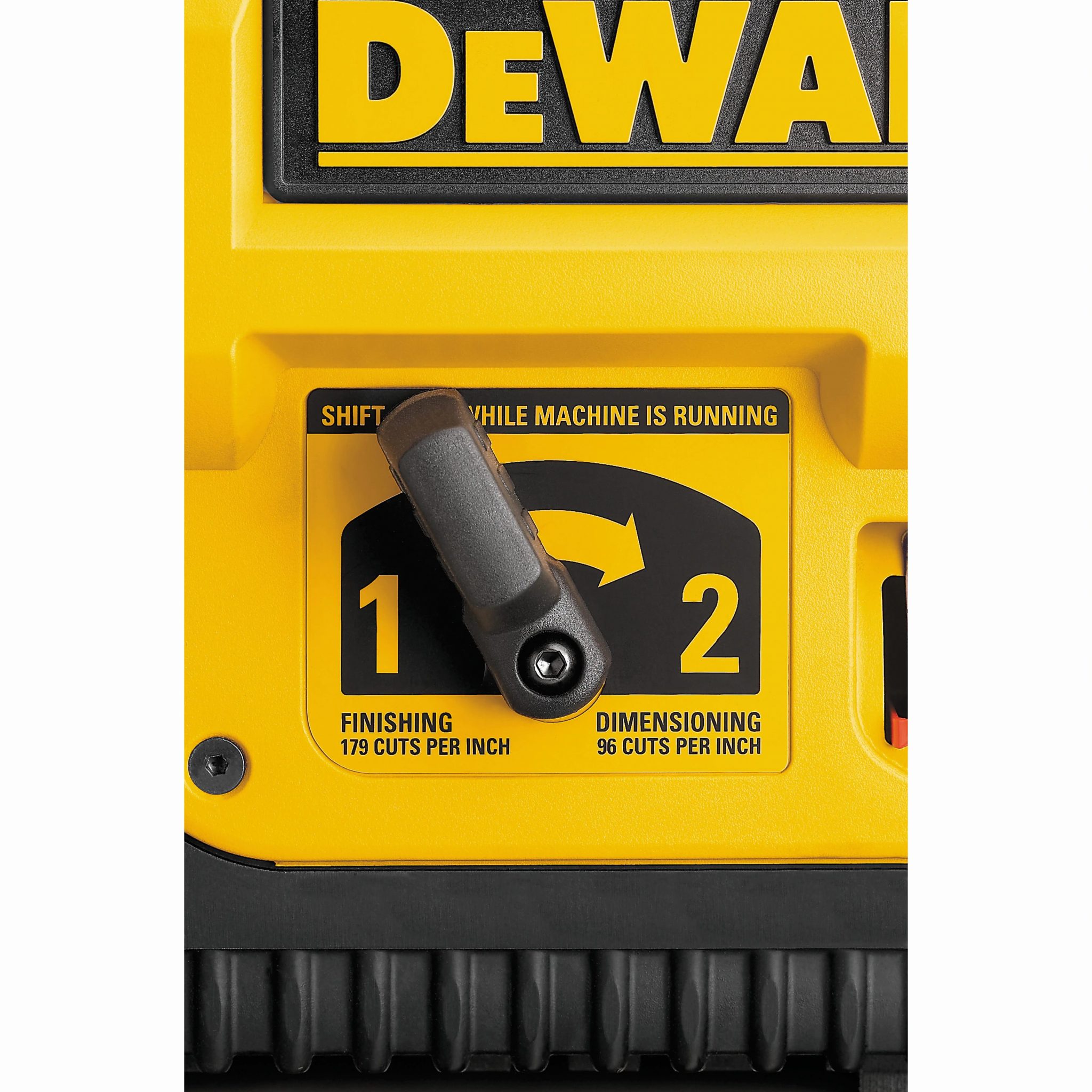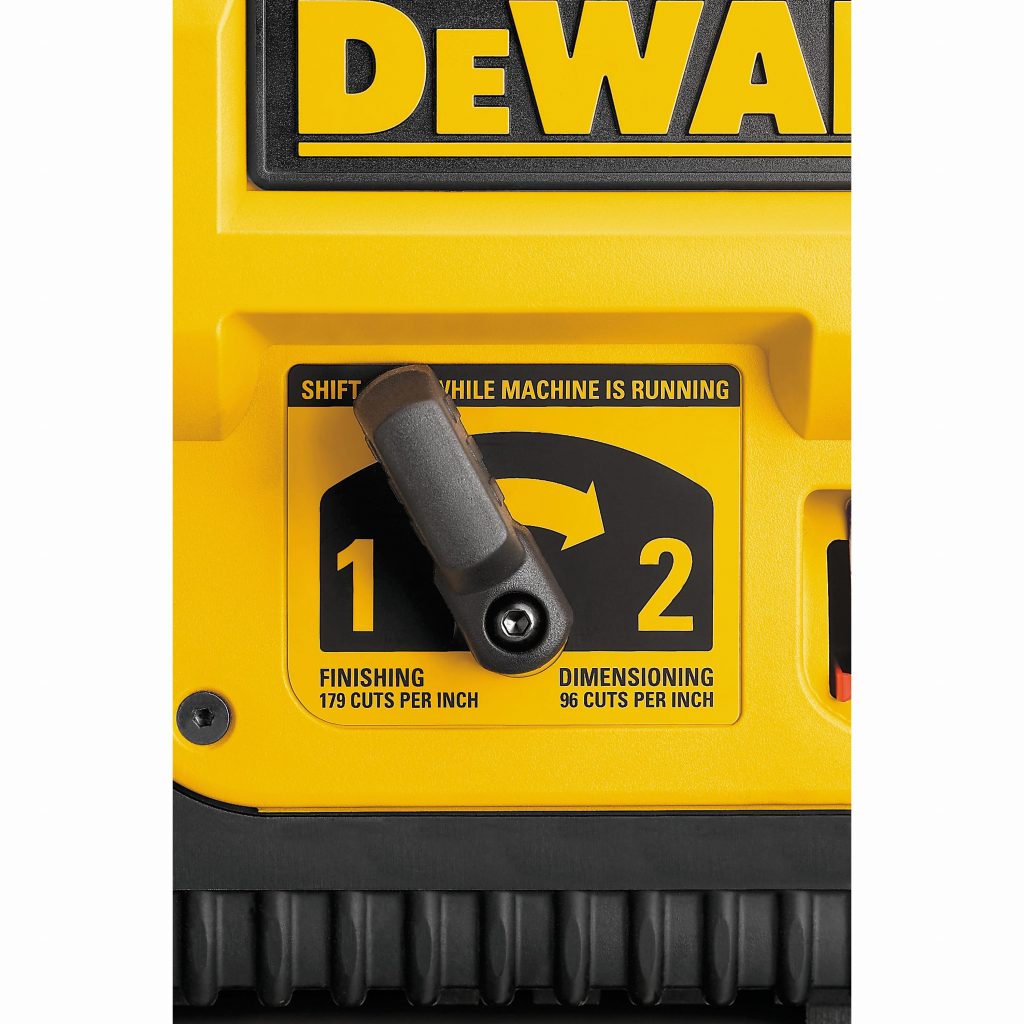 Dust Collection
Another main upgrade of the DW735 compared to the DW733 and DW734. A common complaint about the two lunchbox planers is that the dust collection shoot tends to clog up.
On the DW735, DeWalt has actually added an extra blower motor that forces all the wood chips out, even if you don't have a shop vac attached. Check out the video by Matthias Wandel below to see how effective this is.
Upgrades: Shelix Cutterhead for the DW733, DW734, and DW735
All three machines can be upgraded with a Shelix Cutterhead. These cost around $400, depending on where you buy them. You'll have to judge for yourself whether that's worth it (it almost doubles the cost of the DW734, for example). But it is without a doubt that it is a major improvement.
Advantages of Shelix Cutterheads
Easy and cheap to replace blades
Shelix cutterheads (also called spiral or helical heads) consist of many small blade inserts. If you happen to hit a nail and create a nasty nick in your blade, this means you only have to replace one small insert instead of an entire blade. This makes it much cheaper to use inserts in the long run than standard blades.
Each insert can usually be rotated and has four sharp edges, meaning you can simply unscrew it, turn it 90 degrees, and lock into place again. They don't need to be adjusted either, just like disposable blades.
Quiet and (almost) no tearout
In addition, shelix cutterheads are also much quieter than normal blades. This is a big bonus especially on these DeWalt planers, because they are quite noisy. Any reduction in sound makes them much more comfortable to use.
Finally, because of the angle and spiral layout of shelix cutterheads, they also result in a much better finish quality. They are especially good at preventing tearout on figured woods with difficult grain. Take a look at the video below to see how effective it is:
Where to get Shelix Cutterheads?
A Shelix Cutterhead upgrade is available on all three machines. It is a bit more common and easier to acquire for the DW735, however. We've added a few links below to places that sell them.
Shelix Cutterhead for the DeWalt DW733: You can find it on this site.
Shelix Cutterhead for the DeWalt DW734: Can be purchased on this site.
Shelix Cutterhead for the DeWalt DW735: You can find it here on Amazon.
We hope you found this article useful. If you have any feedback or comments about these DeWalt planers, let us know in the comments below!