Benchtop planers are great tools that save a bunch of time compared to traditional hand planes. They are also relatively small and easy to store, which makes them great for home woodworkers as well as jobsite use. So if you work with raw lumber, getting a benchtop planer is an easy choice. But there are many different models out there that all look really similar, so which one should you get?
WEN and Craftsman make two of the most popular and affordable models on the market. If you don't have a big budget, but still want a decent benchtop planer, these are the two models to consider. Many power tools these days come from the same (Chinese & Taiwanese) factories and only differ in color and brand name. But that's not the case here. There's actually some significant differences between the WEN 6552T and Craftsman CMEW320.
In this article, I'll compare these two benchtop planers head to head to find out which one is the best.
Comparison Table: WEN vs Craftsman Benchtop Planer
1800 Watt, 15-Amp Motor. Weight around 30 kgs (~65 lbs)
1800 Watt, 15-Amp Motor. Weight around 30 kgs (~65 lbs)
330 mm (13″) in width and 152 mm (6″) in height capacity.
317.5 mm (12.5″) in width and 152 mm (6″) in height capacity.
Three blades making 25500 cuts per minute.
Two blades making 16000 cuts per minute.
Depth of cut indicator with scale and a cast-iron table
No extra features.
Design, Power and Size
Lunchbox design
Both the WEN and the Craftsman planer use the classic 'lunchbox' planer design. Lunchbox planers are relatively tall, thin, and have a folding infeed and outfeed table that makes it resemble a lunchbox. The key feature of this design is the moving cutterhead, instead of a moving table as is often the case on larger stationary machines.
Power
In terms of power and size, the two planers are almost identical. They both have 15 amp (~ 1800 Watt) motors, which is comparable to much more expensive planers like the DeWalt DW735. This means they'll be able to handle pretty much any type of wood, which is impressive for a budget planer.
Size and Weight
Both planers can cut stock up to 6″ thick (152 mm). In terms of maximum width of the boards you can put through the planers there is a small difference. While the WEN can handle boards up to 13″ wide (330 mm), the Craftsman is limited to 12.5″ boards (317.5 mm). This is a very marginal difference though, and shouldn't affect your purchasing decision.
In terms of overall size, there is also not much between the two machines. The Craftsman is slightly taller, while the WEN is slightly wider. All in all they are both about equal size, and are small enough to be stored away under a workbench.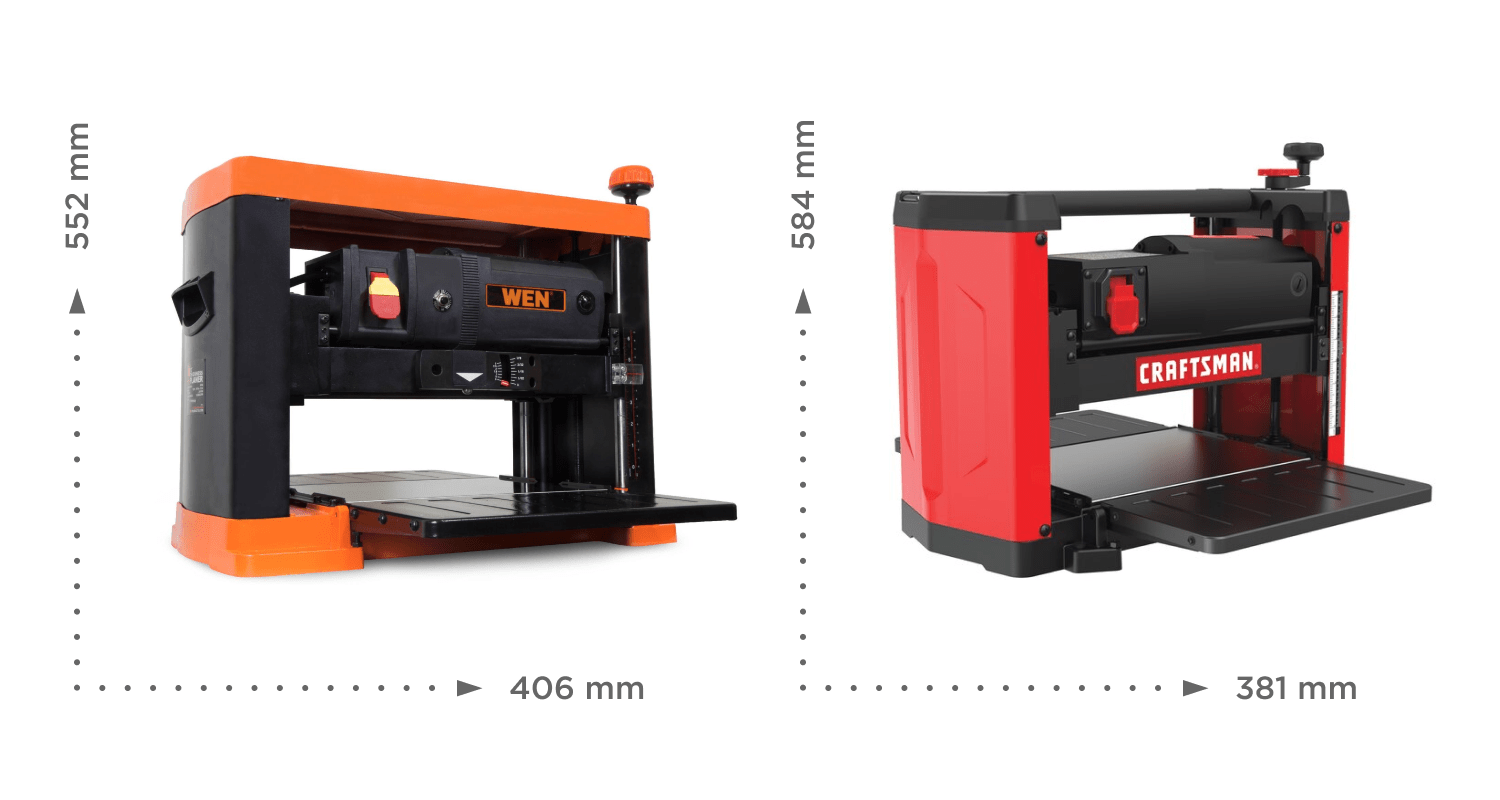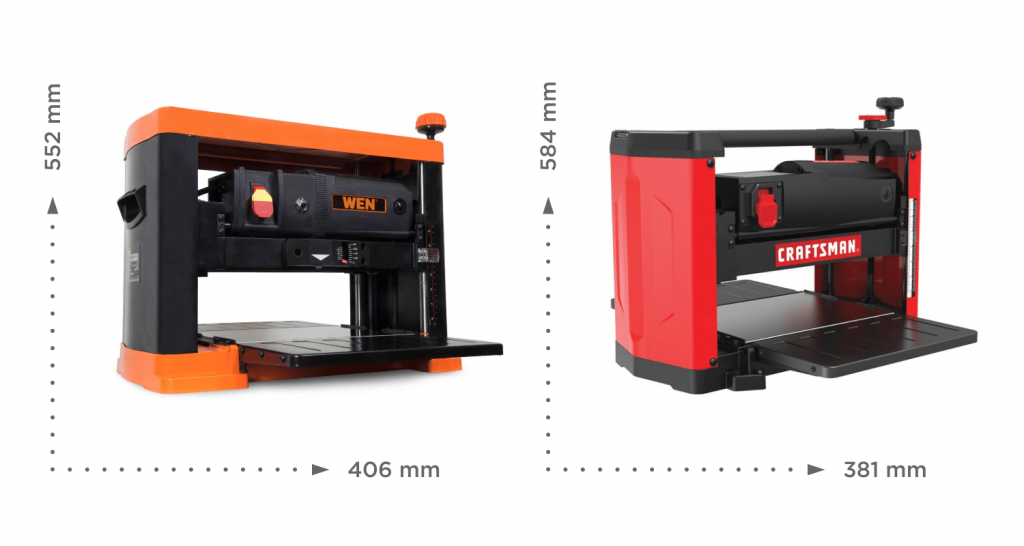 They're also both relatively lightweight at around 30 kilograms. For comparison, the Makita 2012NB is about 27 kgs, which is the lightest benchtop planer I know, while the DeWalt DW735 is 35 kgs, which is one of the heavier ones.
All in all, in terms of design, size, and power, there's not much between these two planers. Based on those factors alone, you can't really decide in favor of one or the other. The real difference comes from the feature sets, as I'll explain next.
Blades and Cut Quality
How planer blades work
Planers remove wood by rapidly rotating knives in a cutterblock. Each time a blade hits the stock, it shaves off a little bit of wood. The more time there is between the moment each knife hits the wood, the larger the gaps between each shaving. This can show up as a 'choppy' or 'wavy' pattern on the wood.
Therefore, to get the best finish, you want to minimize the gap between each individual knife hitting the wood. You can solve this in two ways: One, by rotating the cutterhead more quickly, or two, by adding more knives.
Better finish quality from three blades
The second approach is what WEN has done on their new 6552T benchtop planer. It has three knives instead of the two of the Craftsman. Both have the same 8000 RPM rotation speed of the cutterhead. This means the WEN makes about 25500 cuts per minute, while the Craftsman only makes 16000 cuts per minute.
This means you'll get a better finish with the WEN. The added third knife is an excellent addition and a clear improvement over the standard two knives on the Craftsman.
Check the video below for some cutting results on hardwood and softwood (earlier in the video).
Features
So the WEN 6552T clearly had the better finish quality, but how does it score in terms of features? Once again, the WEN is the better machine. It has a depth of cut indicator with scale, which I find almost essential on a benchtop planer, as well as a cast iron table. The Craftsman lacks both of those.
Depth of cut indicator
The depth of cut indicator (see image) is triggered whenever you feed in any wood to the machine. The stock touches a little metal ball which moves up or down and indicators how thick of a shaving you're about to take. This is very helpful to see whether you're taking a big or small cut, and helps a lot with safety. Seeing straight away that you're about to take way too much off in one cut (e.g. 3mm on a 13″ board) can help you prevent having the wood get stuck in the planer, or in worst case scenario damaging the motor.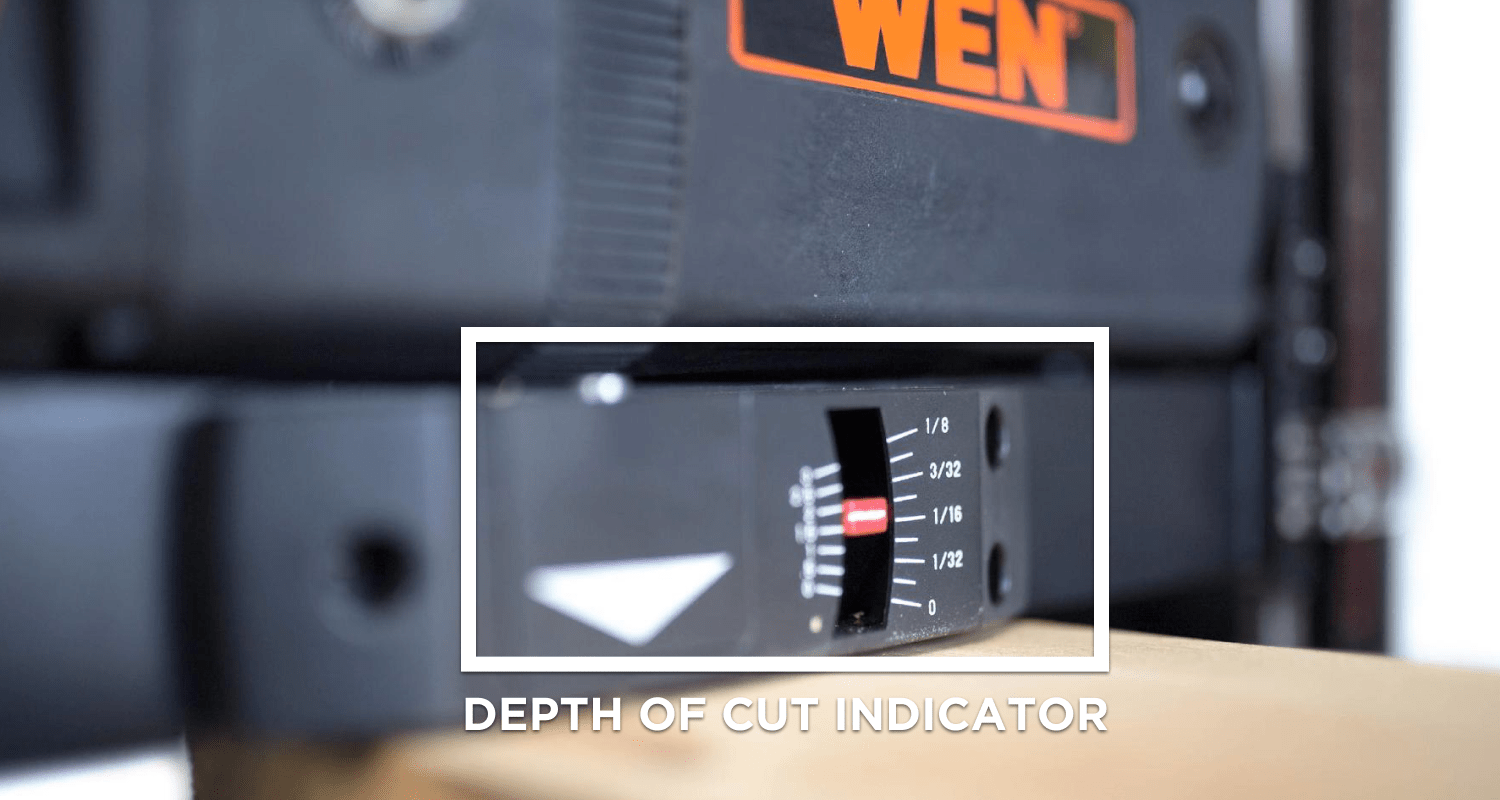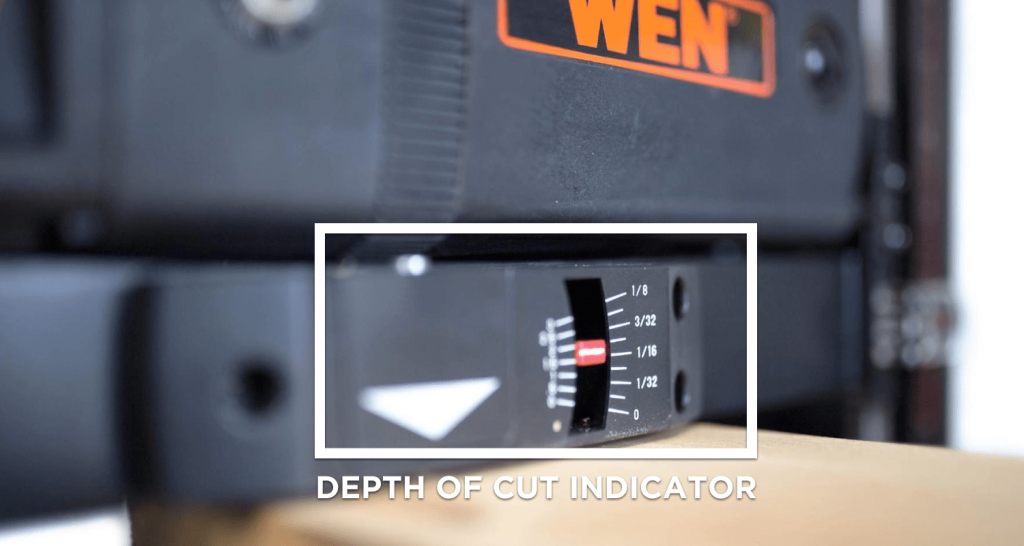 Cast iron table
The WEN 6552T also got a table upgrade compared to the previous 6550 model. It now has a solid cast iron center table, which is much better than most alternatives, as it will remain extremely flat throughout its lifetime. This is definitely another advantage the WEN has over the Craftsman.
Conclusion
Overall, the clear winner is the WEN 6552T. Both machines are about equal size and equally powerful, but the WEN has much more going for it. It has three blades instead of two, resulting in a better finish quality. It has a depth of cut indicator, which is completely missing on the Craftsman. And it has a cast-iron table, which is a great feature as well.
Since both machines cost about the same, the WEN is not just the best in terms of quality, but also provides the most value for money. There are some other alternative cheap benchtop planers on the market, but almost all of them are similar to the Craftsman. This makes the WEN 6552T by far the best choice for those looking for a low-price benchtop planer.
Beste overall & Best value for money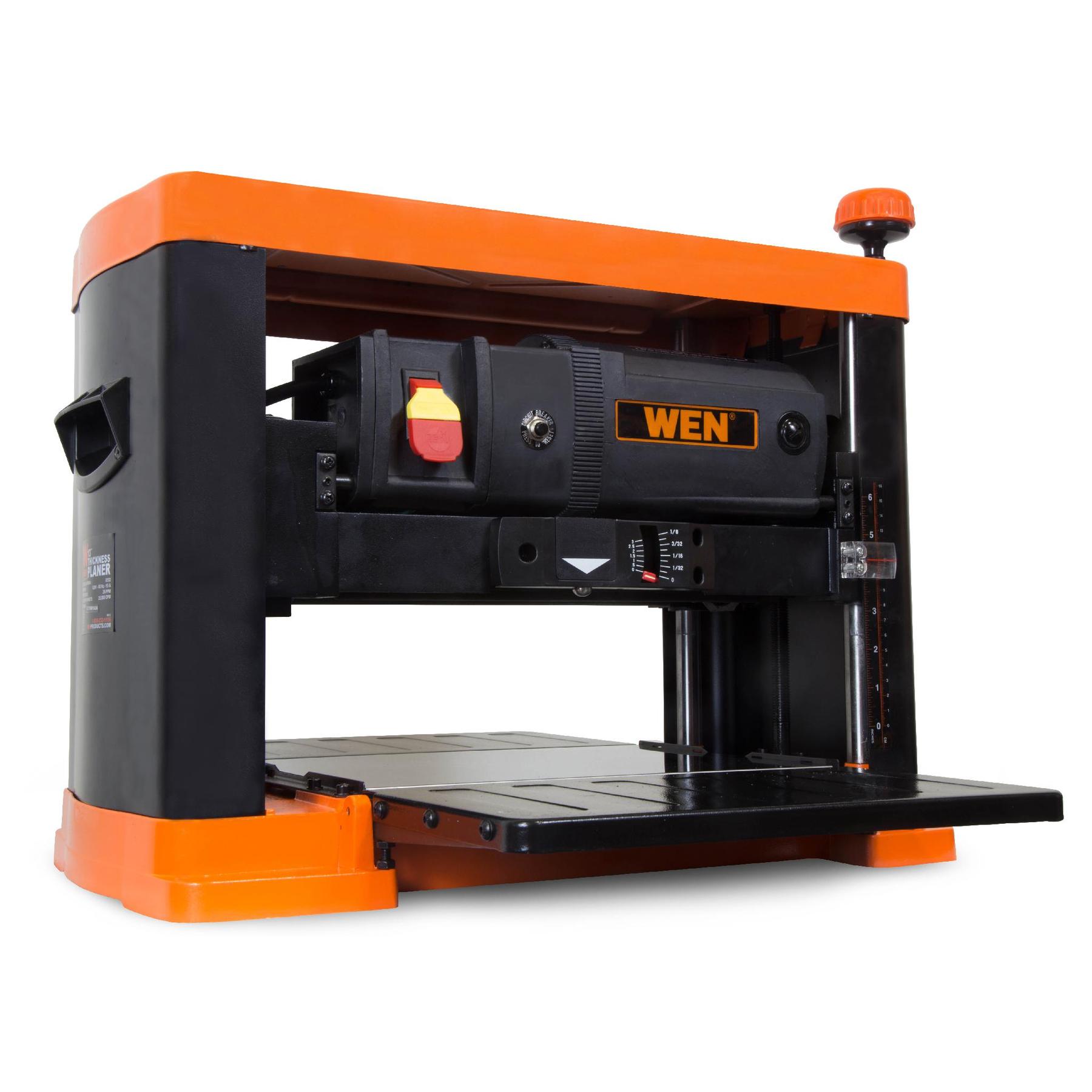 Designed in
United States
Where to buy
To help you find the best deal on the WEN 6552T, I've developed a price comparison tool, shown below. It's updated daily with prices from several of the major stores, so do check back regularly to see if there's a special price.