The WEN 6552T is a 13 inch benchtop thickness planer. It is the successor of the 2019 model called the WEN 6550T. Although it is largely the same machine as its predecessor, it does have a few nice upgrades, while maintaining the same price.
WEN 6552T vs 6550T: New Cast Iron Table
The old 6550T had quite a unique center table made of granite. While granite is known to be extremely flat (many hand tool woodworkers use it as a reference surface to sharpen plane blades), it is not as smooth as metal. This is probably the reason why WEN decided to upgrade to a cast iron table. Cast iron tables are normally very flat as well, and have the advantage of being extremely smooth when polished, which is essential with any thickness planer.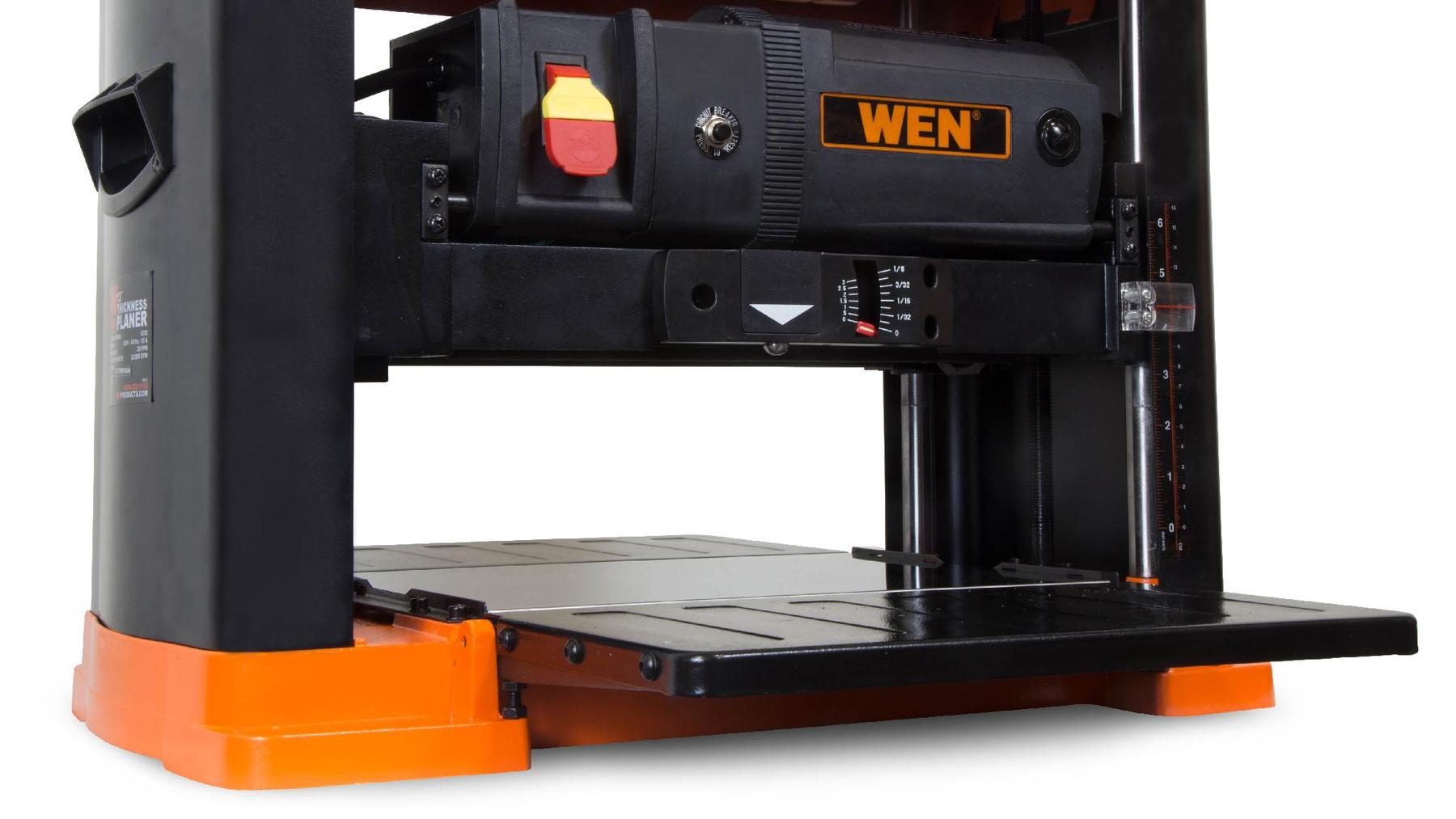 The infeed and outfeed table have special adjustment screws which helps to level them to minimize snipe. Do still expect some snipe though, as that is an inherent problem with all thickness planers of this design. The only way to work around it is to use a sacrificial piece or plane before cutting your boards to length.
Depth of Cut Indicator
One of the biggest upgrades from the previous model is the addition of a depth of cut indicator. When you feed through a piece of wood, the indicator at the front of the machine will tell you exactly how deep of a cut you're taking. This is much easier than having to measure it yourself, and will help prevent accidents due to taking too deep of a cut.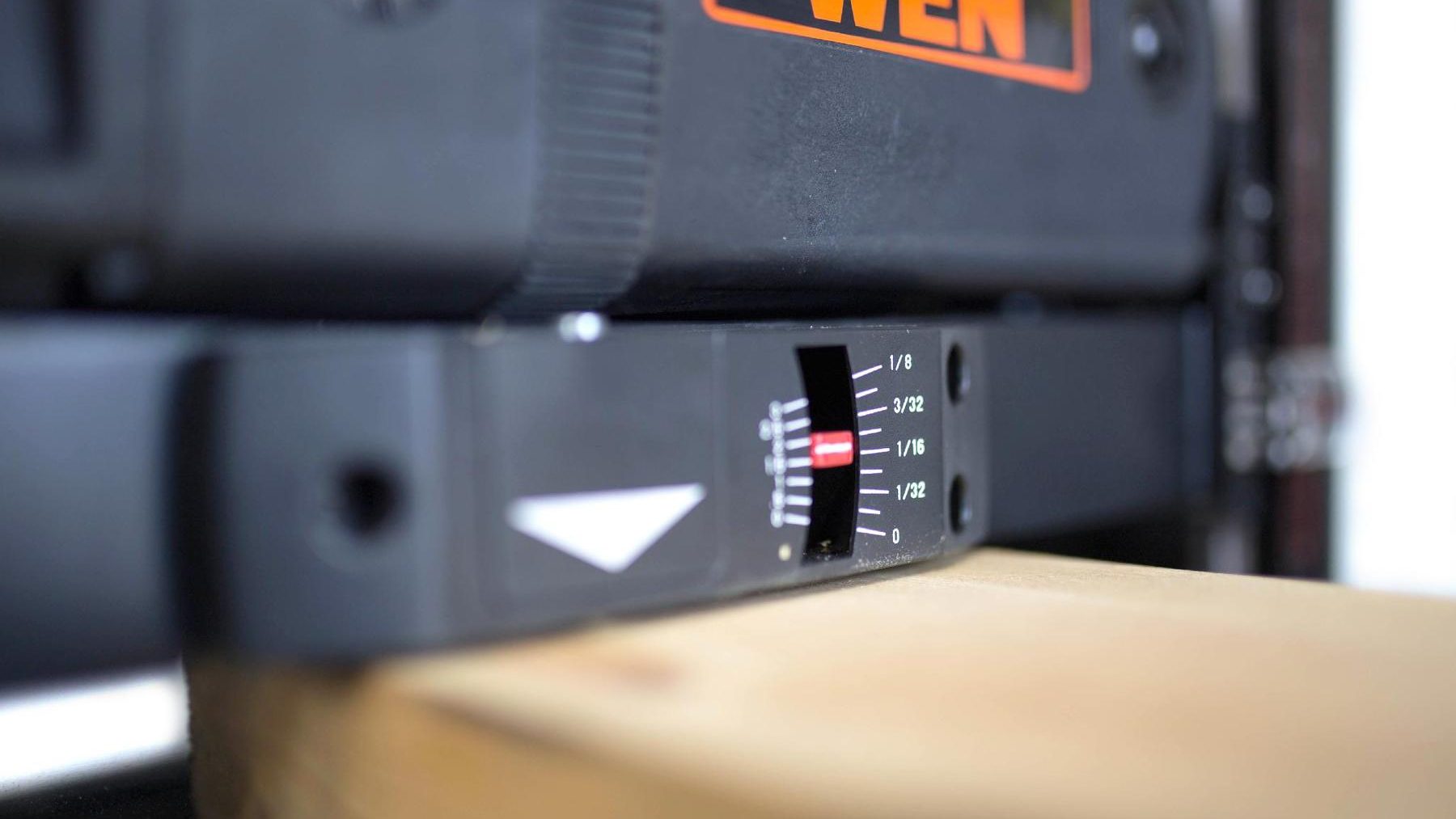 Three Blades instead of Two
The new model also has more blades than the old one. The 6552T has three blades rather than the two of the 6550T. This improves the cut quality as there is less distance between each blade cut. This reduces the chances of getting a choppy pattern and gives a nicer finish overall. The blades are not reversible, but have two sharp edges and so can be reversed when the first side gets dull.
Replacement Blades: You can find replacement blades in several stores, for example as a single set of 3 blades on Amazon and eBay, or as a two sets of three on eBay (small discount).
There is also a Helical Head version available from Amazon called the PL1326. However, it costs twice as much and although it will definitely give better cutting results, it might not be the best investment due to the build quality of the WEN. Since spiral cutterheads are quite expensive, it would make more sense to get it with a more reliable machine that will last a longer time, like the DeWalt DW735.
Motor and Power
The WEN 6552T has a 15-amp motor, which translates to about 1800 Watts. This is similar to most more expensive benchtop planers, like those from DeWalt and Makita, and is perfectly sufficient for almost any type of wood.
Dust Collection
The dust port can support three sizes of connectors, namely 2 inch, 2.5 inch, and 4 inch hoses. The dust port is actually fan assisted, which helps to prevent clogs. This also means you could technically use it without a dust collector but that would result in a big mess. Using a HVLP dust extractor is always the best option with a thickness planer, although a decent shop vac could do the job as well as long as you're not taking too deep of a cut.