Essential, time-saving machines
Thickness planers, or planers for short, are one of the most convenient and useful machines in woodworking. They make bringing stock to a specific thickness extremely easy. Something that could cost hours with the hand plane takes mere minutes with a planer. That is what makes it a great machine for anyone who prefers to focus on creating something rather than hand planing for hours before you can actually start building.
However, picking a planer is not that easy. There's so many options out there these days, especially in the more affordable categories.
That's why I've written this guide. To help you filter out the options and go straight to the best machines for your specific budget.
For each price range I not only select the best machine, but also give you some alternatives – as not everyone has the same demands, so you'll have something to choose between. I'll also give specific options for the EU and North America, as not all machines are available globally.
Best planer under $350
Best in US & Canada
The best sub-$350 planer on the North American market is the WEN 6552T. It is one of the most affordable planers out there, but it also has some nice features and specs that set it apart from the competition.
Best planer under $300 (USA)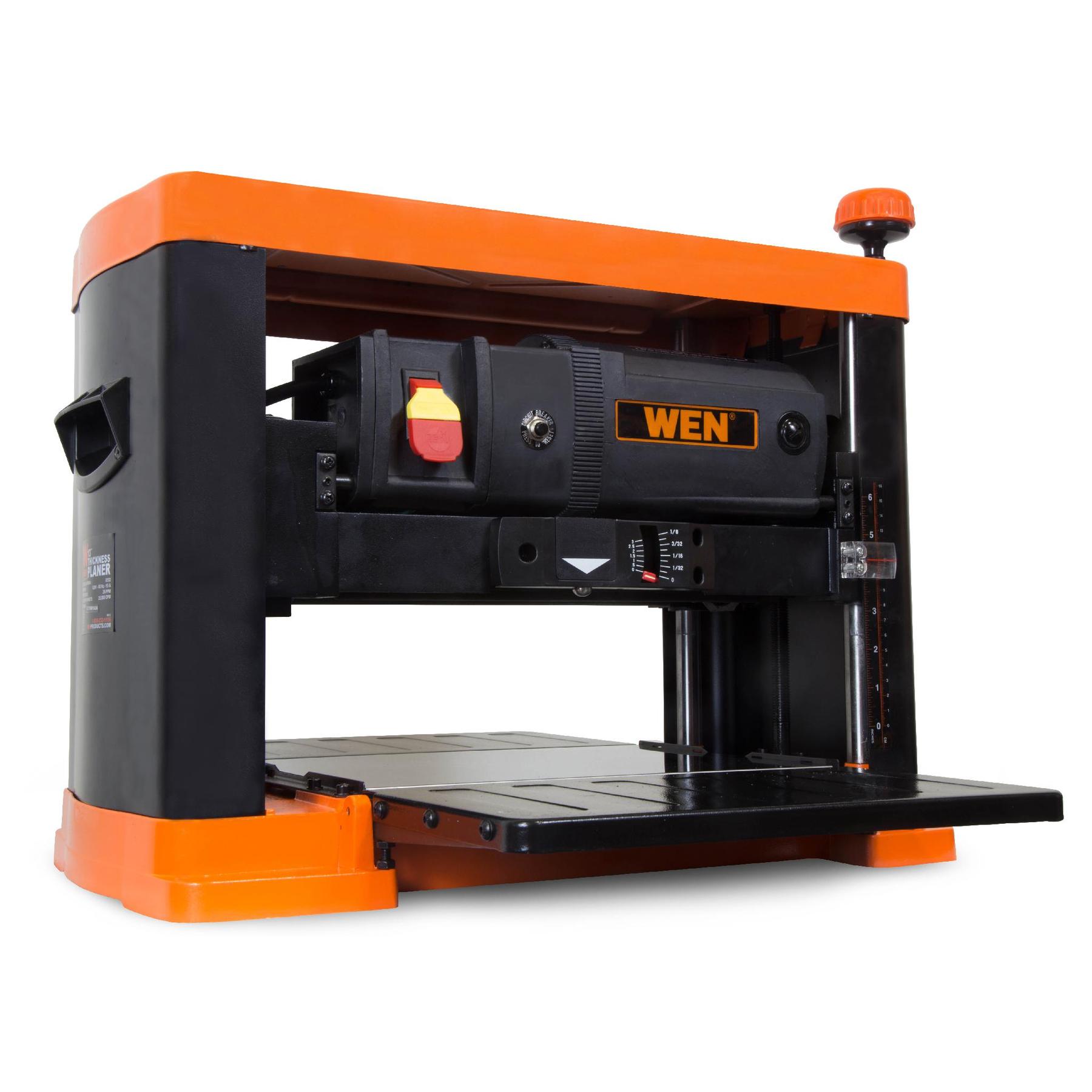 Designed in
United States
There's quite a few brands (Craftsman, Porter Cable, and more) selling almost identical benchtop planers in this price range. They are all more or less the same basic machines, just with different branding. That used to be true for the previous WEN 6550 model as well.
However, the latest 6552T model from WEN sets itself apart from the competition – all while maintaining the same competitive price.
It has 3 blades now, instead of 2, which leads to better cut quality as there is less space between each blade's contact with the wood. This reduces the 'choppy' pattern you get from some planers.
It also has a cast-iron table, and a pretty powerful 1800 Watt (15 Amps) motor, which is just as much as more expensive competitors like DeWalt and Makita.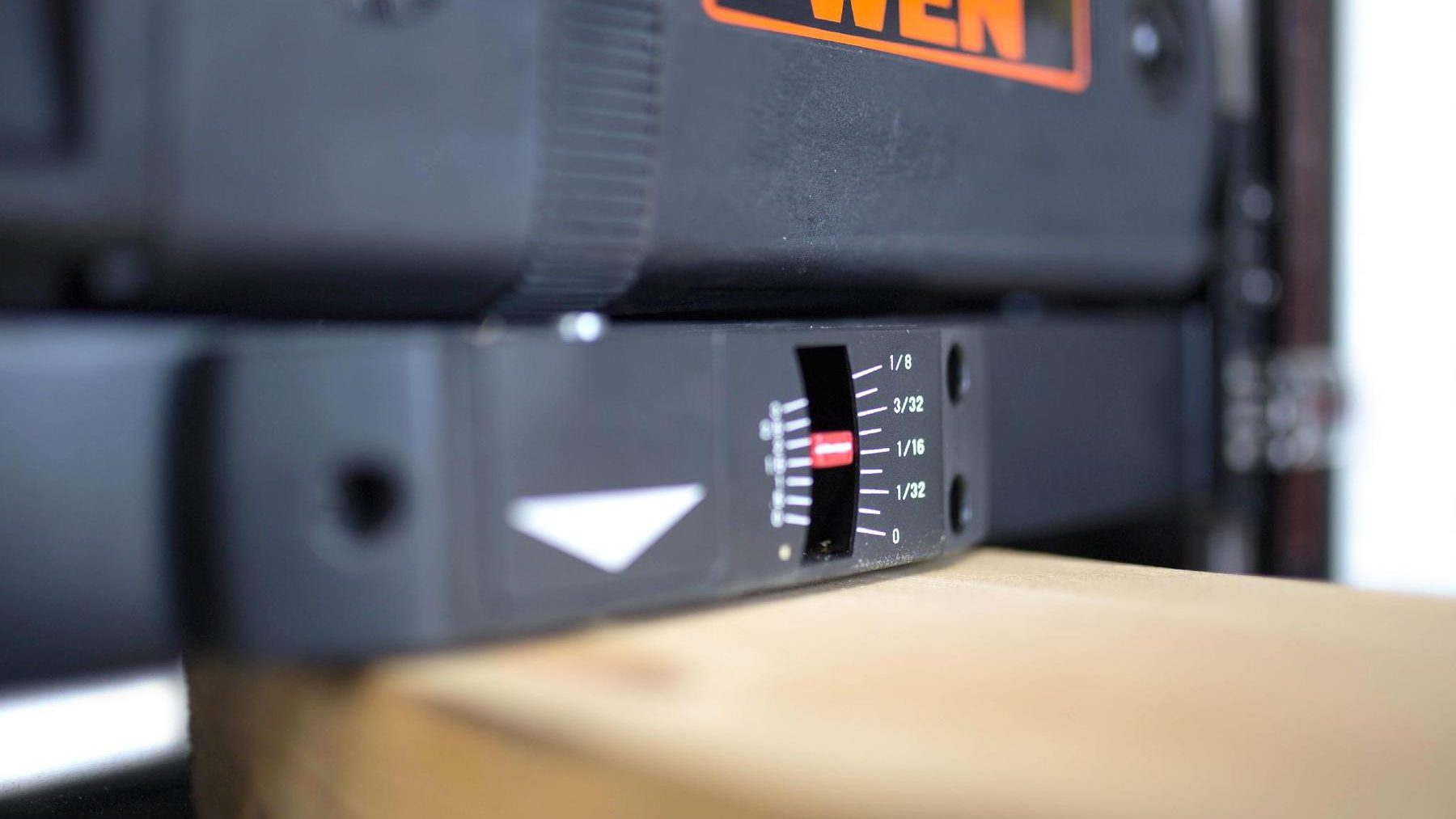 Another upgrade is the depth of cut indicator, which measures how much you're shaving off as you feed in the wood. This allows you to quickly see if you're taking off too much or too little. It's a simple feature but makes life a lot easier and it is missing on other machines of this price. The dust port is also fan-assisted, which helps prevent clogs.
All in all, it's a solid benchtop planer that will do the job. Obviously you cannot expect great build quality at this price, but that is a problem of all competitors too. From all the sub-350 benchtop thickness planers, this is definitely the one to get.
Alternatives under $350 (US & Canada)
I wouldn't really recommend looking at competitors at this price, because none of them are cheaper than the WEN, while offering less features. However if you could find a discount deal somewhere, you could consider getting the Craftsman CMEW320, which gets pretty good reviews as well (see for example the reviews on Amazon).
Best in Europe & UK
In the EU, choices are very limited in the sub-350 category. So limited that I only actually know of one model that sells for that price: The Vevor 12.5 Planer. It is an extremely basic machine without any of the useful features of the WEN. It is essentially the same as a lot of other planers, sold under different brands like Lumberjack or Ryobi.
It really has no unique selling feature other than its price. It will probably do a reasonable job, but I would still recommend spending maybe €/£50 more to get a slightly better machine. One small difference though is that it often comes with a metal stand included, which the other options do not have.
Alternatives under €/£350 (Europe & UK)
If you are indeed able to spend about €/£50 more, you could consider the Scheppach, Holzstar, or Bernardo planers (links to Amazon). These are all pretty much identical and also extremely similar to the WEN discussed above except for having 2 blades instead of 3 and a slightly less powerful motor. They do have the depth of cut indicator, which is lacking on the Vevor.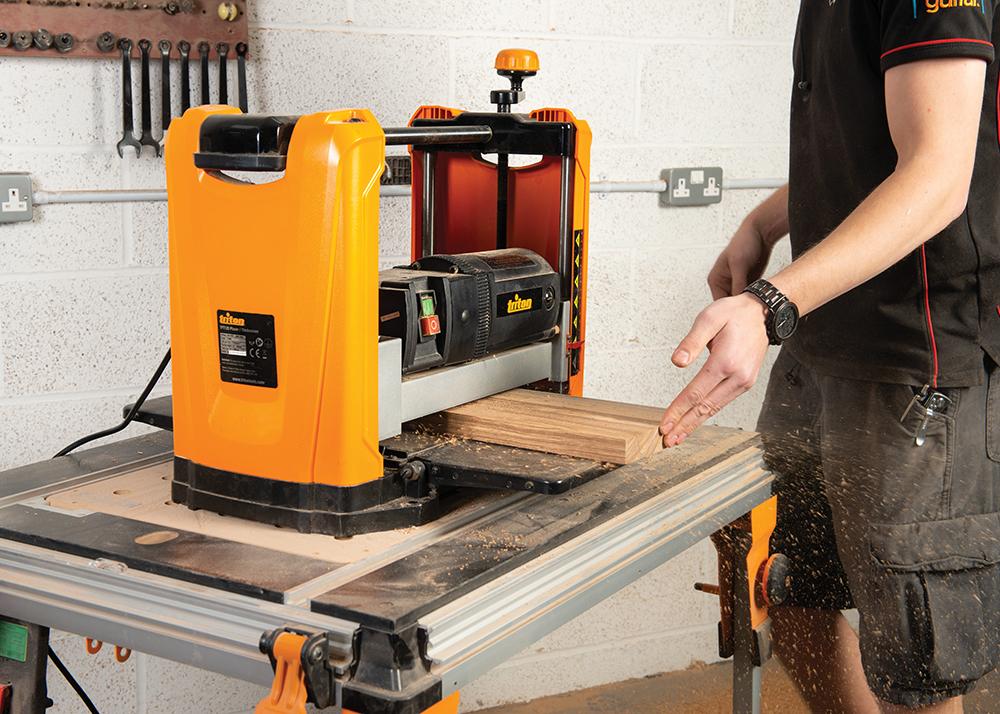 If you are lucky and find a good deal, the Triton TPT125 would be the superior choice. It is generally considered to be quite a bit better build quality than the other machines in this price range. It varies in price quite a bit, but can sometimes be found for €350-400.
Best planer under $500
Best in US & Canada
The best planer under $500 is the DeWalt DW734. It is really the only option at this price, as it is much better than the competition, and upgrading to a better machine will cost you quite a bit more.
Best planer under $500 (USA)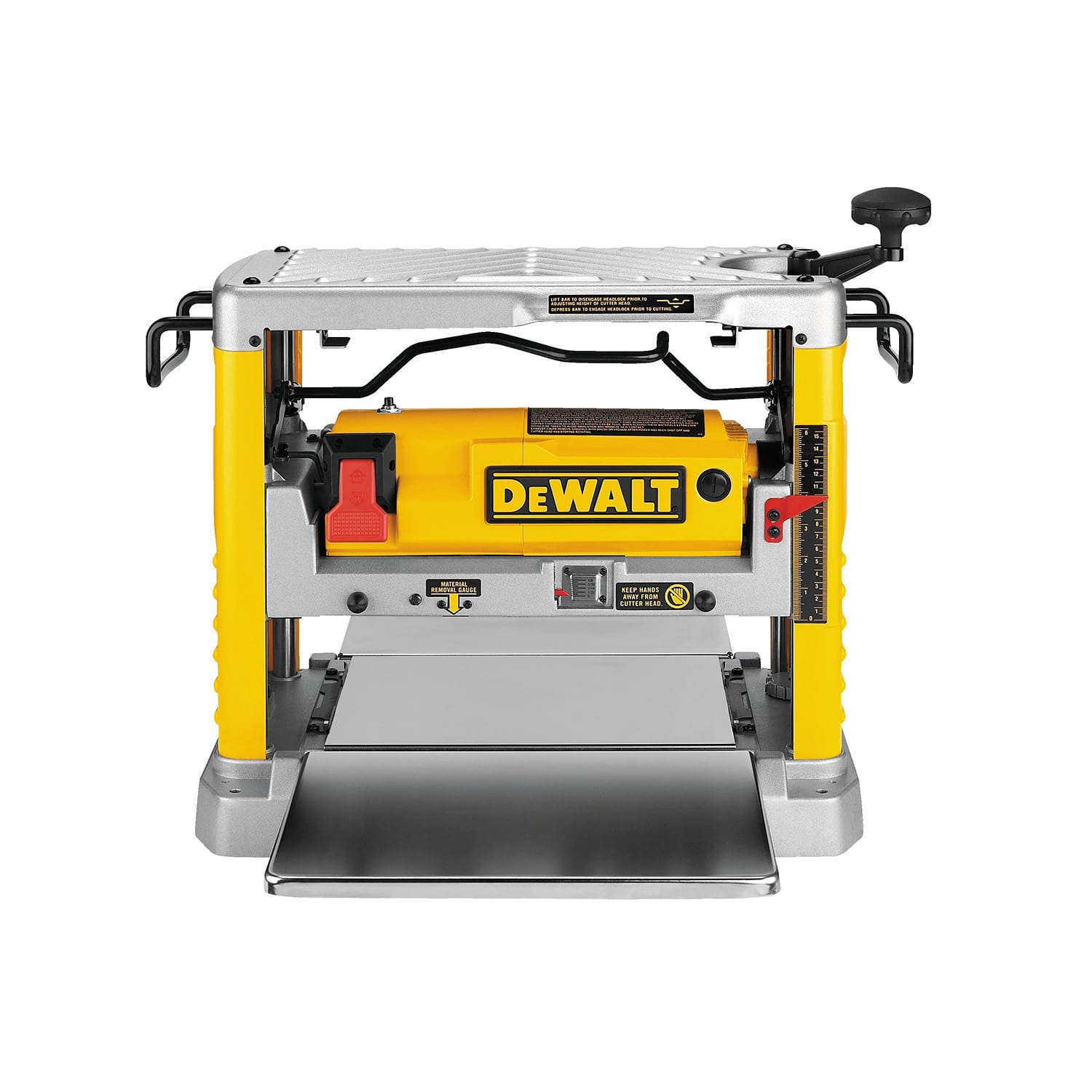 Designed in
United States
The DW734 has three reversible, disposable blades, and a powerful 15-amp motor. It has several useful features, like depth of cut indicator and height lock. The lock prevents any movement in the spindle due to pressure from the wood, and helps to get the exact same thickness for multiple pieces of stock.
It is built to a much higher standard than the sub-$350 machines, so you should expect it to last quite a bit longer, which definitely makes it worth the money if you plan to do more than few projects with it.
There are also a few companies selling helical head upgrades for the DW734, so that is always a possibility if you would like to upgrade your cut quality later down the line. For example, Holbren sells an upgrade kit.
Best in Europe & UK
The Metabo DH 330 is the best benchtop planer under €500. It offers great value for money and is even competitive in the under €650 category as we'll see in a moment.
Best planer under €/£500 (EU & UK)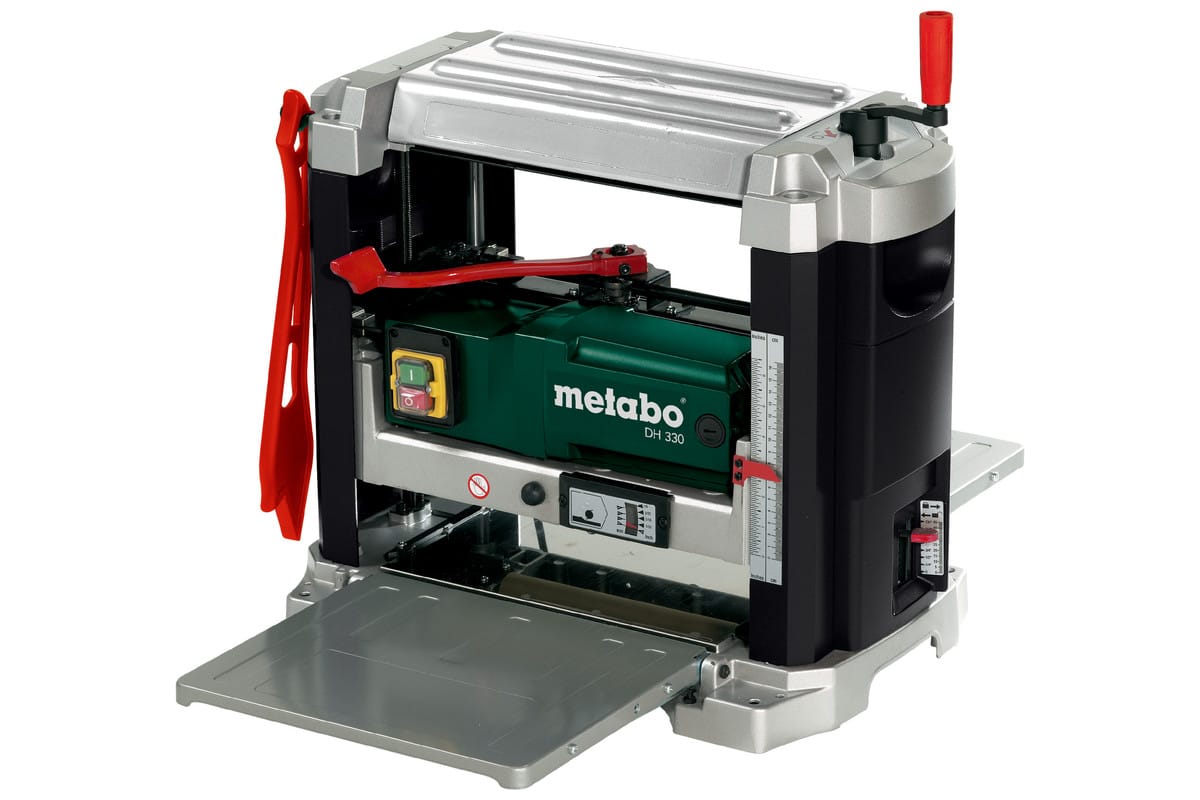 It has quite a few features that are not found on more expensive competitors. For example, it has a height stop, which helps in setting the same height for different pieces of wood, even if you plane some thinner stock in the meantime.
It also has a depth of cut indicator at the front, and a spindle lock. The lock helps to prevent any movement laterally and up and down when the wood comes in contact with the rollers and blade. This leads to more accurate cutting results.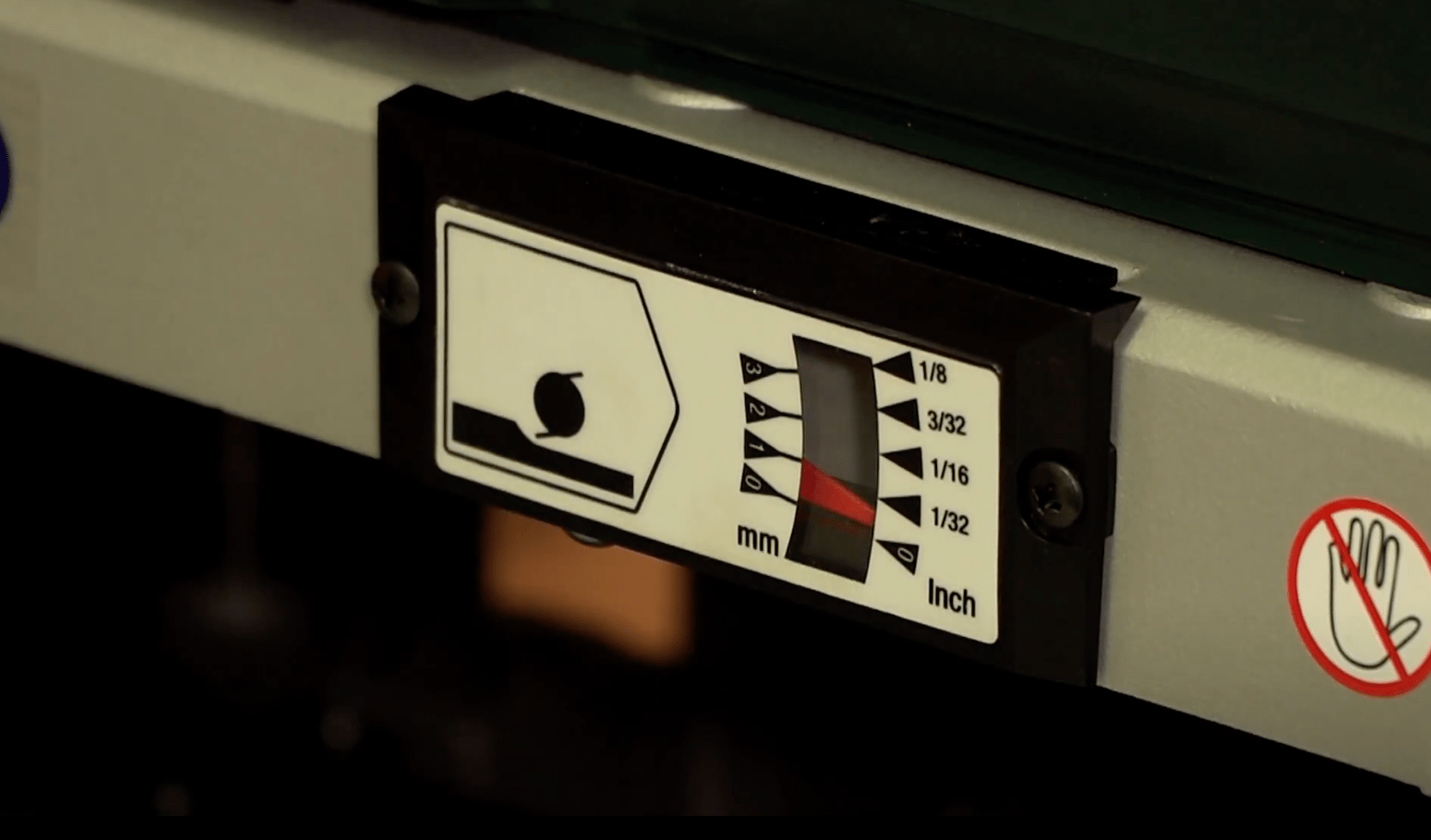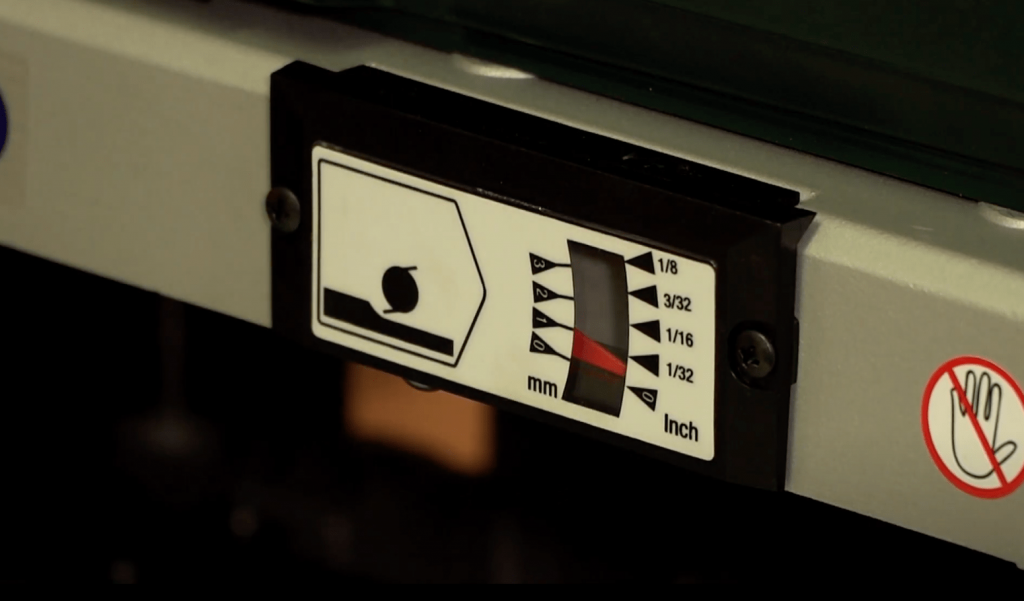 The Metabo comes with two reversible, disposable blades, but it is possible buy resharpenable blades separately.
It has a solid build quality that is a clear step above the sub-350 machines. Still, it has quite a few plastic parts and is probably less well built than the more expensive Makita 2012NB.
All in all it is an extremely attractive machine due to its many useful features and relatively low price.
Alternatives for Europe & UK
If you want to save some money, you could also consider the Triton TPT125. It lacks most of the excellent features of the Metabo, but has a good build quality and will generally give equally good planing results. You simply miss the quality of life features of the Metabo. However, because it is quite a bit cheaper it is a good option for those looking to save a bit of money.
Best planer under $650
Best in US & Canada
The best planer under $650 is the DeWalt DW735. It is the only benchtop planer I know that has a different design than the classic 'lunchbox' planers which I've discussed so far.
Best planer under $650 (USA)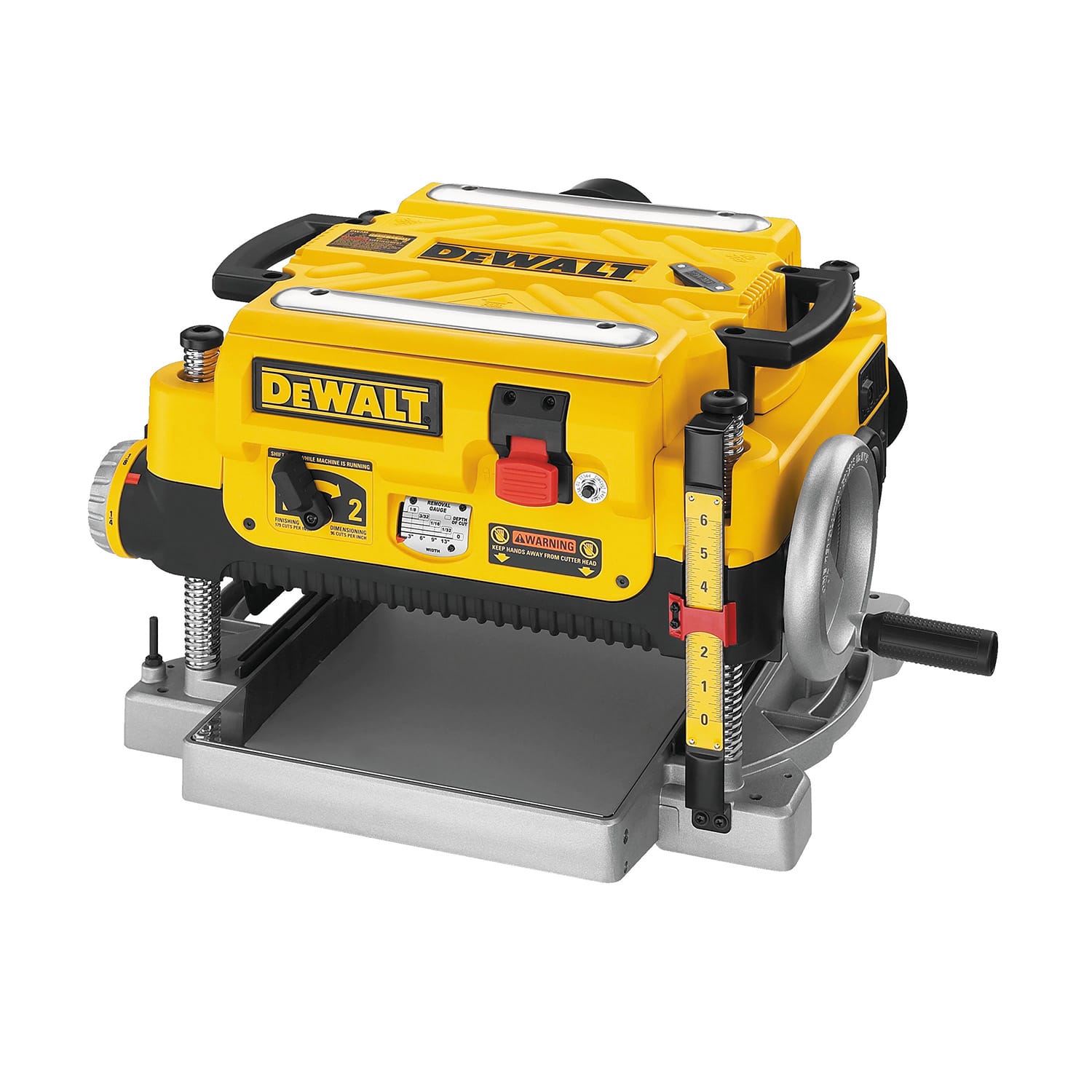 Designed in
United States
It moves over four threaded rods, which are placed farther apart than on the smaller DW734, which only has two small threaded rods. Along with an overall sturdier design, this makes the DW735 much more of a workhorse than the other benchtop planers. It will deal better with hardwoods and run much better if you run it all day than the cheaper alternatives.
It has most of the features of the DW734, like a depth of cut indicator and a material removal gauge. In addition, it also has a fan-assisted dust port, and two speed settings. One speed is for fast processing, and one is for slow feeds for better cut quality.
One thing to note is that although the base model costs around $580, it doesn't include the infeed and outfeed table, which are (in my opinion) really not optional. They cost about $50 (and even more separately) and bring the price of the DW735 closer to 650. Quite a few people complain about the stock blades becoming dull really quickly, so investing in some higher quality replacement blades might be a good idea.
Several companies sell spiral / helical cutterhead upgrades for the DW735, which, although expensive, would make it an even better machine. For example, this Byrd Shelix Cutterhead on Amazon.
It's no wonder this is one of the most popular machines on the US market. With its sturdy and improved design it is clearly a step above cheaper benchtop planers, and by far the best option under $650.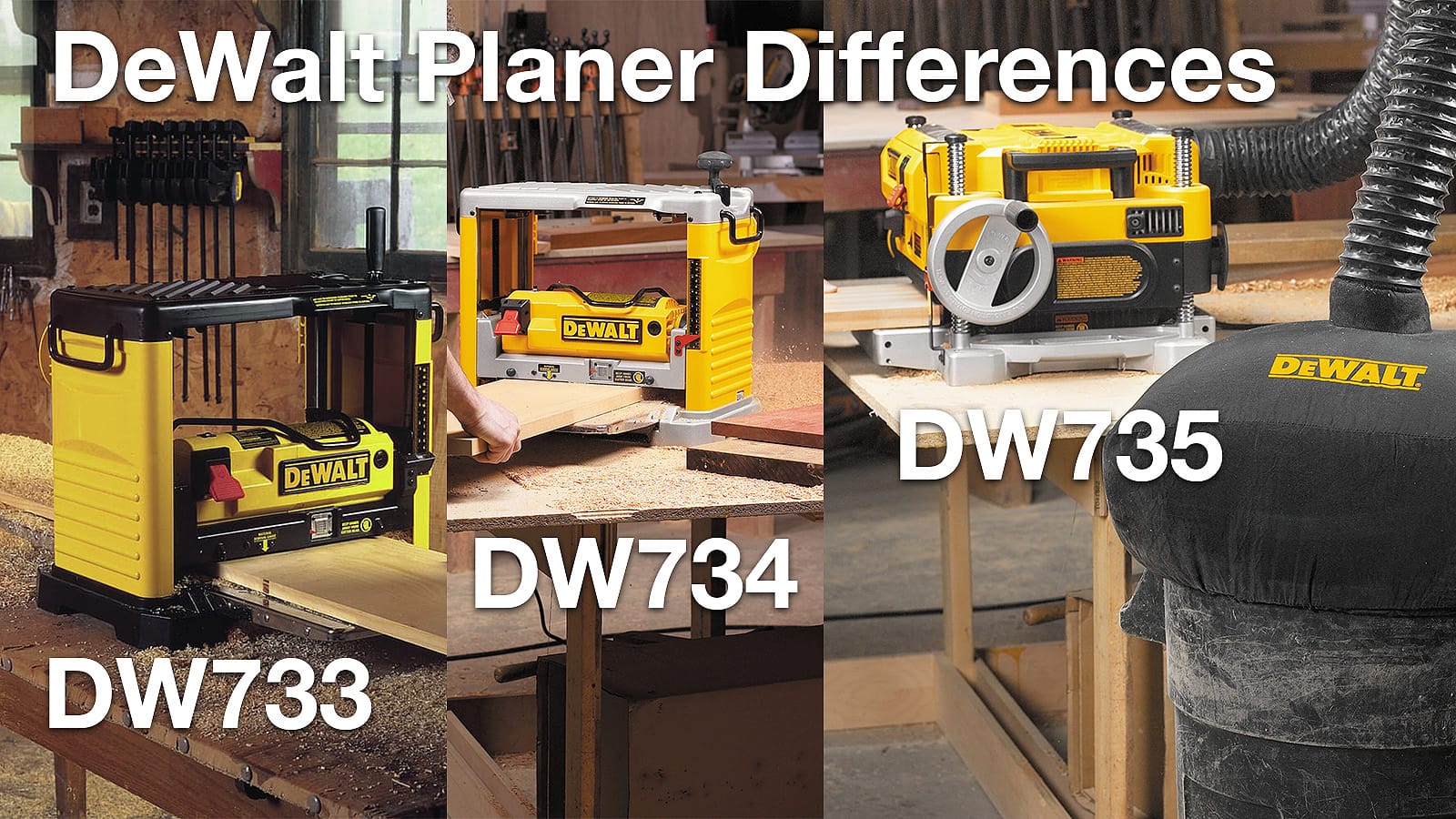 DeWalt DW733, DW734, and DW735 Planers: Differences and Upgrades
What is the difference between DeWalt's DW733, DW734, and DW735 planers? We have the answers.
Alternatives in US & Canada
The Makita 2012NB is a solid alternative to the DeWalt DW735, although it scores less on most points. It has less features and a less sturdy design. However, it does offer very good build quality, probably better than the more plastic DW735. Makita uses many metal parts, and its build quality is its unique selling point. If you can live without the features of the DeWalt, and are willing to pay extra money for quality materials, the Makita 2012NB could be a good option.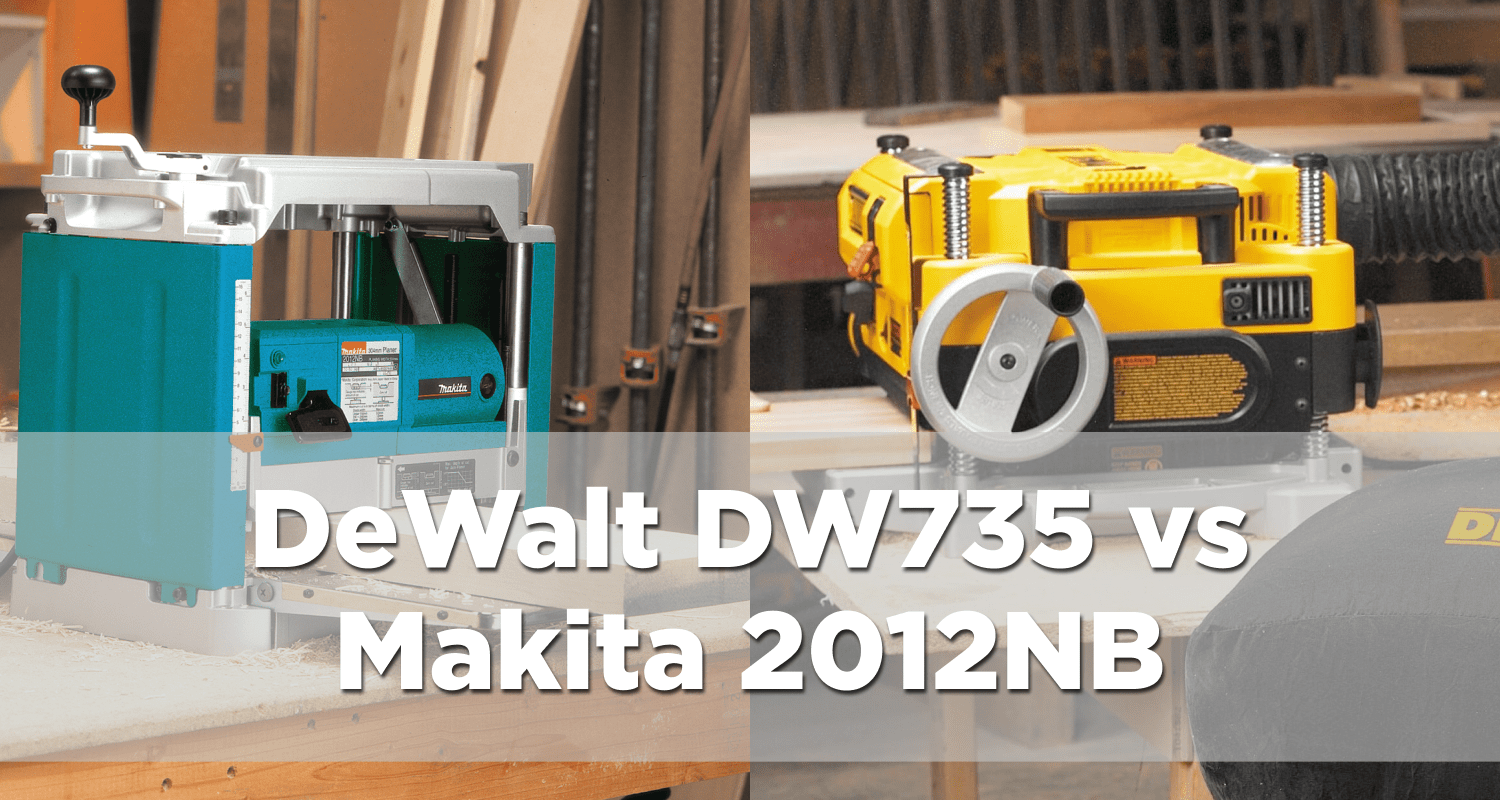 DeWalt DW735 vs Makita 2012NB – Finding the best premium benchtop planer
Makita and DeWalt make two of the most popular premium benchtop planers, but which one is better?
Best in Europe & UK
In the EU there is actually not a clear upgrade from the sub-500 range to the sub-650 range. The Metabo DH 330 is in my opinion still the best option. This is because it is just as good as the two alternatives, the Makita 2012NB and DeWalt DW733, but simply a lot cheaper.
Best planer under €/£650 (EU & UK)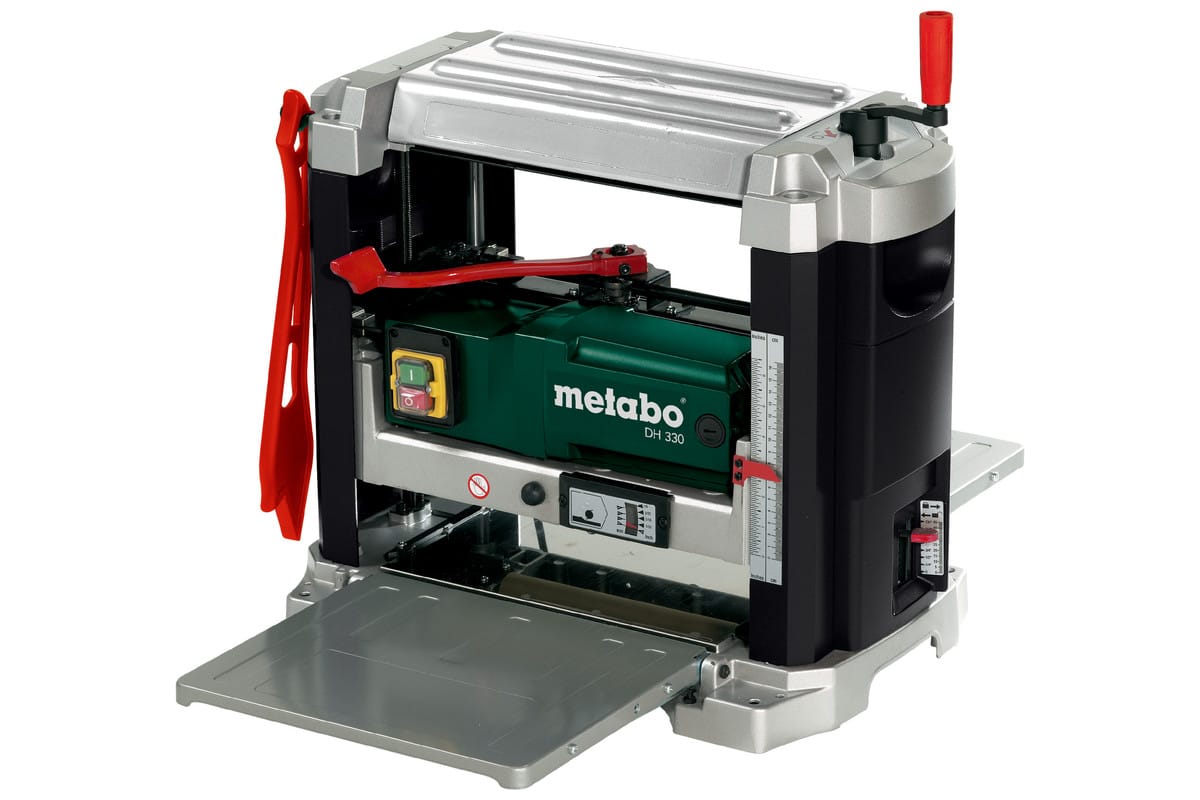 The Metabo has a depth of cut indicator with scales and spindle lock, both of which you won't find on the Makita. It also has a depth stop for repeatable cuts at the same thickness, which you won't find on the DeWalt.
All three machines are almost identical in terms of power, number of blades, size, and cut quality. The only argument you could make for the Makita is that it has a better build quality than the DeWalt and Metabo, as it uses many more metal parts.
Overall, the Metabo has all the features of the DeWalt and Makita combined, solid build quality, and all that at quite a bit lower price than its competitors. That makes it in my opinion the best machine under €650. The other two machines are solid options too, and you should consider them if you find them for a good deal price, but at standard prices, they are not worth the extra money over the Metabo DH 330.
Best planer under $1500
Best in US & Canada
The best planer under $1500 is the Jet JWP 15B. In contrast to all the benchtop planers in the earlier price categories, this is a fully stationary planer. These machines are much more sturdy and powerful than the benchtop ones. Thanks to the integrated stand and more solid design they are much better suited for heavy, daily use.
While the benchtop planers would probably start to stutter and wear pretty quickly if you use them all day, a stationary planer like this JET will do perfectly fine.
Best planer under $1500 (USA)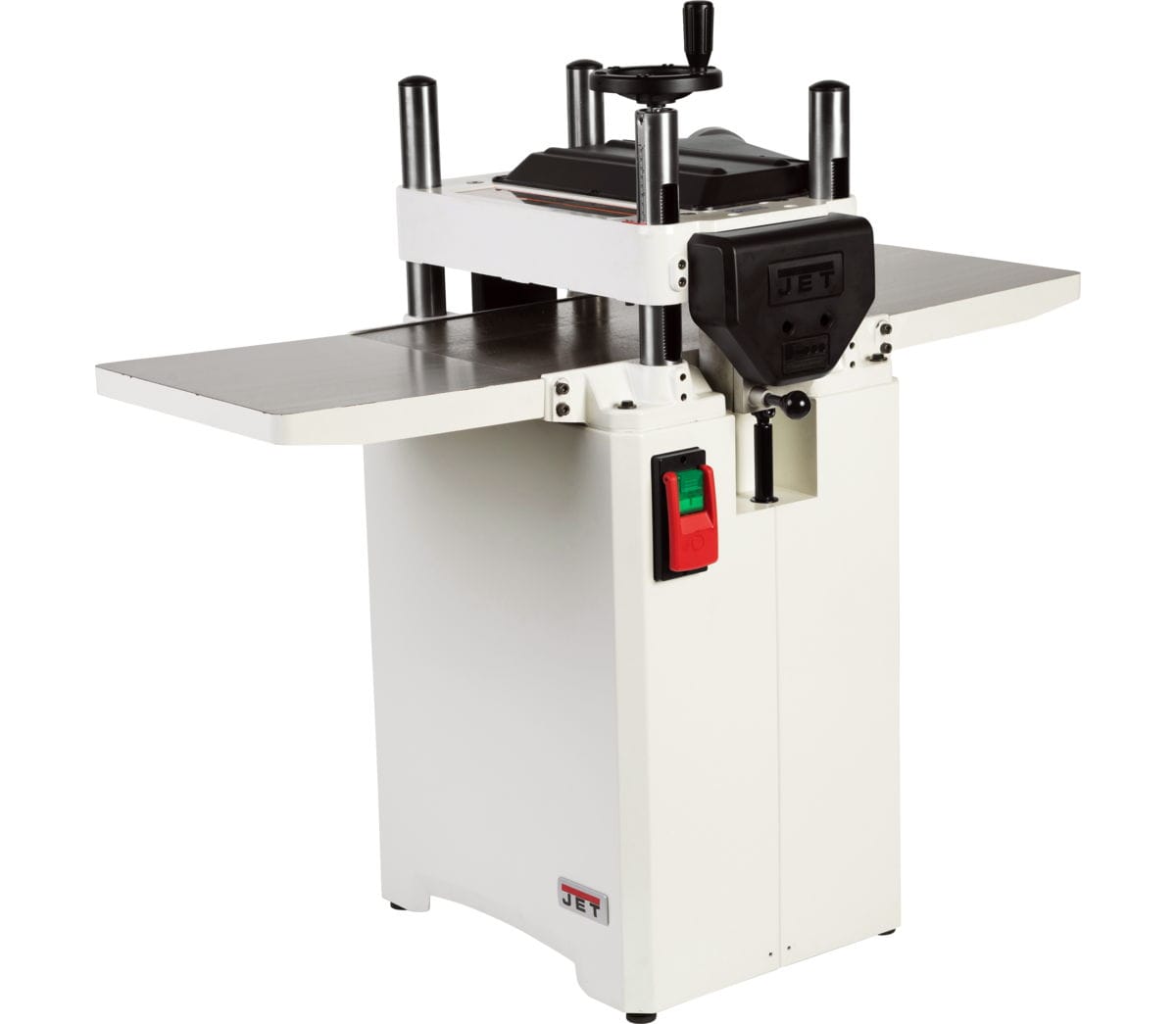 Designed in
United States
The JET JWP 15B is a relatively new design. The previous model used to have a moving table, but the new and improved version has a moving cutterhead instead. The cutterhead moves up and down with a handwheel on top of one of the columns.
Besides the overall better design, it offers two more clear advantages over benchtop planers, namely power and size. It can handle boards up to 15 inches, and the 2200 Watt motor is also a bit more powerful. It lets you take cuts of 1/8″ (~ 4.7mm) in a single pass, although this is still not recommended if you want a nice finish quality.
To improve finish quality further, JET has added two feed rate speeds, which can be set with a lever. The difference between these two (16 vs 20 ft/min) is not that big, so I'm not entirely sure the difference would be very significant.
JET has also added what they call an "air-pressure support" system. This should reduce snipe by preventing the drop of the cutterblock, which can happen at the end of a pass.
There is also a helical head version of this planer, called the JET JWP 15BHH, although it is considerably more expensive than $1500.
All in all, the JET is a great planer for the price, as it offers a much better design than benchtop planers. It can handle wide boards, is sufficiently powerful, and has a new and improved design. Add to that the 5 year warranty, and this is definitely the best option for those looking for a planer under $1500.
Alternatives in the US & Canada
Grizzly makes a wide range of planers that could be solid alternatives to the JET. Around the $1500 price range, they offer two styles of planers: The G0453, which has a moving table, or the G0890, which has a moving cutterhead. Both are solid machines, and which you should choose depends more on your personal preferences and which type of design you have more faith in.
The Grizzly machines are usually slightly cheaper than JET, but also offer only a 1 year warranty, versus the 5 years for JET, and are generally considered to be of slightly lower quality.
Best in Europe & UK
The options at this the sub-1500 price point are very limited in the EU. The main reason for this is that Europeans for some reason are not very used to using the American-style stationary planers. This could be due to space being more limited in Europe than in North America. In the EU there is a big gap between hobbyist benchtop planers and the massive professional machines.
That's why I would recommend getting a jointer-planer as the best option for a planer under €1500. The best option in this price range is the Metabo HC260. The planing results will be just as good as a thickness planer, but it does come with a few (minor) downsides.
Best planer under €/£1500 (EU & UK)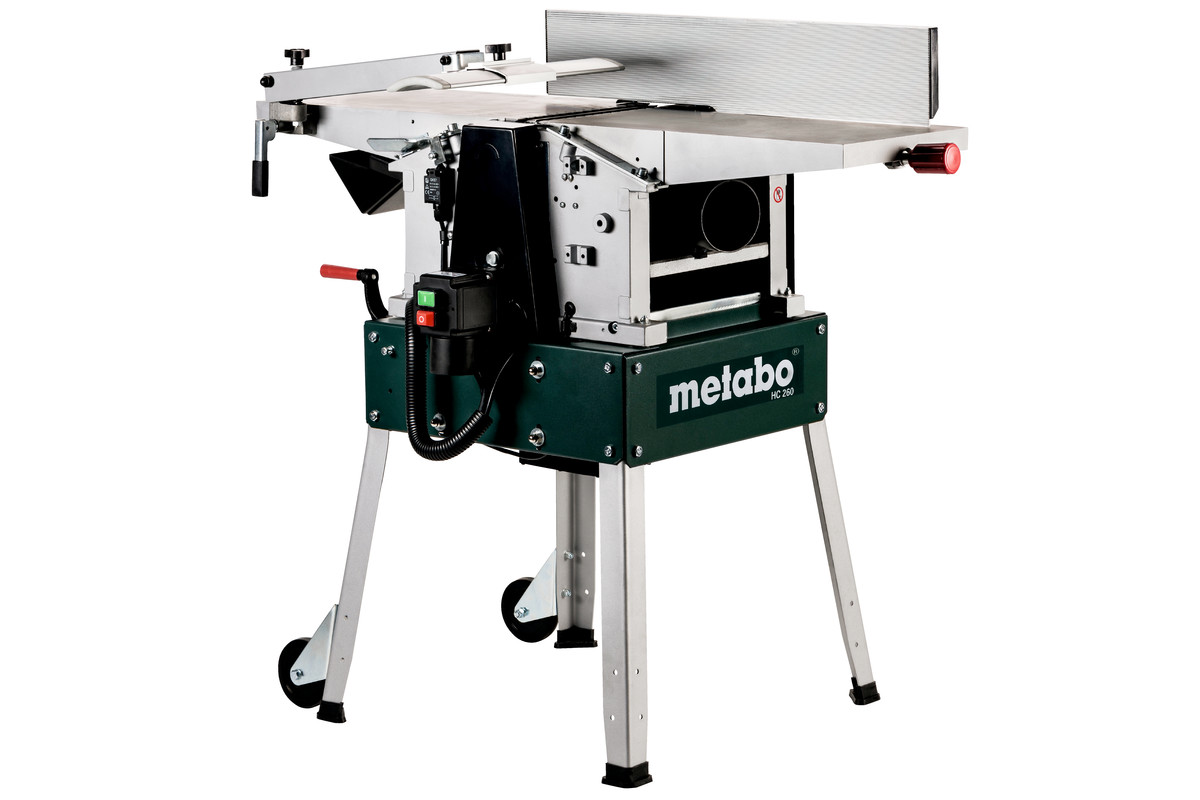 Type of machine
Jointer Planer Combo
For starters, this jointer planer only goes up to 260 millimiters in planing width. Most benchtop planers go up to 330 millimeters, so you lose some width capacity. It will depend on your personal use case (do you regularly plan wide boards?) whether this loss is important.
Another downside is that you will need to convert the Metabo from jointing to planing mode by removing one of the tables. Although not very difficult, it does cost time that can add up if you have to do it often. This is a problem that you wouldn't have with a dedicated planer. If this is a serious problem for you, consider the DeWalt D27300, which has as main advantage that you don't have to remove the tables to switch between jointing and planing.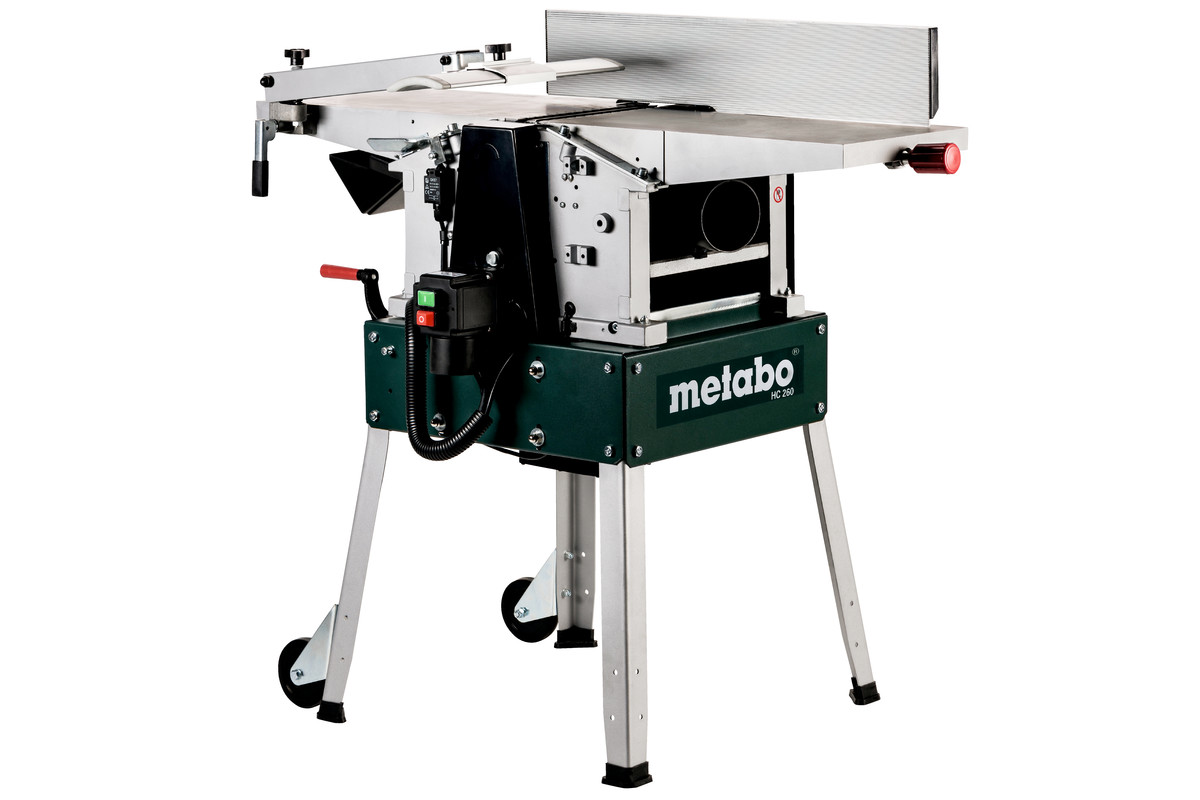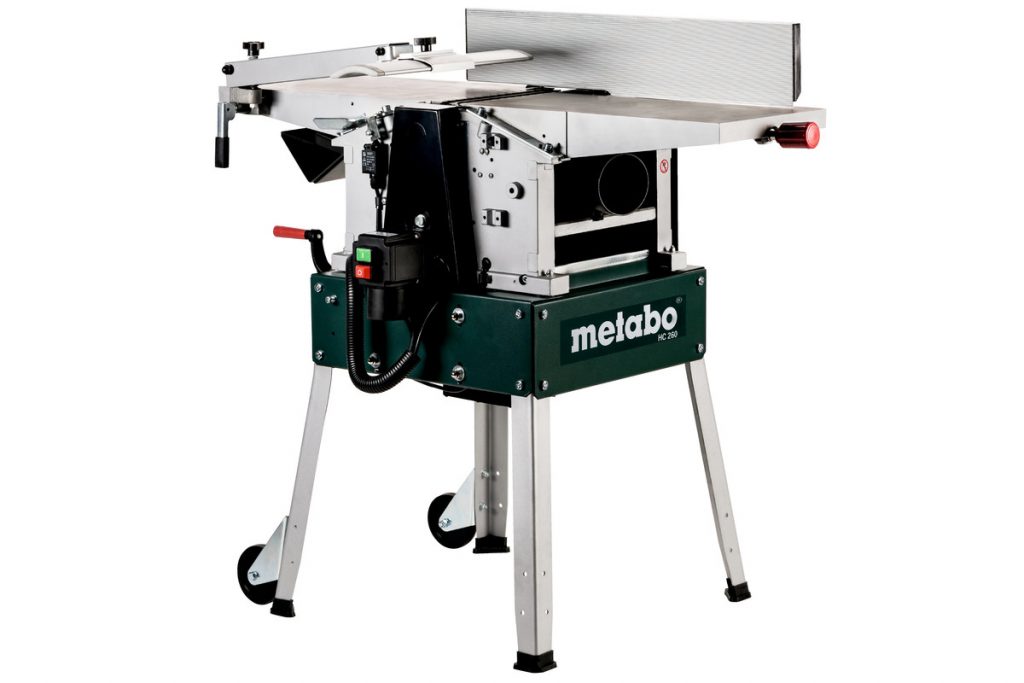 However, you do get the jointer included, so that way you can flatten stock instead of just making them parallel with the planer, which is a major advantage. And you get to save some space, which is helpful if your workshop (like mine) isn't enormous.
Best planer under $3000
The best planer under 3000 is the Hammer A3 41D. This is the first price at which you can buy a better planer than the cheap benchtop ones in the EU, but it is also the best choice in North America at this price.
The design of the Hammer differs significantly from the American style stationary planers. It is essentially a lighter, thinner version of industrial thickness planers, like those from Felder or SCM. The overall design is much more rigid than that of the cheaper JET.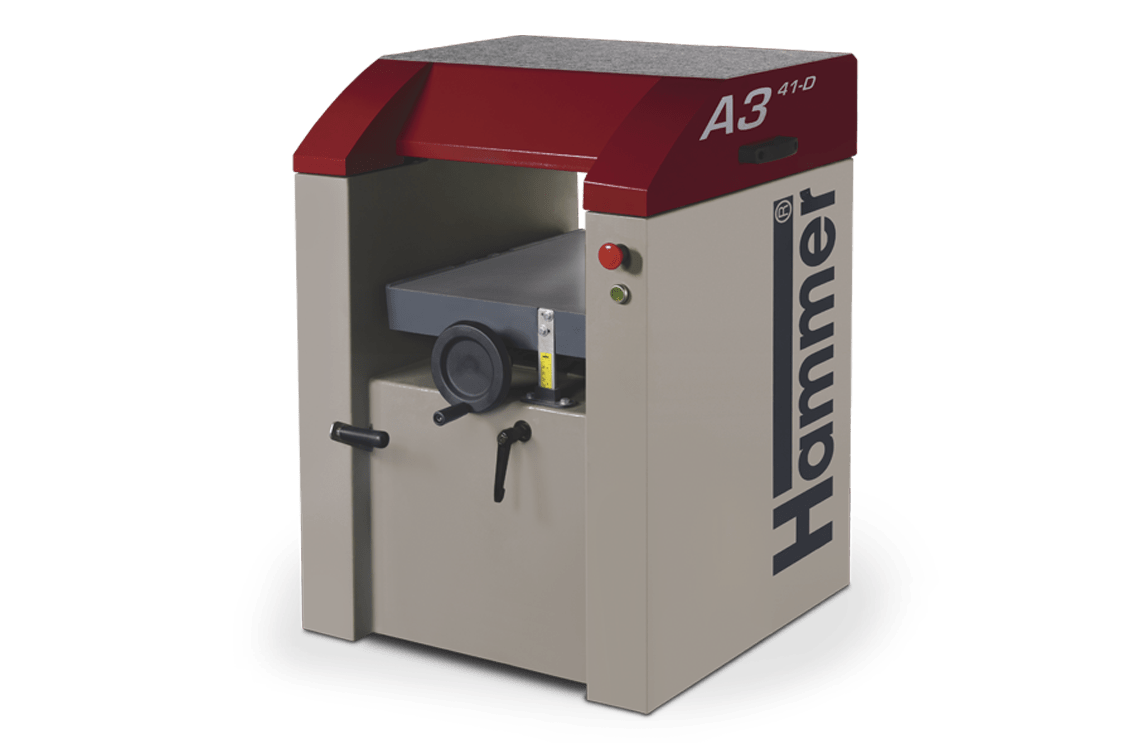 Instead of having extended in and outfeed tables, it has a much longer center, cast-iron, table. This helps in reducing snipe and getting a more flat and accurate result. The design is also reversed, with the table moving up and down rather than the cutter head.
The table rests on a single heavy column, which is sufficient for this design. On more expensive machines often four columns or pillars are used for extra stability.
With 410 mm (~16 inches) of width capacity, it is a big step up from cheaper planers in terms of size. It can also be upgraded with a helical head (which Felder calls 'silent cutters'), but that makes it significantly more expensive than $3000.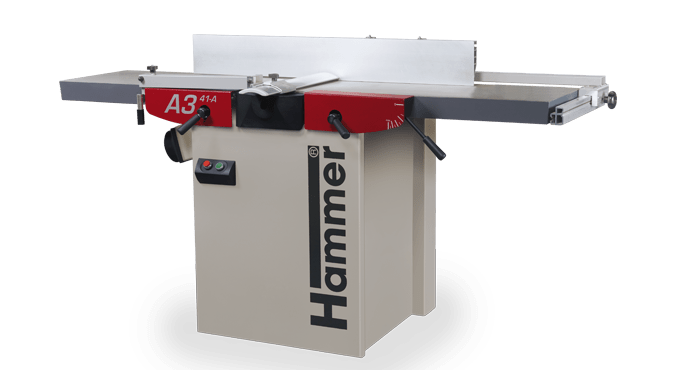 Another thing to note is that you could also go for the Hammer A3 41 jointer-planer, which is basically identical to the A3 41D, but with jointer tables added on top. This is more cost effective, as purchasing the A3 41D Planer and A3 41A Jointer separately costs about 30-40% more than the jointer planer. However, having two separate machines means no converting time, and might lead to a better workflow in your shop.
Alternatives under $3000
Similar machine, different brand
A solid alternative is the Robland KD410, which is a very similar machine to the Hammer, both in terms of features and price. Nearly everything I mentioned about the Hammer also applies to the Robland. It is difficult to say whether one is better than the other, as Robland and Hammer are generally at the same level of build quality, although Robland does offer more high end machines too.
Helical head alternative
If you would like to get a helical head for under $3000, you could take a look at the Powermatic 15HH (link to Amazon). You'll lose a bit of size, and downgrade in terms of design and build quality compared to the Hammer, but the cut quality of the helical head could make up for it. It's still a very capable machine, and with the helical head the machine will become more silent too, and you might save some time and money on changing and sharpening blades.
Conclusion
Having analysed and researched so many different planers, there are a few things I learned. I'll discuss these findings in a few separate topics:
Benchtop planers vs Stationary planers
One common question I came across is whether you should go for a classic benchtop planer or a stationary planer. In the EU, this is relatively simple as stationary planers are only available from about €3000 onwards. So everyone with a lower budget would be better off with a good benchtop planer like the Metabo DH 330 (or a jointer planer, but more on that in a moment).
In the US and Canada, there's a lot more choice, especially in the $1000+ range. If you are the type of person who runs their planer all day long, and handles hardwoods all the time, then getting a stationary planer makes a lot of sense. Benchtop planers, even the sturdy DeWalt DW735 are ultimately hobbyist-grade machines, and although they can deliver the same finish and results as stationary planers, they are simply not meant to run all day long.
If you are planning to use your planer quite heavily, whether it's professionally or as a serious enthusiast, a stationary planer would be the better choice.
Separate Planers vs Jointer Planer Combos
Another interesting discussion is whether to get a standalone thickness planer or a jointer planer combo. There are two aspects at play here: space, and workflow. If you have limited space, as many of us do in our garage workshops, then a jointer planer combo is more sensible. Having two separate machines takes up quite a lot of space, and by combining them, you leave space for other tools and machines.
In terms of workflow, the advantage is for separate machines. Jointer planers need to be converted from one task to another. And even on the best designed machines, with really quick turnover speeds, this still takes some time. If you have two separate dedicated machines, you can set up a much more effective workflow. For hobbyist woodworkers this is a nice quality of life feature, but for professionals it could even mean the difference between turning a profit or loss (in extreme cases).
A third aspect is price. Combined jointer planers are usually a little cheaper than two separate machines, simply due to the fact that they share components like the cutterhead and motor. With two separate machines you're buying those twice, so the overall price will be higher.
Overall, both a separate thickness planer and a jointer planer combo are good options, it just depends on your specific situation which one is preferable. If you have limited space, go for the jointer planer combo. If you have space, and want an optimal workflow, go the standalone machines route.
Feedback and Suggestions
I hope you found this guide useful. If you think there are other planers that definitely have earned a place in this list, let me know in the comments below! I'm always looking to keep these guides up to date, so any new info is very welcome.