The best premium benchtop planers
If you're in the market for a benchtop planer, and you're looking to get the very best model money can buy, then you have two main options: The DeWalt DW735 and the Makita 2012NB.
Both are very popular thickness planers that have been on the market for more than 20 years, and today are still among the best machines on the market.
But which one should you get? In this article I'll compare them head to head to explain all the differences.
At the end I'll tell you what I think is the best machine overall, and which one gives you the most value for money.
North America vs Europe
Unfortunately the DW735 is not available in Europe and the UK. This article is aimed at woodworkers in the US and Canada and other countries where you can actually buy the DW735.
Comparison Table: DW735 vs 2012NB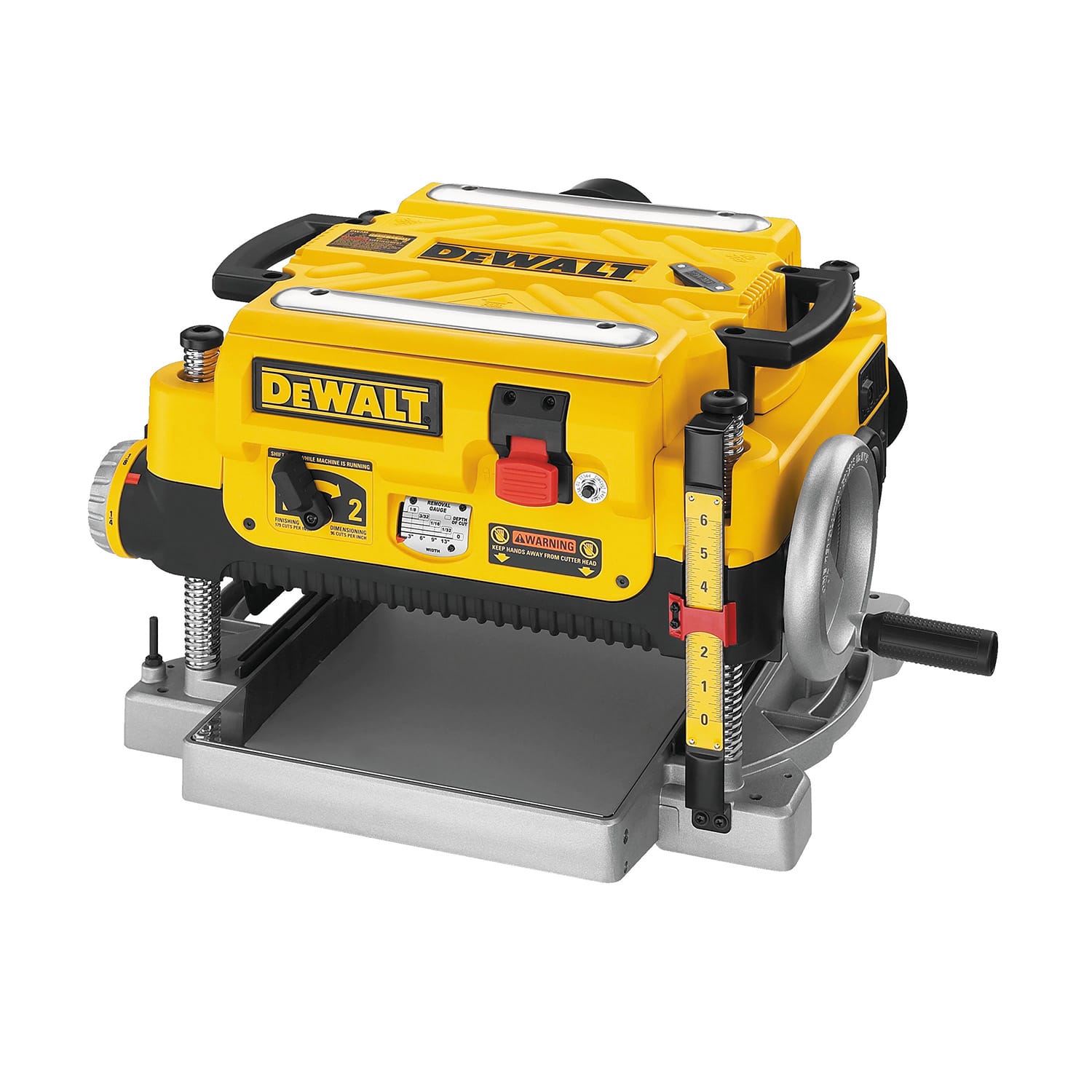 Best overall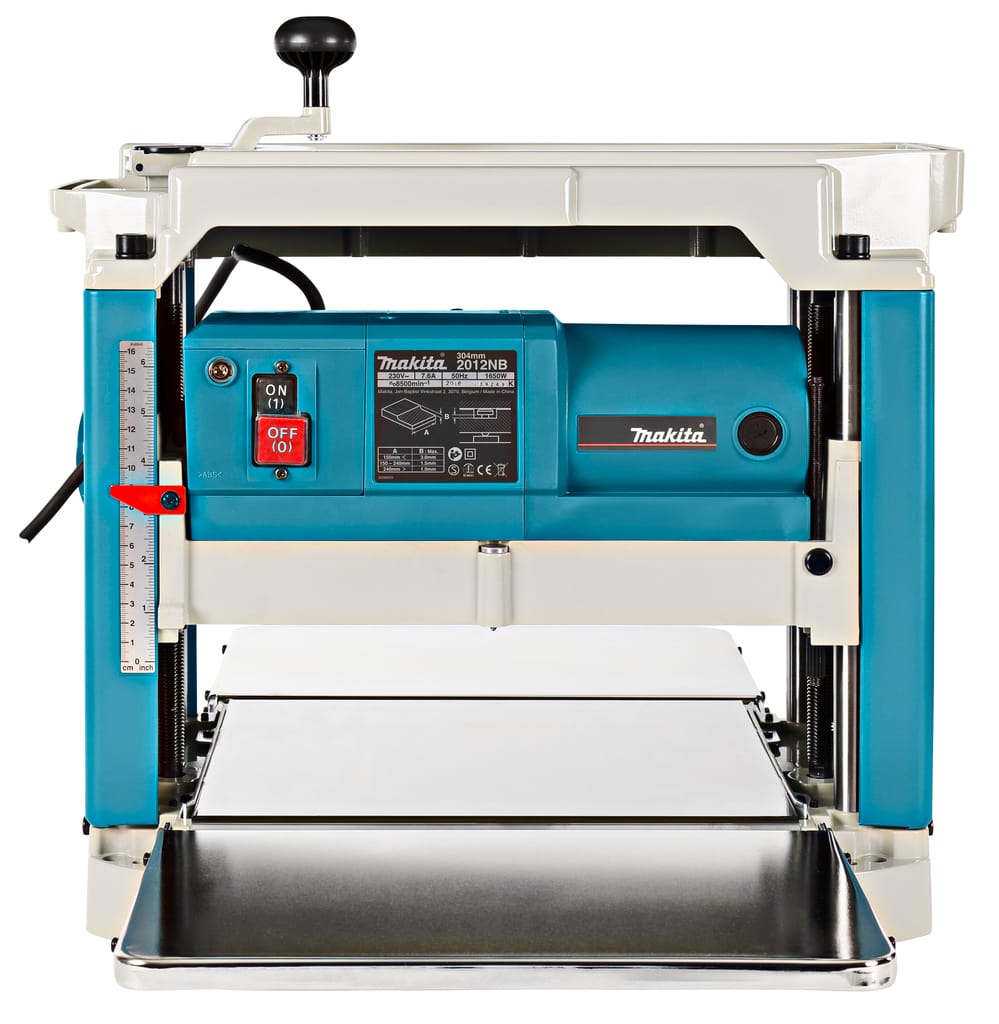 Best build quality
Sturdy design with four threaded rods and longer table
Classic lunchbox planer design, less sturdy but smaller
42kg
27kg
3
2
330 mm / 13 inch
304 mm / 12 inch
Two feed rates, blower dust port, depth turret, depth of cut indicator with scales
Depth of cut indicator without scales
Decent build quality, many plastic parts
Excellent build quality, more metal parts
Design, Size and Power
Design and Power
Starting with the most obvious difference between the two: the design. While the Makita uses the classic 'lunchbox' planer design, just like 99% of benchtop planers, the DeWalt actually has a unique design.
Stationary planer inspiration
The DW735 is built more like a stationary planer, like those sold by Jet and Powermatic for example. It moves over four large spindles and has a much longer cast-iron table. The advantage is that it is much sturdier and has more push-down strength in all four corners. This helps keep the wood level and stable throughout the cut.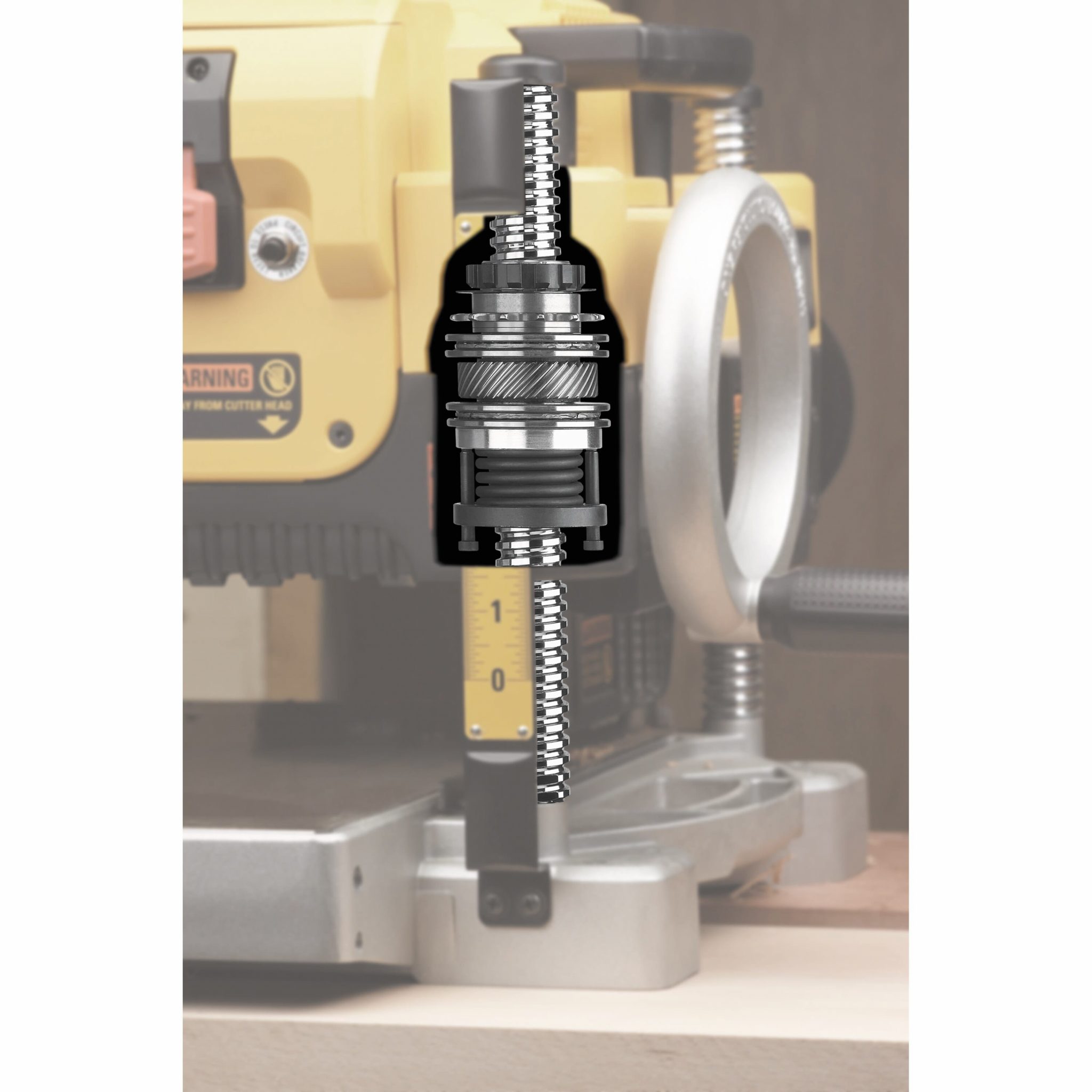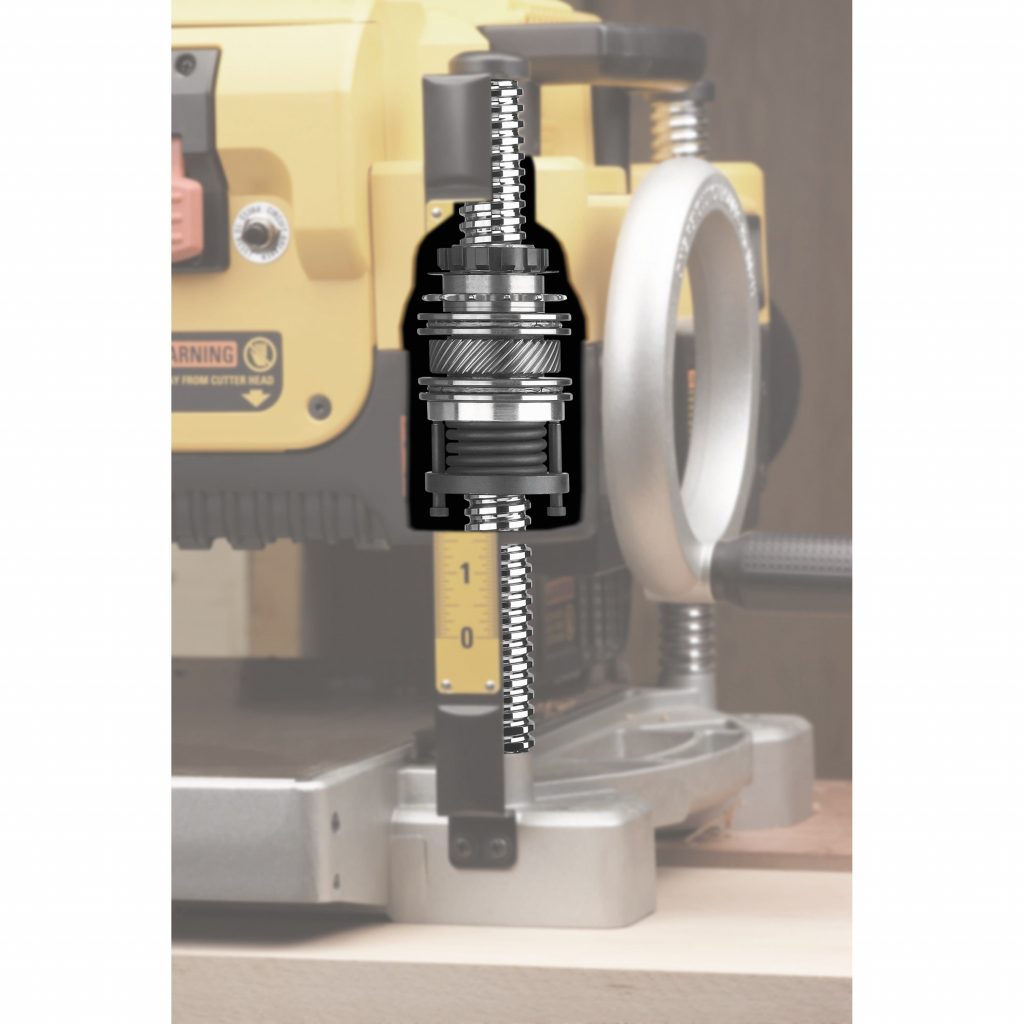 Lunchbox planer design
Lunchbox planers like the Makita move over four smaller gliding poles and two thin spindles. This leads to (relatively) less strength to withstand the pressure from the wood.
As a result, the DeWalt is much more of a workhorse that can handle pretty much anything you throw at it. Toolbox Buzz actually tested this by measuring the difference between no-load and load feed rates (see this graph). While the Makita showed much more of a difference, the DW735 performed almost the same during load as without load. This shows its motor was never pushed to the limit even while planing a difficult board.
Both planers have similarly powerful motors, so the difference can be attributed to the sturdier design of the DW735.
Size and Portability
One disadvantage of this design, however, is that the DeWalt takes up noticeably more surface space. It is also 50% heavier (42 vs 27 kg). While I would consider the Makita quite mobile and light enough to carry around a jobsite, this is hard to argue for the DeWalt. But that may also depend on the size of your biceps…
Build Quality
Although the DW735 has a better design, it does not actually have a better build quality. This is where the Makita 2012NB shines and it is really its main selling point.
The DeWalt is mostly made of plastic and although most users are extremely positive about it, you'll also find many reports of broken machines and people buying a new DW735 every five years.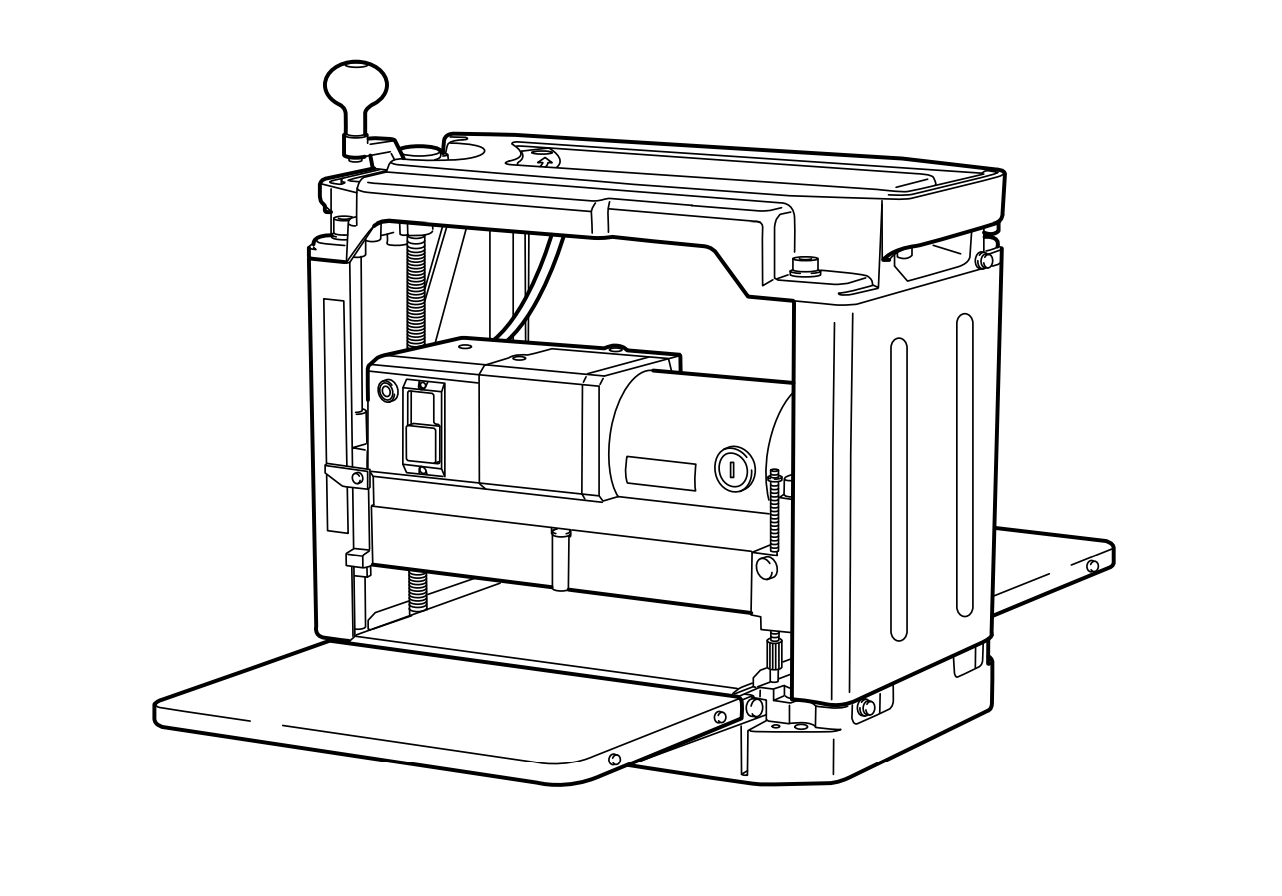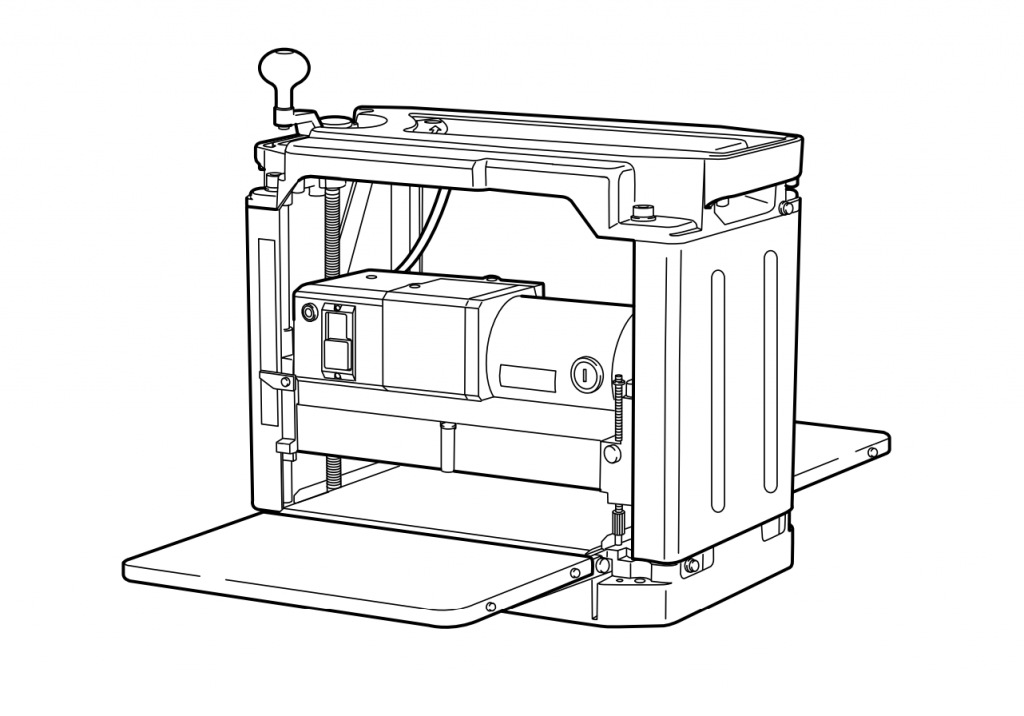 In contrast, the Makita has more metal parts and the plastic that is used is of higher quality and has a nice tactile feel to it. There's also fewer reports of it breaking down.
When it comes to build quality, it has no equal among benchtop planers. Quality materials are of course more costly, and this is probably the reason why the 2012NB is relatively so expensive.
Blades, Feed Rate, and Cut Quality
So the DW735 has the sturdier design, but what about cut quality? Here the advantage is also for the DW735 over the 2012NB, although the difference is not huge.
Number of blades
One of the reasons the DW735 delivers slightly better results is that it has 3 blades compared to only 2 on the Makita. With more blades there's less of a gap between the moment each blade hits the wood surface. If this gap is too large, it can lead to the 'choppy' effect you can see on many planers. So more blades leads to a better finish.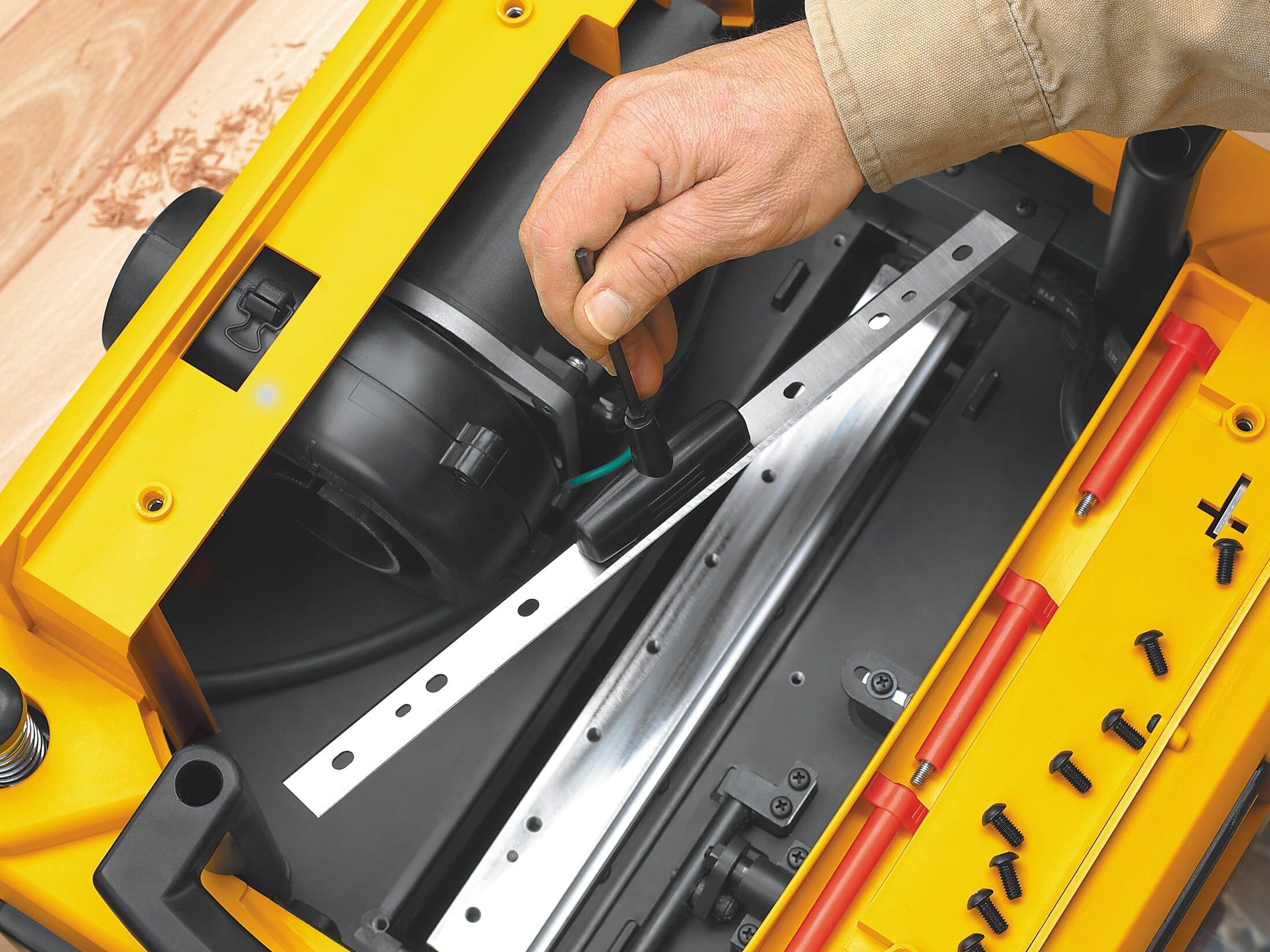 Special feed rate for finishing
Another benefit of the DW735 is that it has two feed rates: fast and slow. The fast feed rate (8m/min) is equal to the unchangeable, single feed rate of the 2012NB. With the slow feed rate (4m/min) the wood passes twice as slwoly through the planer. this reduces the chances of tearout and gives a much nicer finish. The benefit is quite significant and many users actually never use the fast feed rate at all.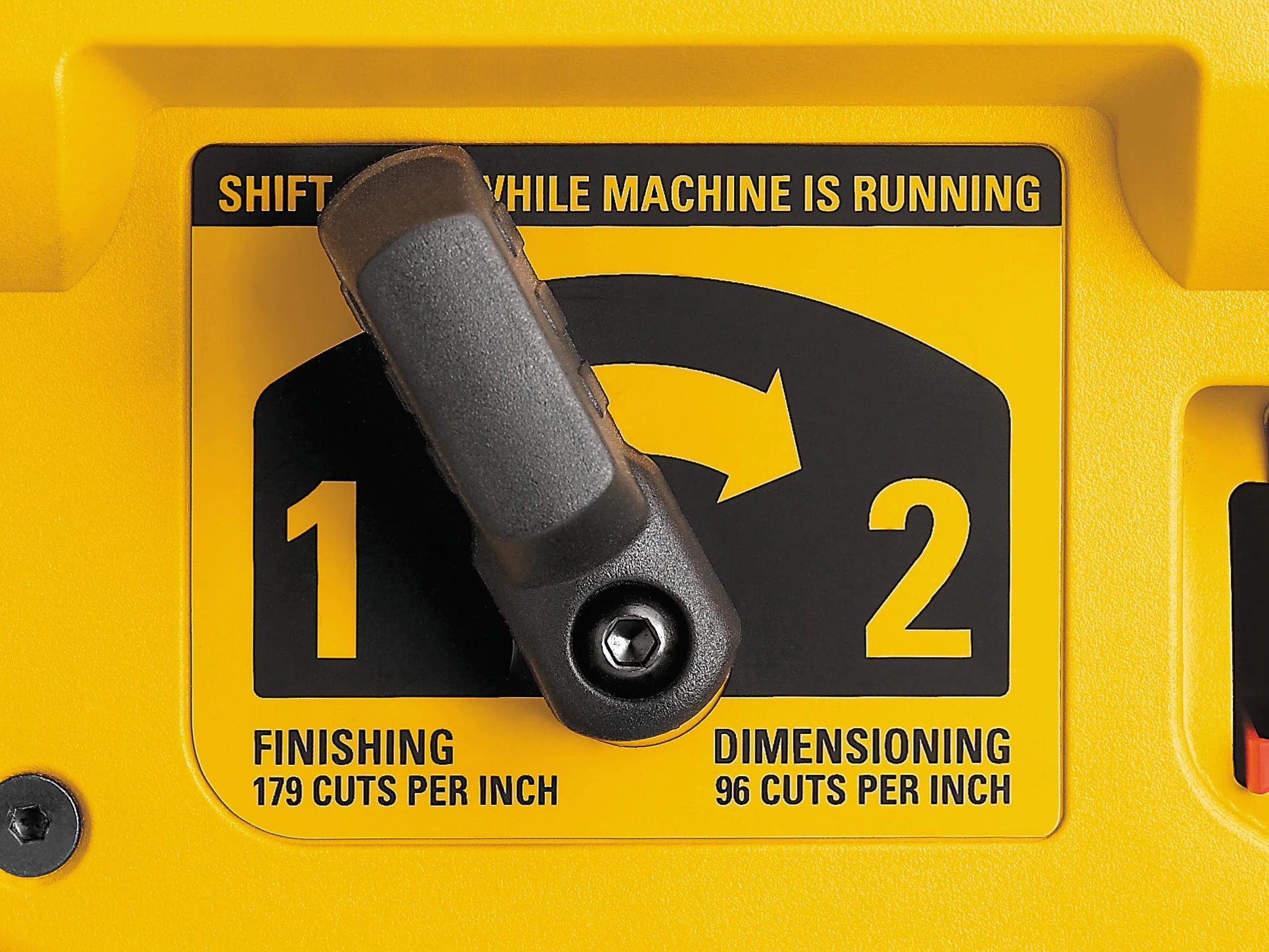 Snipe length
In terms of finish quality the 2012NB does have one slight advantage: snipe length. The length of snipe is dependent mostly on the distance between the infeed and outfeed roller. Because this is larger on the DeWalt (due to the longer table), it has about 1 inch more snipe than the Makita, as shown by real life tests by Toolbox Buzz (see this graph).
Features
In terms of features, it's another win for DeWalt. The Makita is quite a minimalist, barebones machine, while DW735 is packed with features.
Depth stop turret
As I already mentioned, the 735 has two feed rates compared to just one on the 2012NB. In addition, the 735 also has a special depth stop turret, which allows you to repeatedly plan to exact, predetermined thicknesses, like 1/32″, 1/8″ and so on. These can also be adjusted to different thicknesses. It's a nice feature, although many users never use it and prefer to simply measure with calipers for guaranteed accuracy.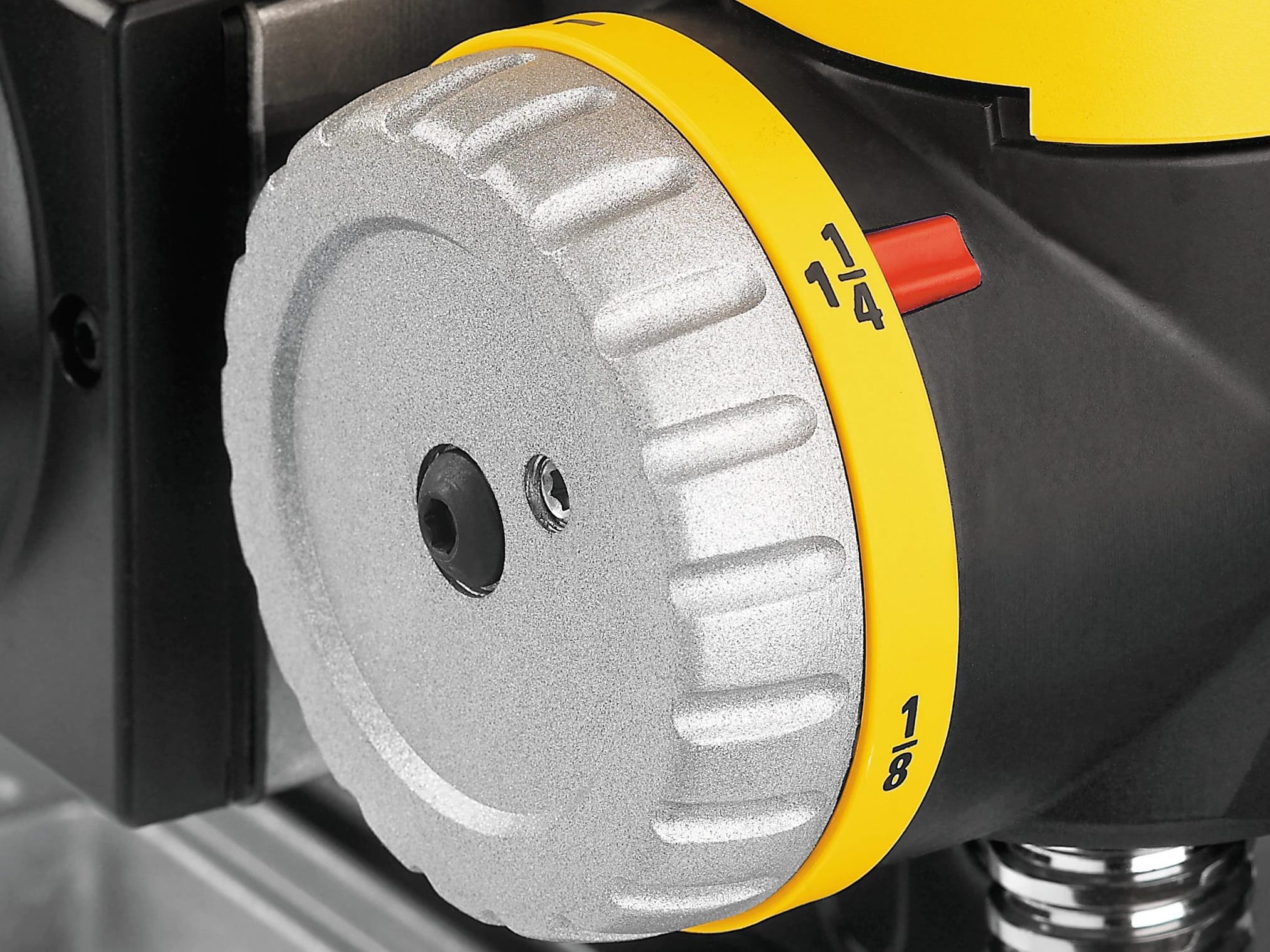 Depth of cut indicator
Both machines have a depth of cut indicator, showing how much you're taking off as you feed in the stock. However, I much prefer DeWalt's system which has simple scales that quickly tell you the exact amount.
Makita uses a more cumbersome system where you're supposed to first take of a very minimal shaving and then use the scale on top of the handle to determine the depth of cut. Check out the video below for a demonstration by Makita Netherlands.
Blower dust port
Another useful feature is that the DW735 has a blower dust port, which helps push out chips and reduces the risk of clogging. This also allows you to use the planer without any dust extraction, but it does lead to a giant mess. Certainly not recommended for inside use.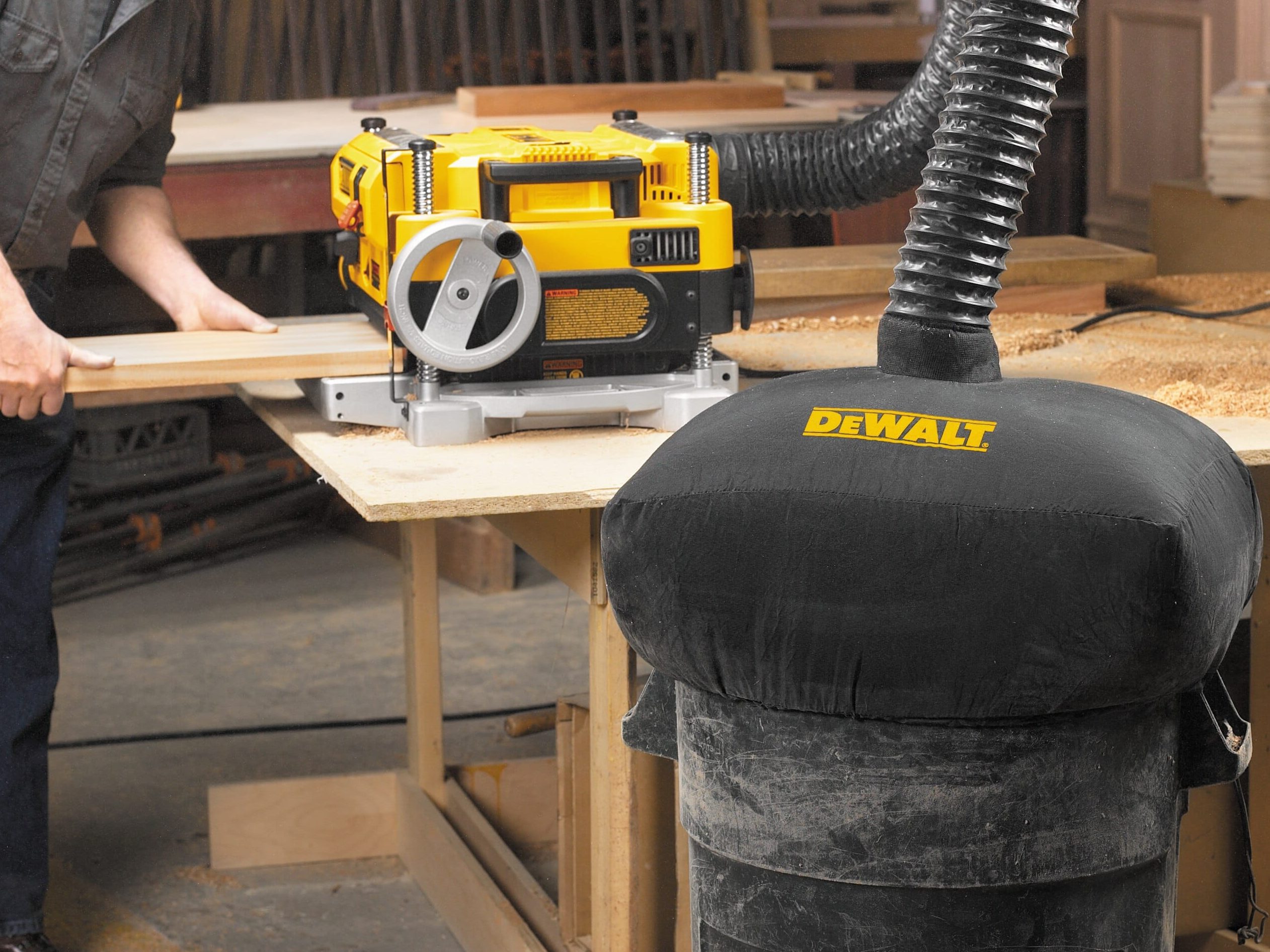 Spiral Cutterhead Upgrades
Both the Makita and DeWalt can be upgraded with aftermarket spiral cutterheads (also called helical heads or shelix heads). These are costly, but do deliver a significant improvement in cut quality, blade life, reduce noise, and make it easier and cheaper to replace blades. Definitely a worthwhile investment in the long term.
Where to buy spiral cutterheads for the DeWalt DW735 and Makita 2012NB
I've listed a few places that sell these upgrades below. I have no experience with any of them so I cannot recommend one over the others.
DeWalt DW735 Spiral Cutterhead options
Makita 2012NB Spiral Cutterhead options
How to upgrade the DeWalt DW735 and Makita 2012NB with a spiral cutterhead
I've also added two videos where you can see the upgrade process of adding a spiral cutterhead for both machines.
Conclusion
Although both planers are highly capable machines that you won't regret purchasing, the DeWalt DW735 is the overall better choice. They are about the same price, and the DeWalt just has more to offer.
Best overall & Best value for money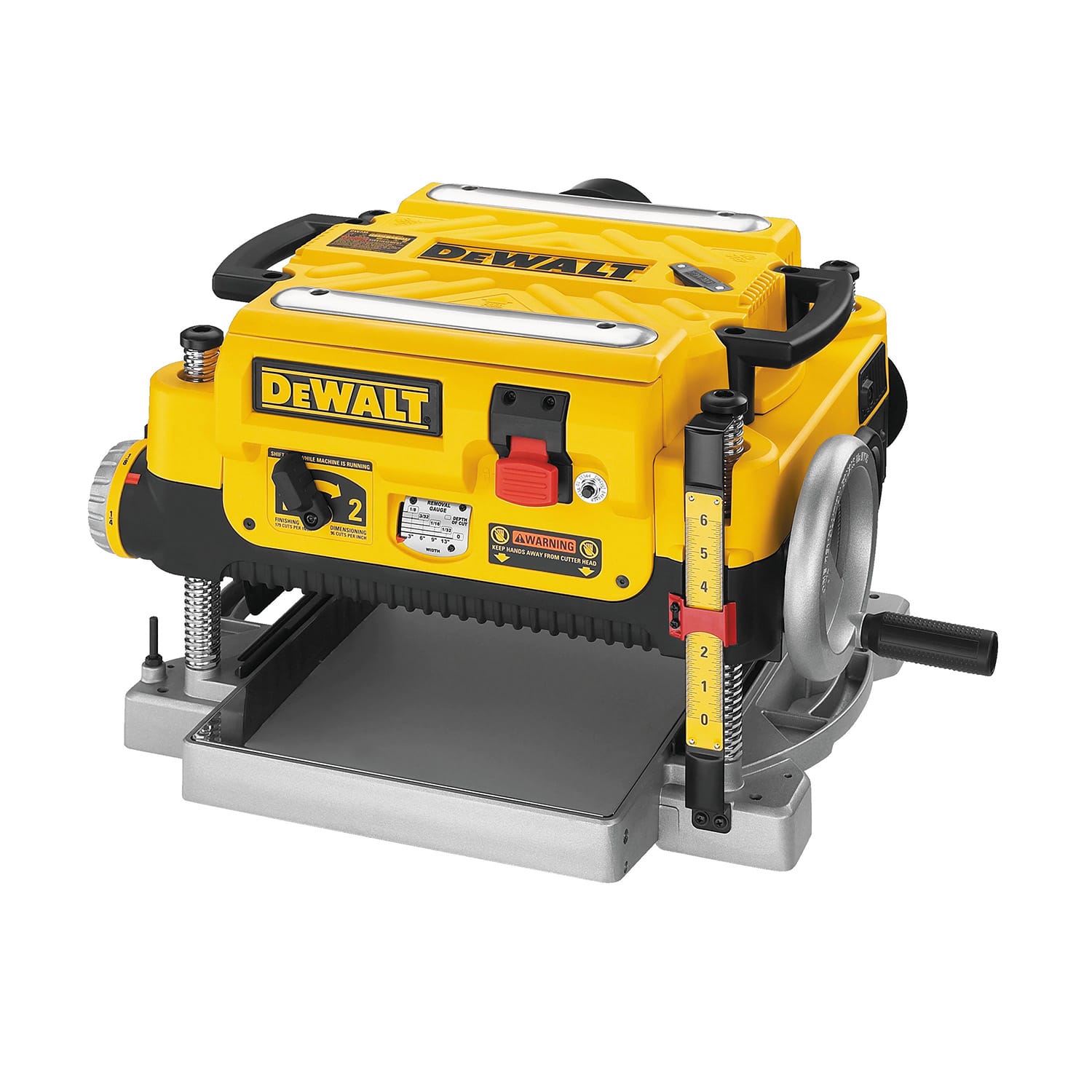 Designed in
United States
It has a better, sturdier design, useful features like two feed rates, a depth stop, blower dust port, one more blade, and also delivers a slightly better finish.
That said, the Makita may still be a good choice for people with very limited space, or those who want to move it around regularly. Also, if you want a planer that will still work in 20 years, the Makita 2012NB is probably your best bet.
But for most people I would recommend the DW735. It is the better machine overall and offers more value for money. Check our price comparison tool below to find the best deals currently available.
Compare prices for the DeWalt DW735 Planer

United States

UK

DE