The Powermatic 54A jointer is the most affordable machine in Powermatic's jointer range. It is almost identical to the Powermatic 54HH, which has helical head cutters instead. It is also very similar to the JET JJ-6CSDX, with the 54A being slightly longer and heavier.
Quick-set Blade System
The 54A has straight blades, but uses a quick-set system which allows you to quickly set your knives to the right height after sharpening. This saves a lot of time setting them up compared to normal blades.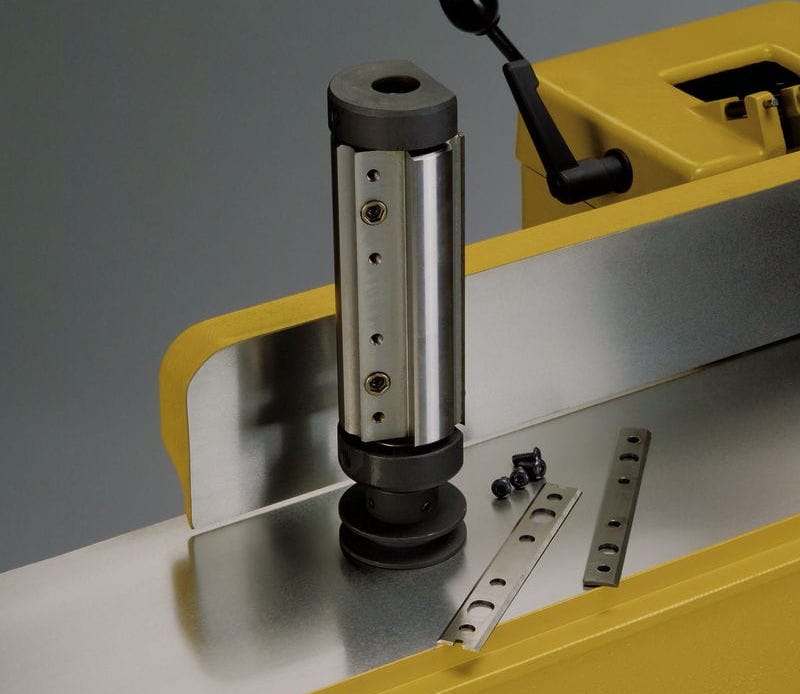 Dovetail Base
The body of the machine is mounted on a classic wedge-bed dovetail base on which both the infeed and outfeed table slide up and down. Powermatic's larger jointers use a parallelogram base instead.
One interesting feature of the 54A is the possibility to add a padlock (not provided) to the on-off switch, to prevent children from accidentally turning the jointer on when you're not around.
Rabbeting Ledge
The only advantage of the Powermatic 54A over its brother, the 54HH, is the fact that you can use the rabbeting ledge, which is not possible on the 54HH.
Replacement Blades: The 54A uses special quick-set blades, so you cannot use just any blades. Amazon seems to no longer sell them, but we could find a seller on eBay that sells blades specifically made for the Powermatic 54A.