Introduction
Powermatic has been making table saws with an excellent reputation for decades. They even refer to this in their slogan as 'the gold standard'. This reputation was built on Made in America, high quality saws, but nowadays they are produced in China and Taiwan — do they still deliver the gold standard?
And if they are indeed of the same quality levels, which machine should you get? Powermatic makes four different saws — three cabinet saws, and one contractor saw — and each one has its own pros and cons.
In this article we'll take a close look at each one and compare them. Our goal is to help you find out which specific Powermatic table saw is right for you. First we'll discuss each machine individually, and then finally compare them. If you're short on time, skip ahead to the conclusion to get a fast summary.
Powermatic 64B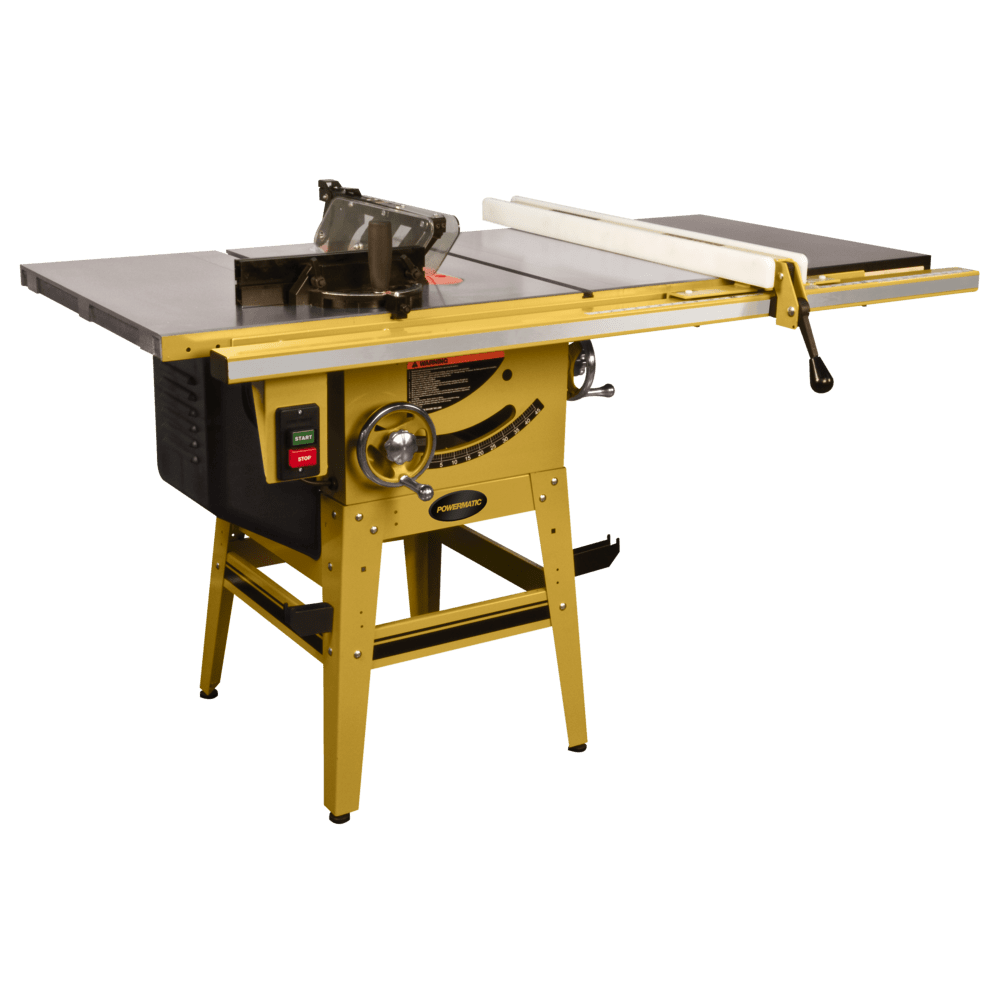 Type of machine
Table Saw
Designed in
United States
The Powermatic 64B is what is generally referred to as a 'contractor saw'. These saws are stationary and bigger and more powerful than jobsite saws. What distinguishes them from cabinet saws is the slightly smaller footprint, open stand, and generally lower price point.
What makes the 64B special is that, despite its contractor-style looks, it actually shares a lot with cabinet saws. It has cast-iron tables, a good fence, and everything can be finely adjusted. These are things not found on your average contractor saw.
Combined with the relatively affordable price, this makes the 64B an interesting choice. Let us take a close look at all of its features to find out how good it really is.
Specifications
Starting with the basic specs: The 64B is only available with a 1.75HP, single phase, standard 115V motor (which can be rewired to 230V, instructions are provided in the manual). This means it will work in any home shop.
The cheapest model has a 30-inch rip capacity, but this can be upgraded to 50 inches if desired. It can take up to 10-inch blades, which results in a maximum cutting height of a little more than 3 inches (79mm). This is more than sufficient for any hobbyist woodworker.
Accu-Fence
The fence that comes with the 64B is the same that comes with the more expensive cabinet saws. Powermatic's marketing term for this fence is the Accu-Fence. It can also be bought separately (including rails) and mounted on other table saws. It even has its own manual.
The fence is relatively straightforward, using a simple lever to lock and unlock it. Moving the lever to the top position (as in the image) allows you to remove the fence entirely.
The center is made from steel, while the HDPE sides are mounted on with bolts. This type of plastic is hard and very smooth, and has as main advantage that you don't have to lubricate it to keep it smooth (as with aluminium or steel fences).
Finetuning the fence
Even fences on $10000+ machines are not always properly aligned, and therefore it is important for any fence to be fully adjustable. For very cheap machines this is often not the case, and if your fence is crooked, you will just have to live with it.
Luckily, the Accu-Fence can be finely adjusted and set up to be exactly parallel to the miter slot and blade. Powermatic provides detailed instructions for this in their manual. Do expect to spend quite some time to set this up when you first get the saw though.
If you want to get a good idea of how the fence rails are assembled, scroll down to the PM2000, because the assembly video shown there also applies to the 64B.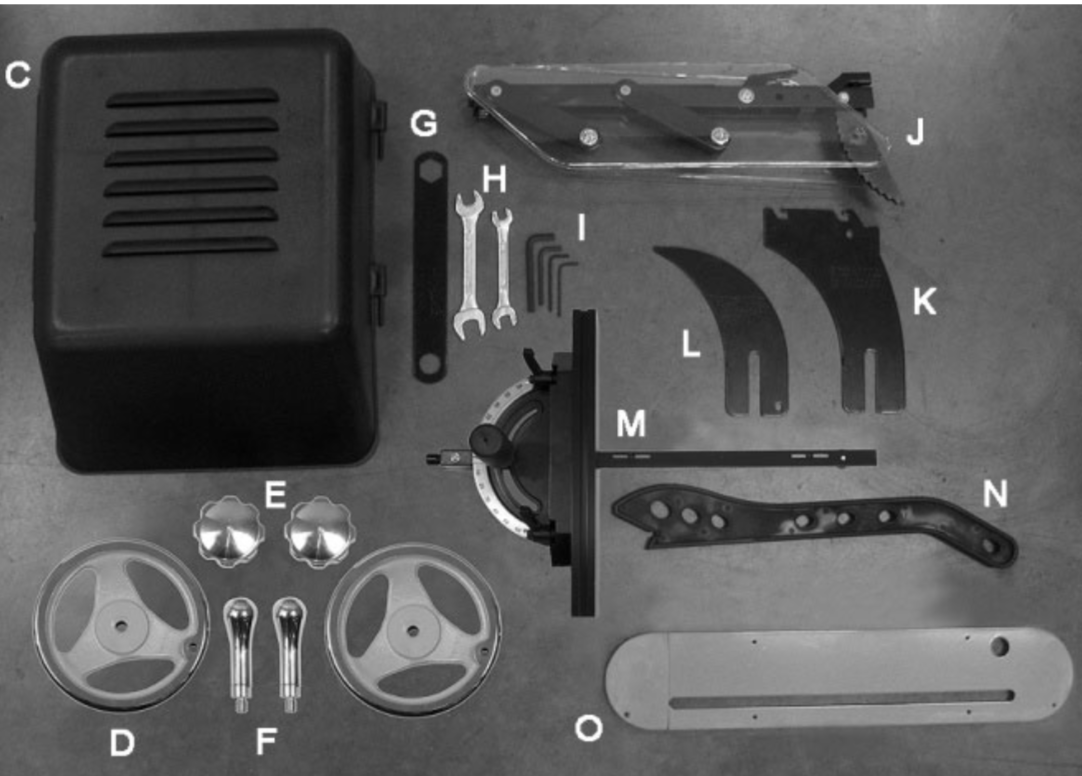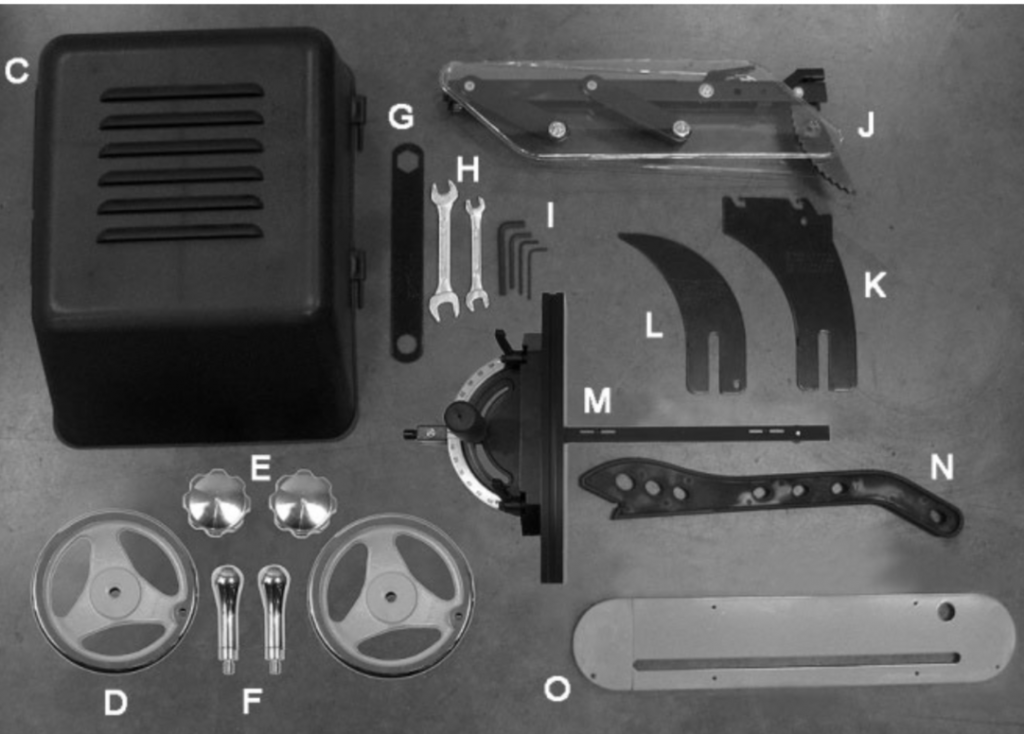 Riving Knives, Blade Guard and Saw Mechanism
These days, riving knives are a must for safely operating a table saw. However, many standard riving knives don't allow through cuts (e.g. dados and grooves) because they stick out above the saw blade.
Thankfully this isn't an issue with the Powermatic 64B, because it comes with two riving knives (L and K in the image above) — a standard one, to which the blade guard can be mounted, and a low-profile one. They rise and fall, and tilt according to the blade.
The other good thing about these riving knives (and also the blade guard) is that they can be removed and attached without tools. There is a lever/knob at the base of the riving knife that can be turned to lock it in place.
Cast-iron Tables
The tables of the 64B are made from solid cast iron, which is not always that common on contractor-style table saws. The edges are bevelled to allow workpieces to smoothly slide across the table.
Cast iron tables are great because they are much more likely to stay flat (assuming they are flat when they arrive at your shop, always check this when you first get your machine!). They also do not suffer much from wear and tear, and they add extra weight to the saw, making it more stable.
The wings are also made from cast-iron, but the far side extension table is not.
Differences with the JET Proshop II
Powermatic belongs to the same overall company as JET, and they share many design features. For each Powermatic machine there seems to be a slightly cheaper, and less sophisticated machine under the JET brand. The JET 'version' of the Powermatic 64B is the JET Proshop II.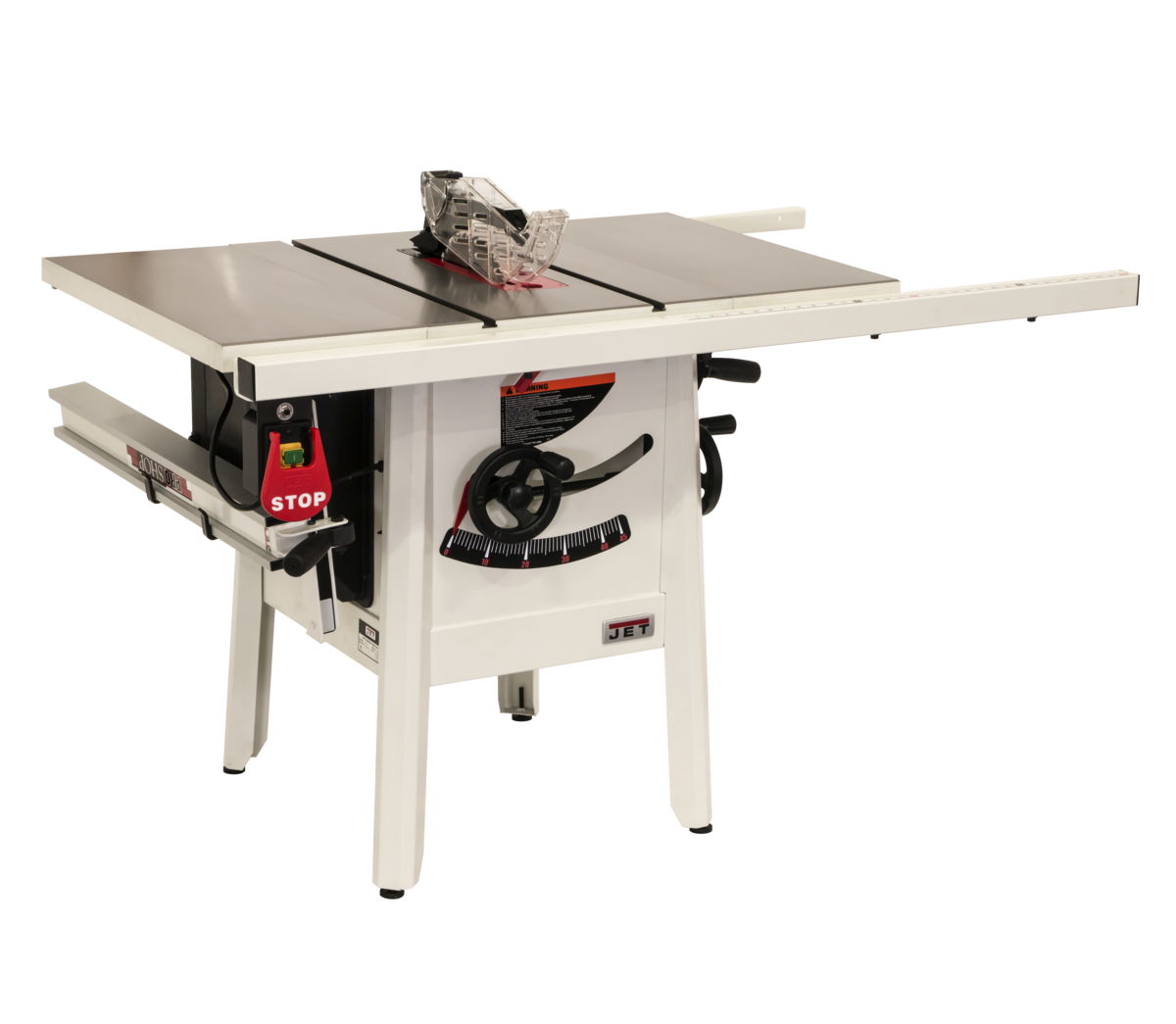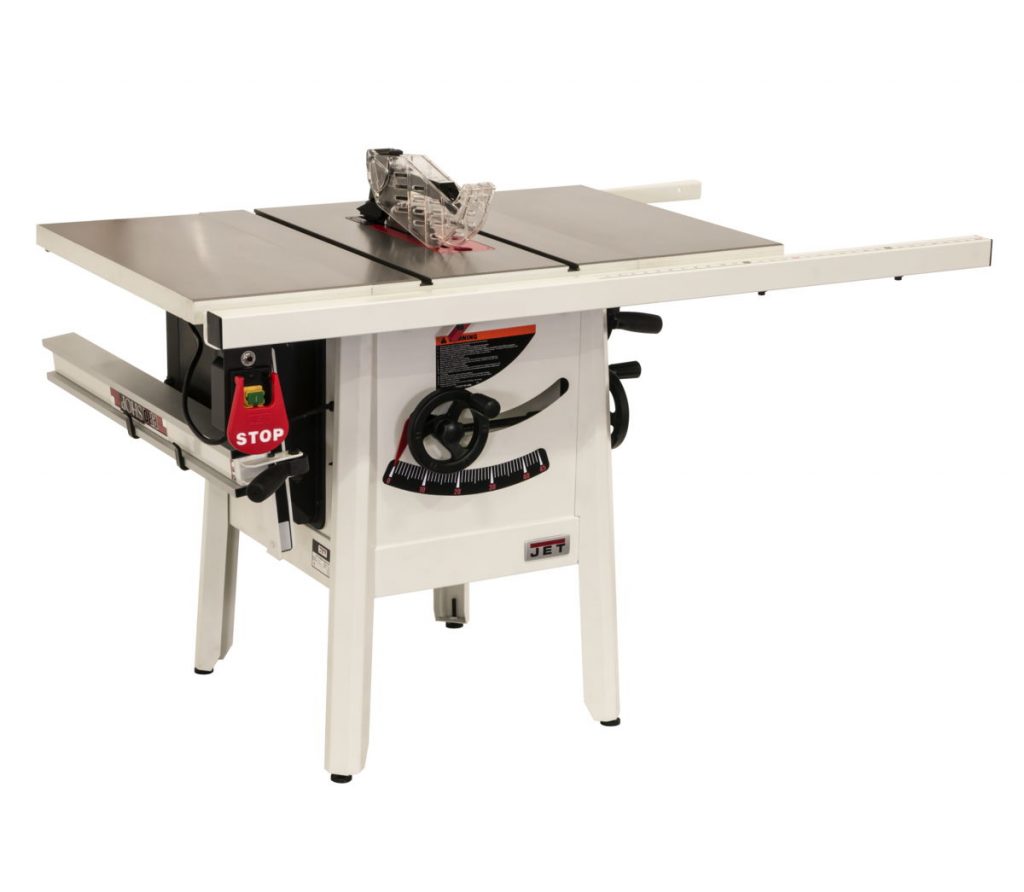 From these images you can very clearly see their similarities, especially on the table tops. Although we haven't tested it personally, it is likely that the riving knives and blade guards are interchangeable, as they share the exact same design.
The ProShop II is slightly more affordable, so why not get that one if they are so similar? Besides generally better finishing standards, the Powermatic 64B offers a few advantages. It has chrome-plated handwheels, a better fence with HDPE sides, an easy to remove motor cover, and a better miter gauge.
Compare prices for the Powermatic 64B Table Saw

United States

UK
Powermatic PM1000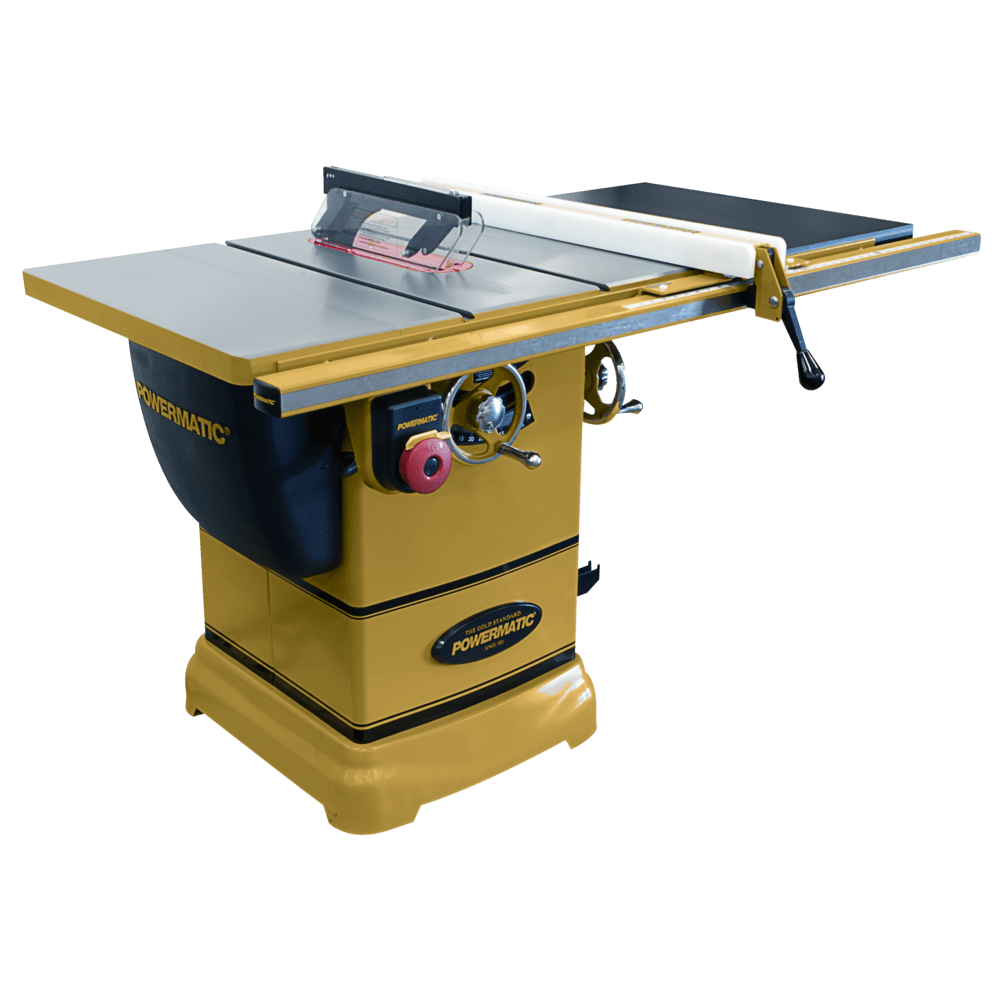 Type of machine
Table Saw
Designed in
United States
The PM1000 is the most affordable of Powermatic's cabinet saws. It may look a lot like its larger brothers externally, but internally it resembles the 64B much more closely. This makes it a machine clearly aimed at smaller hobbyist woodshops, who don't want to spend a fortune but still want the quality and features of a proper cabinet saw.
Specifications
Like the 64B, it features a 1.75HP motor which is wired standard at 115V, but can be rewired for 230V (instructions provided in the manual). The table top is made of cast iron, and has a rip capacity of 30 inches, which can be extended up to 50 inches.
The PM1000 accepts blades up to 10 inches, which results in a maximum cutting heigh of just over 3 inches. This is a common height found on many machines on this category, and should suffice for most hobbyist woodworkers.
Fence, riving knives, and other features
The Accu-Fence is the same as that found on the 64B, with HDPE sides and a steel center, riding on a steel extrusion that is mounted to the side of the table top. For a detailed description, please check the section on the 64B.
Just like the 64B, the PM1000 comes with two riving knives, one which can fit the blade guard, and one which has a low profile and can be used on through cuts (e.g. dados and grooves). Once again, check the section on the 64B for a more detailed analysis of these parts.
Closed Base & Dust Collection
The main difference with the 64B is that the PM1000 has a closed stand. This helps to add rigidity and stability, and the dust collection has also been improved.
The blade on the PM1000 is surrounded by a 'dust shroud' which catches most dust falling down underneath the blade. Because of this, the quality of dust collection is often praised by users.
Another difference, albeit small, is that the PM1000 has an easy to reach, hands-free emergency off-switch. It can be turned off by simply bumping into the big red switch with your sides, which comes in handy if your hands are on top of the table holding a workpiece. It is a minor improvement, but one day it may save someone's fingers by turning the machine off just in time.
Compare prices for the Powermatic PM1000 Table Saw

United States
Powermatic PM2000B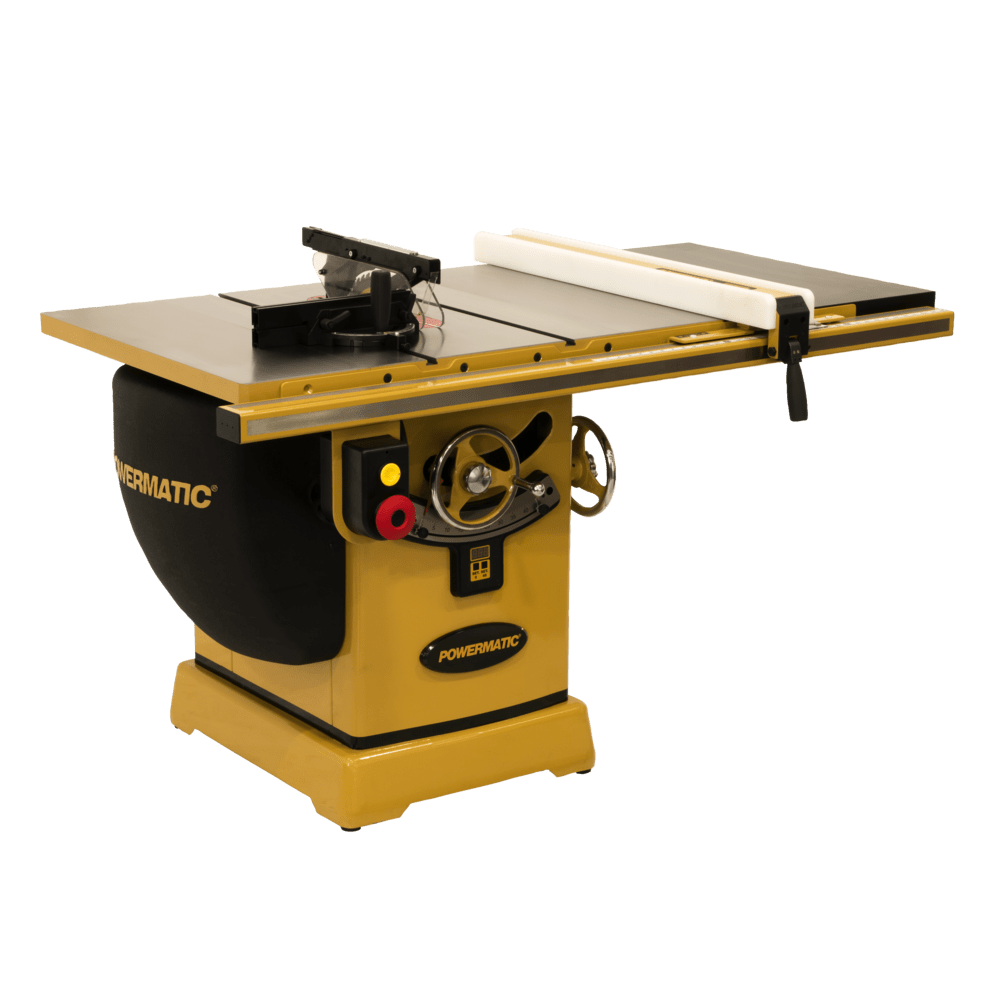 Type of machine
Table Saw
Designed in
United States
The Powermatic PM2000B is the most popular and interesting cabinet saw from the PM table saw series. It may look similar to the PM1000, but it actually has many different upgrades and features that make it a quite a different machine.
It shares many of the features already mentioned in the sections on the 64B and PM1000, so we'll only cover them briefly to avoid repetition. If you want a more detailed analysis of those parts, please scroll up to those machines.
Specifications and Features
The PM2000B has the same type of cast-iron table, Accu-Fence, two types of riving knives, toolless blade guard, and arbor lock as the previous two machines. It also supports up to 10-inch blades, with a maximum cutting height of a little over 3 inches.
The saw is sold in several versions, with either a 3HP or 5HP motor, running on 230V or 460V, and can be used either single or three-phase. This means it does not run on a standard 115V home voltage. Make sure you have your electrics wired correctly to support this machine.
Tip: If you've just bought this machine, check out the Assembly video by Marc Spagnolo of the Wood Whisperer below. He shows in detail how to assemble the saw (albeit an older model, but it should be largely the same).
Digital Angle Readout
A very useful feature only found on the PM2000B is the digital angle readout. This helps with setting accurate and repeatable angles. There are also two positive stops to help you cut exact miters every time.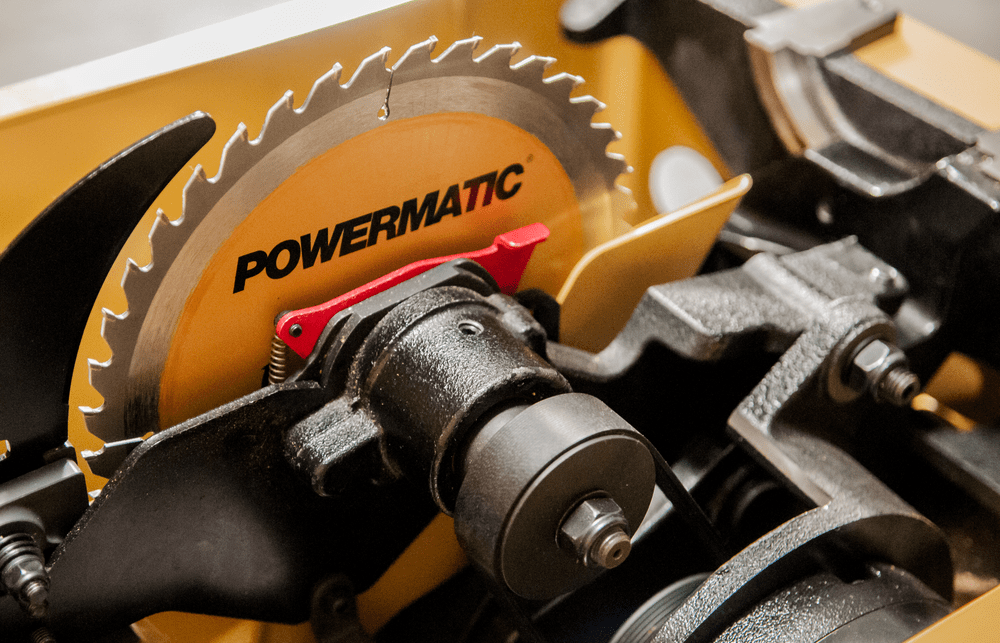 Integrated Wheels
The base of the PM2000B is closed and has integrated wheels that can be raised and lowered — very convenient in a small shop where you need to move machines around regularly. The fact that they're integrated also means you don't sacrifice stability for mobility, which can be the case for custom wheel bases.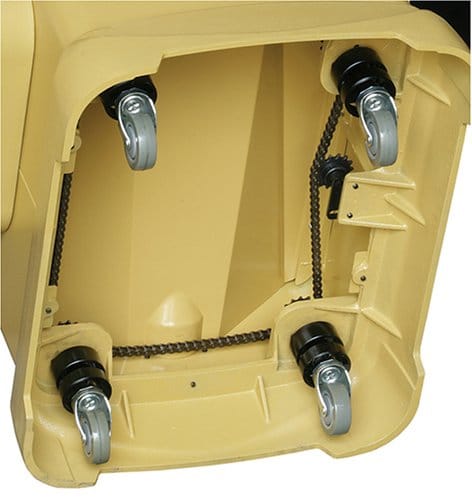 Router & Workbench Extension Tables
The PM2000B can be made more versatile by adding a workbench or router table. These are only available for this specific model, and can be great for making more efficient use of the space in your workshop.
The Workbench and Router Extension tables are made from wood, and not cast iron or metal like the rest of the table surface. Therefore, don't expect them to be as flat or stable as the rest of the machine's surface. Check the assembly video above for some tips on how you can get the surface as flat and in line with the rest of the table top as possible.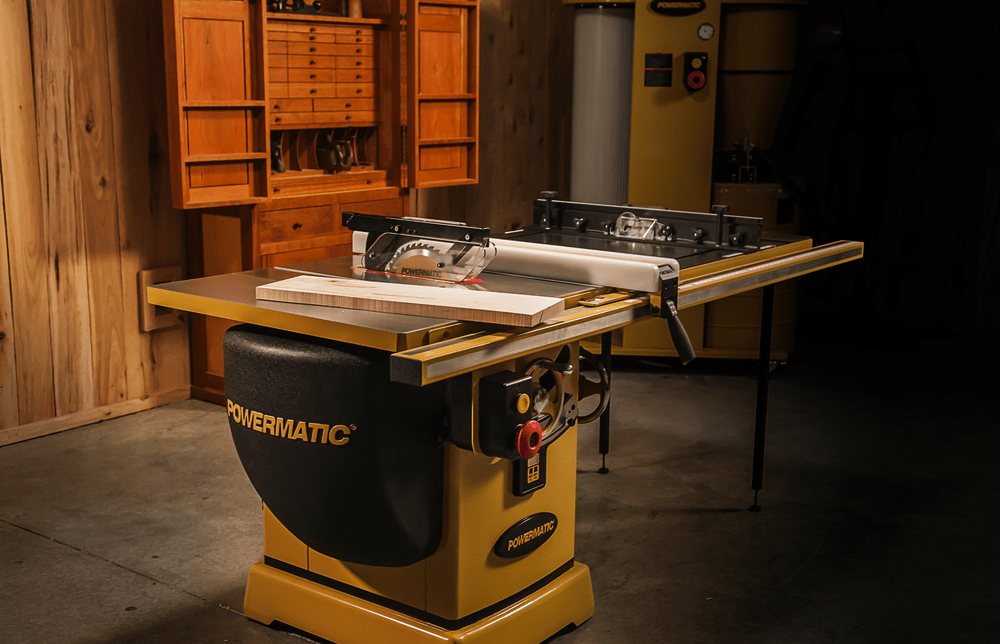 Sliding Table Attachment
Additionally, you can also add a sliding table attachment. These are sold separately and also fit the PM3000B. They are great for crosscutting large pieces and can make your machine much easier to use with sheet materials or large boards.
The downside is that they are not integrated in the machine, like with a sliding table or panel saw. Because of this it requires support legs on the side, and it is much more finicky to get it square and parallel with the table top. It's also more likely to need regular adjustment. However, when set up correctly it should work just as well.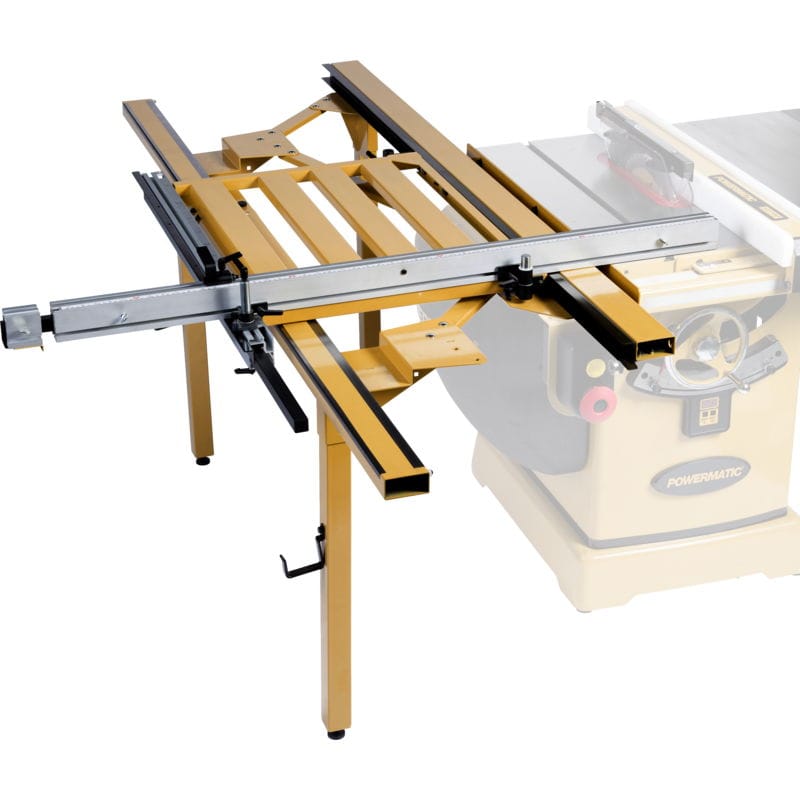 Compare prices for the Powermatic PM2000B Table Saw

United States
Powermatic PM3000B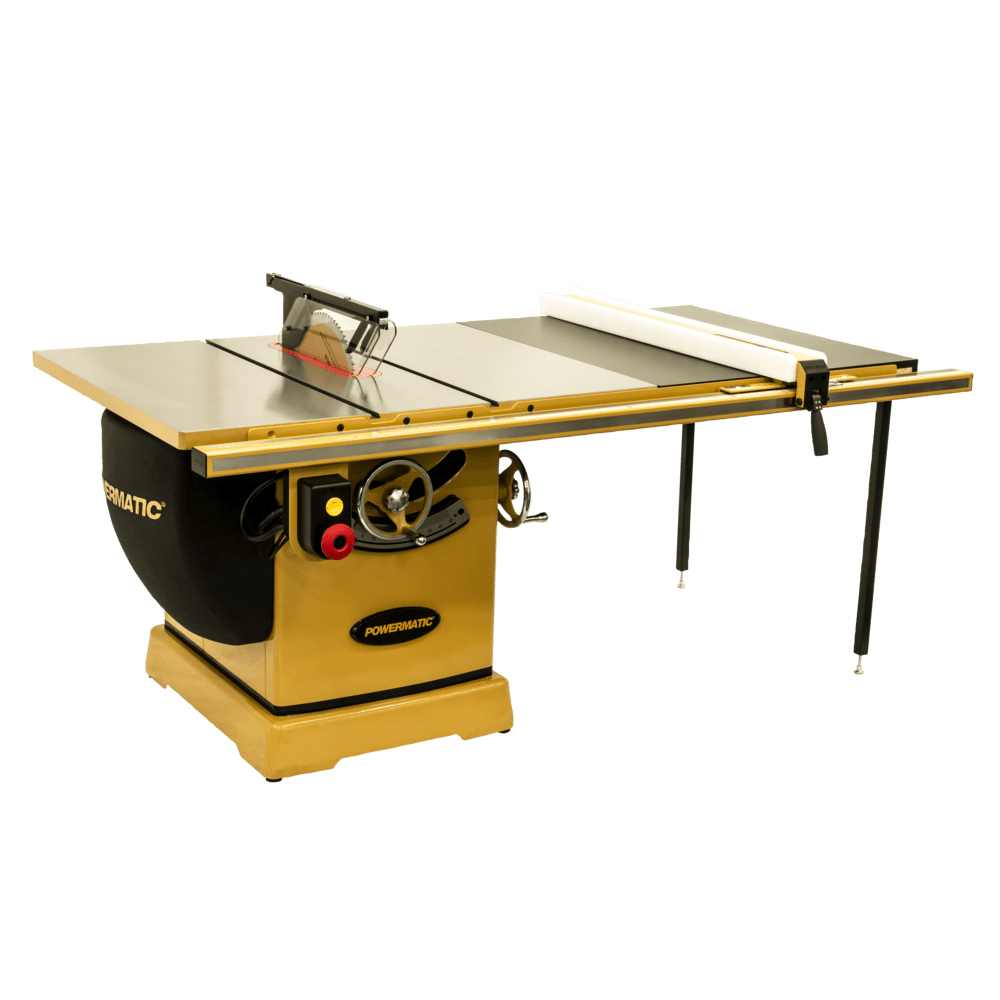 Type of machine
Table Saw
Designed in
United States
The Powermatic PM3000B can simply be characterized as a larger, more powerful version of the PM2000B, but with less features. Its 7.5HP motor and 14-inch blade make it a highly powerful and capable machine. However, besides those upgrades it doesn't offer anything new compared to the other models — in fact it actually misses several features from the PM2000B.
The PM3000B does not have integrated wheels, and it does not have a digital angle readout. It also lacks all of the interesting extension tables available for the PM2000B. The only extension available is the sliding table attachment that also fits the PM2000B.
This makes the PM3000B a much more barebones saw than its smaller sibling, which suggests it is more suited for professional production shops who need a lot of power and throughput to rip boards or sheet goods regularly. Find out who this machine is really for when we compare it with the previous models here.
Compare prices for the Powermatic PM3000B Table Saw

United States
64B vs PM1000 – Contractor vs Cabinet Saw
Contractor Saw
Cabinet Saw
1.75HP motor, supports up to 10-inch blades. Open stand.
1.75HP motor, supports up to 10-inch blades. Closed cabinet-saw stand.
Affordable, and can be finely adjusted.
Good value for money, can be finely adjusted. Cabinet saw stand. Good dust collection.
Less stable than machines with a closed stand. Not very powerful.
Not very powerful. Slightly more expensive.
At first glance, you may assume the Powermatic PM1000 is a much more advanced machine than the 64B, with its cabinet saw exterior. However, the price difference between the two machines actually quite small, especially for a contractor and cabinet saw.
The reason for this is that they are largely the same machine, with almost identical table tops and interiors. It is mostly the base and some small details that set them apart.
Closed Base & Dust Collection
The closed base is the main advantage of the PM1000 over the 64B. It adds quite a bit to the stability and sturdiness of the machine. In the images below you can see the difference between the two machines. It is obvious that a base made from one piece is more stable and rigid than an assembled one like is the case with the 64B.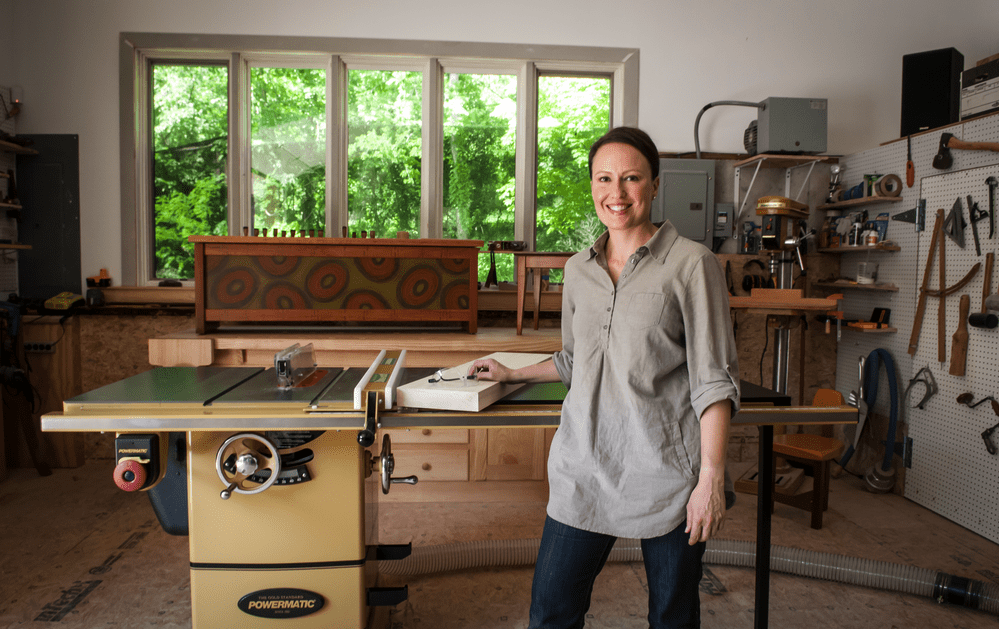 Additionally, the base also helps with dust collection. The blade itself is actually surrounded by a 'dust shroud', which shields the blade and makes sure most of the sawdust goes to out of the machine instead of sticking to the trunnions. Excellent dust collection is also what the PM1000 (and its larger brothers) are often praised for by users.
Resale Value
One other thing to consider is resale value. Even if the two machines are quite similar in an objective sense, for second-hand buyers they may not feel as being on the same level. This could have a big effect on the resale price. You can probably expect to fetch a much higher price on the second-hand market for a proper cabinet saw like the PM1000 than the 64B. So if you're not sure if you want to keep the machine the long term, this is something to take into account.
Conclusion
Ultimately, you'll have to ask yourself whether the benefits of the PM1000 over the 64B are worth the extra $300 to $400. But, given that people tend to buy these machines for the long-term, we think the premium is relatively small compared to the benefits you get for it.
Conclusion: So if you prefer more stability, better dust collection, and an easier safety switch, go for the PM1000. If you have a limited budget, go for the 64B, and you'll get almost all of the same features for a better price.
PM1000 vs PM2000B – Extensions and upgrades
1.75HP motor (single-phase only), 10-inch blades.
3 to 5HP motor (single and three-phase), 10-inch blades.
Increased rip capacity from 30 to 50 inches.
Extension table with router lift, workbench extension table, and sliding table attachment. Increased rip capacity from 30 to 50 inches.
Hands-free on-off switch.
Digital Readout for blade angles, integrated caster wheels. Hands-free on-off switch.
The comparison between the PM1000 and PM2000B is in a way much easier than the previous one, because the PM2000B is clearly better in every way, offers more upgrades and is more than sufficient for any home shop. However, all this also comes at a hefty 50% price increase over the PM1000, not even taking into account optional extensions. So which one should you go for?
Get the PM1000 if…
If your budget is limited, and you simply cannot afford the PM2000B, the choice is very simple. The PM1000 will still be a solid pick, and although it is not overly powerful, it is still capable of handling most tasks of a hobbyist woodworker. Just remember to adjust your feed rate and maintain a sharp blade, and it will work fine most of the time.
Also, if you do not need the extensions, because for example you already have your own workbench and router table, and usually undertake smaller projects that don't need the additional power, the PM1000 will be a good choice regardless of your budget.
Get the PM2000B if…
If you want a machine that you know you will not need to upgrade for a long time, then the PM2000B is the way to go. It is unlikely that as a hobbyist (or even small workshop professional) woodworker you will need a bigger or more powerful machine in the future.
Because of this, you can see the PM2000B as a 'purchase for life' machine, which means you can spread out the cost over a very long time. This may make the initial investment more bearable.
Conclusion: The PM2000B is clearly the better machine compared with the PM1000. If your budget allows it, get the PM2000B and you'll have a solid machine that may last decades. However, if you are on a budget, the PM1000 can do most of the things the PM2000B can, as long as you use it with care, and still make a good choice for hobbyist woodworkers.
Who should buy the PM3000B?
On to the final machine, the PM3000B. We've seen the differences between the 64B, the PM1000, and the PM2000B. In each case, it was a question of more features versus a higher cost. But in the case of the PM3000B, you actually get less features for a higher price. All you get is more power and a bigger saw blade.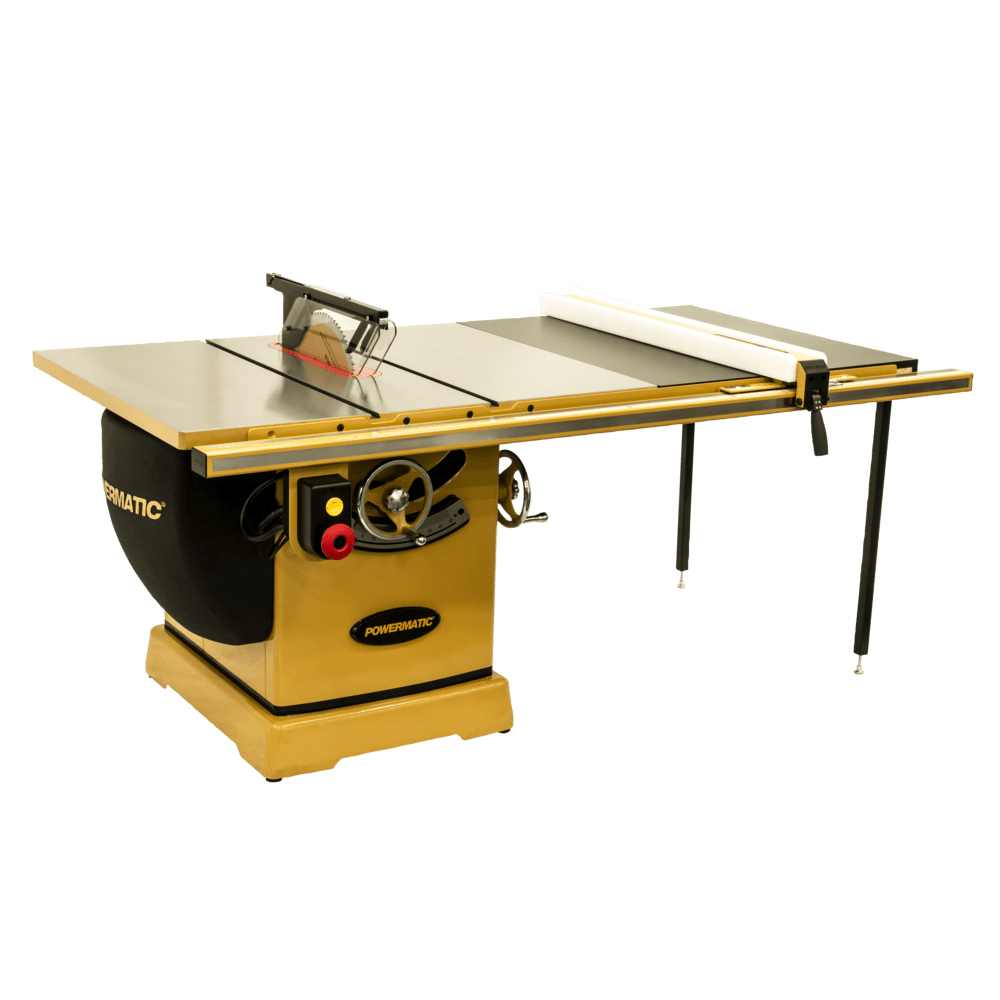 Who is this machine aimed at then? And is it worth it?
To answer the first question: This machine is probably attractive only for production shops who push their machines to the limit and really need the additional power and size to maintain their efficiency and speed of production. These kinds of shops will use their table saws all day long, and only then do you really benefit from the extra power and size.
If you need to think about whether you need this amount of power, you probably don't need it. Those who need it will know. Having established the purpose of this machine, the question then is, is it really the best machine for the job?
Although the build quality and general specs make it a decent choice, its form factor is far from ideal. In our opinion a panel saw or European-style sliding table saw make much more sense for these scenarios. They are a little more expensive, but they are much better suited for these jobs due to their sliding tables which are perfect for ripping long boards and large sheet goods.
Conclusion: We know Americans love their traditional cabinet saws, and they are indeed capable machines. But for these situations their form factor is simply not the best, and there are more innovative machines out there that will do a better job. So if you are considering the Powermatic PM3000B, take a close look at a small Felder, Minimax, or Altendorf panel saw, and check if they wouldn't be a better fit for your situation.
Conclusion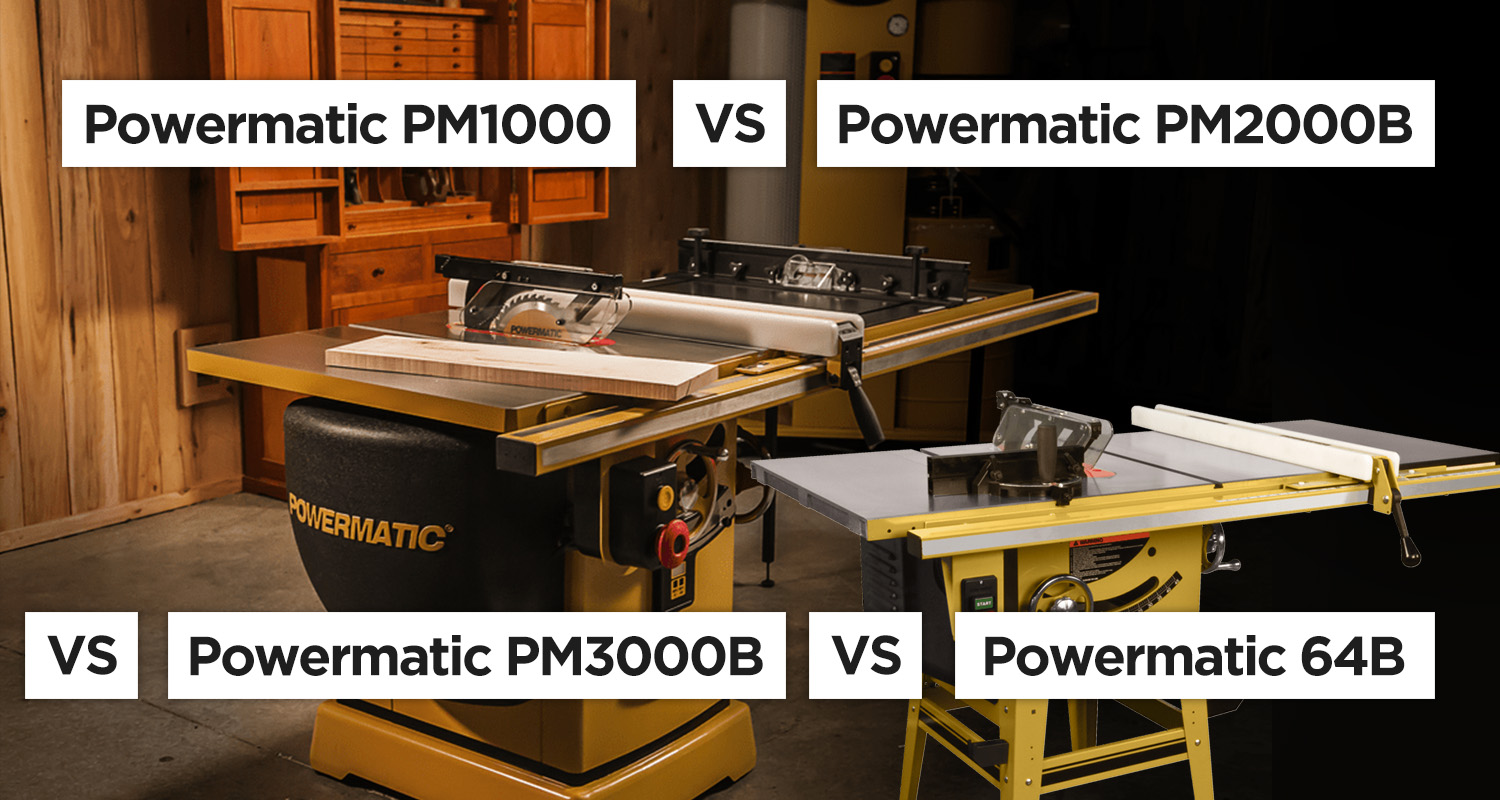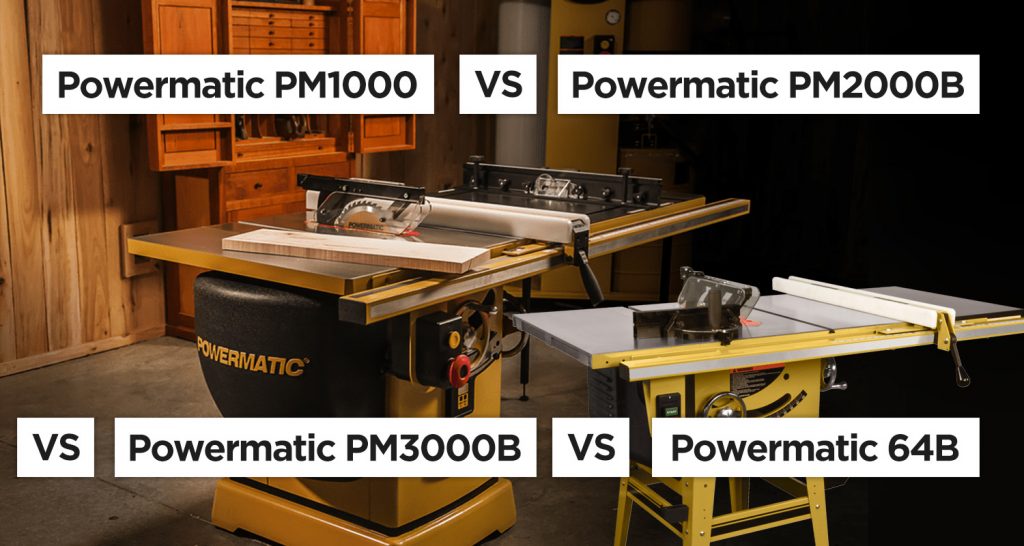 To summarize, who should get which machine? We've looked at all four Powermatic table saws, and each one offers own pros and cons. You can get more features and more power, but it comes at a premium price.
Get the 64B or PM1000 if..
If your budget is just enough for the PM1000 or the 64B, consider that although they look different, they are largely the same machine in practice, with some small advantages for the PM1000. If you want to save some money, get the 64B, and you'll be able to do pretty much anything the PM1000 can. If you want some more stability and a higher resale value, go for the PM1000.
Get the PM2000B if…
In case your budget reaches a little higher, consider upgrading to the PM2000B. This saw has many upgrades over its smaller siblings, like more power, extension tables, a sliding table attachment, and a digital angle readout. It does come at a hefty price increase however, but you will not need to buy another table saw for a long time.
Get the PM3000B if…
Are you running a production show and are you in need of real power and size? Then the PM3000B may be right for you. It lacks some features and upgrades that were present on the smaller PM2000, but at its core it is the same solid machine. However, we question whether it really is the right machine for a production environment, and you may be better off looking at some more sophisticated panel saws instead.
We hope you enjoyed this guide and found it helpful! If you have an feedback or suggestions, leave a comment below. Your info can help other woodworkers make better decisions.