Kity was a French producer of woodworking machines based in Bischwiller in the Alsace. They made solid machines, aimed at hobbyists, that can still be found on the second-hand market quite a lot, especially in Europe. Their reputation is that they made reliable machines, which did their job, but were not made to the highest standards of for example Inca.
It can be difficult to make sense of all the different machines on the second-hand market, and to figure out which machines are reliable, and in what period they were produced. In this short guide we will give a short overview of how to identify from which period a Kity machine stems, and what the general quality of machines from that period is.
Production Periods
Essentially, Kity machines can be divided into 4 or 5 periods, each with its own characteristics — how they look visually, where they were produced, what features they had, and their quality.
Originally the company was named Electroli, but somewhere in the 1970s (or even 80s) the name changed to Kity. Occasionally you can still find some machines under the Electroli brand that are identical to Kity machines.
The periods I'm mentioning below are rough estimations, because updates and new releases of machines were more fluid. Also, not all information is available anymore. Consider these periods more as general trends that give a good indication.
1970s and 80s: Production in France, red and green colors
Kity 617 Table Saw

Kity 636 Jointer Planer
This is the first period of production under the Kity name. These machines can be recognized from the traditional pale green color and red logo. Machines like the 617 Table Saw, 612 Band Saw, and 636 Jointer Planer were first produced in this period.
Generally, these machines are reliable and of decent quality. If they were maintained well and are still complete, they are a good addition to any beginning woodworker's shop. The quality standards (seen for example from the materials used) are not at the same level as for example Inca machines from the same era, but they work well enough.
Besides selling the machines as single products, they also sold a combination machine, which was simply a large table with several standard machines around one single motor in the middle. Different combinations were possible. See the image below for an example.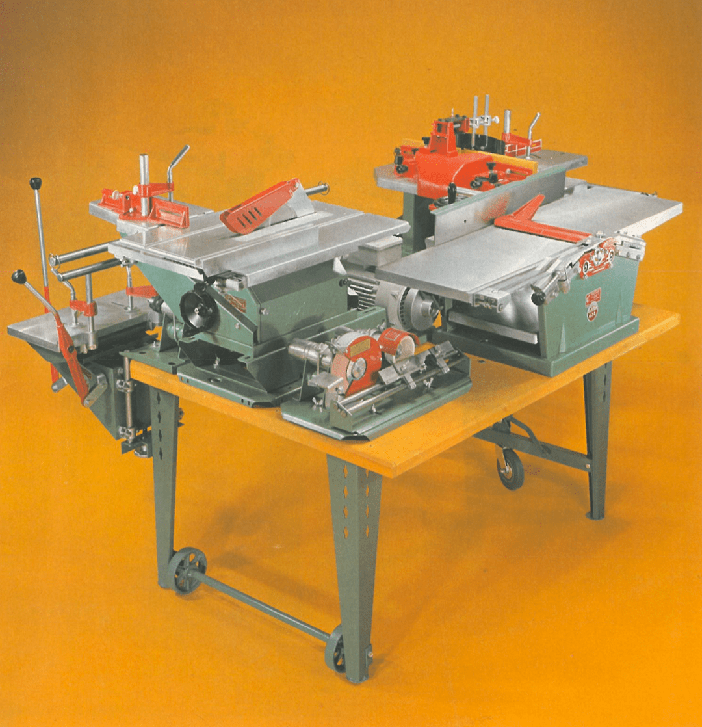 Kity later also sold a similar setup, called the K5 combination machine. The K5 was also a combination of machines around a single motor on a table, but with smaller machines than the original combination machine table. It can still be found quite often on the second-hand market.
Late 1980s and 90s: Production in France, red and green colors
Kity 618 Table Saw

Kity 613 Band Saw
Starting from the 1990s, a new wave of machines was released by Kity. These machines have a slightly different, more square and stylized look. The green and red colors changed slightly as well, to something less shiny.
The machines from this era had more features than the older ones. For example, Kity introduced larger table saws with more advanced sliding tables, and its jointer planers were larger and heavier. During this period Inca machines were produced in the same factory as Kity, and it is likely that Kity incorporated some of their designs into their own machines.
They also started to move away from having replaceable motors with pulleys under the table, and towards integrated motors. This can be seen for example in the Kity 618 pictured above.
Early 2000s: Production in France, green and yellow colors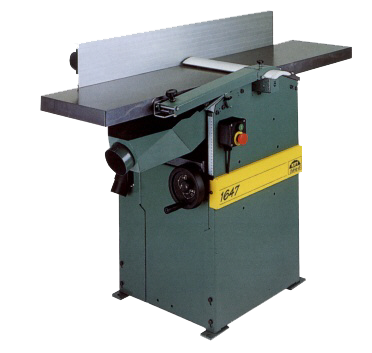 In the early 2000s, the machines were updated, but were generally quite similar to the ones of the 90s. They used the same stylized, square look, but the colors changed to green and yellow rather than red.
2004: Kity goes bankrupt, designs and materials taken over by Scheppach
Kity 439 Jointer Planer

Kity 619 Table Saw
In 2004 Kity was liquidated. We could not find a specific reason, but mostly likely producing consumer-grade machines in a Western country was simply not viable anymore with the competition which moved production to East Asia, benefitting from cheap labour.
After the company was liquidated, Scheppach came in and bought pretty much everything that was left of Kity, among which the brand, designs, materials, stock, and after-sales service.
Why is this important to know when you want to buy a second-hand Kity machine? Because Scheppach moved the production of Kity machines to China. It is unclear whether they briefly also produced at their own location in Germany, but it seems unlikely.
Since Kity was now produced by completely different people in a different factory on the other side of the world, it is very difficult to judge to what extent the quality levels of the China-made machines live up to the standards of the ones from France.
Therefore, if you're looking at a second-hand Kity, it is important to check whether the machine was made before or after 2004. That is not to say the post-2004 machines are no good, but generally Chinese machines from this era are much more variable due to poor quality control.
Post 2008-2010: Kity brand dies, machines produced under Scheppach name and off-brand licensing
Some time around 2008-2010, Scheppach decided to kill the Kity brand. However, the machines did continue to be produced but under the Scheppach name. For example, the Kity 2638 Jointer Planer became the Scheppach Plana 4.0 and Kity 619 Table Saw became the Scheppach Precisa 3.0.
Scheppach also seems to license the design for these machines to off-brand companies, for example Holzmann and HBM table saws and jointer planers most likely come from the same factory as the Scheppach Precisa and Plana machines.
Because of the newer machines that were based on the original Kity designs, some replacement parts for those machines also fit the Kity machines. This is an advantage of the new Kity machines over the old ones, and something to consider when deciding on buying one.
So, even though the Kity brand no longer exists, its soul lives on in several other machines.