Introduction
If you're looking for a new planer, chances are JET is one of the brands on your list. However, they sell four different models and it may not be completely clear what makes them different. This guide will help you understand each model and find out whether they are the right machine for your specific case.
JET makes four different stationary planers: The recently renewed 15-inch planers, JWP 15 and JWP 15BHH (with spiral cutterhead), and the 20-inch planers JWP 208-1 and JWP 208HH (also with spiral cutterhead).
The two 15-inch planers are very similar, but the two 20-inch planers differ a bit more. We'll look at each one individually and then compare them. If you're short on time, skip to summary at the end to find out which planer may be right for you.
Update: I've now also added Jet's new 13-inch helical-style benchtop planer to this guide.
JET's 13-inch Benchtop Planer: Helical or not?
The smallest and most compact planer in Jet's lineup is the JWP-13BT 13-inch benchtop planer. It is quite a different machine from Jet's other planers, because those are all stationary, while the 13-inch planer is small enough to be stored under workbench. Although it is not extremely light, you could move it to a jobsite as well.
Helical-Style Cutterhead
The key feature that sets Jet's 13-inch benchtop planer apart from competitors like the DeWalt DW734 or DW735 is the helical-style cutterhead. But it comes with a catch, because it isn't actually a helical head.
Instead of having four-sided carbide inserts following a spiral shape around the cutterblock, Jet's planer has 4 rows of 6 straight HSS cutters. These are laid out in straight rows, not a spiral, as can be seen in the image below.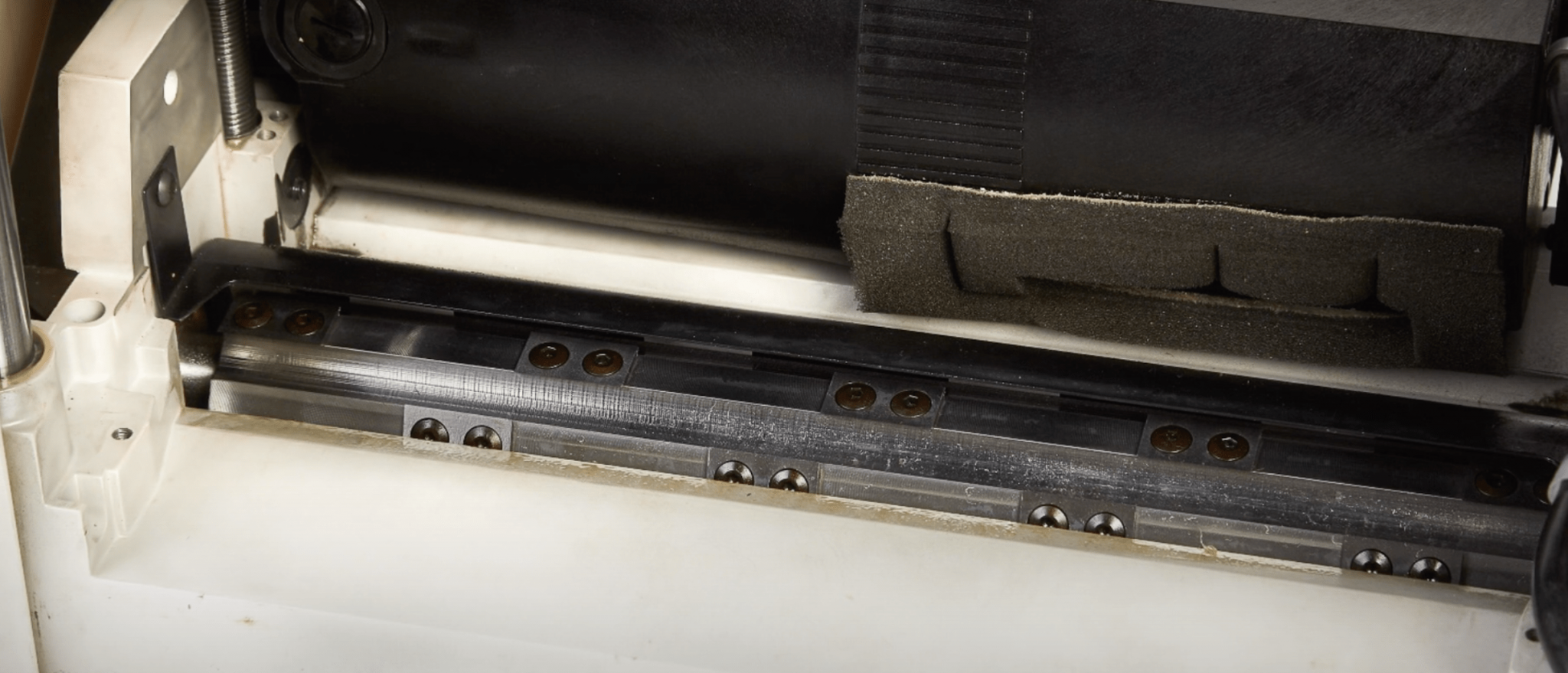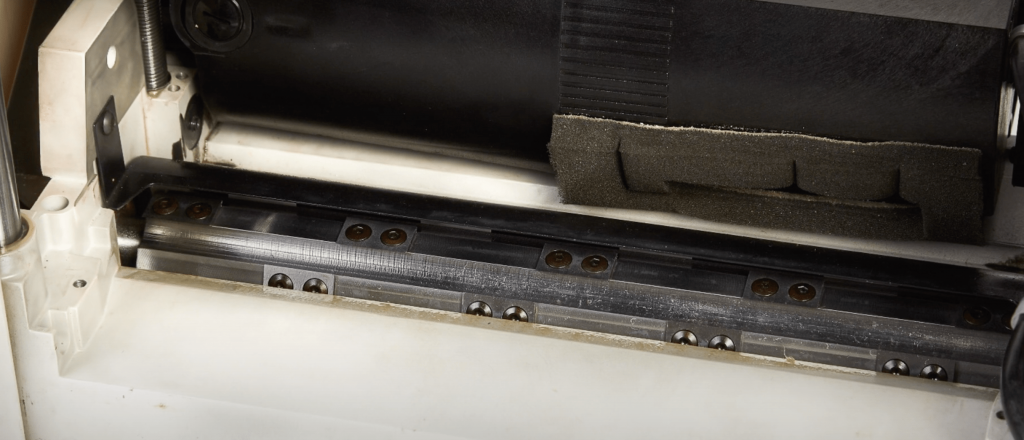 This means that you get some of the benefits of a helical head, but not all of them. The cutters have two sharp sides, and can be individually replaced. This makes it easy and cheap to just replace a single cutter when you, for example, hit a nail. No long calibration or throwing away entire planer blades like you used to.
But actual helical head cutters, like those found on Jet's stationary planers, have more advantages. They have four sharp sides, and are made of carbide, which helps them stay sharp for much longer. The particular spiral shape of helical heads also improves the cut quality and reduces noise.
Is it still worth it?
Although the Jet JWP-13BT isn't as exceptional as it seemed on paper, it is still a good machine. It has a cast-iron table, which is not found on many other benchtop planers. With its 2 horsepower motor it can take on pretty much any type of wood, and 13 inches is still more than enough capacity for most hobbyist woodworkers.
For me, the main doubt is whether the semi-helical head cutters are worth the premium price compared to other lunchbox planers. If you spend a little bit more money, you could also buy a cheaper planer and upgrade it with a proper aftermarket helical head.
Benchtop Planer vs Stationary Planers
Some people lack space, and will simply need to get a benchtop planer instead of a stationary one. Others need power and use their machines all day, and will always opt for a stationary planer. However, for some people both types of planer are a possibility. Which one would be best?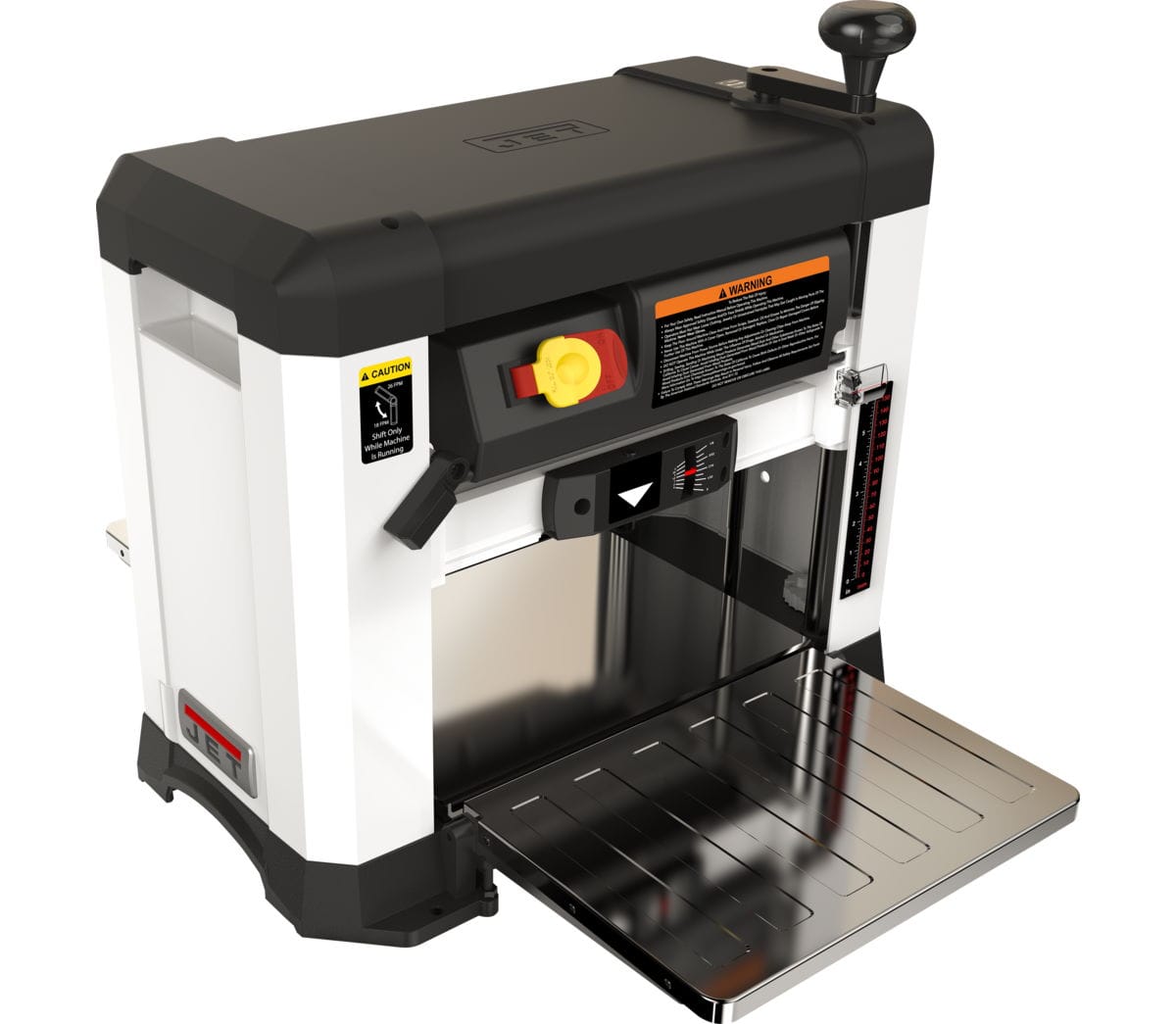 Three reasons for upgrading to a stationary planer
There are three good reasons to buy the stationary planers over the benchtop one. First, convenience. If you want a machine that is always set up properly, doesn't need to be moved or unpacked, a stationary planer is the way to go.
Second, workload. If you really use your machine regularly, the stationary planers are much more suited to that job. They are built better, and are more stable and can take much more of a beating.
Third, if you would like a helical cutterhead, you will want to go with the stationary planers. Those have actual, high-quality helical cutterheads, whereas the 13-inch benchtop planer has a cutterhead that is a middle ground between standard blades and helical heads. Getting a machine with a proper helical cutterhead can make a great difference in cut quality and sound reduction.
Price difference
However, the cheapest of Jet's stationary planers is about twice as expensive as the benchtop planer. So if you don't necessarily need a bigger machine, helical head, or to support a heavy workload, then the benchtop planer could be a great option while saving quite a bit of money.
Compare prices for the Jet 13″ Helical Style Benchtop Planer JWP-13BT

United States

UK
JET's 15-inch Planers: Significant changes with the renewed design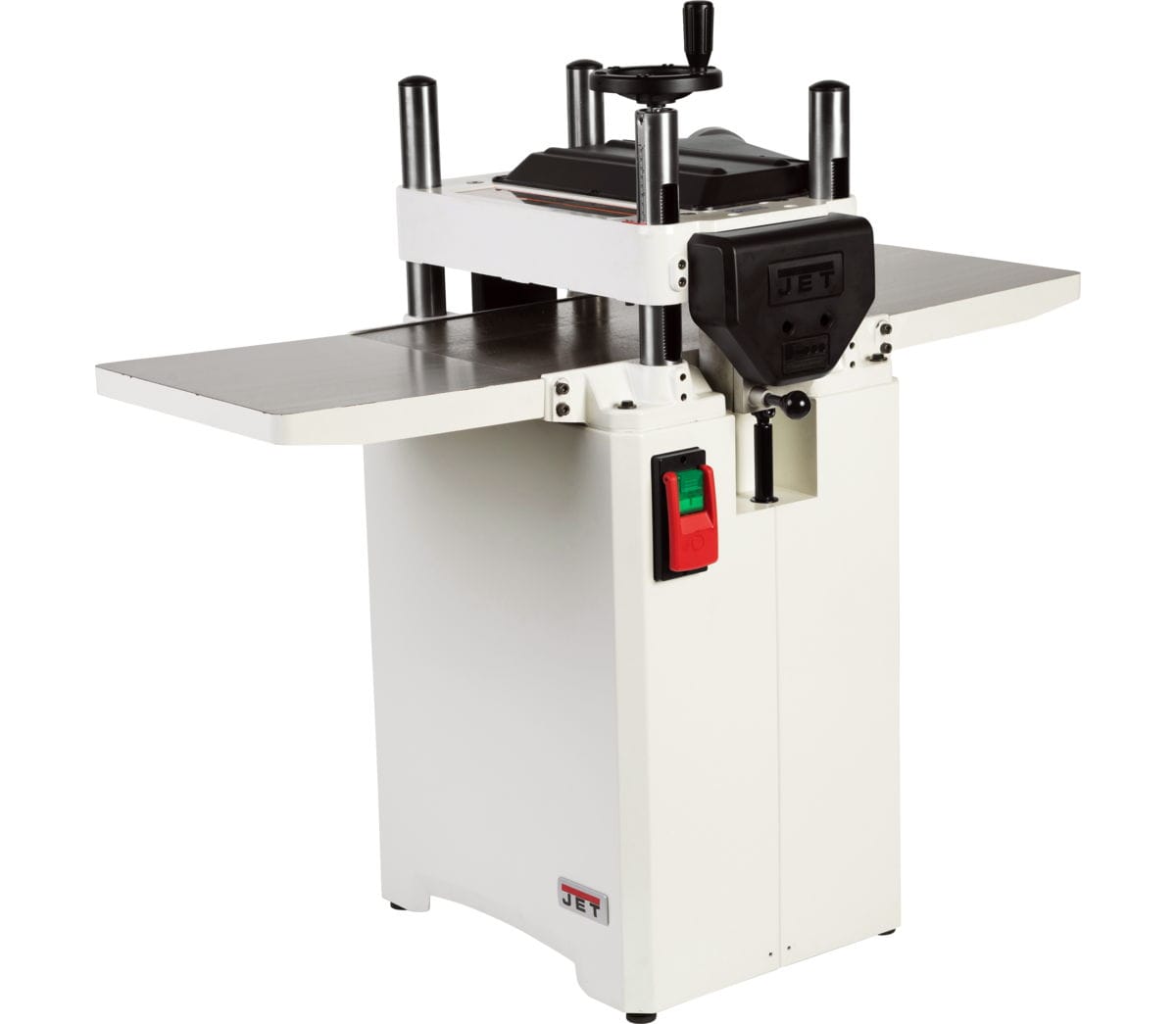 Designed in
United States
Earlier this year (2019), JET released a completely redesigned version of their 15-inch models. If you look at videos of the older model, you will notice that it very much resembles the current 20-inch model. The new model is a significant redesign and has been turned upside down — literally, because now the cutterhead goes up and down instead of the table.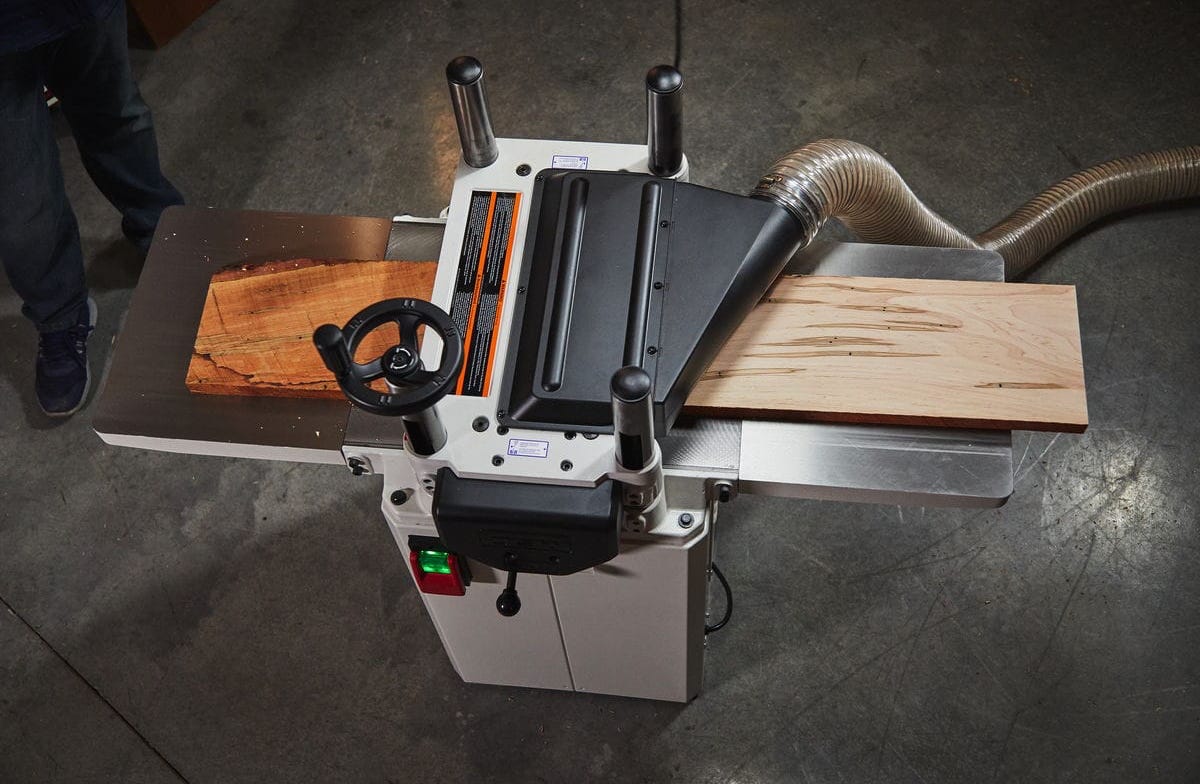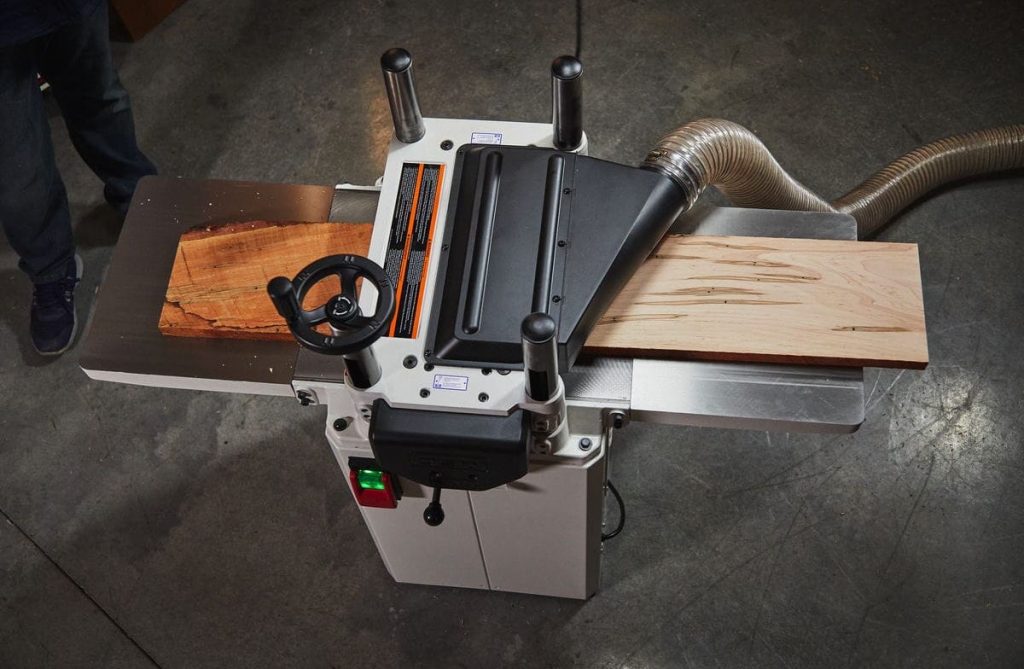 New design: Turned upside down
This new design choice is unlike almost any stationary planer, and is more similar to benchtop lunchbox planers, which also have a moving cutterhead instead of a moving table. To what extent this influences planing results is hard to judge, and can only be really determined through rigorous testing. But the fact that JET has released two of their key planer models with this system should be a good indication that it works well.
One potential advantage is that instead of moving a heavy cast-iron table (along with sometimes the weight of the workpiece) you now move the cutterhead up and down, which could be lighter. It also makes it easier to see if you've reached the desired thickness, because the depth of cut is shown on top, instead of below the cutterhead.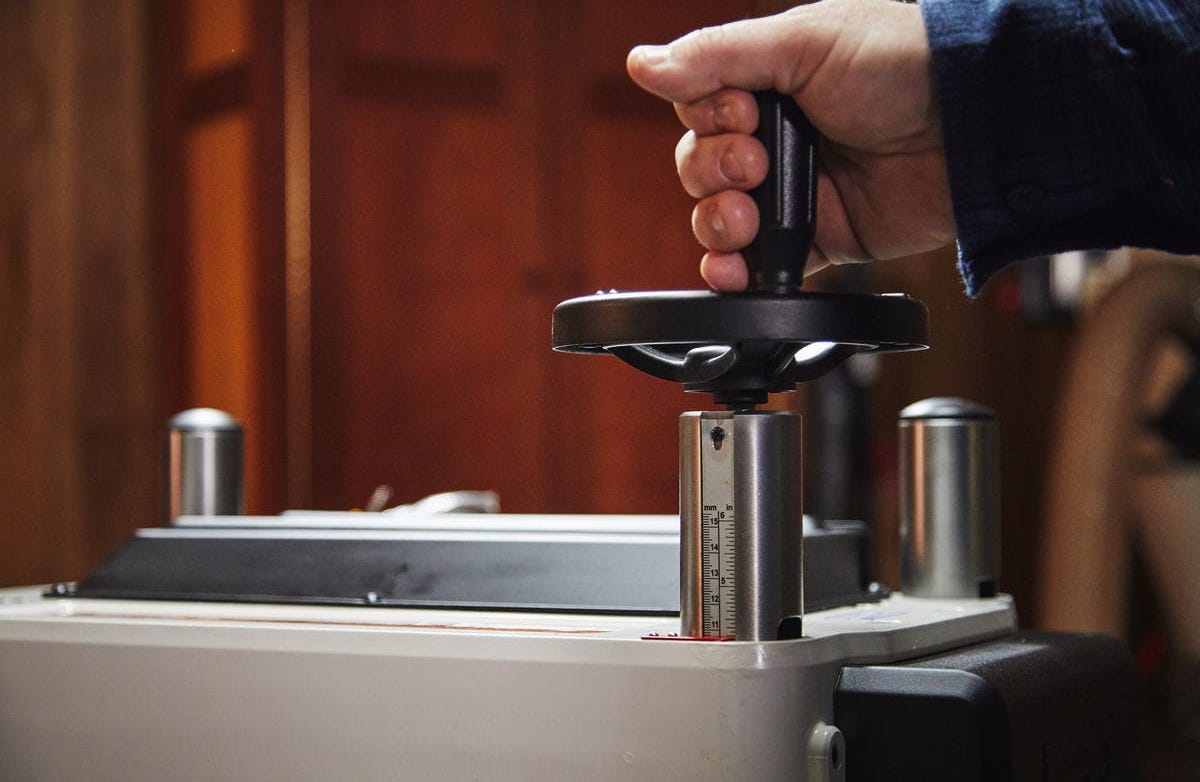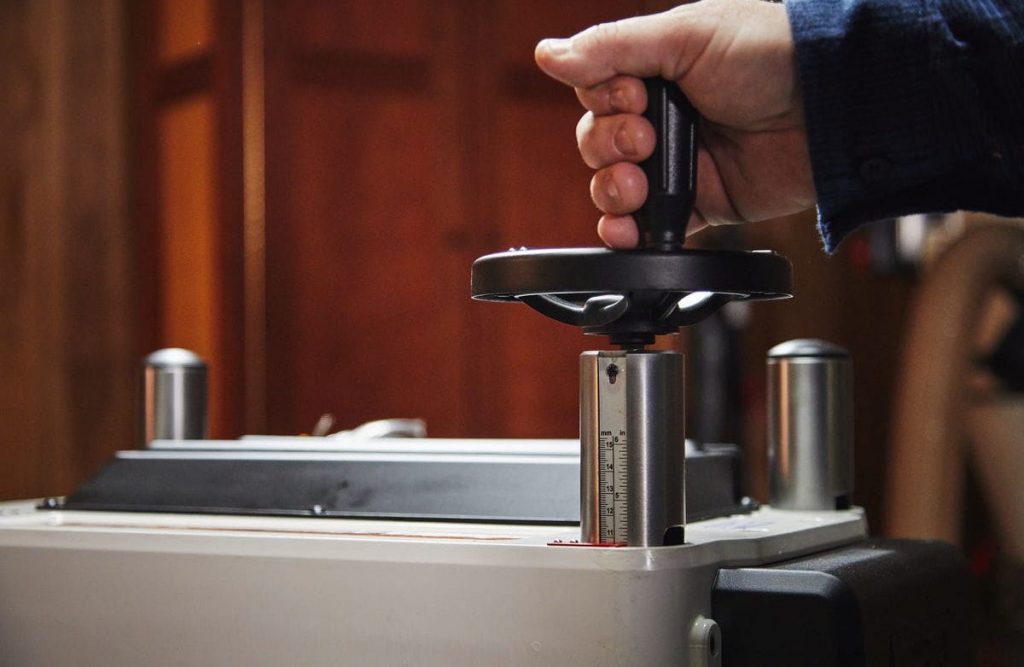 Reducing snipe: Air-pressure supports
To reduce snipe, JET has added an air-pressure support system on both sides to make sure the cutterhead maintains even pressure throughout the entire cut. It is supposed to help avoid a drop of the cutterblock, which can happen near the end of a pass.
Specifications: Power, depth of cut, and feed rates
JET's 15-inch planers run on a 2200W (3HP) motor and can handle workpieces up to 153mm high. This is a little lower than on many jointer planer combos, and suggests this machine is more aimed at planing the faces of wide boards than their sides. However, many woodworkers usually joint one side, and then cut the second side parallel on the table saw, so it is not a major issue.
The maximum depth of cut is 1/8″ (~ 4.7mm) in a single pass on a full width board, which is plenty for most people. The machines have two feed rates: 4.9 and 6.1 m/min (16 and 20 ft/min), which is slightly on the slow side, but will help you get better planing results. The feed rates can be adjusted by simply pulling a lever on the side of the machine.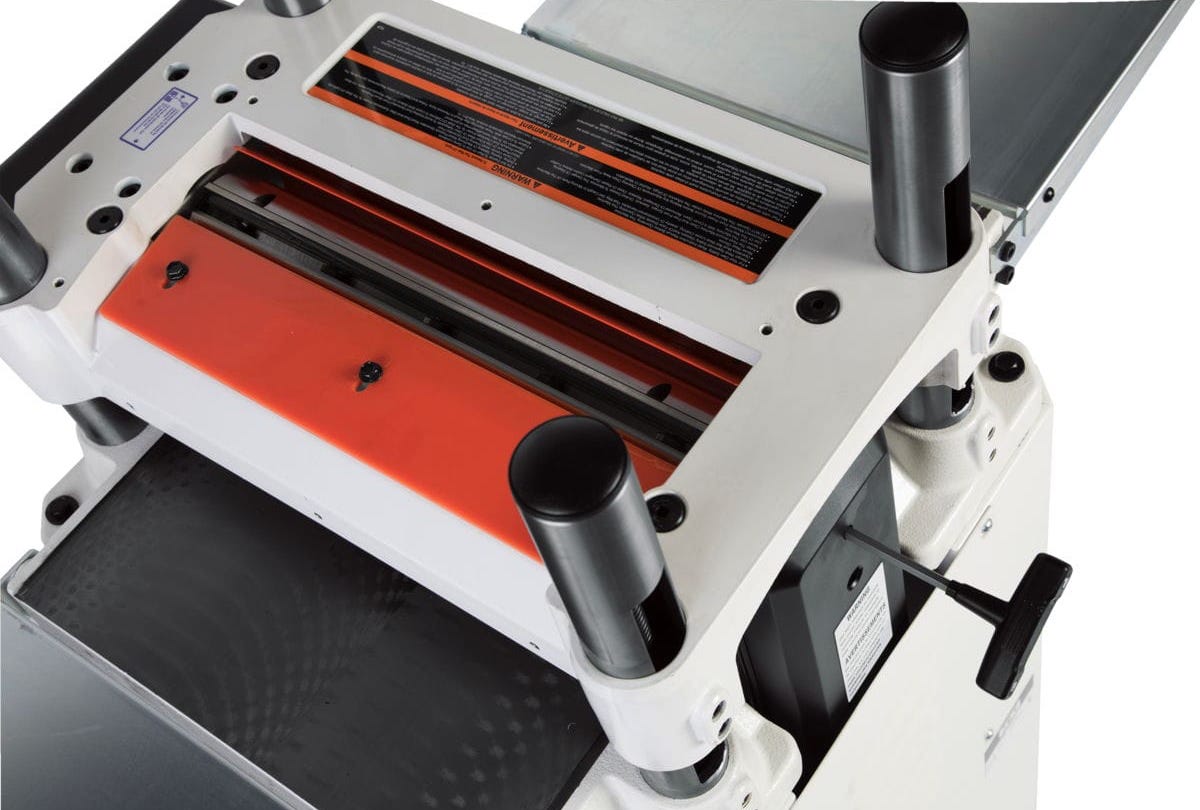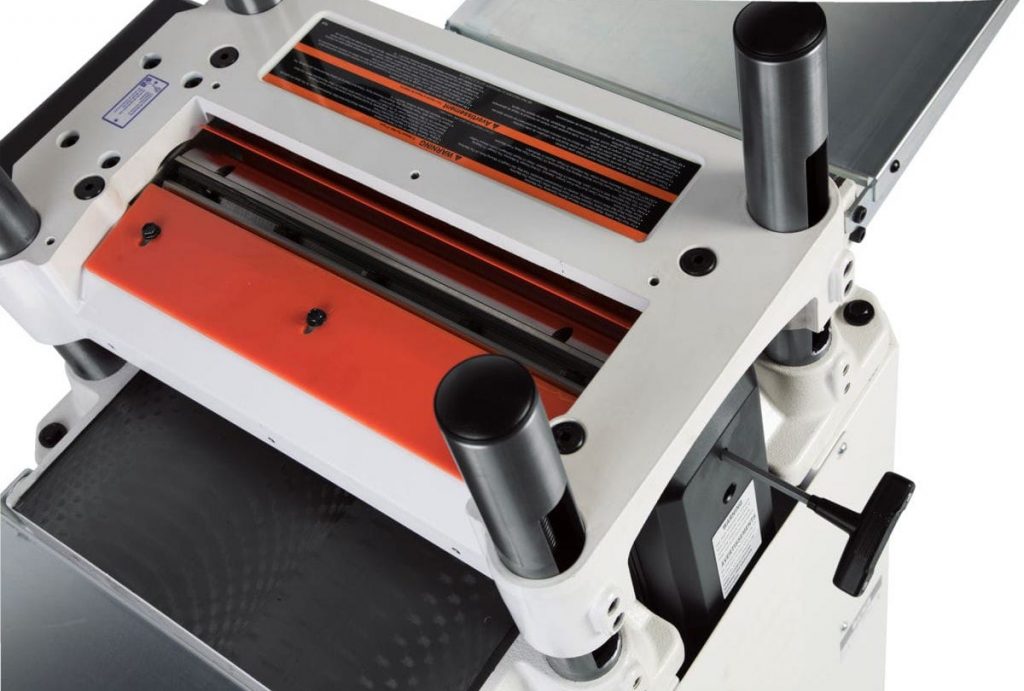 Standard vs. Helical Head model
There are two versions of the JET 15-inch planer: the JET JWP-15B and JWP-15BHH. The key difference is that the 15BHH has a helical head or spiral cutterhead. This means it has 48 individual cutter inserts following four spiral curves around the cutterblock instead of 3 standard knives.
The Helical Head model is also slightly heavier, which is most likely due to it having cast-iron extension tables. The extension tables on the normal model are made from steel instead.
Using a helical head (also called spiral cutterhead) has several significant advantages. Firstly, it is more user-friendly, because it is easier to setup, requires less sharpening, and can deal with damage much better. Each individual cutter has four sharp sides, and if it is dull or gets damaged it can simply be turned 90 degrees, without any adjustment needed.
The helical head is also quieter, with JET claiming it an almost 20 dB noise reduction. Other manufacturers often claim in the region of 10 dB reduction, but the fact that it is significantly quieter is unquestionable. Keep in mind that a 10 dB difference is almost double the perceived loudness.
Additionally, spiral cutters are also better at dealing with difficult grains, and will in most cases deliver better planing results.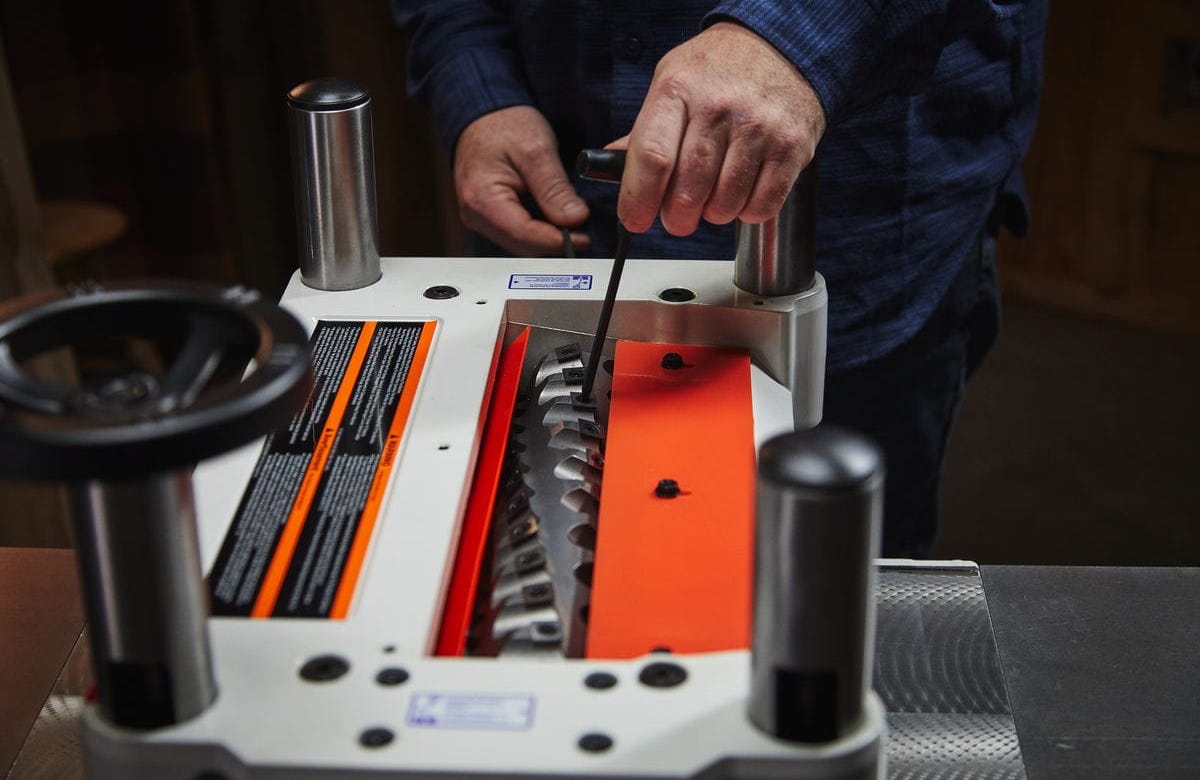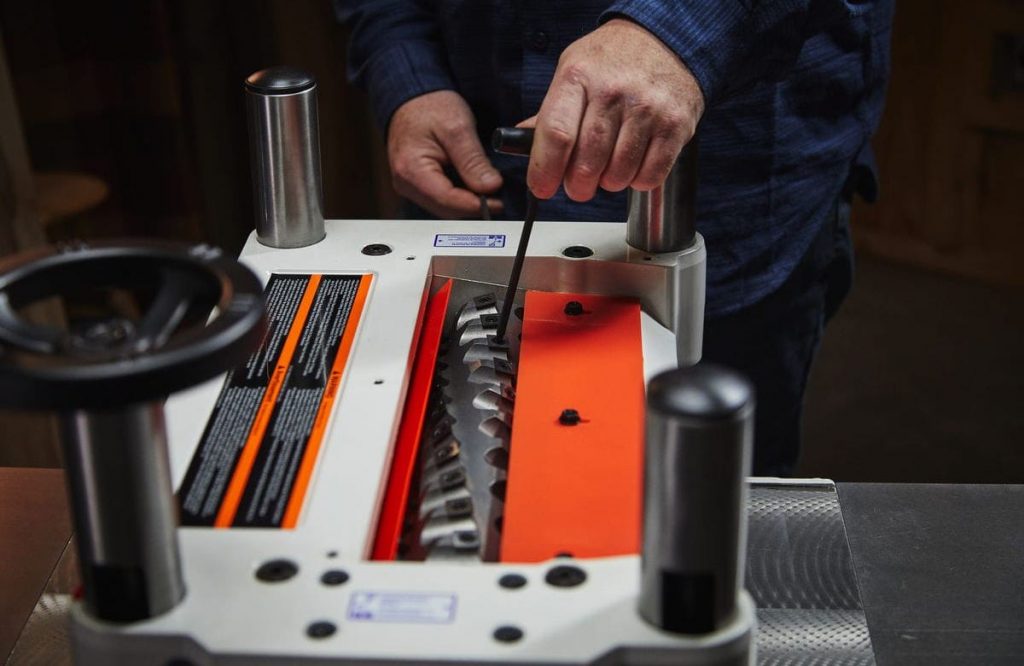 Is the Helical Head upgrade worth it?
Given all its benefits, it seems only logical to upgrade to the helical head model. However, it is more than 50% more expensive. Does it then still make sense to upgrade for such a hefty price?
This will obviously depend on your budget, especially if you are buying multiple machines at once. For the price difference you could almost buy a very decent second-hand jointer or table saw, for example. One thing to consider is that you will probably save costs on sharpening and replacement of blades, which reduces the price difference slightly.
Also, if you plan on using the planers in a professional shop, any time you avoid spending on setting up blades or waiting on new blades to be sent back from sharpening is time you could spend earning money. This could tip the (monetary) balance in favor of the helical head model.
Compare prices for the JET JWP 15B and 15BHH

United States
JET's 20-inch Planers: Powerful machines
Standard straight knives, open extension tables with rollers, 3HP motor
Helical cutterhead, solid cast iron extension tables, 5HP motor
Cheaper, classic proven design
Quieter, better planing results, safer to use, more powerful
More time spent on changing and adjusting blades, less powerful
Significantly more expensive
The two 20-inch models are still based on the old design. This is not necessarily a bad thing, because the design is tried and tested and you can be sure the machines work well. There are two models: the JET JWP-208-1, which is less powerful and has standard blades, and the JET JWP-208HH, which has a powerful 5HP (3700W) motor and a helical head.
Both machines have two feed rates, 7.3 and 9.1 m/min (24 and 30 ft/min), which helps picking the right speed depending on grain difficulty and time constraints. On top of the machine are also two rollers, to help bring the workpiece back to the other side for a second pass.
TIP: In this video you can see how to maintain a JET planer. The video shows a 15-inch planer, but its design is pretty much the same as the current 20-inch planers.
Extension tables
The Helical Head model has cast iron extension tables, but the normal models has rollers on its extension tables instead. This is less optimal, because it is less likely to stay straight and also more dangerous. There are gaps between the rollers, and your hand could get caught between the rollers and the workpiece.
Helical Head / Spiral cutterhead
The JET JWP-208HH has 92 separate carbide insert cutters, which are positioned in 4 spiral rows along the cutterblock. These have several significant advantages, as already mentioned in the section about the 15-inch planers. To recap, spiral cutters tend to be quieter, better at dealing with complicated wood grain, and easier to set up and replace, and last longer.
Compare prices for the JET JWP-208-1 20″ Planer

United States
Conclusion: Which machine should I get?
This is of course not a straightforward answer. It will depend on your budget and your specific needs. Do you regularly plane boards wider than 15 inches? Or do you often plane difficult hardwoods that require a bit more power to plane efficiently (and not take minimal passes each time)? Then an upgrade to the 20-inch planers could be worthwhile.
The 20-inch planers do lack the new innovative design of the 15-inch ones. Perhaps JET will upgrade the 20-inch models to the new design as well, but if and when that will happen is hard to tell, so it shouldn't really impact your purchasing decision. The old design is tried and tested and has proven its worth.
Then the question remains: Should you upgrade to the helical cutterhead?
As mentioned before, there are only advantages to spiral cutters when compared to standard blades. They are easier to use, give better results, and make less noise. However, they do come at a cost and it will depend on your specific situation whether it is worth it.
If you are a professional, take into account the effort and time saved from less frequent blade changes and replacement, and as a hobbyist it will depend on how much you have to spend. A 15-inch standard model costs about half as much as a 20-inch model with Helical Head, so there is a machine for quite wide range of budgets.
We hope you find this guide helpful! Of course, we're also curious to hear your opinion on JET's planers. Which model would you go with? Let us know in the comments below.