Recommendations based on Experience and Research: The recommendations in this article are based on my personal experience of using and restoring multiple jointer planer combos, and on the research I have done to create Machine Atlas.
Why a good Jointer Planer is important
Jointer planers are an essential tool in any woodworking shop. Together with the table saw, they are the first tools you use to dimension your raw lumber.
Getting this first step right, and creating flat, square stock makes the rest of your woodworking so much more enjoyable. Any mistakes at the start will have a compound effect later, and you will end up having to correct your errors later on in the build process.
That's why you want to get the best jointer planer you can get, so you can be sure your lumber is as square and flat as it can be, and save you a lot of headaches when creating joinery.
But it can be tricky to find the best machine for your specific budget, with so many different options out there. That's why we've bundled all the research on Machine Atlas and created this Jointer Planer Combo Buyer's Guide. We've selected what we think is the best machine for each budget, along with a few alternatives. Let's get started with the sub-$300 jointer planers.
Best Jointer Planer Combo under $300 (€/£)
In this price range, choices are limited. In the US, there is actually only one option, Jet's 8-inch benchtop jointer planer. In the rest of the world, and Europe in particular, there are many more machines in this price range. But that is just deceiving, as they are all just rebrands of practically the same machine. They only differ in a few details.
These benchtop jointer planers are all made in China, and based on the same design. In contrast to more expensive machines, the jointer tables are fixed and don't have to be removed when planing. This is possible because the jointer tables are short enough that they're not really in the way when you're feeding wood into the planer.
Some people may be skeptical of machines in this price range, but IF you get one that is straight and correctly adjusted, they can actually deliver good jointing and planing results. As proof, check out the video below by woodworker Adrian Preda, who uses the Einhell TC-SP 204 (which is extremely similar to the Jet and Scheppach).
However, that is a big IF. With more expensive machines, you may get a jointer planer that is out of square, the tables aren't parallel, or the blades are skewed. But these problems can all be solved by the user himself, by finetuning all the separate parts.
Hard or impossible to adjust
The problem with these benchtop jointer planers, like the Jet and Scheppach, is that they cannot be adjusted very well. So if you get unlucky, and your machine is not set up right from the start, you're stuck with it.
But if you take into account that they're several times cheaper than other new jointer planers, that they're small, easily stored, and still quite powerful, they can still be a good buy for beginning woodworkers and DIYers.
Alternative for JET in the US
It seems that the JET JJP-8BT has been sold out for quite some time now. A good alternative for US woodworkers is the VEVOR Jointer Planer, which is almost identical to the JET version.
Tip: If you want to save some money, keep an eye on Lidl's Parkside range. They occasionally sell an identical jointer planer to the Scheppach, but for even less (around €180).
In short
Most affordable jointer planer
Can actually deliver good planing results
You need to get lucky that your model is set up correctly from the start
Limited size
Compare prices for the Jet JJP-8BT 8″ Jointer Planer

United States
Alternatives under $300
Small vintage jointer planers
Because this is the lowest price range for any jointer planer, there aren't any real new alternatives. But there are a few second hand options you could look at, such as the Inca Jointer 343.132, for which a thickness planing attachment was available. It lacks automatic feed, making it more work to use, but the final cut and build quality is much higher than any of the new machine in this price range. The Kity 635 can also be found for less than $300, but it is more common on the EU market.
Benchtop planers with Planer Sled or Hand Plane
Alternatively, you could consider purchasing a benchtop planer (also called lunchbox planer), combined with either jointing with a hand plane, or simply buying lumber that is already reasonably flat. There are also special jigs called planer beds for benchtop planers that allow you to flatten your boards.
Best Jointer Planer Combo under $600 (€/£)
Our Pick: Inca or DeWalt Vintage Jointer Planers
This may come as a surprise, but the best Jointer Planer Combo under $600 isn't a new one. It's a second-hand machine. There are some new machines available in this price range, but they are not that great (I will mention them among the alternatives). And since there are plenty of quality vintage jointer planers available in this price range, I would recommend going that route instead.
Because vintage machines are not as widely available as new ones, I'll recommend two machines that would be excellent if you could get them for under $600.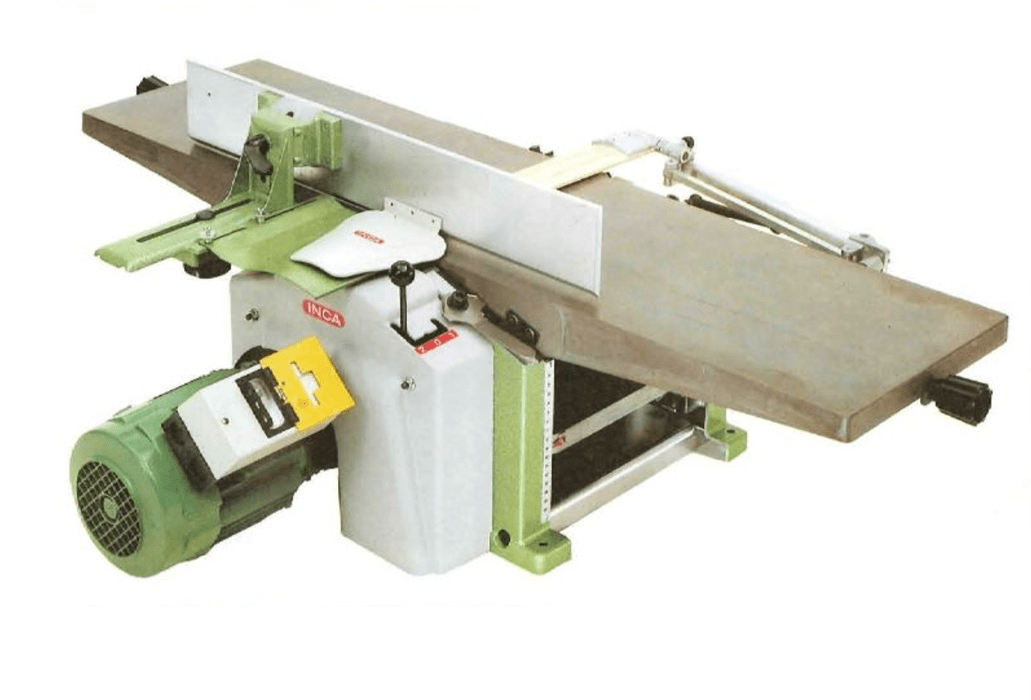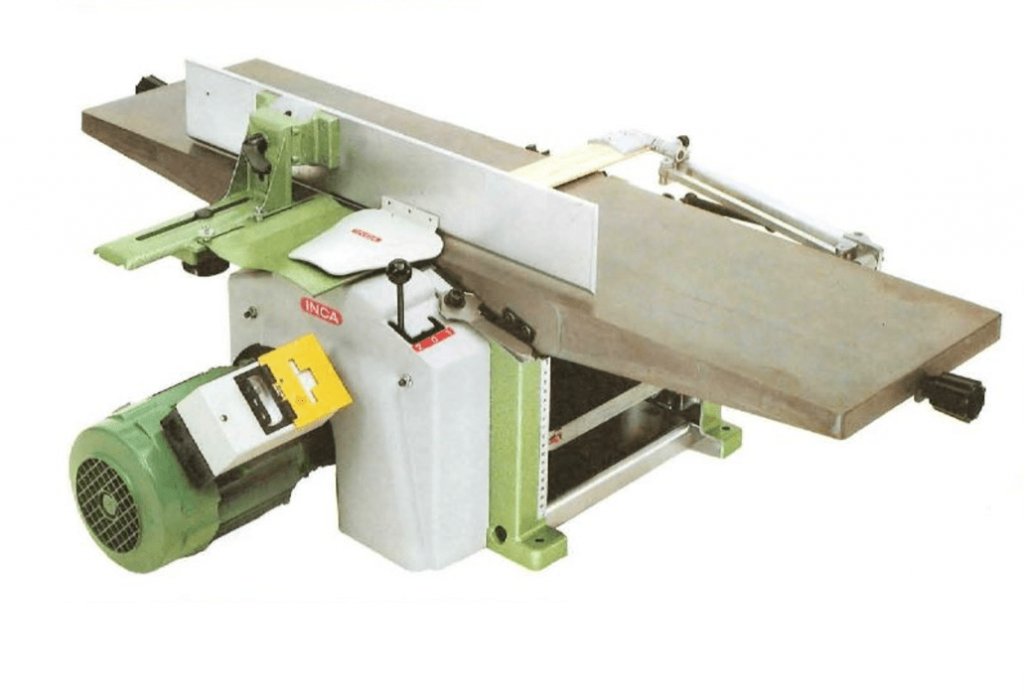 This is one of the most popular vintage jointer planer combos in both the US and Europe. It was built from the early 1970s through 80s, and set the industry standard of what a compact and lightweight jointer planer should look like. Many current designs are inspired by this machine.
It is made of cast aluminium, and uses high quality materials all around. Many moving parts are made of brass, ensuring smooth movement, for example when lowering the infeed table. The only possible downside is the fence, which is a bit flimsy compared to the stability and precision of the rest of the machine.
Because the Inca Automatic is so popular, it can be relatively expensive, but good deals can still be found. And if it's in good condition, you probably won't have to do any complicated setup yourself to make it work. It will just work and be precise without any effort on your part.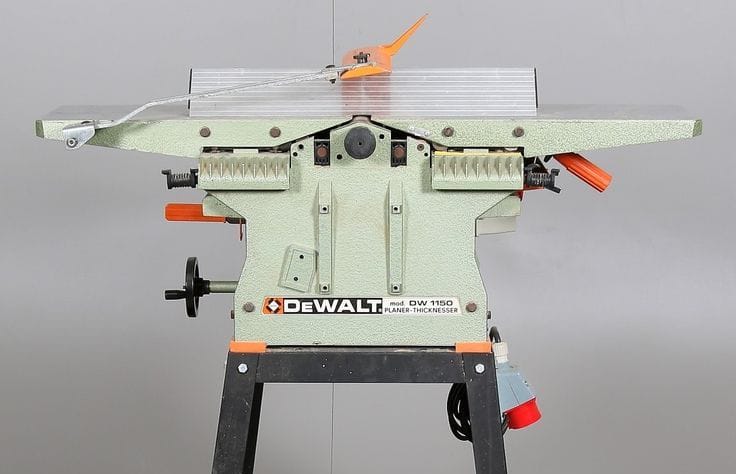 This is a classic jointer planer made by DeWalt in the 1980s and early 1990s. Its main selling points are its cast-iron body, making a really sturdy machine, and its folding tables. It has a good amount of power, and can be finely adjusted.
I repaired one recently, and was impressed by the build quality. Because it is less well-known than the Inca, you may be able to find it for a really good price, even though it will perform just as well.
There are two versions of this machine, the older DW50, and the newer DW1150. The latter is preferred, because it has a much better fence. The DW50 has a sloppy fence that you would need to attach a straight piece of wood to to make it work properly. The DW1150's fence works well out of the box.
Other vintage machines: Some other good second-hand jointer planers you can consider are the Kity 636, the Elektra Beckum HC260, the Metabo AD H260 and ADH 1626. Or if you get lucky, you can find used versions of newer machines like the Rikon 25-010, Record Power PT260, or Metabo HC260.
Alternatives under $600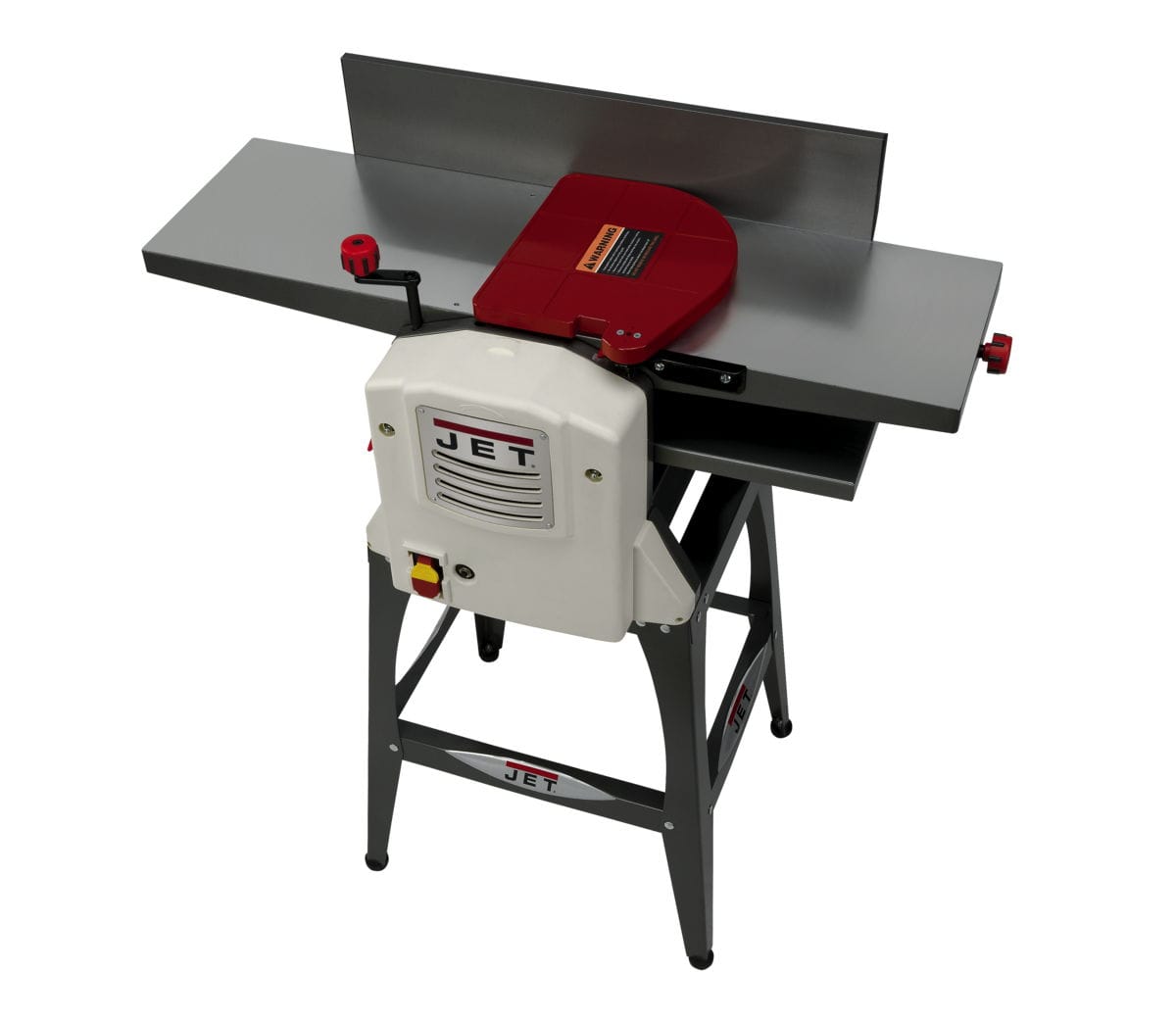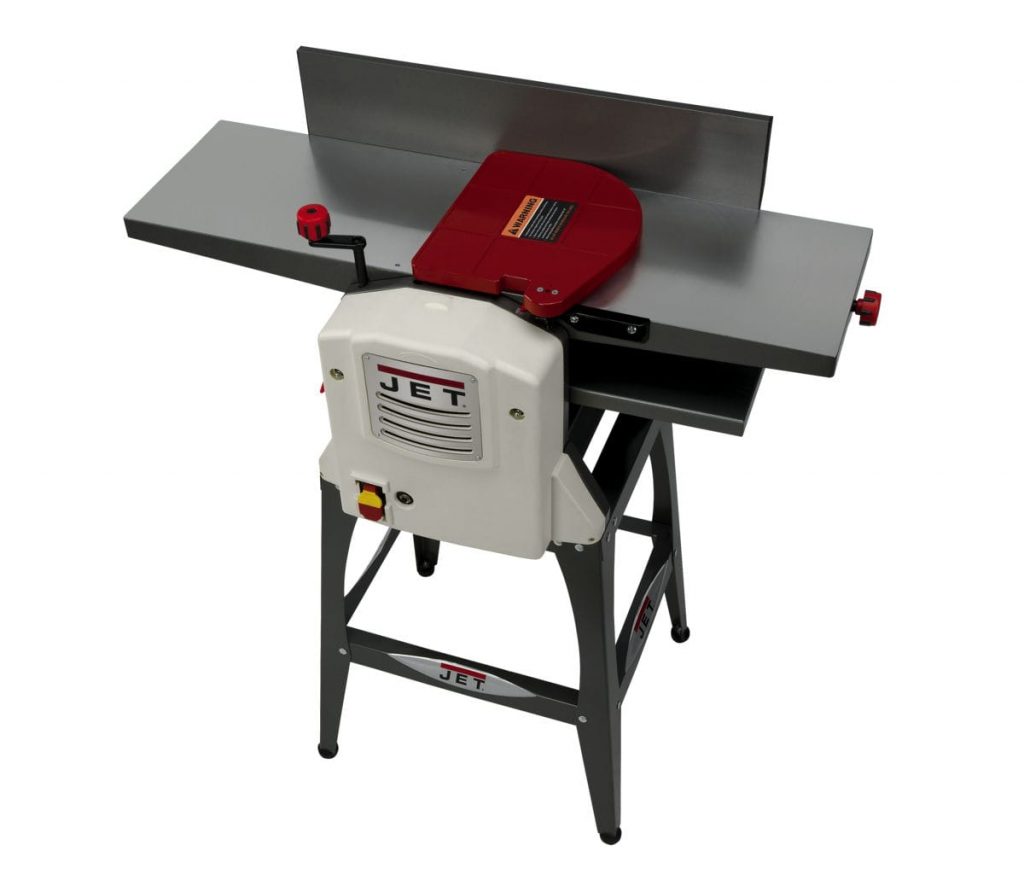 In the US and Canada, there is essentially only one option for a new jointer planer in this price range: the Jet JJP-10BTOS. Unfortunately, this machine has much worse user reviews than the smaller JJP-8BT we recommended in the under $300 range.
It seems the build quality of the jointer tables is really poor on this machine, making it extremely difficult to keep the infeed and outfeed table in one plane. Without that, you will never be able to joint a clean, straight edge. Planing seems to work fine, but if you can only use that, you would be better off getting a dedicated planer like the DeWalt DW734 or DW735.
Check the Jet JJP-10BTOS on Amazon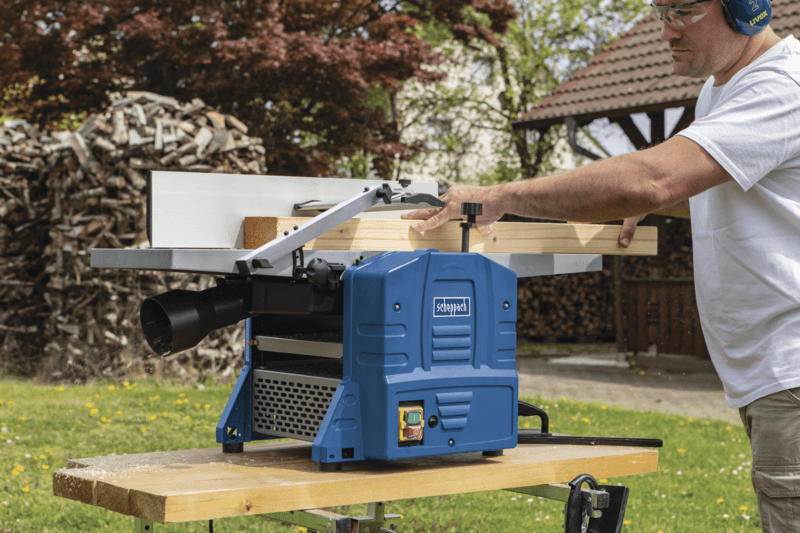 In the EU, you could take a look at the Scheppach HMS1080. Just as with the sub-$300 jointer planers, this machine is extremely similar to the Jet (apart from the EU-style blade guard vs the American pork chop guard on the Jet).
However, its reviews aren't as bad as the Jet's, so the build quality seems to be a little better. If you get a decent model that is well-calibrated from the start, it can be a very usable machine, especially for beginning woodworkers and DIYers.
Because it is so cheap and you don't have to do any fixing or repairs, it can be a solid alternative to the vintage machines, even though their quality levels are far apart.
Check the Scheppach HMS 1080 on Amazon
Best Jointer Planer Combo under $1000 (€/£)
For the best Jointer Planer Combo under $1000 we've picked two machines. The reason is simple, these two machines are almost identical, but neither is available everywhere. The Rikon 25-010 is sold in North America, while the Metabo HC260 is sold in most other countries.
Both jointer planers are based on the original design of the Elektra Beckum HC260. Metabo acquired the Elektra Beckum brand somewhere in the early 2000s, and licenses out the design to other firms, like Rikon. Both the Metabo and Rikon are made in China.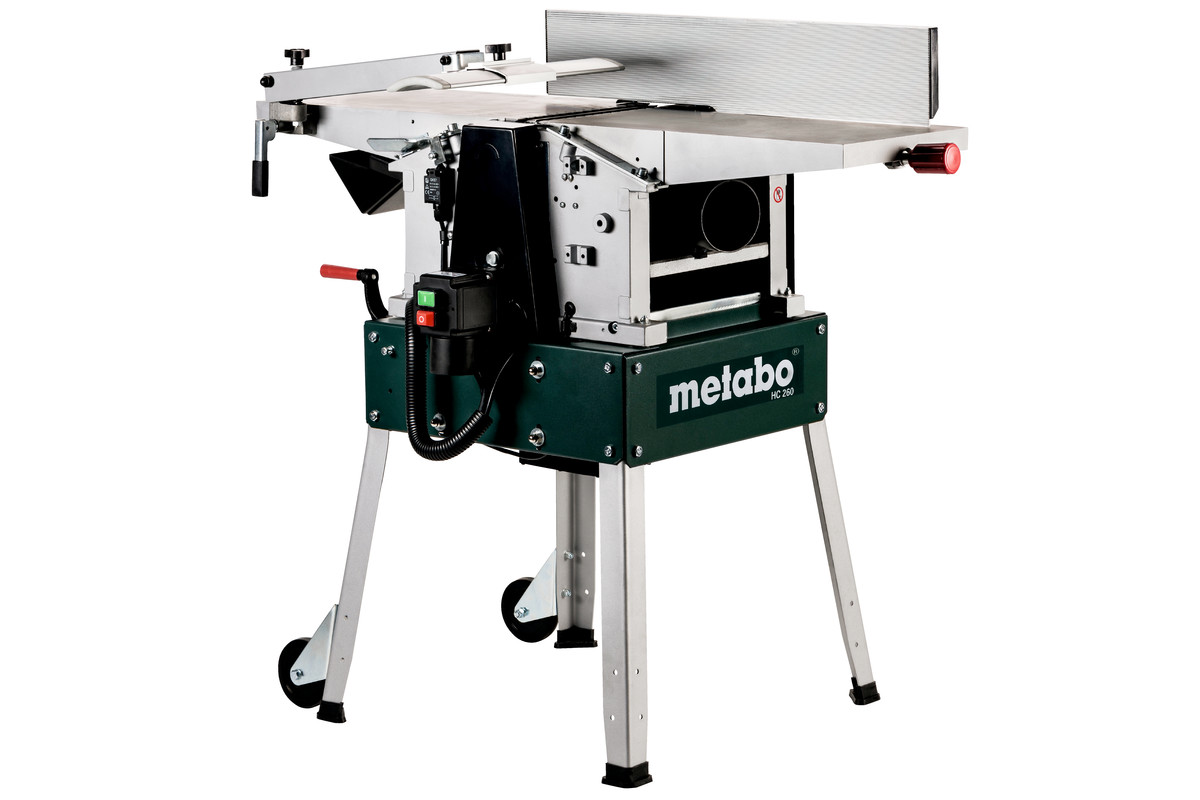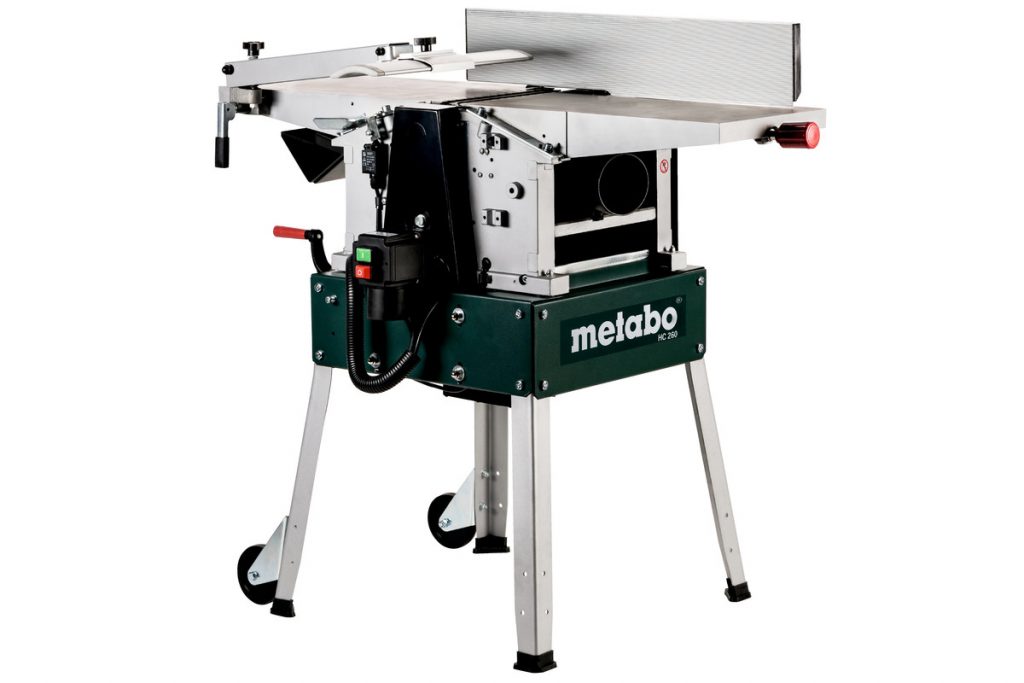 Compare prices for the Metabo HC260 Planer Thicknesser

UK

DE

NL
Differences between Rikon and Metabo
The Metabo has a better build quality, and has had a few subtle improvements over the years. The Rikon looks much more like the original design, and still has the same blade guard (which I also still have on my Elektra Beckum model — I actually prefer this type of blade guard).
What you get get with the Metabo most of all is peace of mind. They are the people who invented and have perfected this design for decades. By buying the Metabo you basically get a guarantee that it will work well from the start.
With licensed machines like the Rikon, the build quality and quality control is generally slightly inferior, but still quite good. If you get a good model, there is really no significant difference between the two machines, and you will get equal planing and jointing results.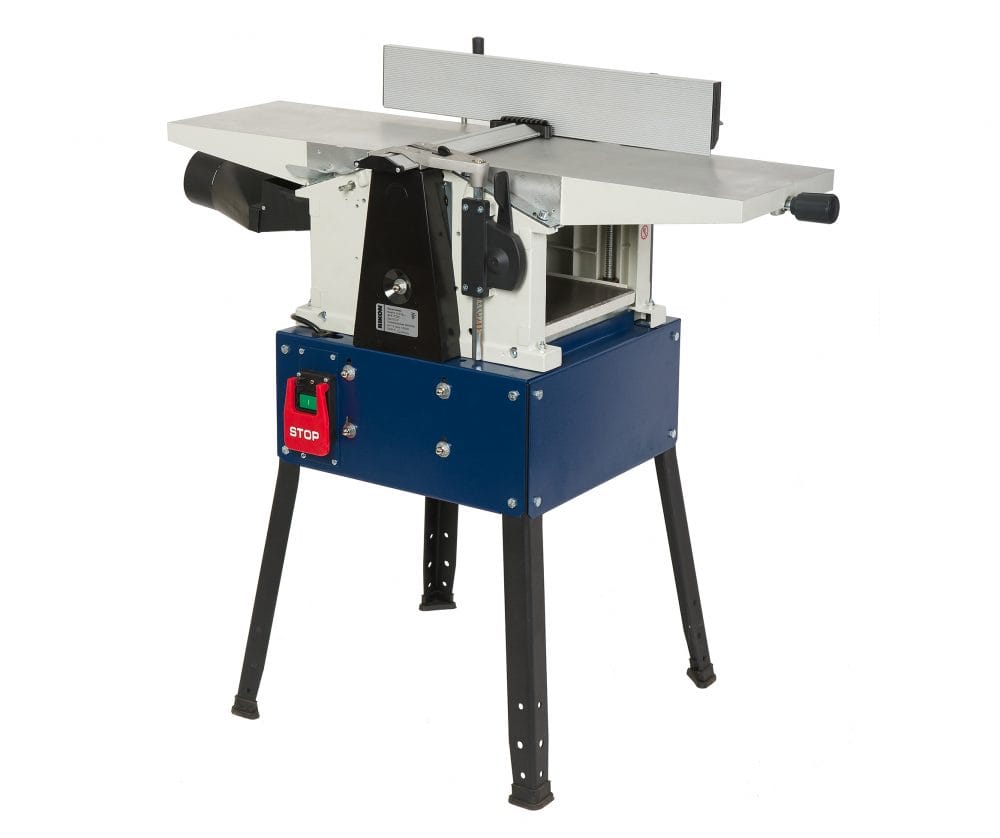 Unique upgrade: Helical Head Cutters
One unique upgrade that is available to the Rikon, but not on the Metabo or most alternative models is a helical head. However, this makes the machine much more expensive and puts it in a much higher price range. But it's still a useful upgrade, and it's great to at least have the possibility to add it.
Compare prices for the Rikon 25-010 Jointer Planer

United States

UK
Alternatives under $1000
The Record Power PT260 is identical (bar the colors) to the Rikon 25-010. However, it is sold for a much lower price and it already includes a foldable wheel based (which is sold separately for the Rikon at about $100).
Unfortunately it is not sold in the US or Canada, meaning North American woodworkers will have to pay $200 to $300 more for the same product. Maybe one day this machine will be available there too.
Check the Record Power PT260 on Amazon
Best Jointer Planer Combo under $1500 (€/£)
The Jet JPT 260 is a tried and tested machine that has been on the market some time. Its good reputation and reliability is one of the main reasons why I have picked it over some cheaper China-made machines from less well-known distributors.
Fast switch between jointing and planing
One of its best features (as demonstrated in the video of Peter Parfitt below) is that it converts extremely quickly from planing to jointing and vice versa. Both tables lift simultaneously, and the fence can stay attached. Then just flip the dust shroud and you're done.
Not only does it go quickly, you also get to keep all the settings on your fence and tables. This saves you time recalibrating every time you switch modes (unlike the sub-$1000 machines we recommended, where the outfeed table needs to be removed).
Fence secured on two sides
The fence is secured in two places, which greatly minimizes potential flex. Many manufacturers try to save some money by using a cheaply built fence, so it is good to see Jet actually providing a higher quality one. Flexing fences are seriously annoying when you try to put a straight edge on a board.
Alternatives under $1500
Grizzly G0675 (USA)
The $1500 mark is an odd price category for jointer planers in the US. As just shown, JET — a classic American company — makes an excellent machine, but doesn't actually sell it in the United States.
A good alternative would have been the Grizzly (also American) G0675. This machine is made in China and similar to the EU machines I will list in a moment. It was affordable and got good reviews, but for some reason it is also no longer sold, neither on Amazon nor by Grizzly itself.
This leaves a gap in the US market for good jointer planer combos around $1500. The alternatives are either to increase your budget, or stay on the lookout for good second-hand machines.
Bernardo AD 260 / Holzmann / Record Power PT 107 (EU)
In Europe, on the other hand there is plenty of choice in this price category. There are several manufacturers making machines that are in most ways very similar to the JET JPT 260. They might even be made in the same factory in China.
Three such machines are the Bernardo AD260, Holzmann HOB260, and Record Power PT107 (links to Amazon). They are all quite a bit cheaper than the JET JPT 260. The biggest difference between these companies is their quality control and level of service. Record Power has the best reputation in this regard, and it is also the most widely available of the three.
Best Jointer Planer Combo under $2000 (€/£)
In contrast to the Jet we recommended for budgets up to $1500, this jointer planer combo is actually available in North America as well. Although the names are different, the JJP-12 (in the US) and the JPT-310 (elsewhere) are the same machine.
It doesn't have any clear unique features, but instead it shines by being an all-round good machine for a good price. At 230kg it is a heavy machine, which makes it very stable and sturdy. It has long tables, and a very long fence and large fence.
The euro-style blade guard can be seen as a positive or negative, but that just depends on your personal preferences. The overall build quality is good, which suggests Jet's quality control is better than some competitors, who sell very similar machines based on the same design.
Helical head upgrade
The JJP-12 can be upgraded with a helical head as well, which is an excellent improvement and one I recommend. However, this is quite expensive and pushes it way out of the $2000 budget, and puts it in competition with more professional machines like the Hammer A3 31 and Minimax FS30.
Tip: There's a 6-video series on Youtube by AskWoodMan who shows in great detail, step-by-step, how to set up the JJP-12.
Compare prices for the JET JJP-12 and JPT 310

United States

UK
Alternatives under $2000
Axminster AT260SPT
The most interesting alternative under 2000 is offered by Axminster. For exactly €2000, it sells the Axminster Trade AT260SPT with spiral cutterhead. This makes it one of the most affordable machines with a spiral cutterhead on the market. If you don't mind sacrificing a little bit of size, you can get a really great upgrade within the €2000 budget.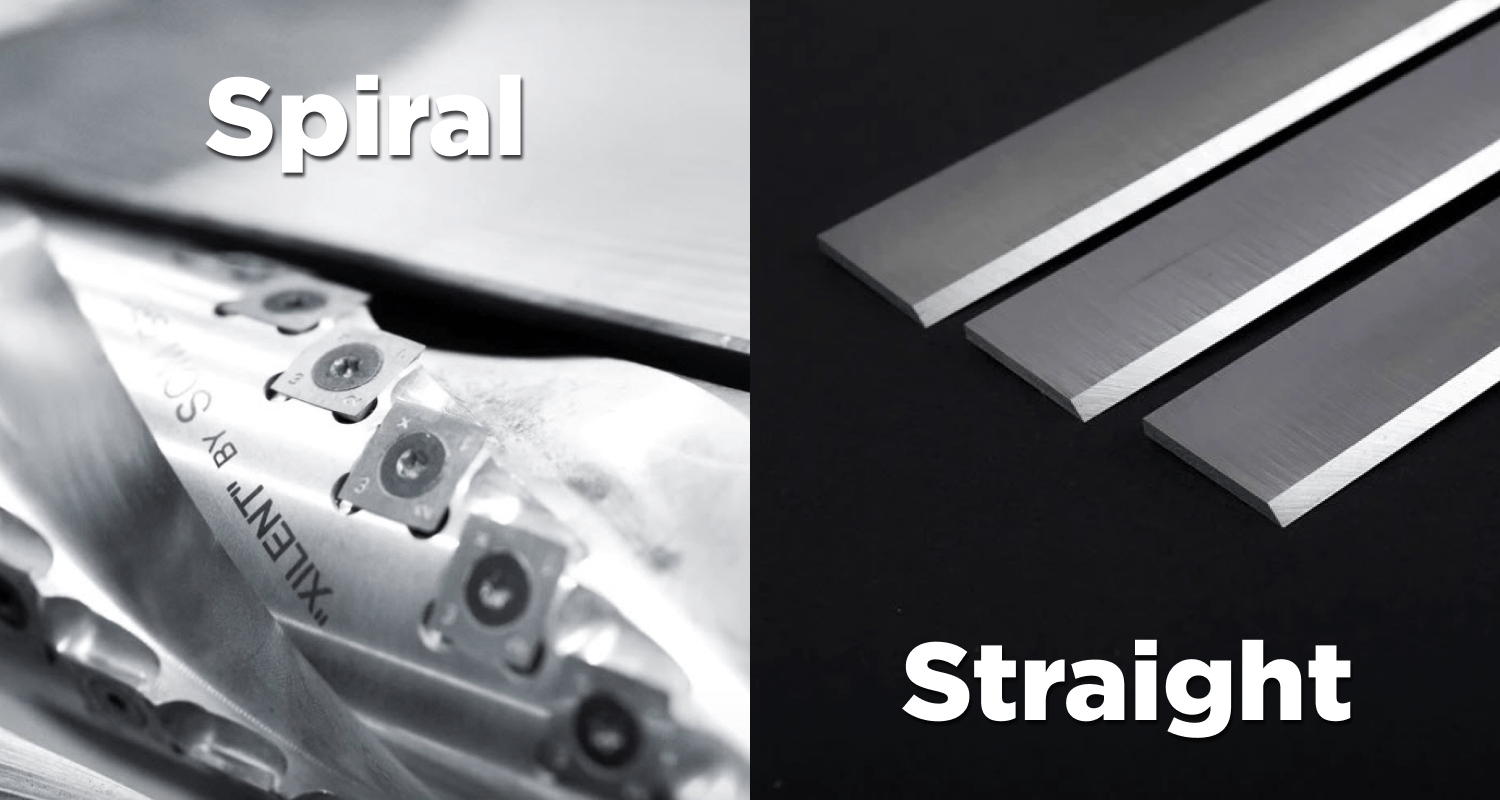 Spiral cutters vs Straight blades – Are shelix and spiral cutterheads worth it?
There is a lot of hype around spiral cutters, but what are their benefits? And are they worth the extra cost?
Rikon 25-210, Bernardo FS 310 N and others
Several other companies sell machines that look almost identical to the Jet JJP-12, and may even be made in the same factory. What usually sets them apart is their quality control, which based on general reviews seems to be better for Jet.
In North America, you could look at the Rikon 25-210, but that is currently only being sold in its helical head version (the 25-210H), which is much more expensive.
Check the Rikon 25-210 on Amazon
In Europe, the Bernardo FS 310 N is a popular alternative. It is slightly cheaper than the Jet, but quality control and perhaps even the materials used are generally considered to be of poorer quality.
Check the Bernardo FS 310 N on Amazon
Conclusion
There are a few things that I've learned when looking at all these different jointer planer combos.
You get what you pay for
Firstly, you get what you pay for. Jointer planers are chunky machines made from heavy materials, which simply cannot be built for a few pennies. There are affordable options, but you will have to learn to live with their limitations. If you want a reliable machine, expect to spend at least $500 on a vintage, or $1000 on a new machine.
Big differences between countries
Secondly, the selection of machines to choose from differs greatly between countries. In Europe there are simply way more options for jointer planer combos. Even if you take into account that many are the same machines, just sold by different distributors, the choices are much more varied than in North America.
Maybe this is the result of lack of space in Europe, while in the US there is simply more room for separate machines. This could also explain why in the US there are actually more options for jointers and planers.
More expensive machines are more universal
And thirdly, the higher you go in price, the more universal the options become. Professional shops around the world are using SCM and Felder machines, regardless of where they're located. This makes sense, as professionals want the best quality available, and as machines get more expensive, shipping fees become a much smaller percentage of the overall price.
I hope this guide helped you in finding the right jointer planer for your specific situation and budget. If you have any feedback or suggestions (maybe you know a good alternative!), please share it in the comments below!